In the News
It looks like we'll be running this series all summer, while Mark is away overseas researching a forthcoming book. A week ago The Toronto Sun's Tarek Fatah conceded that "Steyn was right and I was wrong" on the question of Islam and an enfeebled west. A few days later, in the wake of Brexit, economist Bryan Caplan conceded that Steyn is likely to win their 2008 bet on the withdrawal of a major EU member by 2020 (although he's now pinning his hopes on bureaucratic torpor to pull it out the hat ...
In the News

With a plunging pound and predictions of economic collapse, the political earthquake in Europe and the United Kingdom is nevertheless looking pretty sweet for a certain Canadian doom-monger: On Wednesday, revisiting Mark's bestseller America Alone, The Toronto Sun's Tarek Fatah wrote: My fellow Sun columnist, Farzana Hassan, and I wrote a rejoinder in Maclean's titled, "Mark Steyn has a right to be wrong." Today, I recognize, Steyn was right and I was wrong. Economist Bryan Caplan was equally ...
In the News
Mark is overseas in connection with research for a new book. But his decade-old bestseller America Alone is timelier than ever. Tarek Fatah begins his column in today's Toronto Sun as follows: Almost 10 years ago, Maclean's magazine published an essay by Mark Steyn titled, "The future belongs to Islam". In it, he suggested, "the West is growing old and enfeebled, and lacks the will to rebuff those who would supplant it." It was an extract from Steyn's then best-selling book America Alone, where ...
The Rush Limbaugh Show

Steyn on Orlando, and the west's myopia
Steyn on the World

Mark's closing statement from the Munk debate
Steyn on Canada and the Commonwealth

The moment an audience of Toronto liberals confronted reality
Steyn on the World
Steyn on stage for a rollicking 40 minutes at a gala night on his Australian tour
Mann vs Steyn
The Corner post that launched a lawsuit...
SteynPosts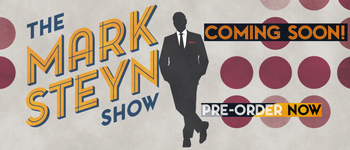 Summer is here, and I shall be traveling overseas for some time as part of my research for a forthcoming project. We'll have more news of that in a few weeks. ~This Thursday's big vote? Go, Brexit! As the Wolfe Tones would sing: And Ireland ...whoops, Britain... long a province, be a nation once again! ~A day after the Orlando slaughter, I reported a small shaft of good news: So far there's been no sign of that self-promoting opportunist twerp who drags his piano to the scenes of jihadist ...
Defend Free Speech!
Mark talks climate change with The New Criterion
Topical Take

Francis Crick, the man who gave us DNA, was born a century ago today - June 8th 1916, in Northamptonshire in the English Midlands. Here's what I had to say about him upon his death 12 years ago. This essay appears in Mark Steyn's Passing Parade...
Defend Free Speech!

On the vast placid frozen lake stretching unbroken beyond the horizon that is the Mann vs Steyn case there has been a small development. As our more elderly readers may recall, four years ago, climate mullah Michael E Mann sued me for mocking his "hockey stick"...
Steyn on the World

For my appearance at Parliament House in Canberra, I had the great privilege of being introduced by Australia's Foreign Minister, Julie Bishop. The last time she introduced me she had to sit through my version of "Kung Fu Fighting"...
On the Town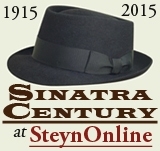 Alan Bergman, co-author of such songs as "Windmills of Your Mind", "The Way We Were" and "You Don't Bring Me Flowers", talks to Mark about the songs he wrote for Sinatra...
Mark at the Movies

Steyn on the new Bond film - and the return of Blofeld