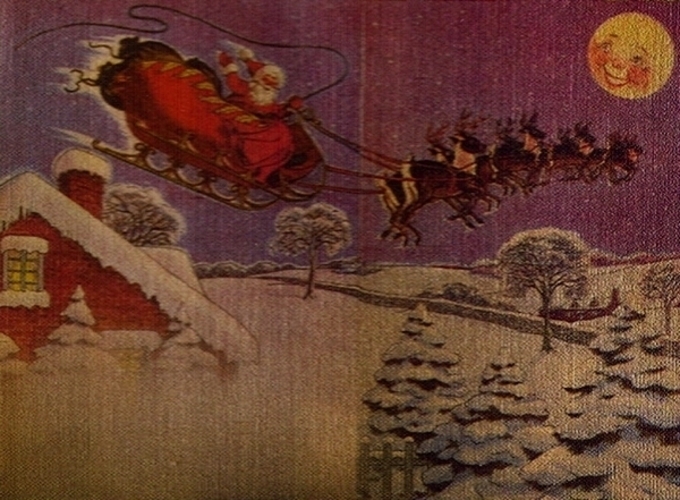 Wherever you are around the world, from New Hampshire to New South Wales, Quebec City to Kuala Lumpur, we wish you the merriest this December 25th. This year, for the first time in quite a while, Mark hosted a brand new Mark Steyn Christmas Show, with guests from Hollywood, New York, Vermont, Quebec, Ireland, Wales, France and beyond. Herewith for your Christmas viewing pleasure, a few festive excerpts, starting, of course, with our highly seasonal opening titles:
That's Linda Purl with her medley of "God Rest Ye Merry, Gentlemen" and "Santa Claus Is Coming To Town". Linda has been a fixture on our TV screens from "Happy Days" to "The Office", "Matlock" to "Homeland", and later in the show she and Mark discussed some of her many television Christmases, followed by Linda's exquisite performance of "I'll Be Home For Christmas". As Nada Sue Davis enthused:
What a wonderful show. I miss the old variety shows. Thank you, Ms Purl, for sharing your wonderful voice.
We thank her, too. Later, Mark looked at the life of Snowflake Bentley, the unlettered Vermont farm boy whose observations and experiments at his home in Jericho, Vermont uncovered one of the best-known of all scientific facts - that no two snowflakes are alike. Mark then shone his own flashlight on those geometrically unique snow crystals with "The Christmas Glow Worm", featuring his longtime piccolo player Claire McInerney:
As Mike Gentile comments:
Just what every joyous Christmas tune needs, the word 'nomenclature' in its lyrics...so festive.
And it rhymes, too.
As radio listeners will have heard him say, Mark was looking forward to tucking in to a delicious bûche de Noël from his favorite patisserie - the boulangerie Owl's Bread in Magog, Quebec. Unfortunately, the Department of Homeland Security had other ideas:
From across the pond Mark welcomed Dame Siân Phillips with some recollections of Dylan Thomas and "A Child's Christmas in Wales", and a glorious voice matched to the perfect music - "The Wexford Carol" sung by an authentic Wexfordian, Anthony Kearns:
We're glad Anthony stuck around for his second carol - "Adeste Fidelis".
Mark has always loved Russell Malone's guitar playing, and this year he invited Russell and the quartet to surprise him with something Christmassy. They made a good call:
Glen Flint says:
We enjoyed all the great music, especially Russell Malone and Christmas Time!
For our finale, Mark and the ladies decided to reach for the top:
Betty Mohr tweets:
Loved, loved hearing you sing "All I Want for Christmas is You" on your Christmas Special!!
We hope you have a blessed Christmas Day. Click on the links below for a cornucopia of Yuletide delights from the Santa Steyn grotto - carols and lessons, movies and memories:
THE PERFECT "PERFECT CHRISTMAS" BOOK