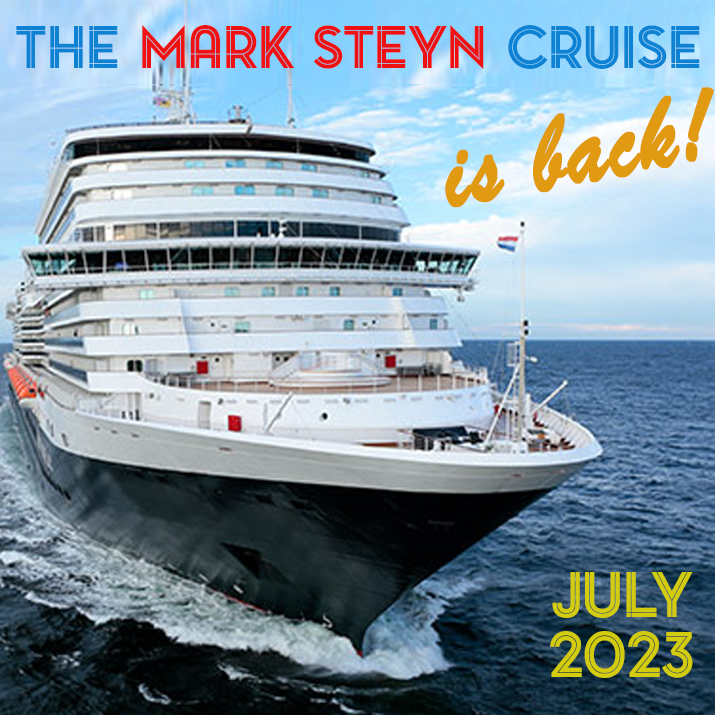 Steyny is back on the briny! Steyn Show favourites from around the world will be joining the Ofcom-convicted thought-criminal for the 2023 Mark Steyn Cruise - among them Eva Vlaardingerbroek, James ("Snerdley") Golden, Leilani Dowding, Michele Bachmann, Alexandra Marshall, John O'Sullivan, Dominique Samuels, Andrew Lawton and Tal Bachman - and with no vax/test requirements whatsoever. You can find more details here.
~Welcome to the Tuesday edition of The Mark Steyn Show! Do make sure you stay tuned to the end as Mark has an update re Ofcom: As you may recall, the UK's Ministry of Truth recently convicted him of breaking their "rules" re what you can and can't say on the ever more constrained British airwaves.
Ahead of that, Tuesday's show is devoted to two substantive conversations that try to pierce through the blizzard of lies on matters monetary and medical. First, Peter Schiff returns to the Steyn Show to ponder the larger meaning of recent bank failures from Silicon Valley to Switzerland, and what it means for the US dollar.
Next, Andrew Bridgen, MP is back to talk about his recent "adjournment debate" on victims of the vaccines. We are staying on this subject because, alas, no UK TV station wants to address it. (See Ofcom above.)
Click above to view the full hour.
~Thank you so much for all your supportive comments since Ofcom and GB News teamed up to try and take Steyn out. Christopher notes the double standards of Ofcom:
Completely shameless lack of impartiality @Ofcom and @GBNEWS yet you forced out @MarkSteynOnline for telling the facts that helped to save so many lives.
Mick Booker, "Editorial Director" of GB News, continues to boast about being "the People's Channel" and the "Disruptor", but his audience isn't buying it. Aami:
I am sorry Mr Booker, but if you had said that before getting rid of Mark Steyn and going almost silent on Vaccines and importing conservative MP's I would have believed it. You guys are no different to Sly news or BBC. It's shameful.
And Mady Waterer:
@GBNEWS are no longer the "disrupters" which was so badly needed. They are sliding into mainstream, frightened of saying anything controversial and scared of Ofcom instead of challenging them.
Look for more of that. Veronica, a New Zealand Steyn Clubber, notices:
I see that GB News is facing an Ofcom investigation for a program they ran in February called 'Grooming Gangs:Britain's Shame'. A female academic objected to 'racist tropes' (whatever that means) used in the broadcast and filed a complaint with Ofcom against them and so you can add 'grooming gangs' to the list of topics GB News will never talk about again. The Ofcom omerta is indeed a very effective weapon, no wonder so many people use it.
Indeed. Which is why something needs to be done about it.
On the other hand, M Harrison tweets:
The Mark Steyn Show is even better now it's not on GBNews.
No arguments there. Mark misses Dewbs and Wootton and Neil Oliver and a couple of others, but certainly not GBN's club-footed "master control room".
Okay, one more. Roxy Ferry came for the show but stayed for some of the other things we do at SteynOnline:
Mark you are a true man of many talents. For which I would not have known, if you were still on GB News. Loving every one of them. We are being truly spoilt . Thanks.
Thank you, Roxy.
There will be lots more with Eva, Leilani and Alexandra on the Wednesday edition of The Mark Steyn Show - look for us at 8pm GMT, which, for one more week only, is 4pm North American Eastern.
~Among the benefits of Mark Steyn Club membership is that you can enjoy The Mark Steyn Show in any medium you desire: video, audio or text. So, if you find Steyn and his guests more convivial in non-visual form, please log-in to our Audio and Transcript versions. To listen to the above show, simply click here.
If you've missed a Mark Steyn Show in recent weeks or recent years, you can find not only our latest edition but some 250 shows from the archives arranged in reverse-chronological order from newest to oldest here.
If you're a member of The Mark Steyn Club, feel free to have at it in the comments. If you're wondering what that Steyn Club's all about, well, you can find more details here - and we also have a great gift membership.