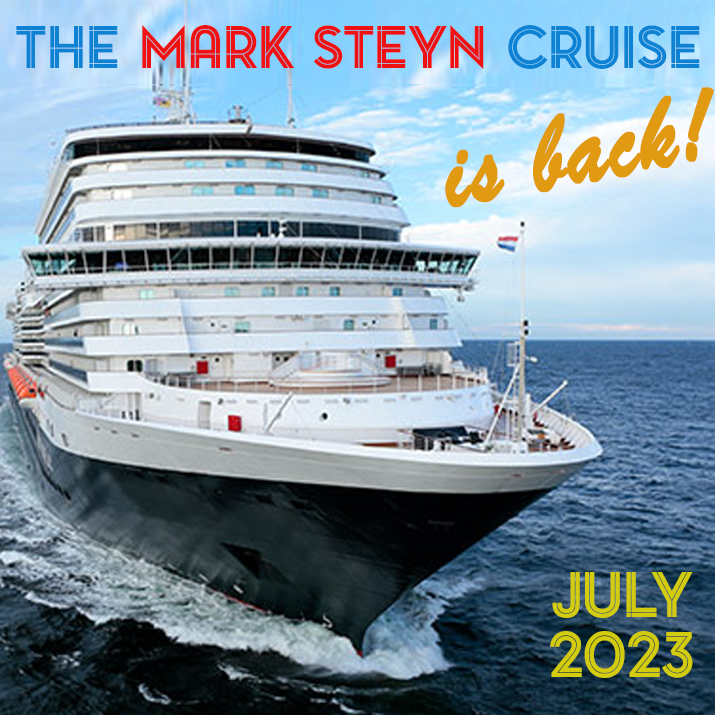 Steyny is back on the briny! Steyn Show favourites from around the world will be joining the newly convicted thought-criminal for the 2023 Mark Steyn Cruise - among them Eva Vlaardingerbroek, James ("Snerdley") Golden, Leilani Dowding, Michele Bachmann, Alexandra Marshall, John O'Sullivan, Dominique Samuels, Andrew Lawton and Tal Bachman - and with no vax/test requirements whatsoever. You can find more details here.
~Welcome to the first Mark Steyn Show of a brand new week! As part of our tremendous marketing campaign, just a few hours before airtime Ofcom found Steyn guilty (and set him trending on Twitter)! Mark will talk a little about that on today's broadcast - and in more forensic detail with stats man Jamie Jenkins on our Tuesday show. The Metro newspaper's Sabrina Barr notes a key quote from Steyn:
I'm on the hook for Ofcom fines but I don't have any say in our defence against an Ofcom complaint – that's all done by GB News.
That's why Ofcom "justice" is no justice at all - and why Mark will be appealing this and getting it before a real court. More with Jamie tomorrow.
Following his conviction, Monday's show moves on to a fairly important bit of news that the somnolent UK media seem to have played down: Brexit is dead; if not quite formally, it has been rendered totally meaningless by Rishi Sunak's so-called "Windsor Framework". So, as Steyn points out, the two great populist revolts of 2016 - Brexit and Trump - have now both been reversed.
After Mark's monologue, he's joined by two of our most popular guests of this last year. Kathy Gyngell, founder of The Conservative Woman, takes apart the media frenzy over Matt Hancock's WhatsApp messages. After our latest Brit Wanker Copper of the Day, Yasmine Mohammed returns to our show to ponder a West Yorkshire school's capitulation to the strictures of Sharia.
Click above to view the full hour.
~Thank you so much for all your supportive comments re Mark's treatment by the UK media regulator. Our friend Dominique Samuels, who'll be joining us on this summer's Steyn Cruise, tells Ofcom:
So Mark Steyn's comments were in breach of your 'broadcasting rules' but TV doctor Sara Kayat claiming the COVID-19 vaccines were 100% effective, with NO counter opinion included, wasn't?

Why is it always one side that is allowed to get away with this crap?
Exactly. With Ofcom, there is no equality before the law. Lord Grade and Dame Melanie Dawes have convicted Mark for the potential "harm" that could arise from his words. After a year-long investigation, they have failed to find a single person actually "harmed" by anything he said - whereas Steyn has interviewed innumerable people seriously harmed by the suffocating Ofcom-approved propaganda of Sara Kayat and her ilk. Many of those victims are in Ofcom's Twitter feed today. For example, our old friend Joe Ward:
@ofcom is a joke.

You should be investigating @sara_kayat!

Her lies ultimately - with all the other lairs - led to my dads death.

'100% effective against hospitalisation and death'. Why are you not investigating this?

Thankyou @MarkSteynOnline for all you have done.
And Joe includes, for all the naysayers emboldened by Ofcom, his poor father's death certificate.
And another:
As someone at the receiving end of that '#vaccine' I find your verdict morally & factually reprehensible!!!

Mark #Steyn was correct in his programmes where he interviewed the severely #vaccineinjured.

You are NOT fit for purpose #OFCOM. Shame on you!
One more - from our Links Lady, Laura Rosen Cohen:
By finding @MarkSteynOnline 'guilty' you have most likely signed off on the beginning of your end. He will use real lawyers and do to you and your pompous, censorious bureaucracy what he did to Canada's 'hate speech' laws: totally obliterate them. Congrats!
We shall see about that, but we're going to give it a jolly good go. There will be more about this on the Tuesday edition of The Mark Steyn Show - look for us at 8pm GMT, which is 3pm North American Eastern. And James Delingpole may well prompt Mark to offer a further word when he interviews him for this week's Delingpod.
~Among the benefits of Mark Steyn Club membership is that you can enjoy The Mark Steyn Show in any medium you desire: video, audio or text. So, if you find Steyn and his guests more convivial in non-visual form, please log-in to our Audio and Transcript versions. To listen to the above show, simply click here.
If you'd like to read the transcript of the original offending show, you'll find that here - and Jamie Jenkins' right to reply here.
~If you've missed a Mark Steyn Show in recent weeks or recent years, you can find all our shows from the last fifteen months and many highlights from the archives arranged in reverse-chronological order from newest to oldest here.
If you're a member of The Mark Steyn Club, feel free to have at it in the comments. If you're wondering what that Steyn Club's all about, well, you can find more details here - and we also have a great gift membership.