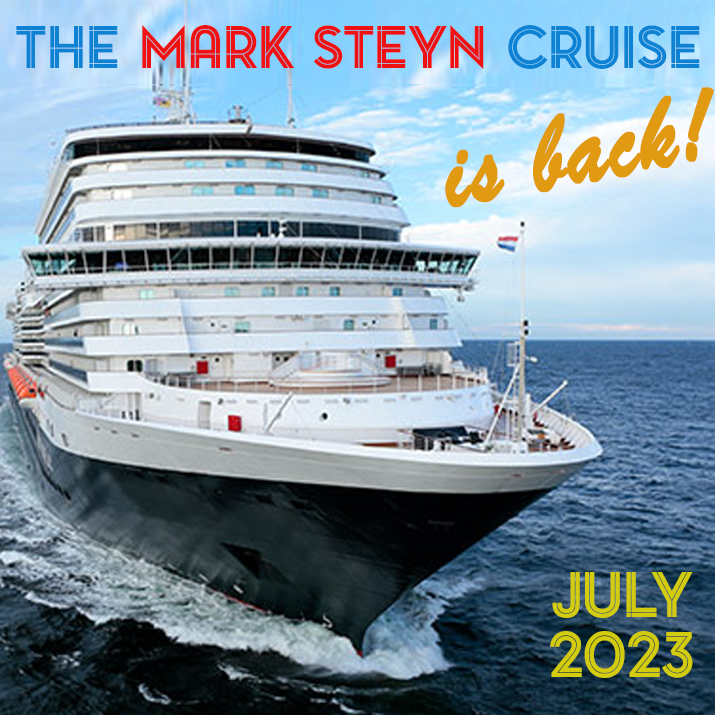 Steyny is back on the briny! Steyn Show favourites from three continents will be joining the Ofcom-convicted Thought-Criminal for the 2023 Mark Steyn Cruise - among them Eva Vlaardingerbroek, James ("Snerdley") Golden, Leilani Dowding, Michele Bachmann, Alexandra Marshall, John O'Sullivan, Dominique Samuels, Andrew Lawton and Tal Bachman - and with no vax/test requirements whatsoever. You can find more details here.
~Yesterday in the UK Mark was found guilty of breaching Ofcom's "rules" in a show from last April on the Covid vaccines and their efficacy. Since then, notwithstanding the British regulator and its "advice", the story has moved relentlessly in Steyn's direction: the vaccine boosters have been increasingly abandoned by the public where they have a choice in such matters, and eventually abandoned by governments, at least in Scandinavia, France, Britain, if not yet in North America.
On today's Mark Steyn Show we'll look at what's behind Mark's conviction: First, veteran British media exec Mark Sharman joins Steyn to discuss the appalling failure of the media to do its job these last three years - after which our stats man Jamie Jenkins returns to dig deep into the numbers, and all the absurd claims made daily that Ofcom never bothered investigating.
Click above to view the full hour.
~Among the benefits of Mark Steyn Club membership is that you can enjoy The Mark Steyn Show in any medium you desire: video, audio or text. So, if you find Steyn and his guests more convivial in non-visual form, please log-in to our Audio and Transcript versions. To listen to the above show, simply click here.
~Eva, Leilani and Alexandra return for the midweek edition of The Mark Steyn Show, tomorrow Wednesday at 8pm GMT/3pm North American Eastern.
~The post-Steyn degeneration of GB News into a tedious Tory politicians' channel continues. The Lord President of the Privy Council Show with Jacob Rees-Mogadon opened with a third fewer viewers than last week and declined from there. At 11.15am yesterday its newest dead-cat-bounce ratings-winner had 2,700 viewers - or about a twentieth of the YouTube audience for this footling promotional clip of Mark's show:
~Thank you again for all your supportive comments re Mark's conviction. Daniel Abineri, an English member of The Mark Steyn Club, tweets:
Absolutely brilliant opening gag on the Mark Steyn Show last night! Almost had me fooled. This show goes from strength to strength...
Thank you, Daniel. John Thompson enjoyed our revival of Steyn's Brit Wanker Copper of the Day:
Congratulations @WestYorksPolice . Andy Thornton just won an award on the Mark Steyn Show... Keep up the brave policing!
BBC presenter and AstraZeneca victim Jules Serkin says of Mark:
He's #trending again ! What a genuine & brilliant man.
Thank you, Jules. But it is those who have had their lives ruined by this thing who should be #trending - until justice is done. From her fellow vax victim Christopher:
Mark has been so incredibly kind in supporting all of us vaxine injured and bereaved @VIBUK1 @ukcvfamily
Oh, final word to Ken in Washington:
The Ofcom anthem: 'There's a kind of SHUSH, all over the realm, tonight.'
~If you've missed a Mark Steyn Show in recent weeks or recent years, you can find all our shows in convenient reverse-chronological order right here.If you're a member of The Mark Steyn Club, feel free to have at it in the comments. If you're wondering what that Steyn Club's all about, well, you can find more details here - and we also have a great gift membership.