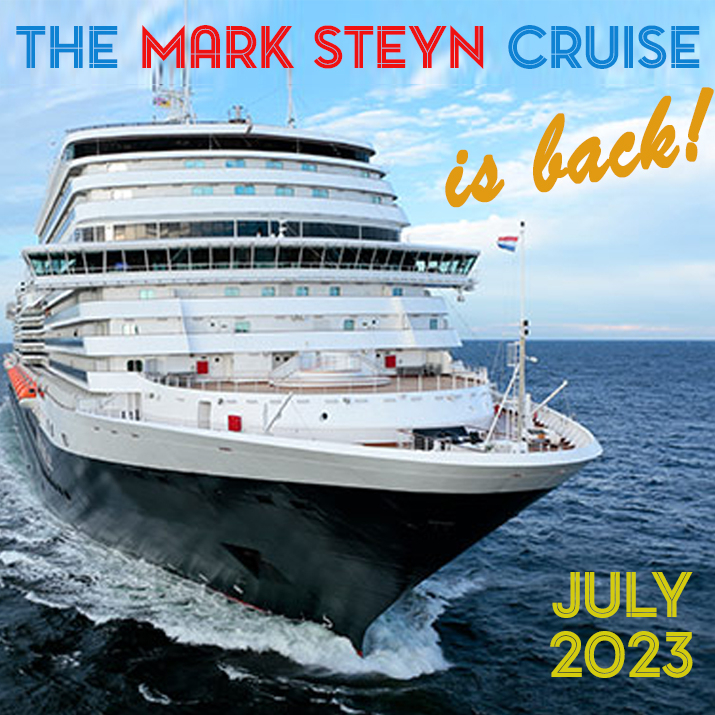 To all our pals Down Under, we hope you're having a terrific Australia Day. As you'll know from his broadcasts over the last year or so, Mark often introduces Alexandra Marshall as "my favourite Australian". So we're delighted that Miss Marshall, editor of The Spectator's website Down Under, will be joining us on this year's Mark Steyn Cruise, along with Mister Snerdley, Michele Bachmann, Eva Vlaardingerbroek and other special guests.
~This is the first Australia Day under a new woke Sovereign, so we shall be interested to see whether that diminishes or increases the traditional orgies of societal self-loathing that now afflict the national holiday. Pre-Covid, Mark was a regular visitor to Australian shores. The Lucky Country's especially punitive lockdown regime put an end to that, and reduced Steyn to a mere virtual visitor.
Here he is two-and-a-half years ago (or about six months into the Covid era) with Jon Roskam from Australia's Institute of Public Affairs. Mark is honoured to have been associated with the IPA for over fifteen years: They've hosted him on multiple sellout tours of Australia, and collaborated on a couple of books, too. So he was more than happy to join them (in his Zoom debut!) to mull the very weird world of 2020 and its implications for individual freedom in some of the oldest self-governing societies on earth. Jon steered the show and also took questions from IPA members (and gave away a Mark Steyn Club subscription, too). Click below to watch, and see how it stands up:
If you prefer your Steyn videos in short bites, the IPA has excerpted a few clips on lockdowns, Trump, and freedom.
Also from Australia, you can watch Mark with Natasha Stott Despoja, Amanda Vanstone et al on the ABC's "Q&A" a few years back. His appearance was well received:
Over the sauv. blanc after the ABC's Q&A, former senator Amanda Vanstone mentioned that a friend of hers had just emailed to say I was 'eminently shaggable', but that she'd hate herself in the morning.
Be that as it may, it remains Steyn's ambition to assist Australia in getting rid of Section 18C, as he succeeded in doing in Canada with Section 13 - a small victory for the cause of free speech. So here he is, in a special video, speaking on behalf of the outrageously treated Andrew Bolt some years ago:
Finally, if you missed it a half-decade back, click above for an hour of great music from the Lucky Country, including Mark's conversations with the late Greg Ham of Men At Work about their massive hit "Down Under", and with the man who's been called the most technically accomplished classical guitarist in the world, Melbourne's John Williams. To listen to this special Australia Day edition of On the Town, simply click above.
We were very touched by the Aussie turnout of Mark Steyn Club members on the first two (sold-out) Mark Steyn Cruises, and hope to see even more of you on this year's cruise. For more on The Mark Steyn Club, see here.