Seasons of Steyn
On the eve of Memorial Day, here's a piece we get a lot of requests for. It was first written for The Chicago Sun-Times and other papers in 2004, and is anthologized in my book The [Un]documented Mark Steyn. A lot of the controversies mentioned below - Abu Ghraib, etc - are forgotten, and others - Guantanamo Bay - became mysteriously less controversial after, oh, late January 2009. Time passes, and moss and lichen creep across ancient grave stones. But the men beneath them are forever young:
Memorial Day in my corner of New Hampshire is always the same. A clutch of veterans from the Second World War to the Gulf march round the common, followed by the town band, and the scouts, and the fifth-graders. The band plays "Anchors Aweigh," "My Country, 'Tis of Thee," "God Bless America" and, in an alarming nod to modernity, Ray Stevens' "Everything Is Beautiful (In Its Own Way)" (Billboard No. 1, May 1970). One of the town's selectmen gives a short speech, so do a couple of representatives from state organizations, and then the fifth-graders recite the Gettsyburg Address and the Great War's great poetry. There's a brief prayer and a three-gun salute, exciting the dogs and babies. Wreaths are laid. And then the crowd wends slowly up the hill to the Legion hut for ice cream, and a few veterans wonder, as they always do, if anybody understands what they did, and why they did it.
Before the First World War, it was called Decoration Day - a day for going to the cemetery and "strewing with flowers or otherwise decorating the graves of comrades who died in defense of their country during the late rebellion." Some decorated the resting places of fallen family members; others adopted for a day the graves of those who died too young to leave any descendants.
I wish we still did that. Lincoln's "mystic chords of memory" are difficult to hear in the din of the modern world, and one of the best ways to do it is to stand before an old headstone, read the name, and wonder at the young life compressed into those brute dates: 1840-1862. 1843-1864.
In my local cemetery, there's a monument over three graves, forebears of my hardworking assistant, although I didn't know that at the time I first came across them. Turner Grant, his cousin John Gilbert and his sister's fiancé Charles Lovejoy had been friends since boyhood and all three enlisted on the same day. Charles died on March 5, 1863, Turner on March 6, and John on March 11. Nothing splendid or heroic. They were tentmates in Virginia, and there was an outbreak of measles in the camp.
For some reason, there was a bureaucratic mixup, as there often is, and the army neglected to inform the families. Then, on their final journey home, the bodies were taken off the train at the wrong town. It was a Saturday afternoon and the stationmaster didn't want the caskets sitting there all weekend. So a man who knew where the Grants lived offered to take them up to the next town and drop them off on Sunday morning.
When he arrived, the family was at church, so he unloaded the coffins from his buggy and left without a word or a note to anyone. Imagine coming home from Sunday worship and finding three caskets waiting on the porch. Imagine being young Caroline Grant, and those caskets contain the bodies of your brother, your cousin and the man to whom you're betrothed.
That's a hell of a story behind the bald dates on three tombstones. If it happened today, maybe Caroline would be on Diane Sawyer and Katie Couric demanding proper compensation, and the truth about what happened, and why the politicians were covering it up. Maybe she'd form a group of victims' families. Maybe she'd call for a special commission to establish whether the government did everything it could to prevent disease outbreaks at army camps. Maybe, when they got around to forming the commission, she'd be booing and chanting during the officials' testimony, as several of the 9/11 families did during Mayor Rudy Giuliani's statement.
All wars are messy, and many of them seem small and unworthy even at the moment of triumph. The sight of unkempt lice-infested Saddam Hussein yanked from his spider hole last December is not so very different from the published reports of Jefferson Davis' capture in May 1865, when he was said to be trying to skulk away in women's clothing, and spent the next several months being depicted by gleeful Northern cartoonists in hoop skirts, petticoats and crinolines (none of which he was actually wearing).
But, conquered and captured, an enemy shrivels, and you question what he ever had that necessitated such a sacrifice. The piercing clarity of war shades into the murky greys of post-war reconstruction. You think Iraq's a quagmire? Lincoln's "new birth of freedom" bogged down into a century-long quagmire of segregation, denial of civil rights, and the Ku Klux Klan. Does that mean the Civil War wasn't worth fighting? That, as Al Gore and other excitable types would say, Abe W. Lincoln lied to us?
Like the French Resistance, tiny in its day but of apparently unlimited manpower since the war ended, for some people it's not obvious which side to be on until the dust's settled. New York, for example, resisted the Civil War my small town's menfolk were so eager to enlist in. The big city was racked by bloody riots against the draft. And you can sort of see the rioters' point. More than 600,000 Americans died in the Civil War - or about 1.8 percent of the population. Today, if 1.8 percent of the population were killed in war, there would be 5.4 million graves to decorate on Decoration Day.
But that's the difference between then and now: the loss of proportion. They had victims galore back in 1863, but they weren't a victim culture. They had a lot of crummy decisions and bureaucratic screw-ups worth re-examining, but they weren't a nation that prioritized retroactive pseudo-legalistic self-flagellating vaudeville over all else. They had hellish setbacks but they didn't lose sight of the forest in order to obsess week after week on one tiny twig of one weedy little tree, as the Democrats do over Abu Ghraib.
There is something not just ridiculous but unbecoming about a hyperpower 300 million strong whose elites - from the deranged former vice president down - want the outcome of a war, and the fate of a nation, to hinge on one freaky jailhouse; elites who are willing to pay any price, bear any burden, as long as it's pain-free, squeaky-clean and over in a week. The sheer silliness dishonors the memory of all those we're supposed to be remembering this Memorial Day.
Playing by Gore-Kennedy rules, the Union would have lost the Civil War, the rebels the Revolutionary War, and the colonists the French and Indian Wars. There would, in other words, be no America. Even in its grief, my part of New Hampshire understood that 141 years ago. We should, too.
~from The [Un]documented Mark Steyn
from Seasons of Steyn, May 28, 2017
Most of my book The [Un]documented Mark Steyn is written by yours truly, but for six lines on page 243 I roped in the real talent in the family:
Time passes, and moss and lichen creep across ancient grave stones. But the men beneath them are forever young.At Memorial Day observances in my neck of the woods, the veterans are honored by the fifth graders, who read verses for the occasion - both the classics and their own poems. The latter can be a bit hit and miss, and one has to be alert, given the dispositions of some of my neighbors, for give-peace-a-chance war-is-never-the-answer not-so-subtle subtexts. But a couple of years ago my then fifth-grade daughter was asked to write something, and so she did. Nothing to do with me - I was away in Chicago all that week - but I was pleased to see that all the rhymes are true. She is older now and has gotten a little teenagey, as they do, and today she would try to write it more sophisticatedly. But I have always liked its heartfelt directness. So this is my daughter's fifth-grade poem, as a ten-year-old girl delivered it on a small town common for Memorial Day:
The stars and stripes, red, white, and blue
Wave above our heroes true
It makes us cry, it makes us weep
But in our hearts we will keep
The sacrifice our soldiers gave, they shall not die in vain
For they have given us the freedom they have fought to gain
This essay is adapted from my book A Song For The Season:
Memorial Day in America – or, if you're a real old-timer, Decoration Day, a day for decorating the graves of the Civil War dead. The songs many of those soldiers marched to are still known today – "The Yellow Rose Of Texas", "When Johnny Comes Marching Home", "Dixie". But this one belongs in a category all its own...
Mark presents a special audio presentation for moms, mums and maters everywhere, celebrating the lost art of the mother song
A Steynamite cornucopia of festive delights
Mark mellows out with Russell Malone and a final selection from this year's Mark Steyn Christmas Show:
In Britain and Europe, Christmas isn't just for Christmas, it's a holiday that lasts halfway to Valentine's Day...
You don't have to brave the malls for the big Steyn gift this year...
Happy Thanksgiving to all our American readers. Here are a few Thanksgiving thoughts from me over the years...
For Remembrance Day and Veterans Day, we present this piece from the first November 11th after September 11th...
Tonight is All Hallows' Eve. To mark the occasion, we have a truly horrific sight: the Halloweiner. Almost as scary to at least a few New Yorkers must have been this billboard of me and fellow CRTV hosts Michelle Malkin and Mark Levin looming over Times Square today...
Happy Valentine's Day, a day on which we anglophones struggle under one of the worst burdens in a world which has otherwise blessed us: the word "love." The French for "love" is amour, which rhymes with dozens of other useful words - toujours (always), jour (day), carrefour (crossroads), tambour (drum)... So the romantically inclined Québécois lyricist can slough off a love ballad in minutes: Darling, you're my amour Not just today but toujours I know from that very first jour When I saw you at ...
Well, it's that time of year again - the State of the Union! Here are my traditional thoughts on the occasion - after which we'll deal with the peculiar circumstances of tonight's festivities...
Happy New Year with one of Mark's favorite songs for the season
In case you missed it, here's how the last year looked to Mark
Some films for the end of the year, and the end of the world
A cornucopia of Yuletide delights from the Santa Steyn grotto - carols and lessons, movies and memories...
This is a column we still get a lot of requests for this time of year - written twelve Christmases ago and riffing off an often overlooked corner of the Gospels...
Is Santa a CIA stooge with a false beard?
I'd like to think that at least some of the folks trampling li'l ol' ladies into the dust at shopping malls this Black Friday will be stampeding for my new cat album...
Mark salutes the real-life cat who inspired his forthcoming album ...and provides a video preview of one of the scariest tracks:
With a tip of the hat to Tweety, Sylvester ...and Sting.
Mark looks back on a dispiriting anniversary
Contemplating a world without work
To all our American readers, Happy Independence Day!
The centenary of one of the worst disasters in British imperial history
Happy Earth Day! I've been out and about promoting the official Earth Day release of the new paperback Climate Change: The Facts...
My book Lights Out takes its title from a famous observation by Sir Edward Grey, the British Foreign Secretary, as he looked out of his window at London at dusk on the eve of the Great War...
Happy Presidents Day to all our American readers. In honor of the false equivalence of this newish holiday, here's an encore presentation of an audio special we first aired six years ago way back at the dawn of the Obama era, featuring 44 songs for 44 presidents...
Even in the Lucky Country, the battle for freedom of expression is not going as well as it might...
A revolting spectacle
Happy New Year, with a piece we get a lot of requests for
I'd like to think that at least some of the folks trampling li'l ol' ladies into the dust at shopping malls up and down the land will be stampeding for my new book....
You know you've been waiting for this: Mark Steyn sings Ted Nugent!
Really.
This much requested essay is taken from Mark's book A Song For The Season
Mark celebrates the day with the greatest of all songs about fatherhood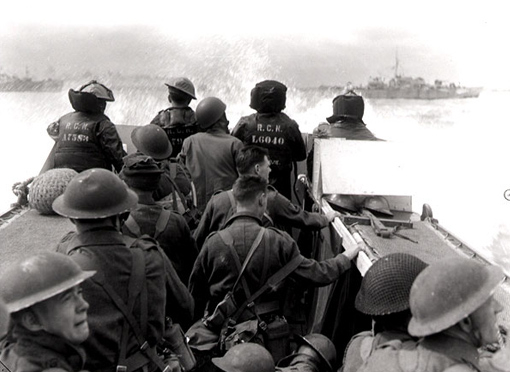 D-Day 70 years on...
The perils of the ideologically unsound joke
A Happy New Year to you and yours from all of us at SteynOnline
Wherever you are around the world this December 25th, from New Hampshire to New South Wales, Quebec City to Kuala Lumpur, we wish you the merriest with a cornucopia of Yuletide delights from the Santa Steyn grotto
Happy Thanksgiving to all our American readers - and Happy Birthday to us...
Mark profiles the big bird
A Song for the Season by Merle Travis Happy Labor Day, or Labour Day, according to taste. We'll be back with a Song of the Week bonus audio edition later this week, but in the meantime here's labor lyricized at the lower end of the register in a great Merle Travis song. This essay is anthologized in A Song For The Season: I was born one mornin' and the sun didn't shine I picked up my shovel and I walked to the mine I loaded 16 tons of number nine coal And the straw boss said, 'Well bless my ...