Steyn's Song of the Week
Our Song of the Week this week is celebrating its 50th anniversary this Easter weekend. That's to say, if you'd been to your local fleapit in mid-April 1967 to see Casino Royale (not the Daniel Craig film, but a very hit-and-miss spoof of 007), amidst all the leaden misfires and labored jollity, you might have perked up when wafting across the auditorium, for the very first time, came this:
The Look Of Love
Is in your eyes
The look your smile can't disguise
The Look Of Love
Is saying so much more...
The men who wrote that song were Burt Bacharach and Hal David, and they had a point. "The Look Of Love" was indeed saying so much more - at any rate, so much more than Casino Royale was saying, which is why it hung around over the next three decades. Indeed, it said even more after the attack on the World Trade Center at the dawn of the new century. George Will cited the presence on the hit parade of Diana Krall's CD of the same name as one of the hopeful cultural trends of America post-9/11. In The Wall Street Journal, Terry Teachout agreed. He'd been sitting in a New York McDonald's tuned to some young persons' radio station when, instead of the usual ghastly caterwauling, "The Look of Love" drifted over the speakers. "Is Diana Krall's current popularity a fluke?" mused Mr Teachout. "I've been thinking that it might have a little something to do with September 11... Unless I miss my guess, beauty is becoming fashionable again."
It's safe to say he missed his guess. Fifteen years on, the Top 40 is more vulgar, more witless, more pneumatic than ever. So much for the return of beauty. How grand it would be if "everything" had indeed "changed" on 9/11 - if on September 12th the massed ranks of gangsta rappers had gone on stage ready to slough off old favorites like "Sit On This, Bitch" only to open their mouths and find themselves warbling "Moonlight Becomes You" to a gorgeous string arrangement by Axel Stordahl as their retinue of hoes and muthaf**kers sat dumbstruck in terror. Alas, a return to standards, either in the George Will or George Gershwin sense, is further off than ever. Indeed, Burt Bacharach's own response to the Bush era and the war on terror was a new album in which, for the first time, he wrote his own lyrics. He called up Elvis Costello to ask if he'd sing on a track called "Who Are These People?" "What's it about?" asked Costello.
"Things really have to change or we're all f**ked," said Bacharach.
"What are the lyrics?" asked Costello.
"Those are the lyrics," said Bacharach.
So much for beauty. A few years back, when some reformed British rocker hit the charts with a cover version of a Billie Holiday staple, "That Old Devil Called Love," I asked its composer, a lovely lady called Doris Fisher, whether this heralded a return to the good old days. "Ha!" she scoffed. "They always say that, every time there's an exception to the rule. But that's all it is." There's always room for one exception. And for a while Diana Krall's "Look Of Love" was such an omnipresent exception that even the shrewdest observers thought it was "saying so much more" about where we're headed.
But Bacharach & David always were an exception to whatever else was happening, whether in the Oughts or the Sixties. And, as pop fashions have come and gone, "The Look Of Love" and the rest of their catalogue have somehow and endured and prospered. Hal David was born in New York on May 25th 1921; Burt Bacharach followed seven Mays later - May 12th 1928, in Kansas City. And, if you're doing a bit of rough math on your fingers and toes, you'll have worked out that both men belong to the pre-rock generation yet had their greatest run of success in the 1960s, when the likes of "The Look Of Love" and "I Say A Little Prayer" and "Make It Easy On Yourself" were competing on the charts with Bob Dylan and the Rolling Stones. Bacharach & David were one of the most famous songwriting teams in the world back then, if only because the very notion of a songwriting team - Lerner & Loewe, Rodgers & Hammerstein - seemed faintly quaint. Yet in the age of the "singer-songwriter" Bacharach & David were a hit writing partnership.
Burt Bacharach, the music guy, was the famous one - a conductor-pianist, a celebrity and a star, the embodiment of what they called in Britain, somewhat to his bewilderment, "the Bacharach sound". "I think it was something to do with the flugelhorns," he once told me. Women, in particular, grew very flugelhorny in his presence. He was a bona fide sex symbol. "Every songwriter looks like a dentist," said Sammy Cahn, "except Burt Bacharach." Hal David made a passable dentist, and thus generated fewer magazine covers and gossip columns, content for the most part to be the other fellow to Burt's Bacharach. The singer Steve Tyrell, who started as an A&R guy at Scepter Records, worked on, among others, the recording session for Dionne Warwick's single of "The Look Of Love". He knew well both Burt and Hal: They were his first break. So a couple of years back, in a period when he was releasing an album every week, a desperate publicist thought now might be the time for him to return to his roots and make a CD of 14 Bacharach & David songs. Tyrell consulted Hal David about a couple of lyric rewrites to masculinize the chick songs ...and yet he still called the thing Back To Bacharach. Nobody thanks his dentist.
The general assumption was that Burt was the great artist, Hal the solid craftsman who did a good professional job. Some scholars go further than that. In his tome The American Songbook, Ken Bloom writes:
There are three kinds of songs: those in which the music and lyric are equal in importance (think Gershwin), those in which the lyric is more important than the music (think Sylvia Fine), and those in which the music far overshadows the lyrics (think Bacharach and David).
Blimey. As we've noted before, Ira Gershwin is a very problematic lyricist: No one could seriously argue that the lyric of "I've Got A Crush On You, Sweetie Pie" or "The Man I Love" ("Someday he'll come along... and he'll be big and strong") are the equal of the tune, and I'd contend that that mismatch is already denting the longevity of certain terrific George Gershwin melodies; posterity-wise, he'd be in much better shape if he'd written with, say, Dorothy Fields ("The Way You Look Tonight"). As for the second category, insofar as there are songs in which the lyric is more important than the music, Sylvia Fine's no example thereof. Nobody sang her songs except her husband, Danny Kaye, and even he took the precaution of making them marginally less unfunny by rattling them off at express speed. (I'll make one slight qualification to the preceding: "Lullaby In Ragtime" is not without a modest appeal.)
Which brings us to Bacharach and David. On, say, Gene Pitney's masterpiece "Twenty-Four Hours From Tulsa" (1963), I love Bacharach's psycho mariachi trumpets. But that's an orchestrational ornamentation. The song is driven by David's very artfully poised lyric:
Dearest
Darlin'
I had to write to say that I won't be home anymore
'Cause something happened
To me
While I was drivin' home and I'm not the same anymore

Oh, I was only Twenty-Four Hours From Tulsa
Only one day away from your arms
I saw a welcoming light
And stopped to rest for the night
And that is when I
Saw her...
Likewise, "Alfie" (1966), for which David wrote the lyric first and Bacharach then set it. Many writers are minded to muse philosophically - "What's it all about?" - but not many would wish to do so within the constraints of a song bearing a blokey Brit name like "Alfie". David pulled it off so well that it's Bacharach's favorite among his own compositions. He also admires the breezy distillation of an entire ethos in "Do You Know The Way To San Jose?"
LA is a great big freeway
Put a hundred down and buy a car
In a week, maybe two, they'll make you a star
Weeks turn into years
How quick they pass
And all the stars
That never were
Are parking cars
And pumping gas
[pump-pump-pump]
That's wonderfully written. The Gershwin comparison is relevant only in the sense that, temperamentally, Hal David was content to play Ira to Bacharach's George. Like George Gershwin, Burt squired glamorous women of the era (Angie Dickinson). Like Ira, Hal rarely got mentioned by celebrity magazines unless they were profiling his composing partner. But, on the big Bacharach numbers, David more than did his job. In fact, he made Bacharach sing easier. The tunes were certainly more interesting than the average rock number, in both their harmonies and their shifts of time-signatures, but they never sounded tricksy because Hal David's words made them sing so effortlessly. "I marvel at Hal's selflessness," Elvis Costello said to me after his own collaboration with Bacharach. "He always served the music."
David liked simplicity. "Most of us, when we start to write, try to be clever," he told me some years ago. "It takes us a long time to find the confidence to express things simply. But to me the perfect song is one which sounds as if the singer's just making it up as he goes along; it unfolds naturally." The example he quoted that day was Irving Berlin:
What'll I Do
With just a photograph
To tell my troubles to?
He described the Berlin waltzes of the early Twenties as "the quintessential popular songs". In 1987, while his wife Anne was dying of cancer, David chanced to hear Liza Minnelli and Michael Feinstein's medley of Berlin's "Always", "Remember" and "What'll I Do". "At a very difficult time of my life," he said to me, "that recording meant so much more to me than anything else around. In three minutes, a song can touch a chord and, ever after, define certain moments for you - more than books, plays or any of the supposedly more difficult forms."
As a young man in Brooklyn, he didn't know Irving Berlin but he knew a lot of other writers. His older brother Mack was a professional lyricist, and young Hal knew some of the other local fellows who'd broken into Tin Pan Alley, such as Jack Lawrence and Arthur Altman, writers of our Song of the Week #122 "All Or Nothing At All". Mack David's catalogue includes the English lyric to "La Vie En Rose", and a big Johnny Mercer hit "Candy", and Duke Ellington's "I'm Just A Lucky So-And-So", and "This Is It", Bugs and Daffy and Porky and the gang's big "on-with-the-show" theme for "The Bugs Bunny Show". He also wrote "Sunflower", a country-ish number that was a modest hit for Frank Sinatra and made a ton more money after an out-of-court settlement in a plagiarism suit over the marked similarities between "Sunflower" and the later song "Hello, Dolly!" As that ragbag of credits suggests, it's not easy being a jobbing lyric-writer with no regular composing partner. Mack David advised his younger brother to go into journalism instead.
For a while, Hal did. But songs were what he wanted to write, and in the years before he met Bacharach he had a few hits: "Broken Hearted Melody", for Sarah Vaughan, is still played; "The Four Winds And The Seven Seas", for Vic Damone, not so much. My favorite David song from this period is a floral novelty Sinatra had a hit with in 1950:
Daisy is darling
Iris is sweet
Lily is lovely
Blossom's a treat
Of all the sweethearts
I've yet to meet
Still I finally chose
An American Beauty Rose...
Well, you get the idea, but David certainly keeps it coming:
Why she's clingier
Than Ivy
And she's zingier
Than Black-Eyed Susan
Springier
Than Mabel in June...
Burt, meanwhile, was studying composition with Darius Milhaud and Henry Cowell. He wrote a Sonatina for Violin, Oboe and Piano. For half a century, he's read that Bacharach & David harken back to an older tradition, to the Great American Songbook. But, in fact, Bacharach is a more fully-formed musician than, say, Jerome Kern or Richard Rodgers. He is, unlike them, his own orchestrator. Almost twenty years ago, I spent an afternoon watching Bacharach rehearsing his string section in the lobby of the Chicago Theatre, preparatory to a concert that evening. Afterwards, he flossed, playing a different kind of string. Elvis Costello and I stood off to the sides, Elvis breezily chirping along to Hal David's lyrics, word perfect, like a beefier, pastier Dionne Warwick. I knew the words, too, but I preferred to watch in silence - trying to figure out whether Bacharach was approaching what he was putting them through as a song, a composition, an arrangement, a section, a part... I do know he was trying to pull from them all manner of nuances that no known system of musical notation has yet figured out a way to put on the page. Framed by the theatre's classical columns and gilded sconces, it was like watching a supercool Palm Court ensemble.
What I took away from the occasion was that Bacharach writes standards, but doesn't necessarily like standards. He has no interest in hearing "Raindrops Keep Falling On My Head" as a bossa nova, or "Anyone Who Had A Heart" as an up-tempo fingersnapper. If his original record has flugels, he doesn't want to hear it played on trumpets. If the saxes are counting straight, he doesn't want to hear them swung. And he likes his time-signatures. He doesn't want a jazz waltz put into 4/4, as Sinatra did with "Wives And Lovers". Time signatures are a Bacharach signature, changing through a song according to what Bacharach feels it needs. As a result, not all the new recordings are congenial to him. "What's the girl's name who did the single for Best Friend's Wedding?" he asked me, when the subject turned to "I Say A Little Prayer".
I'd forgotten, but it turned out to be Diane King, who did a sort of reggae version, "Me Say A Little Prayer".
"I don't particularly love that. I'm glad it was a hit, but I don't know why they had to change the 3/4 bar." He's referring to the way Miss King smoothed out the "Forever, forever you'll stay in my heart..." section, which shifts back and forth between 4/4 and 3/4. In eliminating the tempo changes and several syllables, she made the song more ordinary. But then, as Sinatra said, giving Bacharach a shout-out from the stage in Vegas long ago, "He's a helluva composer. He writes in hat sizes - seven and three-quarters."
And once he's got the hat he doesn't even want to raise or lower it. It's not just orchestration and arrangement and tempo; he doesn't even like key changes. Latterly, he refused to tour with Dionne Warwick because her voice has changed, and she likes to do her old Bacharach & David songs a fourth down - and he literally can't bear to listen to her sing them in those keys.
After Milhaud et al, Bacharach served a more conventional showbiz apprenticeship as pianist for Vic Damone and Marlene Dietrich. As for rock'n'roll, he wasn't that interested. Elvis Costello told me about watching a German interviewer "giving Burt a hard time because he'd never got into rock 'n' roll. And Burt said, 'Well, if you've just come out of the army and you're studying composition with Henry Cowell and listening to Dizzy Gillespie, Bill Haley and the Comets doesn't sound that hip.' And I can see that."
He went to New York's famous Brill Building to write songs and they paired him with an older guy who came in from the suburbs to write lyrics every day. But even Bacharach & David took a while to figure out Bacharach & David: Their first hits - "The Story Of My Life" for Michael Holliday in 1957, "Magic Moments" for Perry Como in 1958 - sound closer to "American Beauty Rose" than to "I Say A Little Prayer" or "A House Is Not A Home".
But in 1962 they asked a jobbing vocalist called Dionne Warwick to come in and sing "Make It Easy On Yourself". She thought she was making a single. In fact, Burt and Hal just needed someone to do a demo they could pass to Jerry Butler, the guy they had in mind to record it. Dionne was not happy when she found out, and yelled at them, "Don't make me over, man!" - ie, "Don't screw me over." Hal liked the phrase, and, modifying its meaning to "Take me as I am", wrote it up for Dionne. "Don't Make Me Over" is, I think, the first Bacharach & David song that sounds as what we think of by that description - that's to say, a harmonically adventurous ballad with a vernacular lyric that approximates to what the Golden Age songwriters might have come up with if they'd shown up 30 years later and rock'n'roll had never happened. After a while, it became their default style: "Anyone Who Had A Heart", "Always Something There To Remind Me", "Walk On By", "I Just Don't Know What To Do With Myself"... During his Austin Powers revival twenty years ago, I was sent a boxed set of Bacharach classics, and I remember really looking forward to sticking it in the CD player and then being kind of disappointed at how samey "the Bacharach sound" was after the first couple of dozen. My favorites from these years are the anomalies - Tom Jones bellowing "What's New, Pussycat? Whoa-o-o-o-o-oah!" or the jazzy little waltz they wrote for the film Wives And Lovers that Hal David told me he thought was "too hip to be a hit". But Jack Jones made it one. And then people started complaining it was chauvinist. A few years ago, I had a vague idea for an album called Songs For Swingin' Sexists, comprised mostly of tunes from the "Girl Talk" era. Bacharach & David's "Wives And Lovers" would certainly make the cut:
Hey, little girl
Comb your hair
Fix your make-up
Soon he will be at the door
Don't think because
There's a ring
On your finger
You needn't try anymore...
Elvis Costello told me that he thought Hal David's lyric was meant to be "ironic". "Oh, come on," I said. "There's not the slightest evidence he meant it as anything other than for real." But poor old Elvis felt he had at least to make an effort to justify the pleasure he took from the song. A few hours after he'd advanced his "ironic" argument, I saw him sing it, in a very stripped down arrangement, accompanied by Burt at the piano. He did a grand job, but it still wasn't ironic.
When it comes to less controversial boy-meets-girl stuff, David's great strength is strong titles and lyric concepts. He doesn't always advance them as far as he might, but he doesn't need to: "I Just Don't Know What To Do With Myself", "There's Always Something There To Remind Me", "What The World Needs Now Is Love, Sweet Love" - the title's half the song, and it's good enough to carry the rest. In 1967, Bacharach was scoring a picture called Casino Royale - nothing like the recent reboot, but a 007 all-star spoof (David Niven, Peter Sellers, Woody Allen, Deborah Kerr, etc) that's all but unwatchable today. Bacharach's score doesn't help: It has its moments (the title theme), but the forced, nudging quality of his "funny" music is at odds with anything happening on screen. On our John Barry podcast, Tim Rice talks about about Bacharach and John Barry (house composer for the Bond films), and we discussed certain qualities they had in common. But, after watching the Bacharach Casino Royale, I realised how very grateful I was that no one had asked Burt to score Goldfinger. At any rate, Bacharach was watching an early cut of the film, and the memorable seduction scene with Ursula Andress. It's not entirely for real - it's with Peter Sellers, after all - but Ursula underdressed was enough to inspire the composer to write a smoldering sax theme. That's what it was meant to be: An instrumental. But it was so obviously a vocal line that David was called on to supply a lyric. He wrote:
The Look Of Love
Is in your eyes
The look your smile can't disguise
The Look Of Love
Is saying so much more
Than just words could ever say
And what my heart has heard
Well, it takes my breath away...
With or without words, Bacharach was immensely attentive to the orchestration: The spare intro, the string obbligato, the sax... It all fits so right, and "The Look Of Love" is such a great title you wonder why no one ever used it before. In fact, someone had - Sammy Cahn and Jimmy Van Heusen in a ring-a-ding-dinger for Sinatra five years earlier. In this case, "The Look Of Love" is "the look that leaves you real shook" - a quintessential Sammy line. There's nothing wrong with their "Look Of Love". It does its job in the Frank/Nelson Riddle/Cahn & Van Heusen style, even if it does sound as if the boys wrote it in five minutes. But it doesn't quite grasp what a great title it's got. Sammy Cahn hated guys who "don't respect title". Cahn & Van Heusen wrote a song called "Only The Lonely" and, after Roy Orbison did the same a few years later, Sammy told me "I have a certain antipathy toward Mr Orbison". Likewise, toward Cyndi Lauper re "Time After Time". But he conceded to me, in a rare moment of self-reflection, that "Look Of Love"-wise Bacharach & David had rung more juice out of the concept than he and Van Heusen. "The Look Of Love" is better than the film deserves, but it's just right for that moment. If you ever found yourself on a sofa with Ursula Andress late at night in a small apartment, this is the song you'd write. This "Look" is in close-up: Musically and lyrically, it's very intense. And then, characteristically Bacharach, you get the extra beats and, characteristically David, the lyric's so deft it seems as natural as walking. The controlled observation of the main theme yields to the anticipatory ecstasy of the release:
I can hardly wait to hold you
Feel my arms around you
How long I have waited
Waited just to love you
Now that I have found you
You've got The Look Of Love
It's on your face
A look that time can't erase...
That's Hal David at his best, serving the music superbly. And then it all wanders off a bit:
Be mine tonight
Let this be just the start
Of so many nights like this
Let's take a lover's vow
And then seal it with a kiss...
And that's Hal David on autopilot - trite sentiments ("be mine tonight"), formulaic expressions ("seal it with a kiss"). But it doesn't matter - because the central idea is so strong and so in tune with the music. Dusty Springfield's performance on the soundtrack is the highlight of the picture. In my disc-jockey days, I had a mild preference for Gladys Knight taking it slow and soulful, aside from the occasional interjection from her oddly orgasmic Pips. But really it's very hard for a female vocalist to go wrong with this song. To be honest, that's why I was flummoxed by the success of the Diana Krall version. I'm all for distant Hitchcockian cool - I've got a ton of Julie London albums - but Miss Krall sounded awfully detached from the song's sentiments. Pottering around the room about a year after "The Look Of Love" came out, I heard her moaning low from the TV in the corner and thought "Don't tell me they're still plugging this album," but no: "The Look of Love" had moved seamlessly on from selling CDs to selling the new Honda Lethargo or Toyota Catatonic or whatever car commercial it was. If Terry Teachout is excited to hear it in McDonald's, good for him. If it can sell cars, it's certainly dandy music to buy hamburgers to:
The Look Of Love
Is in your fries
The look that says
'Supersize ...'
One must respect a hit, and Diana Krall has certainly claimed the song for 21st century ears. But I miss the erotic crackle of Gladys Knight, and Dusty musicalizing the look of Ursula Andress in swingin' London:
How long I have waited
Waited just to love you
Now that I have found you
Don't ever go
Don't ever go
I love you so...
It's harder than you might think to write "Don't ever go" and then be assured enough to follow it with "Don't ever go". But the line might have come in useful a few years later when Bacharach & David were working on a musical remake of Frank Capra's film Lost Horizon. They were a team, and a very successful one. But Bacharach was in the studio late one night working on the picture's background score, and he thought of David, who, having turned in his lyrics, had flown down to Mexico to play tennis. And the thought rankled. So Burt called Hal and said he reckoned that, instead of their usual 50/50 split, they should move to 60/40 in Bacharach's favor. Partners don't do that. Another lyricist recently told me of coming home to his answering machine to find a message from his composer proposing a similarly lop-sided arrangement. The lyric-writer called his florist and sent round a delightful arrangement spelling out "BUGGER OFF" to be dropped in his collaborator's front yard.
But at the time of Lost Horizon there were no answering machines to shield David, and no 24-hour florists. And Hal had his own rankling thoughts - all those magazine covers drooling over Burt and whichever Swingin' Sixties totty he happened to be squiring that week. If he was the archetypal songwriter who looks like a dentist, how come he felt like the one on the receiving end of a decade-long root-canal? Sixty/forty? Hal said no. Burt said, "F**k you and f**k the picture", and hung up.
The picture was already f**ked. It flopped and made nothing. And 60 per cent of nothing is exactly the same as 40 per cent of nothing. So it would have made no difference to Lost Horizon. But it finished Bacharach & David. Burt declined to write anything for Dionne's new album. So Dionne sued Burt. And then Burt sued Hal. I forget whether Hal sued Dionne, but the courtroom jousting went on for almost a decade. Both men found occasional partners and had occasional hits - "That's What Friends Are For" (Bacharach), "To All The Girls I've Loved Before" (David).
But it was never the same. Maybe the standard critique is right: The music's sophisticated, the words are simple. Because, as Hal David told me, "it takes us a long time to find the confidence to express things simply." And sometimes simple words express simple truths:
Now that I have found you
Don't ever go...
April 16, 2017
Tal Bachman is a hitmaker in his own right, and the son of Seventies rocker Randy Bachman. But Mark had him in mind for an even earlier contribution to the Maple Songbook. Live on stage, a great Canadian performer sings a great Canadian song - for the very first time:
From The Mark Steyn Show, a valentine to one of the great iconic love songs performed live by Mark's special guest, Carol Welsman:
A special edition of our Song of the Week with a brace of 007 guests: Bond lyricist Don Black (Diamonds Are Forever) and Bond villain Robert Davi (License To Kill) are on hand to celebrate the first British song to win an Oscar:
One of the most successful lyricists of our time, the multi-Oscar and -Tony winner Tim Rice, joins Mark to talk about one of Tim's comparatively few hits not to come from a film or show score - after which Emma Kershaw sings it live, complete with previously unheard third verse:
March saw, in rapid succession, Dame Vera Lynn's 100th birthday, a terrorist attack on Westminster Bridge and the Houses of Parliament, and Theresa May formally beginning the process of British withdrawal from the European Union. The combination of events put me in mind of this song...
Mark celebrates the 70th anniversary of one of the most beautiful of all French songs, performed by the great Patsy Gallant. Patsy had a monster disco hit around the world with "From New York To LA" and then an incredible eight-year run in Starmania, the blockbuster Paris musical hit. But she has always loved Édith Piaf, and Mark is thrilled to present not only her version of "La Vie en rose" but also another Piaf success - "Sous le ciel de Paris":
For this week's live-music edition of Steyn's Song of the Week, multi-Grammy-winning Cheryl Bentyne of the Manhattan Transfer sings Leon Russell's slinkiest love song:
Mark welcomes the Klezmer Conservatory Band to perform their haunting klezmerized version of his favorite Leonard Cohen song - and be sure to stay tuned for a bonus number - the irresistible "Miami Beach Rhumba":
For this week's live-music edition of Steyn's Song of the Week, Maria Muldaur temporarily abandons "Midnight at the Oasis" for a wild jungle ride:
As a postscript to this year's Mark Steyn Christmas Show, here's a first-footing video edition of our Song of the Week, celebrating the only New Year number since "Auld Lang Syne" to become a seasonal staple:
On this year's Mark Steyn Christmas Show Mark was in sentimental mood, recalling some of his earliest festive memories from his grandparents' home in Ireland. So he asked Anthony Kearns to sing his favorite Irish Christmas carol:
I've been bombarded by emails from readers demanding to know what I think of a limp, inert rewrite of "Baby, It's Cold Outside"...
The return of a festive favorite
An enduring Christmas song that started out as a Thanksgiving song
This week's Song of the Week is one hundred years old today: that's to say, it was published by Messrs Chappell & Co of New Bond Street, London on December 4th 1916, at a price of one shilling and sixpence. And in one form or another it's been with us ever since...
Three enduring songs from one flop musical
Mark on his favorite Leonard Cohen song
The only hit song written by a candidate on a winning presidential ticket
A SteynOnline audio special on the 80th anniversary of a great Cole Porter standard
A pop culture footnote to our tenth-anniversary observances of America Alone
The grueling schedule of my sellout Aussie tour kept my nose mostly to the grindstone, but I did get a couple of hours off on the Victoria leg and so treated myself to a matinée of Georgy Girl: The Seekers Musical at Her Majesty's Theatre in Melbourne...
The Steyn Oz tour moves on. We had a great time in Parliament House today, where the Foreign Minister, Julie Bishop, gave me a far better introduction than I deserve. I'll be in Sydney on Tuesday. As I said last week, we always like to have a few Aussie Songs of the Week on my forays Down Under, and I'm not sure "Georgy Girl", written by two Englishmen, quite qualifies. But this one does: Ten years ago, I found myself sitting in a taxi in George Street in Sydney behind another cab bearing a big ...
Hey there, Georgy Girl Swingin' down the street so fancy free... We always like to have an Australian Song of the Week to kick off my tours Down Under, but this one isn't strictly speaking an Aussie song, in the sense that its composer and lyricist are English. On the other hand, it's indelibly associated with the biggest pop group ever to come out of the Lucky Country – and it provides the the title for the brand new biotuner about them that's enjoying its world premiere at Her Majesty's ...
A hit song by the great nephew of Queen Ranavalona III of Madagascar
Happy Australia Day to all our readers Down Under. It's actually Tuesday, which is tomorrow, but tomorrow here is probably already yesterday there, so I may be too late. I'm looking forward to seeing many of those antipodean readers next month on my Aussie tour, which kicks off on Valentine's Day in Perth. Half the dates are already sold out, so, if you haven't booked your seats yet, don't leave it too late. Details of towns, times and tickets can be found via the IPA here. We always like to ...
I've received a remarkable number of emails in the last week more or less taunting me to eschew my usual Jerome Kern and Cole Porter and pick a David Bowie number for our Song of the Week. Well, I like a challenge, and, given that the British press has been full of people with not a thing to say about Bowie saying it at great length, I figured that I might as well get a piece of the action. That said, it would be hard to beat this last word in Bowie-eulogizing from The Croydon Advertiser:
Old Coulsdon man delivered David Bowie's milk in summer of '69
A backbreaker of a blockbuster, courtesy of the company sto'
Mark remembers Natalie Cole, an unforgettable song, and an unshuttupable songwriter
In case you missed it, here's our rundown of Mark's Sinatra Century - 100 years in 100 songs: 1) IT WAS A VERY GOOD YEAR 2) THE SONG IS YOU 3) HOME ON THE RANGE 4) AFTER YOU'VE GONE 5) IT HAD TO BE YOU 6) THE ONE I LOVE (BELONGS TO SOMEBODY ELSE) 7) LOVE'S BEEN GOOD TO ME 8) STARDUST 9) MY FUNNY VALENTINE 10) WHAT IS THIS THING CALLED LOVE? 11) CHICAGO 12) THE CONTINENTAL 13) ALL OF ME 14) WHEN YOUR LOVER HAS GONE 15) NIGHT AND DAY 16) I WON'T DANCE 17) I'VE GOT YOU UNDER MY SKIN 18) SOUTH OF ...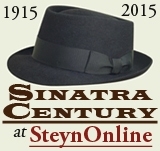 A Christmas song rewritten for Sinatra
Esther Williams and Ricardo Montalban launch the clash of civilizations
A happy 75th birthday to the most famous reindeer of all
Mark hits a new high as he takes a crack at Mariah Carey's Christmas classic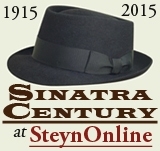 Frank Sinatra called himself a "saloon singer," because that's where he used to sing, way back when, in Jersey juke joints and roadhouses....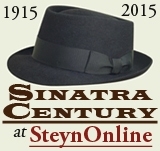 Our 99th Sinatra Century song is, after "My Way", the second most performed Sinatra song written by a Canadian...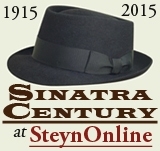 A big hit, but a tense moment in the studio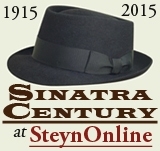 Two takes separated by four decades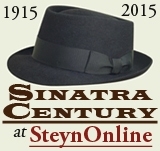 The last crowd-pleaser of a six-decade career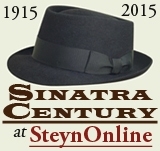 ...but not so easy to sing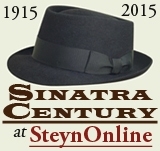 The sexy polka that made a presidential inaugural speech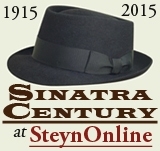 A timeless ballad from a Sinatra stalwart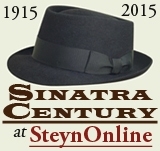 April 14th 1937: a major expansion of the American songbook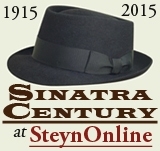 Frank sings a classic Johnny Mercer revenge song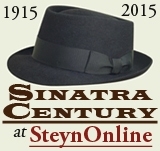 Via Frank and a couple of Londoners, a black American soul classic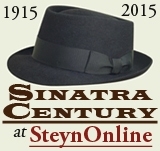 Frank and Nancy sing Sonny and Cher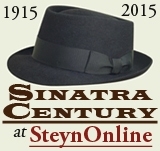 On September 19th 1979 in Los Angeles, it fell to Vinnie Falcone to conduct what would become one of the biggest Sinatra recordings of all time:
Start spreading the news...

On the first of our Sinatra Century audio specials, Frank's longtime pianist and conductor Vincent Falcone talks, among other things, about the singer's relationship with the George Harrison ballad "Something". So I thought we'd spend a little time with the song as we head into the final stretch before the big 100th birthday.

In November 1968 George Harrison and his then missus Pattie Boyd attended the recording sessions in Hollywood for Sinatra's album Cycles...

Until the mid-1960s Broadway was the biggest supplier of the most enduring standards ...and then gradually it all sputtered to a halt, and even hit shows didn't produce really popular songs. With one notable exception...

By sheer coincidence, our scheduled Sinatra song is, in fact, a French song. Indeed, by further coincidence, it belongs to a lost age of Franco-Arab cultural co-mingling...

Sinatra's highly variable results with the acme of the mid-20th century showtune

Ronald Miller's hit-makers share a hot tub...

The meaning of existence, and all that jazz...

The girl who launched a song, and the song that launched an industry

The black cat who crossed Sinatra's path

In 1960, Frank Sinatra left Capitol and founded Reprise Records because he wanted to have total artistic control. But oddly, once he'd got total artistic control, he seemed disinclined to exercise it...

By 1966 it had been over a decade since Frank Sinatra had had a Number One single. It's fine to be acclaimed as a great artist, to have big-selling albums, sell out in Vegas and on world tours, and star in Hollywood movies. But, if popular singing is what you do, there's something special about a Number One hit single...

An encore presentation of Mark's audio salute to James Bond's music man, John Barry

Sinatra Sings The Sacroiliac Songbook

The song Sinatra took with him to the grave

We've been spending a little time this Columbus Day weekend with a man who was born in Columbus, Ohio exactly a century ago - October 10th 1915 - and was at Sinatra's side for some of his most thrilling records of the Fifties and Sixties: Harry "Sweets" Edison, whose trumpet mute was a big part of Frank's Capitol sound.

When you're as good a jazz player as Edison, studio sessions aren't really what you want to do. You'd much rather be in some night spot with a handful of other guys taking a full chorus for every solo...

The master of the muted trumpet, Harry "Sweets" Edison

Sinatra in London with a classic British ballad...

A bluesy ballad Sinatra sang for 30 years

Sinatra, a meadowlark, and a rhymeless romance

A classic Sinatra moment - on record, on film, on TV.

A truly great song for the season isn't about the calendar, or the weather. It's about the seasons of life and love...

According to Johnny Mercer, "Writing music takes more talent, but writing lyrics takes more courage." What he meant was that a tune can be beguiling and melancholy and intoxicating and a lot of other vagaries, but there comes a moment when you have to sit down and get specific, and put the other half of the equation on top of those notes. A songwriter spends his life chasing the umpteenth variation of "I love you"...

In honor of Alan Bergman's 90th birthday, we've been spending a little time this weekend with some of his early hits for Sinatra. Although I myself have recorded an Alan & Marilyn Bergman number, I reluctantly concede that, vocalist-wise, they're better known for their association with Barbra Streisand ("The Way We Were", "You Don't Bring Me Flowers", etc). But long before Barbra they wrote a few songs for Frank that have a different character...

Mark celebrates Alan Bergman's birthday, and one of his biggest hits...

A Sinatra song for Labor Day

A record the songwriter didn't like, of a song the singer didn't like

Steyn on a saloon song classic

Up there where the air is rarefied: Sinatra and the soundtrack of the Jet Age...

First the tide rushes in. Then you rush out and write the song...

I've always loved songs that use magic as an image of romantic seduction...

When Frank Sinatra and Nelson Riddle found their groove in the mid-Fifties, the music just poured out. In 1956 there was so much of it: The year began with the sessions for the defining album of the early LP era - Songs For Swingin' Lovers. It ended with the sessions for Swingin' Lovers' swingin' successor, A Swingin' Affair!...

A Sinatra signature - and the birth of a new songwriting team

The strange story of a one-hit wonder

For over half a century songwriters tried to get their best work to the best singer of the best songs. The sitcom "Frasier" devoted an entire episode to the proposition, after Dad revealed that he'd written a song for Frank, "You're Such A Groovy Lady".

But in the entire history of Getting Songs to Frank there are no luckier guys than Dave Mann and Bob Hilliard...

2015 is the centenary year not only of Frank Sinatra but also of Chet Forrest, born one hundred years ago this weekend on July 31st 1915 in Brooklyn, New York.

Chet who? Well, Robert Wright and his partner George "Chet" Forrest were never exactly household names in the music biz, but they certainly worked with a lot of household names, including Rachmaninov, Tchaikovsky and Rimsky-Korsakov...

A Sinatra song that wore out a jukebox in Toms River, New Jersey...

An ode to youthful optimism

The opening of Frank Sinatra's spectacular Second Act

Frank Sinatra poses a musical question to Mitch Miller....

The early Fifties were a rough time for Sinatra - and for his voice...

We're a day away from Bastille Day, France's fĂȘte nationale, and so it seems appropriate to spend a little time with franco-Sinatra. He sang a lot of French songs over the years, most famously this:

Je me lĂšve et je te bouscule
Tu n'te réveilles pas
Comme d'habitude...

Oh, no, wait. Frank sang the English lyric:

And now the end is near
And so I face
The final curtain...

Frankie sings Frankie

Frank Loesser was a busy Hollywood lyricist who decided he was going to turn himself into a Hollywood lyricist-and-composer. Having pulled that off, he then decided to become one of Broadway's great musical dramatists to boot. His first stage musical, an adaptation of Charley's Aunt, opened in 1948, with a great score and a legendary showstopper of a song in "Once In Love With Amy". On our double-CD Frank Loesser centenary celebration (exclusively available from SteynOnline), you can hear me...

We had a Sinatra song from Canada for Dominion Day, and so we surely have to have an American Sinatra song for Independence Day...

Dominion Day looms - on Wednesday - and we always like to have a Canadian song for the national holiday. Sinatra recorded many maple-infused numbers over six decades, from "I'll Never Smile Again" and "Put Your Dreams Away", both by my fellow Torontonian Ruth Lowe, all the way to Joni Mitchell's "Both Sides Now" and, of course, Paul Anka's "My Way" (he wrote the English lyric). But, for a great national occasion, I figured what could be more Canadian than...

I like New York in June
How About You?

A Sinatra classic - as ballad, bossa or swinger

He was the saloon singer - quarter to three, set 'em up, Joe, drinkin' again and thinkin' o' when... spinning round in my brain, like the bubbles in a glass of champagne... But Sinatra liked a non-alcoholic tipple, too. He took "Tea For Two" with Dinah Shore in 1947, and in 1960 recorded "When I Take My Sugar To Tea". But he wasn't averse to something a little more caffeinated:

Way down among Brazilians
Coffee beans grow by the millions
So they've got to find those extra cups to fill...

Happy Father's Day to you and yours. I miss my dad more and more as the years go by. Our Sinatra Century would be incomplete without this particular entry:..

A one-hit wonder who never got to hear her one hit sung by anyone - from Sinatra to Molly Ringwald

On January 9th 1956, Frank Sinatra went into the not yet famous Studio A of Capitol Records at Hollywood and Vine in Los Angeles for the first of a handful of sessions for a new album...

As a companion piece to Friday's "Nancy (with the Laughing Face)", here's a Frank-and-Nancy moment from a couple of decades later...

Seventy-one years ago this Monday, June 8th, a cute little four-year-old girl was having a birthday party, and a couple of pals of her dad decided to present her with a very special gift...

Frank Sinatra rescued a lot of songs over the years, but rarely on the scale he did with this one. It was from an awe-inspiringly hideous train-wreck of a musical. But Sinatra recorded it, and made it a standard - and the only torchy ballad of lost love whose central image is of laundry...

On June 24th 1958 Nelson Riddle raised his baton, and Frank Sinatra made one of the greatest recordings of a great song...

This one stayed in Sinatra's book almost to the end, mainly because he just had so much fun singing it...

What's the connection between Frank Sinatra and Mickey Rooney?

Oh, that's easy. They were both married to Ava Gardner.

What's the connection between Frank Sinatra and William Shakespeare?

Hmm, well, lemme see...

In the pithy summation of Terry Teachout, Alec Wilder "spent his life looking for cracks to fall through". Back in the days when we still had record stores, he didn't quite fit the pop bins or the classical bins or the jazz bins. Which is why, if you're hung up on categorization, it's easier to leave him out of the store altogether...

Many years ago - when a lot of the guys who wrote the American Songbook were still around - I started asking composers and lyricists to name their all-time favorite song. This one came right at the top...

As much as "It Had To Be You" or "The Way You Look Tonight", "I'll Be Seeing You" belongs to a select group of über-standards, the ones we'll still be singing when 90 per cent of the rest have fallen away. It's one of those "our song" songs - especially if you happened to find yourself on a railway platform in the early 1940s waving a loved one off to war...

When I first got interested in the great standard songs as a teenager, I sort of assumed that they were all written by the big names - Cole Porter, Gershwin. It took a while to dawn that not everything from, say, the Thirties was concocted by a major writer for a famous Broadway score or a Fred Astaire movie. So after a while, when I heard a song I liked, I'd say, "Hey, I wonder who wrote that." Quite often, the answer would be "Matt Dennis & Tom Adair". Let's just stick to the Sinatra end of their catalogue: Who wrote "The Night We Called It A Day"? Matt Dennis & Tom Adair. Who wrote "Let's Get Away From It All"? Matt Dennis & Tom Adair. Who wrote "Violets For Your Furs"? Matt Dennis & Tom Adair. Who wrote "Angel Eyes"? Matt Dennis. Who wrote "There's No You"? Tom Adair. And who wrote..?

Before St George's Day fades for another year, I thought we'd have a Sinatra English song

"Fools Rush In" isn't thought of as a Sinatra song. If you were anywhere near a jukebox or a transistor radio in the early Sixties, you'll think of it in Ricky Nelson's bouncy-bouncy teenypop arrangement. But once upon a time the song was new, and Frank Sinatra was the guy singing it...

We began the week with Sinatra's one big hit with the Harry James band. We end it with his first big hit with the Tommy Dorsey band. This essay contains material from Mark's book A Song For The Season:

I'll Never Smile Again
Until I smile at you
I'll never laugh again
What good would it do?

It was June 1939 and the singer Louise Tobin was in her room in the Lincoln Hotel in Manhattan, packing for a gig in Boston with Bobby Hackett's band. Her hubby was napping on the bed. He was a trumpeter, name of Harry James, who'd just left Benny Goodman to put together his own orchestra. The radio was carrying a remote from some joint in New Jersey, and a male vocalist came on...

Someday someone should release an album called Classical Frank. I mentioned a couple of days ago that "Take My Love" was adapted from Brahms' Third Symphony. Aside from Brahms (whose Lullaby he also recorded), Sinatra sang over the years Anton Rubinstein, Grieg, Rachmaninov, Ravel and Borodin. That's to say, "If You Are But A Dream" (Rubinstein's Romance No 1), "I Love You" and "Strange Music" (Grieg's "Ich Liebe Dich" and "Wedding Day At Troldhaugen", respectively), "Full Moon And Empty Arms" and "I Think Of You" (both from Rachmaninov's Second Piano Concerto), "The Lamp Is Low" (Ravel's Pavane pour une infante défunte)...

2015 is not only the centenary year of Frank Sinatra but also of Billie Holiday, born April 7th 1915 in Philadelphia. We will mark the occasion formally a little later this week, and acknowledge Sinatra's admiration for Holiday. But the respect was mutual, and on Billie Holiday's last major recording the stand-out track was a Sinatra song...

When Frank Sinatra was 18, it was a very good year. Anything Goes opened at the Alvin Theatre in November 1934 and provided young Frank with a slew of Cole Porter material he would sing in his maturity:.The title song turned up in 1956 on his landmark album Songs For Swingin' Lovers; "Easy To Love" was dropped at the insistence of leading man William Gaxton, but became a highlight of Sinatra's first album at Reprise...

Sinatra sang a lot of Gershwin over the years, but if you had to name the most important "Gershwin song" in his book it would probably be "The Gal That Got Away" - words by Ira Gershwin, but music by Harold Arlen. He made a terrific record of it when the song was new, and then returned to it a quarter-century later to make it - in a medley with "It Never Entered My Mind" - the last great saloon-song sequence to be added to the Sinatra act.

But a lot of George Gershwin tunes stayed with him to the end, too...

Seventy years ago, the 14th Army under the command of General Bill Slim finally liberated Mandalay and returned it to British rule. Given the popularity of this song among British military concert parties of the time, more than a few of Slim's men must have found themselves singing:

Come you back to Mandalay
Where the old flotilla lay...

Where do you head after you've gone "South Of The Border"? Oh, that's easy...

St Patrick's Day looms, and so a Sinatra Irish confection would seem to be appropriate. Unlike Peggy Lee, he never recorded "When Irish Eyes Are Smiling"; unlike Rosie Clooney, he never recorded "Danny Boy". In the 1949 film Take Me Out To The Ball Game, he sang a song called "O'Brien To Ryan To Goldberg" - Gene Kelly, who was of Irish ancestry, played O'Brien; Jules Munshin, who was of Russian Jewish ancestry, played Goldberg; and Frank Sinatra, who was of Italian ancestry, played, er, Ryan.

But what of the great Irish songwriters..?

The night it took 22 takes...

The 1930s were the golden decade of American popular song. The great Broadway blue chips - Cole Porter, Rodgers & Hart - were hitting their stride, and, as we've explored in recent weeks, a whole generation of far lesser known names were providing great individual numbers that, thanks to Sinatra, have lasted across the decades...

What's the connection between the Muslim call to prayer and Frank Sinatra?

E A Swan?

Who's he?

Well, if you saw Frank Sinatra on stage...

A Sinatra classic, born from a happy accident at a summer resort, and a widow's grief

It's the wee small hours after Oscar Night, and so our Sinatra Centenary song is obliged to take a nod at least in the direction of the Academy Awards. Frank made a whole album of Oscar winners, with the unwieldy title of Sinatra Sings Days of Wine and Roses, Moon River, and Other Academy Award Winners...

An anthem to "the town that Billy Sunday couldn't shut down"

On March 27th 1929 the Charles B Cochran revue Wake Up And Dream opened at the London Pavilion, with a host of West End talent, including Jessie Matthews, Sonnie Hale, Tilly Losch and Douglas Byng. And at one point in the evening Britain's "Radio Sweetheart Number One", Elsie Carlisle, stepped forward and sang...

Valentine's Day looms, and, given his contribution to its popularity, we would be remiss not to include in our Sinatra Century the one great Valentine standard...

It's July 8th 1939 and the Harry James orchestra is on stage at the Roseland Ballroom in New York. They have a new singer - a 23-year old boy vocalist who signed with the band a few days earlier - and he steps to the microphone to sing...

The other day I was reading, strictly for pleasure, The Complete Lyrics Of Johnny Mercer, and in particular the work of his somewhat frustrating final years. And a handful of pages before the end you turn the page, and from one of those projects that never came to fruition are a couple of songs bearing the credit "Words and music by Johnny Mercer and Rod McKuen".

My God, what was he thinking?

We're spending this weekend with the Isham Jones/Gus Kahn end of the Sinatra songbook. Following "It Had To Be You" on Friday, here's a song Frank sang for almost half-a-century from June of 1940, as the new boy vocalist with a hit orchestra, to deep into the 1980s, as a lion in winter jumpin' all over a hard-swingin' band...

An ĂŒber-standard everyone sang before Frank

A song as old as Sinatra that he only got to in the Eighties

I received a letter, as I do from time to time and particularly since we launched this series, making the familiar complaint that I "only write about the kind of songs Frank Sinatra sings" and thereby ignore the older, vernacular American musical tradition. Well, I happen to think Frank chose pretty good songs, so why kick the habit? For example, here's a ring-a-ding-ding Sinatra classic he recorded in 1946:

Oh, give me a home where the buffalo roam
And the deer and the antelope play...

It's often said that the pop songs you like when you're 17 years old are the pop songs that stay with you your entire life. And in that respect Frank Sinatra was very fortunate: When he was 17, to pick up where we left off last week, it was a very good year. The songs in the air as a Hoboken schoolboy prepared to start his adult life were the songs he would record a quarter-century later and still be singing on stage, at Caesars' Palace and the Royal Albert Hall, another quarter-century beyond that...

Our Sinatra Song of the Century Number One

This essay is adapted from Mark's book A Song For The Season

I love the Great American Train Song. It's a genre that has the sweep and size of the nation...

After "Cat Scratch Fever", Mister Squaresville goes in search of other rockers to cover

A musical moment from The [Un]documented Mark Steyn

Last week we marked the 75th anniversary of The Wizard Of Oz, but without getting to the film's big song. It's about five minutes in, when we're still in drab, dusty, cheerless, broken-down black-&-white Kansas. Dorothy has tried to tell her folks about an unpleasant incident involving Miss Gulch, but Aunt Em advises her to "stop imagining things" and "find yourself a place where you won't get into any trouble". Dorothy wanders off, taking the injunction seriously. "Do you think there is such a ...

This month marks the 75th anniversary of one of the greatest and most enduring film musicals ever made, and one of the few to match the dramatic ambition of the best Broadway shows. The Wizard Of Oz gave us a standard song that won the Oscar that year and was potent enough to provide Eva Cassidy with a posthumous hit in the 21st century. We'll get to that next week, but for this week's Song of the Week here's one of my personal favorites from a truly marvelous score: Ding-Dong! The Witch Is ...

When this weekly feature began eight and a half years ago, our Song of the Week Number One was "San Francisco", to mark the centenary of the 1906 earthquake. But, if I'd been thinking about a Number One song in more profound terms, our Number One song would have been the song we're finally getting round to almost a decade later - because this week's song was really the Number One song for an entire school of songs. As Mel Tormé put it, when Jerome Kern composed this melody, he "invented the popular song". If your idea of a popular song is "Call Me Maybe" or "Ain't Nobody Here But Us Chickens" or "The Tennesee Waltz", Tormé's claim is a bit of a stretch. But it's not unreasonable to claim that with this tune Kern invented what we now call the American Songbook - standards that endure across the decades and can be sung and played in almost any style. It is, thus, the Number One Song, the first and most influential entry in that American Songbook...

A few weeks back, apropos "June Is Bustin' Out All Over", I mentioned that we hadn't done a lot of "month" songs in the years we've been running this feature. Some months - mostly spring ("April Showers", "April In Paris") and fall ("September Song", "September In The Rain") - seem to lend themselves to musicalization. If "June Is Bustin' Out All Over" is about as big a hit title as the sixth month of the year has ever produced, the eighth (which looms this very week) can't even manage a title ...

What with all the Jew-hate around on the streets of Europe in recent days, I thought it would be nice to have a big Europop hit from that fleeting cultural moment when the Continentals regarded Israel not merely as a normal sovereign state but in fact a rather cool and enviable one...

Some musical advice from Mark's graduation season

The all-time great World Cup song

Steyn celebrates the song Ray Charles used to hum in the back of his car on the way to the gig - until one day his driver told him to record it.

Well, it's the beginning of June and that means June is bustin' out all over! Except that June doesn't really bust, does it..?

Happy Memorial Day to all our American readers. My youngest will be playing with the town band in the parade, and I do believe this number is on the song list. This essay is adapted from my book A Song For The Season...

Ninety years ago this Thursday a baby boy was born in Paris ...well, that was the first unexpected plot twist. He was supposed to be born in America...

Four decades ago, "Waterloo" hit Number One in the British charts, and the four Swedes never looked back, except to check whether their hot pants had split...

Mark explores the art of the cigarette song

One of the biggest pop standards of the 20th century celebrates its 90th birthday this month. Exactly nine decades ago - April 21st 1924 - a new musical comedy opened in Chicago on its pre-Broadway tour. The plot was the usual fluff - three couples in Atlantic City, complications ensue, etc. It should have been a breeze, but it wasn't going well...

Six decades ago - April 12th 1954 - a chubby-faced kiss-curled man pushing 30 with a backing group named after a theory published in Synopsis Astronomia Cometicae in 1705 went into the recording studio at the Pythian Temple on West 70th Street in New York and sang a song written by a man born in the 19th century...

A Rodgers & Hart classic - after three false starts...

The 50th anniversary of the Beatles' only showtune

Shirley Temple - singer, dancer, actress, and rock'n'roller

A song for Groundhog Day?

This column comes by way of request from several readers, ever since the demise of Cecil the Lion hit the front pages. Here is the story of the biggest hit ever to come out of Africa - and why its author never reaped the benefits: In the jungle, the mighty jungle The Lion Sleeps Tonight... A third of a century ago, "The Lion Sleeps Tonight" got to Number One in Britain for Tight Fit. Can't quite place Tight Fit? It sounds like a vaguely parodic name for a boy band, but in fact they were a coed ...

Number One in January 1934 ...and January 1959

Happy New Year with one of Mark's favorite songs for the season

As the years go by I grow less and less interested in grassy knolls and all the rest, but I am struck by one genuine, non-conspiracy-theorist feature of November 22nd 1963...

2015 is Frank Sinatra's centenary year, which necessitates a few modifications to SteynOnline's music, film and entertainment coverage. Our official observances commence tomorrow when our Song of the Week department becomes a Song of the Semi-Week in order to squeeze in 100 Sinatra songs of the century between now and December. Several other folk seem to have opted for this approach, too - our old friend the Pundette has launched a dedicated Sinatra Centenary site for that very purpose - so we ...

For Bastille Day it seemed appropriate to have a French number for our Song of the Week. Unfortunately, this one's British, but it does have an accordion...

How a psychedelic anthem from the summer of love became an easy-listening blockbuster

A day late for Cinco de Mayo, here's Steyn's Song of the Week: the most successful composition by Mexico's first successful female composer.

~and don't forget, if you like Mark's Song of the Week essays, some of his most requested are collected in his book A Song For The Season - including many songs for national days, from "America The Beautiful" to "Waltzing Matilda". You can order your personally autographed copy exclusively from the SteynOnline bookstore.

April 29th apparently marks the anniversary of the launch of the Islamic conquest of the Iberian peninsula in the year 711. So I thought it would be fun to have a suitably Islamo-dominant number for our Song of the Week.

~and don't forget, some of Mark's most popular Song of the Week essays are collected in his book A Song For The Season. You can order your personally autographed copy exclusively from the SteynOnline bookstore.

Here's a special Steyn podcast on the most famous pop hit about Easter and its (sort of) centenary...