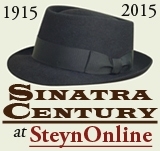 "Body And Soul" is everybody's song - or everybody's tune: The music is rather more popular with instrumentalists than the words are with singers. And it has played a part in many performers' careers: Coleman Hawkins' version is, in Ted Gioa's words, "the most celebrated saxophone solo in the history of jazz"; Amy Winehouse's duet with Tony Bennett was the last record she ever made in her short, sad life. But Frank Sinatra made one remarkably fine version of the song, and then returned to it four decades later. And between them those two takes testify to a life lived, body and soul.
Of the various names attached to the song, the one with the strongest Sinatra connection is Edward Heyman, who supplied the lyrics to what Frank regarded as his all-time worst movie, The Kissing Bandit. Heyman was usually better than that. He's not a household name but across the best part of a quarter-century he wrote the lyrics of several household songs. Some of them reek of period: "You Oughta Be In Pictures" is a charming song but the word "pictures" has lost out to "movies" as the preferred popular designation of "motion pictures" and its chances of being another "Hooray For Hollywood" recede a little with each year. Other Heyman lyrics radiate a kind of old-fashioned pleasure in the American vernacular - "It's High Time I Got The Low-Down On You". And a few of his hits turned into enduring standards. "Blame It On My Youth" is a marvel of wistful regret, and "Love Letters" is a minor Thirties pop song that somehow hung around to get picked up by Elvis, Natalie Cole, Diana Krall. And a Heyman song written 20 years later, "When I Fall In Love", is almost as beloved. In some ways, it's a very ordinary lyric built around the most commonplace sentiment – "When I fall in love, it will be forever". But even then Heyman places some distinctive words. In the middle section, I'm always struck by "restless":
In a restless world like this is
Love is ended before it's begun
And too many moonlight kisses
Seem to cool in the warmth of the sun...
That's a classic colloquial rhyme: "this iz"/"kissiz". But it's muffed in the most famous version of the song: Nat "King" Cole was such a mega-articulate vocalist that he sings "this is" and "kissez", and never even notices that his "e" sound in the latter has blown the rhyme.
But the best known of all Edward Heyman's songs remains his first big hit. It's one of the most recorded and performed songs of the last hundred years. In its first year of life, Libby Holman, Ruth Etting, Annette Hanshaw and Helen Morgan all had hits with the song, and in the decades since it's remained the all-time great yearning torch ballad:
My heart is sad and lonely
For you I sigh, for you, dear, only
Why haven't you seen it?
I'm all for you, Body And Soul...
At this point, you're probably saying, oh, sure, "Body And Soul", I know the famous Coleman Hawkins version, or Art Tatum's, or Charlie Parker's, John Coltrane's, Thelonius Monk's, or a thousand other jazz guys riffing on the tune. Since Hawkins' exuberant meditation on the theme put the song on the map, it would be entirely possible to have a couple of dozen "Body And Soul"s in your record collection and not one with the lyric. In his book Stardust Melodies Will Friedwald calls it "probably the most played melody in all of jazz". Gary Giddins says it's almost impossible to imagine jazz without "Body And Soul". It's certainly up there with "How High The Moon" as one of the most improvised-on chord structures of all time. But the fact remains: it's a song, and with the right singer it can be a very powerful one.
It started like this. It was 1929, and Heyman was writing with the composer Johnny Green and another lyricist Robert Sour, and dreaming (as he later recalled) that they'd be the most successful three-man songwriting team after De Sylva, Brown and Henderson, who gave us "Birth Of The Blues", "It All Depends On You", "You're The Cream In My Coffee", etc. So one day Heyman walks in and says:
What do you think of the title 'Body And Soul'?
Just like that. "Holy Christmas!" said Johnny Green. "That's sensational!" The would-be composer had quit a clerical job in his uncle's brokerage house. "I was lying in bed one night," Green remembered, "and I suddenly got introduced to myself. 'What are you doing on Wall Street?' I asked. 'You're a musician.' The next day I walked into my uncle's office and told him I wouldn't be back after lunch."
The aspiring triumvirate had had a lucky break. Gertrude Lawrence needed new material and told them to come up with a rhythm song, a comic song, a ballad and a "torch". Heyman was proposing "Body And Soul" for the torch song. The title was suggested to him by a pal. It had been one of those phrases floating around the language for years – "I wasn't earning enough to keep body and soul together" – and one of the quickest ways to a hit title is to take a vernacular expression and make it into a song. Ira Gershwin did it with the popular advertising formulation – "They all laughed when I sat down to play the piano" or whatever. Visiting the Tour d'Argent in Paris, he sent back a postcard: "They all laughed when I said I'd order in French..." Years later, he realized it was more than a postcard joke and wrote "They All Laughed at Christopher Columbus/When he said the world was round..." A cliché isn't a cliché if you turn it into a song. A handful of silent flicks called Body And Soul had already been made, but no-one in Tin Pan Alley had yet spotted the possibilities of the phrase.
"Body And Soul" offered something else, too. Will Friedwald finds a pre-echo of it in Uncle Tom's rebuke to Simon Legree:
My body may belong to you, but my soul belongs to God.
In other words, the phrase suggested a black sensibility, too. Even torchier. So, having decided "Body And Soul" was a winning title, all they had to do was figure out what to do with it. Johnny Green once took me through it and made its creation sound as mechanical as a cinematic sex scene recounted by a gynecology professor. "First we set the title," he said. "I came up with a triplet phrase leading to a long note on 'soul'. 'Bo-dee-and-soouuullll.' That was our first decision. So then we had to figure out where we were going to put it. Was it going to be at the start of each phrase – 'Body And Soul, I belong to you'? Or should we put it at the end of the phrase – 'I belong to you, Body And Soul'?"
They decided on the latter. "So it was going to be 'blah-blah-blah Body And Soul blah-blah-blah Body And Soul'," said Green, lapsing back into clinical examination, "and then we'd have the release." Ah, yes, that amazing bridge:
I can't believe it
It's hard to conceive it
That you'd turn away romance
No use pretending
It looks like the ending
Unless I can have one more chance to prove, dear...
Wow. That terrific descent through C7, B7, B-flat 7 and back to the main theme. So, I asked Green, where did that incredible middle section come from? And then he explained that he'd taken it out of an earlier song. He'd written a number called "Coquette" for the Lombardo brothers, Guy and Carmen, a couple of years before. Carmen Lombardo liked the main theme but thought the middle was too far out, so he cut it and pasted in one of his own. Green always preferred his original bridge and two years later dusted it off and worked it into "Body And Soul", which presented a whole lot of other problems, one of which he solved by listening to the progressions at the top of the Moonlight Sonata. "If it's good enough for Beethoven, it's good enough for me." And then he hooked it back into the A section with that series of chromatic sevenths. Vernon Duke, the composer of "Taking A Chance On Love", was contemptuous. "You ought to be ashamed of yourself," he told Green. "Anyone can do a descension of chromatic dominant seventh chords." Oh, really? Whether or not that's true, not anyone can descend back to a main theme quite so powerful.
Given the way they approached the component parts like modular furniture, it's amazing the tune flows as effortlessly as it does while having one of the widest ranges of any pop song and undergoing a remarkable series of key changes - F minor to E flat major to E major to G major and back to F minor – yet all within a conventional 32-bar AABA structure. The lyric is a slightly different matter. I've never been entirely clear whether they're intentionally evoking the conventions of the my-man-done-me-wrong genre or whether it's just somewhat clumsy:
I spend my days in longing
And wond'ring why it's me you're wronging
I tell you I mean it
I'm all for you, Body And Soul...
"It's me you're wronging"? The final eight bars starts with an even more convoluted word order:
My life a wreck you're making
You know I'm yours for just the taking...
The original text read: "My life a hell you're making." But, in those days, "hell" would have gotten them banned from the airwaves. So they changed it to "wreck" and got banned anyway: certain radio programmers decided "I'm yours for just the taking" was way too incendiary. As it happens, "hell" may have been a more powerful word but "wreck" sits much better on that note. That hard "k" spits real pain in the middle of the line, whereas the double-"l" would merely have bled into the "you're" and gotten lost. That's an important lesson: the musical sound counts for as much as the textual sense. "Body And Soul" can look a little clunky on paper but, set to that great swooping melody, it's full of ache and ardor.
Gertrude Lawrence liked it, took it back to London, sang it on the BBC; Britain's top bandleader Ambrose happened to be listening, took a fancy to it, and made it the hit of the town. The all-time great American torch song wound up being published first in Britain, and it was British bandleaders (Jack Hylton) and novelty pianists (Billy Mayerl) and comedienne-chanteuses (Elsie Carlisle) who can lay claim to all the earliest recordings. By this time, a fourth name – the British librettist Frank Eyton – had been added on the credits to the American trio of Green, Heyman and Sour. Whether he actually contributed anything to the composition is unclear, but he certainly helped promote the song in London.
It was a Broadway revue that brought "Body And Soul" back to America: Three's A Crowd - the eponymous trio being Fred Allen, Clifton Webb and Libby Holman. (A few years later, in 1937, Fred Allen would feature a young Sinatra on his radio show "Town Hall Tonight", but without Frank singing a word: instead he fronted an instrumental group who played "Exactly Like You".) Everyone thought the number would be great for Miss Holman. Miss Holman thought differently. It didn't go well in try-out in Philadelphia, and she asked Howard Dietz (the production's principal lyricist and later the writer of "Dancing In The Dark") to punch up the lines. Hassard Short, the director, had a very high-concept staging for the song. It was called "Body And Soul", right? So the gimmick would be that you couldn't see Miss Holman's body during the song, just her face, picked out in a spot. "Body And Soul" would be soulful but disembodied. And they'd put her on a trolley and move her downstage during the number so that the disembodied head would appear to be getting bigger.
Unfortunately, the trolleys made so much noise you couldn't hear the orchestra. And the podium was at such a height that, when Johnny Green stood on it to conduct, his shoulders blocked out Libby Holman's disembodied face. She yelled, "Instead of calling it Three's A Crowd, call it Two's Company", and walked out.
They talked her back. The high concept was gone. They made sure there were no rumbling trolleys or disembodied heads or other distractions, unless you count the plunging neckline of the slinky black dress they put Miss Holman in. On their very last night in Philadelphia, the song worked for the first time. On October 15th 1930, opening night at the Selwyn Theatre on Broadway, "'Body And Soul' was a show stopper," wrote Howard Dietz. It made Libby Holman a star, and her torch ballad a belated hit in its native land, though not everyone cared for it – "I do not think her big number, 'Body And Soul', is a very good song," sniffed Robert Benchley in The New York Times.
Paul Whiteman and Helen Morgan begged to differ almost immediately, and thousands of other musicians since have endorsed their verdict rather than Benchley's. Sinatra and Axel Stordahl came to the song in 1947 with the help of some memorable solo work from cornettist Bobby Hackett. Sinatra archival expert Charles Granata describes Frank as having "a somewhat introspective approach", and I've occasionally felt - particularly if I've heard this record immediately after bluesier renditions - that it was a bit too dainty. But then I heard Granata's account of what went on in the studio on that November night in 1947. It took both Sinatra and Bobby Hackett a while to settle into the song, to determine what they wanted to say with their respective instruments. Frank's Columbia Records voice is pure and tender, but at this stage it was also beginning to develop darker colors that presage what was to come. On this occasion, he figures out what he wants to do, and dials back the tempo from where Stordahl had originally set it. Not a lot, just a tad.
The first complete take is ravishing: a beautiful orchestral intro, great trumpet work from Hackett, and Sinatra getting the full juice out of every line all the way to a powerful and heartfelt finale. As the last note dies away everybody in the studio is silent, out of respect for the singer and what he has just accomplished. And then from the control booth a booming voice fills the room:
Too long.
That's Morty Palitz, the producer. What he means is, it's three minutes and 23 seconds - which is too long for a 10" 78rpm disc. But, realizing that perhaps he's been a bit brusque considering all the musicians are still swooning, he adds: "Very nice, Frank. But we'll have to speed it up."
Sinatra doesn't want to hear that. "Naw, we can't speed it up," he says. "It'll kill the feeling."
"You'll have to make a cut," suggests Palitz.
Frank is beginning to bristle now. "You mean to tell me a big outfit like Columbia can't put this on a record?"
From the back of the orchestra, a voice pipes up: "We can do it down at Mercury."
Sinatra swings around: "Who said that? Stand up!"
The session oboist rises: Mitch Miller, who when he wasn't playing his instrument had a day job as head of A&R at Mercury, a much smaller record company than Columbia.
"You serious?" asks Sinatra.
"Absolutely!" says Miller. "We could do that at Mercury."
"Take five, everyone," barks Frank - and he, Stordahl, Palitz, engineer Fred Plaut and arranger George Siravo head down the hall to the office of Manie Sachs, a kind of father figure to Sinatra and vice-president at Columbia. It's a one-sided conversation, mostly a blast from Frank: "You mean a big f**king outfit like Columbia can't do what a nickel'n'dime company like Mercury can? I don't believe this sh*t."
But it's true. Nothing can be done. Sinatra heads off back to the studio, and, as conductor, producer and engineer follow, Manie Sachs, a genteel and polite man not given to such outbursts, hisses at George Siravo: "That f**king Mitch Miller. This guy will never set foot at Columbia Records as long as I'm here!" Instead, of course, within a couple of years Miller was running the joint.
As for "Body And Soul", they went back to the studio, kept Frank's tempo, cut the orchestral intro, came in on Bobby Hackett's trumpet - and the result is a small gem that fits on a 10" 78, and on all the LP and CD reissues since.
Almost four decades later, recording LA Is My Lady with Quincy Jones in 1984, Frank initially put "Body And Soul" on the shortlist before, eventually, setting the song to one side. "I did it for Columbia," he said, "and I can't bring anything new to it."
"But we have much better microphones now," said Quincy Jones. The answer was still no. He did, however, lay down a vocal, and in 2007, nine years after the singer's death, the Sinatra organization commissioned Torrie Zito to build an arrangement around Frank's voice track. Frank Jr conducted the resulting chart, and the performance certainly sounds as if this great love has already consumed his body if not yet his soul. Nevertheless, it gives lyricist Edward Heyman a particular distinction: One month after Frank began his career as a professional singer - July 24th 1939 - on a live radio broadcast from the Marine Ballroom in Atlantic City, the Harry James Band played Heyman's "My Love For You", with vocal refrain by boy singer Frank Sinatra. That makes Edward Heyman the songwriter who stuck with Sinatra the longest - from the James band in 1939 to a technologically created posthumous novelty on a hit album 68 years later: Body and soul.
~The first episode of Steyn's new audio series The Song Is You, with the stories behind Sinatra recordings such as "Stardust", "Sweet Lorraine", "Lonely Town" and "How Little We Know", can be heard here. And don't forget Part Two of Mark's conversation with longtime Sinatra conductor Vincent Falcone, discussing "The Gal That Got Away", "Guess I'll Hang My Tears Out To Dry" and many other songs. There's also Steyn's audio special with Celeste Holm on the Sinatra screen hit High Society. Mark's original 1998 obituary of Frank, "The Voice", can be found in the anthology Mark Steyn From Head To Toe, while you can read more on Sinatra in Mark Steyn's American Songbook. Personally autographed copies of both books are exclusively available from the SteynOnline bookstore.
~As we hurtle toward December 12th, the Evil Blogger Lady is feeling all alone but glad to be unhappy. Bob Belvedere has grabbed a mip-map-mop and a brim-bram-broom and is clim-clam-cleaning the rim-ram-room. Meanwhile, the Pundette is counting down her own Sinatra Hot 100: Go savor them all as she trembles on the brink of her Top Three.
SINATRA CENTURY
at SteynOnline
6) THE ONE I LOVE (BELONGS TO SOMEBODY ELSE)
8) STARDUST
10) WHAT IS THIS THING CALLED LOVE?
11) CHICAGO
12) THE CONTINENTAL
13) ALL OF ME
15) NIGHT AND DAY
16) I WON'T DANCE
17) I'VE GOT YOU UNDER MY SKIN
19) EAST OF THE SUN (AND WEST OF THE MOON)
21) A FOGGY DAY (IN LONDON TOWN)
24) OUR LOVE
27) FOOLS RUSH IN
32) I'LL BE AROUND
36) GUESS I'LL HANG MY TEARS OUT TO DRY
37) NANCY (WITH THE LAUGHING FACE)
38) SOMETHIN' STUPID
40) I GET ALONG WITHOUT YOU VERY WELL (EXCEPT SOMETIMES)
41) SOLILOQUY
42) THE COFFEE SONG
44) HOW ABOUT YOU?
46) LUCK BE A LADY
48) (AH, THE APPLE TREES) WHEN THE WORLD WAS YOUNG
49) I HAVE DREAMED
51) I'VE GOT THE WORLD ON A STRING
52) YOUNG AT HEART
54) BAUBLES, BANGLES AND BEADS
55) IN THE WEE SMALL HOURS OF THE MORNING
57) THE TENDER TRAP
59) WITCHCRAFT
60) EBB TIDE
61) COME FLY WITH ME
62) ANGEL EYES
63) JUST IN TIME
65) NICE 'N' EASY
66) OL' MACDONALD
68) AUTUMN LEAVES
78) MOON LOVE
79) ME AND MY SHADOW
81) QUIET NIGHTS OF QUIET STARS
84) MY WAY
86) SOMETHING
87) THEME FROM NEW YORK, NEW YORK
88) BANG BANG (MY BABY SHOT ME DOWN)
89) GOODY GOODY
92) PICK YOURSELF UP
93) TIME AFTER TIME
95) MACK THE KNIFE