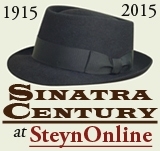 We've been celebrating a century of Sinatra songs twice a week since the beginning of the year, but as we head toward Frank's 100th birthday proper on December 12th we're going to step it up to a Sinatra song of the day. If you caught the Chairman on just about any stop on his World Tour for Children in 1962, this was the very first song you heard:
So you met someone who set you back on your heels
Goody Goody!
So you met someone and now you know how it feels
Goody Goody...
According to who you talk to, he liked to open with it as a big screw-you to Ava Gardner. Alternatively, and more plausibly, he liked to open with it because, accompanied only by his sextet, the minute-and-a-half song was a good easy opener to get him out on stage and "get his feet wet"
"Goody Goody" is Johnny Mercer's classic revenge song, not to be confused with his much later anticipatory revenge song "I Wanna Be Around (to pick up the pieces when somebody breaks your heart)". Sinatra recorded both within a couple of years of each other in the early Sixties, but "Goody Goody" belongs to the dawn of Mercer's career. Born in 1909 in Savannah, Georgia, he scrammed to New York as a stowaway on a ship, and as the 1930s dawned found himself with a young wife and no means of supporting her. Ginger Mercer had briefly dated Bing Crosby, then singing with the Paul Whiteman band, and she got an idea that Johnny maybe could be a band singer, just like Bing. Whiteman was a huge figure in every sense in the 1920s, but a much maligned man in the years since, mainly thanks to snooty jazz critics and that Kirk Douglas movie Young Man With A Horn that more or less blames Whiteman's "commercialized" sound for the death of Bix Beiderbecke. In fact, Whiteman had a shrewd ear for talent, and any number of musicians from George Gershwin to Red Norvo benefited from his patronage.
At any rate, Johnny thought about what Ginger had said and went along to audition for Whiteman:
I wandered into the New Amsterdam Theatre - this was back in the days when it housed the Ziegfeld shows and was the nicest theatre in New York - to find all types of men and women waiting to try out for the Paul Whiteman vocal contest. Cab drivers, truck drivers, porters, maids, waitresses, bus boys, college boys, young people both white and black (though not so many then) and older people too. As each one of them in turn would get up and sing, 'All Of Me/Why not take All Of Me?' or maybe 'Just Friends, lovers no more," a voice would come over the intercom from somewhere up near the roof of the darkened theatre: 'Thank you very much. Next contestant, please.'

It wasn't that the management was rude. It was just that there were so many AWFUL singers trying out for that one shot on the Pontiac radio program. Well, Archie Bleyer had graciously consented to accompany me. And as he was a busy man, and I didn't want to waste his time, when our turn came and my name was called, we jumped up on the stage. He seated himself at the piano, I grabbed the mike, and we hit a tempo lickety-split! I mean, we were going so fast and so rhythmically that no one could have interrupted our chorus. No one did, in any event, and we were held for the finals, which meant that the great Paul Whiteman himself would hear us the following day.

Well, he did, and I won a Pontiac Youth of America contest as a New York contestant. The prize was one air shot, singing with Whiteman. And no money. So what good was it?
Quite a lot, as it turned out. For one thing, a couple of days later - March 29th 1932 - a reporter from The Brooklyn-Queens Journal turned up at the Mercers' pad:
John Mercer Can Sing In The Bathtub

There's one housewife in Brooklyn who doesn't voice any objection when her husband begins to sing in the bathtub.

In fact, Mrs John Mercer urges her husband to sing in the bathtub, the shower, the rain or any other places he wants to.

But, then, John Mercer does not emit a raucous, ear-splitting howl when he vocalizes. For Johnny Mercer, although he's 'just turned 22', has acquired the art of singing heart-rending ballads with the pathos of one who has loved and lost innumerable times.

And John has that art down to such perfection that out of the half a hundred crooners, warblers, torch singers and mammy wanters who tried to convince Paul Whiteman that they were the greatest young singers in all America, John Mercer was selected as the winner.
Think of Whiteman as Simon Cowell, and the Pontiac Youth of America contest as "American Idol". "I married him under the impression that he was a songwriter," said Ginger. "And he was - and is. But he used to go about the house and the office and the streets always singing to himself. And gradually I began to notice that he did have a beautiful voice."
Mercer wound up not with a one-shot air shot but a steady job with Whiteman. "I worked with him for a couple of years," he remembered. "I went on the road with him. We played theatres, we played concerts, we played nightclubs, we had radio programs. And I was just one of a big organization, about 25 or 30 people. I was kind of like a utility ball player. I would write lyrics, or I would sing songs; I'd go to the store for sandwiches, whatever. I gradually got to sing a little bit more and more. I wrote things for the radio programs. I met people like Al Jolson."
And he also met a guy called Matty Malneck, who was playing violin in the band and writing arrangements. In quiet moments, they wrote a few songs together. This one was a modest hit in 1934, and sufficiently autobiographical that Mercer sang it to the end of his life:
Pardon My Southern Accent
Pardon my southern drawl
It may sound funny
Ah but honey
I love y'all...
His first money-earning hit, written with Hoagy Carmichael, was even more rural: "Lazybones." Mercer was writing a song a week in those days: An idea would pop into his head, and he'd grab a composer or, if none was to hand, he'd write the tune himself. One day in 1934, with Ginger out of town, Johnny decided to drop a line to his beloved:
Taking pen in hand, ol' massa Mercer wrote a long letter dealing with just the sort of trivia that occurs to one lonely for another. There it was, completed. I'd written many a love song, and I read it over. I'd left out the real reason I started the letter. So below the great message, I scrawled 'PS I love you.' Immediately, the thought of that phrase as a song title struck me...
So he got to work:
Dear, I thought I'd drop a line
The weather's cool, the folks are fine
I'm in bed each night at nine
PS I Love You...
It's one of the first Mercer lyrics to mention his preferred mode of transportation:
Yesterday we had some rain
But all in all I can't complain
Was it dusty on the train?
PS I Love You...
Mercer headed to New York's famous Brill Building and found Gordon Jenkins, later one of Sinatra's indispensable arrangers. "He just walked in with the lyric," Jenkins recalled, and said, 'Write me a tune for that.'" He obliged, and Rudy Vallee had the hit - "thanks to forgetful me," said Mercer, and a hasty afterthought on a letter to his wife. Two decades on, Sinatra made a memorable recording of the Jenkins tune, albeit arranged by Nelson Riddle.
Mercer had a great ear for titles. Re the aforementioned "I Wanna Be Around", he liked to tell the story of Sadie Vimmerstedt, who worked at a drug store in Youngstown, Ohio, and sent him a line she'd overheard - "I wanna be around to pick up the pieces when somebody breaks your heart." Mercer wrote it up - words and music - and his publisher sent her a contract offering her ten per cent of the royalties. He then sent a note telling her to tear that up and enclosing a new contract splitting everything fifty/fifty - on the grounds that, in that particular case, the title is half the song. A number called "I Remember You" could go either way: in Mercer's hands, it's a beautiful ballad, but, with someone else at the wheel, it could just as easily have been some insipid generic love song you forget as soon as you've heard it. Some titles are so strong, though, that you'd have to be staggeringly inept to louse it up. When Ginger got back from her trip, they paid a visit to the Mercer family home in Savannah, and Johnny's mom showed her a picture of the l'il fellow on a bearskin rug. "He must have been a beautiful baby," said Ginger. Johnny got a hit song out of that, too - and it was a memorable moment for Sinatra in a lengthy medley he and Dinah Shore liked to do. These are ordinary everyday phrases revitalized by the music they're set to. When you're complaining to your co-worker, "day in, day out" is shorthand for dull routine. Mercer made it the title for a song of drum-pounding passion:
Then I kiss your lips
And the pounding becomes
The ocean's roar
A thousand drums
Can't you see it's love?
Can there be any doubt
When there it is
Day In, Day Out!
That song meant a lot to Sinatra: He recorded it in three different arrangements - by Axel Stordahl, Nelson Riddle and Billy May, all entirely different and all magnificent.
One day circa 1932 Mercer was in a Chinese restaurant and was struck by a phrase on the menu:
Goody goody!
He wrote them down on a piece of paper for future reference, put it in a drawer, and then promptly lost it. A couple of years later, he found it again, and got to work. "Goody goody" could take you in almost any direction. One assumes the Chinese restaurant meant it in the sense of "Yum yum". But Mercer had other uses for the expression. A crowing verse sets up the premise:
You told me that there wasn't a lesson in lovin'
That you hadn't learned
Oh yeah?
Oh yeah?
You told me that you keep playin' with fire
Without getting burned
Oh yeah?
Oh yeah?
And then - bam! - into the chorus:
So you met someone who set you back on your heels?
Goody Goody!
I wish more singers sang that verse because it's one of the best in the repertoire. Mercer, out of nowhere, decided to turn "Goody goody" from the Chinese restaurant into schadenfreude swingin'. "It's a phrase that everybody said," he remembered, "but I just don't know why I got that particular approach to it." He and Matty Malneck wrote the whole thing - words and music - in about 15 minutes between sets with the Whiteman band one night. Malneck's fizzing tune is the perfect setting for one of popular music's all-time great revenge lyrics:
So you met someone and now you know how it feels?
Goody Goody!
So you gave him your heart too
Just as I gave mine to you
And he broke it in little pieces
Now how do you do?
When Mercer sang the song himself, he liked to loosen up that part with a variation I've always liked:
So you gave him your heart too
Just as I gave mine to you
And he stuck it in his collection
Section Ninety-Two...
Malneck and Mercer thought it would be great for Benny Goodman, and Goodman thought it would be great for his top canary, Helen Ward. She hated it and begged the boss not to make her sing "that damn song". He refused to listen to her, and the Goodman/Ward record got to the top of the hit parade for four weeks in 1936. It was Mercer's second Number One, and one of three top-ten versions of the tune that spring: Freddy Martin got to Number Five and Bob Crosby to Number Seven. It was the song that signaled that Mercer was here to stay, and not merely a niche-filler of rural charmers like "Lazybones" or novelties like "Pardon My Southern Accent".
Helen Ward notwithstanding, I think it's a woman's song. In theory, anyone can sing it, just as anyone can sing "Time After Time". But, as Jule Styne used to tell me about the latter, "It loses all its power when a woman sings it": The tenderness of the ballad is especially affecting from a male vocalist. Conversely, with "Goody Goody", the gloating is generally much more effective from a female singer. Ella Fitzgerald loved to sing it,and Rosemary Clooney but, if I had to hear it from a guy, I'd pick Frank's version from the 1962 album Sinatra and Swingin' Brass, the first of two great albums with Neal Hefti. Frank happened to arrived as Hefti was rehearsing the orchestra and was so juiced by what he heard that he jumped right in and started singing with the band, even though he was fighting a cold - which may be why he seems to bite on the lyrics rather harder than usual. Still, Neal Hefti's arrangement is a blast. It takes things at a brisker clip than most versions, but I figure the composer must have liked it because, while serving as Frank's conductor at various Rat Pack shindigs over the next year or so, Matty Malneck himself wound up conducting Hefti's chart many times.
It didn't show up much in Sinatra's stage act in later years, although he did sing it as part of a long telly medley with Dean Martin in 1967. They were reading the songs off prompters and evidently some careless type had entered the lyric either from Ella's record or some sheet music for chantoosies:
So you gave her your heart too
Just as I gave mine to you
And she broke it in little pieces
Now how do you do?
So Dean and Frank are gloating at a woman who's now been rejected by another woman? Or are they gloating at an old boyfriend who threw over Dean and/or Frank to try his hand at heterosexuality? On TV, it seems briefly to dawn on Dean that the pronouns don't quite make sense, but, as I say, it was a long medley and nobody wanted to go back to the beginning.
A final word on the final words, which are the weakest part of the song. Johnny Mercer rarely modified his lyrics once they'd taken off, but he did with "Goody Goody" - specifically, the ending:
And I hope you're satisfied
You rascal you!
As he told Willis Conover, the jazz mainstay of the Voice of America, in 1970, he decided to revise that last line:
Recently I changed one word which I think makes it a much better song... Instead of saying 'you rascal you,' I now sing it, 'And I hope you're satisfied, you baddy you'.
You can see what he's getting at - the symmetry of "goody" and "baddy" is a neat way to wrap up the song. But it's still a poor ending. What appeals to both singers and listeners is the gleeful up-yours quality of the song:
Hooray and hallelujah!
You had it comin' to ya...
"Rascal" and "baddy" both seem far too good-natured for what's gone before. Mercer would have been better simply to adopt Sinatra's improvised amendment on that 1962 recording, as Frank comes flying out of the first chorus and into the instrumental break:
And I hope you're satisfied
'Cause you got yours!
Excellent. And just what the situation demands.
~Part Two of Mark's conversation with longtime Sinatra conductor Vincent Falcone, discussing "The Gal That Got Away", "Guess I'll Hang My Tears Out To Dry" and many other songs, can be heard here. And don't forget Steyn's audio special with Celeste Holm on the Sinatra screen hit High Society. Mark's original 1998 obituary of Frank, "The Voice", can be found in the anthology Mark Steyn From Head To Toe, while you can read the stories behind many other Sinatra songs in Mark Steyn's American Songbook. Personally autographed copies of both books are exclusively available from the SteynOnline bookstore.
~Elsewhere, as we head toward December 12th, the Pundette is counting down her own Sinatra Hot 100 and is up to hit sound Number Eight, "I Get A Kick Out Of You". Bob Belvedere is rocketing through a most interesting list of Top Ten Sinatra Albums and his Number Two pick is a moody, broody Gordon Jenkins set, No One Cares. By contrast, the Evil Blogger Lady is awash in groovy white Sinatra polonecks.
SINATRA CENTURY
at SteynOnline
6) THE ONE I LOVE (BELONGS TO SOMEBODY ELSE)
8) STARDUST
10) WHAT IS THIS THING CALLED LOVE?
11) CHICAGO
12) THE CONTINENTAL
13) ALL OF ME
15) NIGHT AND DAY
16) I WON'T DANCE
17) I'VE GOT YOU UNDER MY SKIN
19) EAST OF THE SUN (AND WEST OF THE MOON)
21) A FOGGY DAY (IN LONDON TOWN)
24) OUR LOVE
27) FOOLS RUSH IN
32) I'LL BE AROUND
36) GUESS I'LL HANG MY TEARS OUT TO DRY
37) NANCY (WITH THE LAUGHING FACE)
38) SOMETHIN' STUPID
40) I GET ALONG WITHOUT YOU VERY WELL (EXCEPT SOMETIMES)
41) SOLILOQUY
42) THE COFFEE SONG
44) HOW ABOUT YOU?
46) LUCK BE A LADY
48) (AH, THE APPLE TREES) WHEN THE WORLD WAS YOUNG
49) I HAVE DREAMED
51) I'VE GOT THE WORLD ON A STRING
52) YOUNG AT HEART
54) BAUBLES, BANGLES AND BEADS
55) IN THE WEE SMALL HOURS OF THE MORNING
57) THE TENDER TRAP
59) WITCHCRAFT
60) EBB TIDE
61) COME FLY WITH ME
62) ANGEL EYES
63) JUST IN TIME
65) NICE 'N' EASY
66) OL' MACDONALD
68) AUTUMN LEAVES
78) MOON LOVE
79) ME AND MY SHADOW
81) QUIET NIGHTS OF QUIET STARS
84) MY WAY
86) SOMETHING
87) THEME FROM NEW YORK, NEW YORK