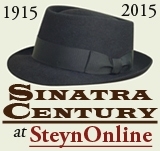 By 1966 it had been over a decade since Frank Sinatra had had a Number One single. It's fine to be acclaimed as a great artist, to have big-selling albums, sell out in Vegas and on world tours, and star in Hollywood movies. But, if popular singing is what you do, there's something special about a Number One hit single.
Jimmy Bowen had been brought into Sinatra's Reprise Records to handle the rock'n'schlock end of things and thereby improve their performance on the hit parade. He had, briefly, been a pop star himself, and enjoyed a Buddy Hollyish hit with "I'm Stickin' With Youl" [*SEE BELOW] in 1957. He knew he wasn't the greatest singer: he sang a little flat, and he could hear it, but for a while the squealing schoolgirls didn't seem to notice. And then one day they did notice, and they stopped squealing, so he moved into production. He was half Frank's age and he had a rock'n'roll sensibility. He took a 20-year old tune by Dean Martin's pianist Ken Lane, stuck a choir and vaguely semi-rocky backing on it, and turned it into Reprise's first Number One record: "Everybody Loves Somebody". He put Nancy Sinatra together with Lee Hazelwood, lowered her keys, and gave Reprise their second Number One record: "These Boots Are Made For Walking".
So his kid and his pallie had hit the top spot, but not the Chairman. After the session for "Softly As I Leave You" (written by my ex-agent's ex-husband, as it happens), Frank asked Jimmy Bowen if he thought it would chart. "Maybe Number 30," said Bowen.
Sinatra left the studio irked. "Softly As I Leave You" peaked at Number 27, and thereafter the Chairman valued the new guy's judgment and honesty. But he still wanted a Number One.
One day in 1966 the publisher Hal Fine came round to Jimmy Bowen's pad to play him some new tunes by Bert Kaempfert for a forthcoming James Garner caper called A Man Could Get Killed. Bert Kaempfert is the German kaiser of kitsch who somewhat improbably managed to play a critical role in the careers of three of the biggest Anglophone pop acts of the 20th century: He produced the Beatles' very first recording session; he wrote "Wooden Heart" (based on an old German folk tune) for Elvis in his first post-Army film GI Blues (1961); ...and now he was about to work his strange Teutonic magic on Frank Sinatra. A few years back, I was at Angel Studios in London, where I recorded "Goldfinger", "Cat Scratch Fever", "A Marshmallow World", "Sweet Gingerbread Man" et al, and Gary, our engineer, mentioned that I'd just missed Bert Kaempfert's widow and daughter who'd been in with "The New Bert Kaempfert Orchestra" re-recording all his big tunes for some monster retrospective. There are a lot of them - not just "Spanish Eyes" and "Wooden Heart", but also Kaempfert's own orchestral hits like "Wonderland By Night" and "A Swingin' Safari", one of the greatest instrumentals of all time; plus a ton of wacky one-offs, like Wayne Newton's "Danke Schoen" and Andy Williams' "Almost There" and everybody's "L-O-V-E". Kaempfert's horn arrangements are one of the unmistakeable signature sounds of the Sixties, as distinctive as Burt Bacharach or John Barry. But, while lots of folks admire his arranging, many of the same people are awfully sniffy about his compositions. He eschewed the standard 32-bar A-A-B-A song, possibly on the grounds that a middle section was way too much work. Instead, his tunes are built on the slightest of melodic themes, endlessly repeated. Yet they are, as the Germans say, Ohrwürmer - or earworms: maddening tunes that insinuate their way into your head and refuse to get out. "L-O-V-E" is the über-Kaempfert, a tune so simple that its lyricist Milt Gabler turned it into a spelling lesson, an "Alphabet Song" for grown-ups:
L is for the way you look at me
O is for the only one I see
V is very very extraordinary
E is even more...
So Kaempfert had form. And so Jimmy Bowen listens to Hal Fine's bunch of Kaempfert themes and something called "Beddy-Bye" comes up. And Bowen plays it again, and again. And then he says, "Man, get me a lyric on that, and I'll do it with Sinatra."
"Beddy-Bye" sounds to me like yet another minimalist Kaempfert tune: the five-note title phrase, reprised a tone up and a tone down, is about 50 per cent of the tune. Yet a remarkable number of other people claim to have had a hand in its creation. The last time I mentioned the thing in this space David C Tobin of Washington, DC wrote to say that it was composed by Avo Uvezian, a Beirut-born Armenian-American pianist cum cigar manufacturer. He does indeed claim to have written the music, but so does the late Ivo Robić, the crooning Croat, who insisted that he'd composed it for a folk music festival in Split, Yugoslavia. M Philippe-Gérard, the Brazilian-born French composer of "When The World Was Young", sued on the grounds that the tune was stolen from his "Magic Tango", but lost in court.
So until these various Croatian-Armenian claims are as litigated as the Franco-Brazilian ones, we'll stick with the official narrative. In 1966, Bert Kaempfert wrote this tune for his first Hollywood movie score, for the aforementioned A Man Could Get Killed, directed by Ronald Neame. And all it needed now was a lyric and Jimmy Bowen would make good on his promise and get Kaempfert a recording by Frank Sinatra.
Bowen had never made such a pledge before - for a fairly obvious reason: He was in no position to promise any such thing. "Obviously," he explained subsequently, "nobody knows what Frank is going to do till he says what he's going to do." But he knew that that "Beddy-Bye" theme smelled like a hit, and Hal Fine took him at his word. He farmed the tune out to various writers, and submitted a couple of lyrics. Jimmy Bowen didn't like either of them.
So Hal Fine tried again, this time with Eddie Snyder and Charles Singleton. Born in New York in 1919, Snyder studied piano at Juilliard and became a jobbing songwriter of no particular distinction. That said, "Talk To Me", a song he wrote with Stanley Kahan and Rudy Vallee, was recorded by Sinatra in 1959 with a Nelson Riddle arrangement, and tickled the lower end of the hit parade. Charles Singleton's catalogue is even smaller, but together he and Snyder had already turned the Kaempfert instrumental "Moon Over Naples" into "Spanish Eyes", although in 1966 the new lyric was not yet a worldwide hit.
For "Beddy-Bye", Eddie Snyder took his cue from the film and the James Garner/Melina Mercouri characters: They're strangers, exchanging glances, and, by the time the tune's reprised in the final moments, you know that, as the song says, they're "in love forever". "We had the scene," recalled Snyder. "A man is sitting across from a girl in a bar. That was it." But that was all they needed:
Strangers In The Night
Exchanging glances
Wond'ring in the night
What were the chances
We'd be sharing love
Before the night was through...
As Snyder recalled it, they took two weeks over the song, working it out round the piano, him, Kaempfert and Singleton. Snyder claimed to have contributed not merely the lyric but part of the tune, too. But, unlike Messrs Robić and Uvezian, he was actually in the room with Kaempfert saying, "No, no. Do it like this." If memory serves, he said his contribution was somewhere around the big, broad middle eight - which does, indeed, sound very unKaempfert like:
Strangers In The Night
Two lonely people
We were Strangers In The Night
Up to the moment
When we said our first hello
Little did we know
Love was just a glance away
A warm embracing dance away...
This time Jimmy Bowen liked the lyric: He had a very commercial tune with very commercial words. He called Sinatra, who said, "Sure. Let's record it Monday." It was Friday afternoon. Bowen got hold of Ernie Freeman, the arranger for Frank's poppier stuff at Reprise, and told him to crank out an arrangement that weekend. By Monday afternoon, April 11th 1966, Bowen had a studio, a conductor, an orchestra, a song and an arrangement. At 5pm they all met at United Recorders to run through the chart and set up the band's mikes ahead of the evening session. Then, with Frank due in to record his vocal at eight o'clock, Jimmy Bowen headed over to Martoni's restaurant to grab a bite to eat.
He'd barely settled into his seat when Jack Jones came in and wandered over to say hi. "What you been up to, Jack?" asked Jimmy.
"I've just recorded this song," replied Jack Jones. "Not really my thing, but it is very commercial."
"Oh, yeah?" said Jimmy. "What's it called?"
"'Strangers In The Night.'"
Bowen could feel the color draining from his cheeks, but he kept a poker face. "Really? Well, good luck with it."
Jones ambled away to get a drink, and Bowen called for the check. And in the eternity it took for the waiter to respond, dark thoughts danced through his head about hiring, as he put it, stranglers in the night to throttle Hal Fine and the other bastards at that publishing company. Evidently they'd wearied of getting Sinatra before a microphone and pitched the song to other interested parties. It was 7.30. In half an hour Frank would be walking into the studio to record what he thought was going to be his Top Ten hit. Instead, it would be a cover version nobody needed of Jack Jones' Top Ten hit.
Jimmy Bowen hurried out of Martoni's and back to the studio. He called his A&R guys and told them to hustle up eight drivers to be at United Recorders by midnight. "Why?" asked the A&R fellow. "I need them to go back and forth to the airport," said Bowen. "Oh, and get me maybe eight hundred bucks in $20 bills."
And then the clock struck eight and Sinatra walked in, on time as always.
It was not a smooth session. Bowen hadn't told Frank about the Jack Jones business because there was no sense discombobulating him before the date, but he got discombobulated anyway. He had difficulty with the key change just before the final eight bars. In theory, it's no different from the half-tone rise on a zillion other Sinatra tracks - except there's no orchestra under him at all at that point, and nothing to latch onto for the lift. Or it could have been that Frank had picked up on the tension in the control room and gotten a little rattled himself. There was always a danger when things started to go awry on a song that Sinatra would give up on it and move on. The producer's worry was that one more bum key change, and Frank would go home.
So Bowen told him, "Sing it right up to the key change and cut. Then we'll give you a bell tone and we'll go from there in the new key to the end." So they did:
Love was just a glance away
A warm embracing dance away...
Cut. Bell tone. And onwards, leaving Bowen to knit it together afterwards:
Ever since that night
We've been together
Lovers at first sight
In love forever...
"Together"/"forever"? That may be the laziest bum rhyme on a major Sinatra song. Well, okay, there's "too few to mention" and "without exemption" on "My Way", which is my absolutely least favorite Sinatra false rhyme without exemption.
But boy, Frank and Ernie Freeman wring some real juice out of the song. What Sinatra scholar Will Friedwald calls the "chinking rhythm guitar and repetitious percussion" somehow suit the tune, but Frank puts a lonely ache on the title line, and the big vowel sounds at the end of the main theme are full of yearning:
Something in your eyes
Was so inviting,
Something in your smile
Was so exciting
Something in my heart
Told me I must have yoooooooooooooooooooo....
It's a beautiful vocal, but by the time Frank was finished Jimmy Bowen wasn't really in a romantic mood. Sinatra and the band went home, and that's when Bowen really got to work. He spliced together the two parts of the record, mastered it, and then set two lathes running to start cutting acetates. An acetate isn't like a finished record: it starts to lose quality after it's been played a few times, but it's good for the first few radio spins, and the very act of sending out acetates rather than promotional singles would get the disc jockeys' attention. So every three minutes the lathes produced another pair of acetates, and Bowen and his promotions guy put them in envelopes and wrote on the names of the top jocks at the top stations in every major market - New York, Chicago, Boston, St Louis, Cleveland, Pittsburgh... They handed them to the runners to drive to the airport, find the next flight to each city, and seek out a friendly stewardess interested in taking the new Sinatra single on its maiden flight in exchange for a couple of those $20 bills. By the time the Jack Jones single arrived in the mail, Frank would already be all over the airwaves.
You couldn't do it today. Anybody showing up at the airport with last-minute packages and seeking out stewardesses to take them on simultaneous cross-country flights would quickly be tased into unconsciousness. The code words on the acetate - "Strangers In The Night" - betray its shadowy, conspiratorial intent. But 1966 was a different world. Sinatra hit Number One in Britain at the end of May, displacing the Rolling Stones ("Paint It Black"), and Number One in America shortly thereafter, seeing off the Beatles ("Paperback Writer").
Unlike many pop hits of 1966, it remains a famous record, in part because of its even more famous end. Sinatra sang one take clean, listening to the dull outro with the orchestra playing on without him to give Bowen and the lads in the control room time enough for a radio-friendly fade-out. And then Frank did a second take:
It turned out so right
For Strangers In The Night....
At which point he added:
Dooby-dooby-doo
Doo-doo da-de-da...
Gene Lees, lyricist of "Quiet Night Of Quiet Stars" and other Sinatra bossa novas, didn't care for it. Sinatra, he wrote, "stated his contempt for the song in the dooby-booby-doo tag he attached to the end of it. He thereby told us that he's a snob about material. But then he told us something he didn't intend to: that there was a streak of hypocrisy in him. If he didn't respect the song, he shouldn't have recorded it - not even for money, which he hardly needed at that point."
Oh, I don't know. According to Will Friedwald, this was Sinatra's second documented "dooby-dooby-doo" following an impromptu interjection on "Please Be Kind" with Count Basie for a TV special a year earlier - and there was certainly no "contempt" or "snobbery" in his attitude to that song. But it gave "Strangers In The Night" a memorable outro that the plonking soft-rock drums and sawing strings alone wouldn't have accomplished. The "dooby-doo" is just a few seconds but in some ways it became the most famous part of the record, and, in an era of lazy fades, a very memorable end - so much so that, for the 2008 Sinatra compilation CD Nothing But The Best, they added an extra nine seconds of fade so that dooby-doo aficionados would get more dooby for their dues.
It was an influential record. Hanna-Barbera had pitched CBS 'a new cartoon series starring a kind of canine mystery-solver called "Too Much". Fred Silverman, the network's head of children's programming, didn't like the dog or the name, and was minded to pull the plug on the series. Then he chanced to hear Sinatra and that famous outro - and decided all the cartoon canine needed was a new name:
Scooby-dooby-Doo
Where are you?
"Strangers In The Night" had a huge impact on the guy playing that "chinking rhythm guitar", too. He was a fellow called Glen Campbell. At the time, he was a session guitarist with no particular interest in singing. "I'd never really paid that much attention to it, because I'm really a musician at heart. Singin' was, like, secondary," he said. "But when I heard the way he phrases, I said, 'Wow, that's really cool.'" Playing the melody along with Sinatra, he started to notice the way the singer pushed certain words and held back on others. He was so fascinated by the vocal technique he couldn't take his eyes off Frank. At the end of the session, Sinatra said to Jimmy Bowen, "Who's the faggot on guitar?"
Frank famously hated "Strangers": It was, variously, "a piece of sh*t", "the worst f**kin' song I ever heard", and really "about two fags in a bar", that last thought perhaps prompted by the otherwise vigorously heterosexual guitar-playing stranger in the night stealing glances through the session. "I hated this goddamn song the first time I heard it," he told an audience in New York in the Eighties. "And I still hate it. So sue me. Shoot bullets through me" - a Guys & Dolls allusion and an indication of what Sinatra would rather have been singing.
But, for "a piece of shi*t", it changed the singer's and his company's attitude to what he did. There was always a distinction between Sinatra's album art and his hit-parade fodder. But at Capitol in the Fifties, while singles like "French Foreign Legion" and "Lean Baby" and "Five Hundred Guys" were certainly goofier than "I've Got You Under My Skin" or "One For My Baby", they were still recognizably in the same vernacular, with the same arrangers and producers. At Reprise in the Sixties, Frank was a musical schizophrenic: for the albums, Sonny Burke produced and the great arrangers (Riddle, Billy May, Gordon Jenkins, Neil Hefti, Quincy Jones) arranged; for the singles, Jimmy Bowen produced and Ernie Freeman arranged - and, after "Strangers", everything was about coming up with the right piece of soft-rock schlock to make lightning strike all over again.
They had their moments - "That's Life" is a great single, with Sinatra full of bluesy defiance. But much of the rest falls into a category Will Friedwald calls the sort of songs Sinatra would have done "had he deigned to portray a singing villain in Batman". "It's one of those things where you grasp the moment," said Jimmy Bowen. "I had about a four- or five-year period where I had the feel of how to take these kinds of artists into the marketplace, to Top 40 radio, at a time when Top 40 radio didn't want to play them." Looking back on all the tracks he did with Sinatra in the Sixties, he reckoned Frank was pleased with the results on "Strangers", "That's Life", "Softly As I Leave You" and "Somethin' Stupid". "I don't know about the other things," he said. "A lot of the other things we did together were not nearly as wonderful as what he did when Sinatra was in charge of Sinatra." He happened to attend the recording of September Of My Years, an album Bowen wasn't producing and had nothing to do with, and the one with "It Was A Very Good Year", "September Song", "This Is All I Ask" and much else. And Bowen was amazed at the difference between Frank's level of engagement on a project "when Sinatra was in charge of Sinatra", compared to his slapdash attitude to the throwaway pop singles. "Strangers" and the rest? "My guess would be that it was just something he was doing at that time in his life."
Frank loathed the song, but made a great record of it. All the other singers loved the number, but understood that it was Sinatra's now and forever. Of the thousands of other versions, I shall say nothing except to single out two favorites. The year after "Strangers", Frank, Jimmy Bowen and Ernie Freeman went into the studio to record "Don't Sleep In The Subway", a Tony Hatch song Petula Clark had made a big hit. Sinatra invited Pet along to the recording session. Miss Clark told me she thought the result, complete with "C'mon, baby" choral backing, was a "cute record", which I said was awfully generous of her. As it turns out, she made her own "cute record" of "Strangers In The Night", in which she manages, unlike most other singers, to impose her own personality on it. (It comes out as a kind of peppier "Downtown".) As for my second pick, I have a fondness for Bette Midler's by-the-book disco version. When Jessica Martin and I did our Seventies disco remake of "Marshmallow World", I wanted it to sound like a disco version of a standard rather than a disco record in its own right. So I'm grateful to Miss Midler for helping nudge me in the right direction.
What else? Well, Jimi Hendrix played it as a guitar solo at the 1967 Monterey Pop Festival - halfway through "Wild Thing", playing it with the guitar behind his back and then raised up to his mouth with his pick between the teeth, before dousing his Stratocaster in lighter fuel and setting it on fire: It turned out alight/for Strangers In The Night...
In the 1985 film Fletch, Chevy Chase sings, "Strangers In The Night/Exchanging clothing..." To be parodied, a song has to be well known enough, and this one certainly is. It quickly became a kind of cultural shorthand - an easy pointer you use in soundtracks, plays, novels, to skewer time and place precisely. A poem by Jill Bialosky, "Fathers In The Snow":
When the dates came we went up to our rooms
and mother entertained.
Frank Sinatra's 'Strangers In The Night,'
the smell of Chanel No. 5 in her hair and the laughter.
She wasn't the only one so intoxicated. According to his mistress Parisoula Lampsos, Saddam Hussein liked to play Sinatra's "Strangers In The Night" when he'd had a hard day gassing the Kurds and was in the mood for a little romance with the hi-fi high and the lights down low.
As for Sinatra, he tried to get as far away from it as he could. For years, it was the only one of his big landmark hits that wasn't a part of his live set, and on the rare occasions when he'd succumb to requests to sing it he would make his feelings known. "Here's a song I can't stand," he said in Jerusalem in 1975, "but what the hell?" Only in the Eighties and Nineties, in the final stretch, did "Strangers In The Night" establish itself in his concert repertoire, and even then, if the mood struck him, he'd out-Chase Chevy on the lyrics:
Love was just a glance away
A lonesome pair of pants away...
Okay, it's not "Wee Small Hours" or "Luck Be A Lady" or the Soliloquy from Carousel. But as a two-and-a-half minute pop record it stands up to pretty much anything else it was sharing the hit parade with back in 1966 - "Hanky Panky", "Wild Thing", "Sunshine Superman", "Yellow Submarine"... In such company, how good does a two-take pop record with an orchestral chart worked up over the weekend have to be?
Aside from the Seventies revival of "Spanish Eyes", Charles Singleton and Eddie Snyder never had another hit. But then they never needed one. As Snyder told his alma mater Juilliard in one of his last interviews in 2009, "'Strangers In The Night' made a bum out of me. Because I didn't have to work anymore":
It turned out so right
...except for Jack Jones.
*CORRECTION: I originally wrote that Jimmy Bowen sang "Party Doll" . Thank you to the remarkable number of people who pointed out that Jimmy co-wrote "Party Doll" but it was sung by Buddy Knox. The hit song Bowen sang was "I'm Stickin' With You".
~For an alternative Sinatra Hot 100, the Pundette is also counting down her Frank hit parade, and is kicking off her Top 20 with "Come Fly With Me". Meanwhile, Bob Belvedere over at The Camp Of The Saints is counting down the Voice's Top Ten Albums and at Number Seven has Where Are You?, with a great Sinatra sweater on the cover. The Evil Blogger Lady has Frank and Gordon Jenkins' take on the song Irving Berlin wrote after his wife died on their honeymoon - "When I Lost You".
~Steyn's original 1998 obituary of Frank, "The Voice", can be found in the anthology Mark Steyn From Head To Toe, while you can read the stories behind many other Sinatra songs in Mark Steyn's American Songbook. Personally autographed copies of both books are exclusively available from the SteynOnline bookstore.
SINATRA CENTURY
at SteynOnline
6) THE ONE I LOVE (BELONGS TO SOMEBODY ELSE)
8) STARDUST
10) WHAT IS THIS THING CALLED LOVE?
11) CHICAGO
12) THE CONTINENTAL
13) ALL OF ME
15) NIGHT AND DAY
16) I WON'T DANCE
17) I'VE GOT YOU UNDER MY SKIN
19) EAST OF THE SUN (AND WEST OF THE MOON)
21) A FOGGY DAY (IN LONDON TOWN)
24) OUR LOVE
27) FOOLS RUSH IN
32) I'LL BE AROUND
36) GUESS I'LL HANG MY TEARS OUT TO DRY
37) NANCY (WITH THE LAUGHING FACE)
38) SOMETHIN' STUPID
40) I GET ALONG WITHOUT YOU VERY WELL (EXCEPT SOMETIMES)
41) SOLILOQUY
42) THE COFFEE SONG
44) HOW ABOUT YOU?
46) LUCK BE A LADY
48) (AH, THE APPLE TREES) WHEN THE WORLD WAS YOUNG
49) I HAVE DREAMED
51) I'VE GOT THE WORLD ON A STRING
52) YOUNG AT HEART
54) BAUBLES, BANGLES AND BEADS
55) IN THE WEE SMALL HOURS OF THE MORNING
57) THE TENDER TRAP
59) WITCHCRAFT
60) EBB TIDE
61) COME FLY WITH ME
62) ANGEL EYES
63) JUST IN TIME
65) NICE 'N' EASY
66) OL' MACDONALD
68) AUTUMN LEAVES