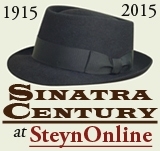 We've been spending a little time this Columbus Day weekend with a man who was born in Columbus, Ohio exactly a century ago - October 10th 1915 - and was at Sinatra's side for some of his most thrilling records of the Fifties and Sixties: Harry "Sweets" Edison, whose trumpet mute was a big part of Frank's Capitol sound.
When you're as good a jazz player as Edison, studio sessions aren't really what you want to do. You'd much rather be in some night spot with a handful of other guys taking a full chorus for every solo. Among jazz musicians there is a significant percentage with a certain antipathy toward vocal music entirely, so who wants to spend a career trying to get noticed in the half-bar fills between some crooner's sappy lyrics? The problem, alas, is that those club dates don't provide the steady income of studio work. Edison was wont to tell people that he played sessions because at the time he had a high-maintenance wife. As he put it to Frankologist Will Friedwald, the missus "had" to own a house in Hollywood "and go every Saturday to a beauty parlor. I don't know why she had to get her hair done so often," he sighed. "The only happy marriages I ever had were when I was broke."
But he was quite a high-maintenance guy himself: he liked to walk around in a full-length mink coat, and he traded in his cadillac for a new model every couple of years. His Sinatra work provided those accoutrements, and he appreciated them, not least because, in between high-maintenance wives, it impressed the ladies. Years ago, I was shown a photo of Sweets and Frank at, I think, Sinatra's "farewell" concert in 1971. He's got a huge afro - Sweets, not Frank - because, as he told Bob Watt at Jazz Times not long before he died, you "couldn't get no action then without an afro". And being Sinatra's star trumpeter wasn't bad for getting action, either.
But, mink coats and cadillacs aside, Edison loved the work he did with Frank. And he had a unique deal: the reliability of studio work with total freedom. As Sinatra instructed, "He plays what and whenever he wants. Don't give him any charts." Edison's muted trumpet was the ideal instrument to pair Frank with, and it's a sound that allowed Nelson Riddle to play with foreground and background in an arrangement the way that a film-maker or photographer might adjust focus. "When a crack appeared, I just put in one of my twiddly bits," said Sweets - and it worked: in contrast to high-maintenance wives, he and Frank "became like a happy marriage".
Two days ago, we celebrated the trumpeter's swingin' side with "I Thought About You". But you'd expect a jazzman to have fun with that. One of the other aspects of studio work is that you get to encounter all kinds of music you might otherwise never get to play.
By 1956 Sinatra had become good friends with Felix Slatkin, his concertmaster and principal violinist, and his wife, the 'cellist Eleanor Slatkin. When they weren't accompanying Frank on record, they were one half of the Hollywood String Quartet, playing Brahms and Beethoven rather than Cahn & Van Heusen. Sinatra loved the group's sound, and one day he said to them he wanted to make an album of pop songs with their string quartet. "Everything was Frank's idea," said Eleanor Slatkin - and, indeed, Nelson Riddle took a bit of persuasion, as he favored big orchestras and wasn't particularly a small-group fan. "It's been hard for me to get used to chamber music and enjoy it," he confessed, because "my original interest in writing arrangements came because of orchestral colors." And you don't have those dozens of hues when there's just four strings and a boy singer. The project took longer to record than any other Sinatra album until Trilogy over 20 years later, and on the first session, after struggling to no avail through the opening arrangement, Frank ended the evening.
Yet the resulting LP, Close to You, is one of the loveliest of all Sinatra sets, and tells its story perfectly, all the way to the final track.
In the end, it's not just voice and a string quartet. Riddle discreetly augmented the two violins, viola and 'cello with one or two extra forces where he felt they were needed. And so it was that Harry "Sweets" Edison got asked to come in and play on a chamber-music album, just for one song:
So I walk a little too fast
And I drive a little too fast
And I'm reckless, it's true
But what else can you do
At The End Of A Love Affair?
Who wrote that?
Edward C Redding.
Who?
Well, other than his name, I can't really tell you much. The "C" stood for Carolan. And they called him Bud. And he came from Kentucky, where he had a sister called Ruth. But other than that the life of Mr Redding is something of a mystery. He's not one of those one-hit songwriters who died young or a fellow with a full-time job who dabbled in the occasional pop song. Edward C Redding wrote music and lyrics his entire life, for cabaret, for off-Broadway, for a musical version of Huckleberry Finn. He is the only composer in the entire history of music to have written a song called "Jefferson Davis Tyler's General Store" (for a flop revue). But nothing ever landed except one somber little ballad:
So I talk a little too much
And I laugh a little too much
And my voice is too loud
When I'm out in a crowd
So that people are apt to stare...
It was published in 1950 by Arnold Shaw, who later became a very prolific writer on rock and jazz, and a PR guy for Elvis, Burt Bacharach and Paul Simon. And he's the only guy I've ever come across who ever came across "Edward C Redding" - other than "architectural lighting expert" James Keenan, whom Shaw mentions in his book on Manhattan's 52nd Street in its jazz club heyday:
Mabel [Mercer] was not only a singer's singer but a songwriter's singer. Mabel's clientele included Bart Howard, who later wrote 'Fly Me to the Moon'; Alec Wilder, many of whose songs Mabel introduced; and other sophisticated songsmiths whose work put them outside Tin Pan Alley and even on the periphery of the Broadway musical theater. Edward C Redding, who wrote 'The End of a Love Affair,' remembers being taken to Tony's by James Keenan, an architectural lighting expert, who felt that only Mabel could appreciate his smart, then unpublished torch ballad.
Mabel Mercer was a mainstay of New York cabaret whom Sinatra greatly admired. She specialized in songs that were a little too specialized - just a wee bit too rarefied for a musical or a revue, never mind a pop hit. And so round about 1949 this "architectural lighting expert" had dragged Edward C Redding along to Tony's Club on 52nd Street and persuaded Miss Mercer to take a gander at "The End Of A Love Affair". She was impressed, as who wouldn't be, for it's very skillfully done. I especially like the way Redding uses rhyme at the front of the middle-eight to tie it to the end of the main theme:
...when I'm out in a crowd
So that people are apt to stare

Do they know?
Do they care
That it's only
That I'm lonely
And low as can be?
And the smile on my face
Isn't really a smile at all

So I smoke a little too much...
For a while it was a chantoosie's song. After Mabel Mercer came Margaret Whiting, Dinah Shore and Helen Merrill. But, once you've heard Nat "King" Cole's version on Love Is The Thing, it's clear that the number's peculiar character is better suited to a male vocalist. It's a fairly unique scenario in the catalogue. There are songs about losers in love ("Angel Eyes") wallowing in self-pity ("One For My Baby"), but this takes it to the next level; it's about over-compensating with hollow bonhomie:
So I talk a little too much
And I laugh a little too much
And my voice is too loud
When I'm out in a crowd...
That's a type we all recognize, especially as the evening goes on:
So I smoke a little too much
And I drink a little too much
And the tunes I request
Are not always the best
But the ones where the trumpets blare...
The form is at once utterly natural and highly unusual, with the main theme relying on all those identities ("a little too much"). It has a touch not only of bitterness, but of anger:
Do they know?
Do they care?
Look at you guys: I'm dying inside and you sick heartless bastards are all carrying on as if normal life is still possible.
Had it shown up on his radar a couple of years earlier or later it might have found its way, a little roughened up, into Sinatra's repertoire of saloon songs, with "Angel Eyes" and "One For My Baby". Instead, it closed what turned out to be one of the singer's least commercially successful albums of the period, and he never returned to it again: it was, like so many Sinatra songs in this period, just a great one-off track.
Nelson Riddle, who brimmed with vamps and counter-melodies, opens his arrangement with a bass clarinet* figure that sort of lopes lonesomely, like a western version of a torch ballad. Over it, Harry Edison delivers just four beeps with his trumpet, and then Frank enters:
So I walk a little too fast
And I drive a little too fast...
And, at the risk of over-thinking things, one of the many ingenious aspects of this arrangement is that Champ Webb's bass clarinet does indeed appear to be "walking a little too fast" for Sinatra's lugubrious vocal: in other words, Riddle has found a subtle musical language with which to illustrate the theme of the song - the contrast between outward appearances and inner turmoil.
According to Eleanor Slatkin, at this stage in their mutual admiration society the Slatkins were trying to sound like Sinatra and Sinatra was trying to sound like the Slatkins. "My parents would talk to Frank very often about their own technique," their son, the conductor Leonard Slatkin, told Charles Granata. "He asked them questions. 'What is that when you take the bow and you just kind of move it up and play several notes at a time? How do you do that?' he'd ask. He was fascinated by this, and my parents would say, 'But Frank, we want to be able to imitate your voice!'"
With this album they achieve a kind of synchronization, between the string quartet's sustained phrasing and the singer's breath control - and, to examine it even more closely, between Felix Slatkin's portamento on the violin and Frank's with his voice. On "The End Of A Love Affair" Riddle augments the quartet with that very dark bass clarinet that seems to intensify the singer's isolation from love and life. The result is a rather formal performance from Frank, but brilliantly poised. As Will Friedwald describes it, "Love Affair" "makes you think that if Sinatra put the tiniest bit more emotion in his singing he might sound hysterical, and yet if he were to pull the most miniscule bit back, he would come off sounding detached."
Agreed. I confess there are times when I prefer to hear Tony Bennett kicking loose with the song on his big up-tempo swingin' version from the Seventies. But I always come back to Frank's take.
However, I'm glad that Riddle's orchestration is sufficiently literal to introduce a trumpet in a song about trumpets blaring. In 1956, "The End Of A Love Affair" was six or seven years old, but the instruments playing it pre-dated it by three centuries: violinists Felix Slatkin and Paul Shure played respectively a Guarnerius del Gesù from 1730 and an Andreas Guarnerius from 1691; Eleanor Slatkin played an Andreas Guarnerius 'cello from 1689 and Alvin Dinkin an Albani viola from 1711 - all for a 52nd Street nightclub song of the early Fifties. And, when it came time for the trumpet's "blare" there was Harry Edison with the same old Harmon mute he always used.
Of course, notwithstanding the lyric, no trumpet blared less than Sweets', and for the first half of the track he just kind of shimmers along with the strings, very discreetly. In the instrumental, the rhythm is suspended and the quartet waft into a dreamy three-quarter tempo, and we get to hear one of the greatest of all jazz trumpeters just waltzing along behind them. And then the dream dies - and Edison adopts a muted trudge into the out-chorus:
So I smoke a little too much
And I drink a little too much
And the tunes I request
Are not always the best
But the ones where the trumpets blare...
Sweets doesn't blare, but he does toot his horn a little more forcefully. And then we're back to Sinatra's rueful, sardonic contemplation of his own anguish:
So I go at a maddening pace
And I pretend that it's taking her place
But what else can you do
At The End Of A Love Affair?
And Champ Webb's loping bass clarinet and Sweets' four closing beeps confirm that there is, indeed, nothing else you can do.
Unlike playing a solo with Basie or Ben Webster or Lester Young, there's nothing here that's going to have the crowd cheering wildly. But Harry Edison has just made himself an indispensable part of a great string-quartet arrangement. Sinatra ended his recording career with a couple of albums of synthetic celebrity "duets" with transient pop stars he'd barely heard of. Yet there's a lot of real duetting throughout his oeuvre and some of the very best is the back and forth between the singer and the muted trumpeter he singled out for a special place on all those Capitol albums.
"He was a fantastic and a marvelous guy to be around and to work with," said Edison of Sinatra. "He was sensational." So was Sweets.
*My mistake: I originally wrote "oboe", so my thanks to Dan Hollombe in Los Angeles for correcting my faulty late-night memory: Champ Webb played oboe on a lot of Sinatra tracks, but for this one he brought along his bass clarinet. I'm a big fan of the bass clarinet, as anyone who's heard Claire McInerney's contributions to my own humble musical efforts will know.
~For more of Harry "Sweets" Edison's trumpet, the Pundette is also counting down her Frank hit parade, and at Number 65 there's an "Ill Wind". Meanwhile, Bob Belvedere over at The Camp Of The Saints has the swingin' side of Sweets on his Number Two Sinatra hit "Come Fly With Me". And the Evil Blogger Lady offers the other Sinatra song to mention the Burmese city of Mandalay.
~You can read the stories behind more Sinatra songs in Mark Steyn's American Songbook, and Steyn's original 1998 obituary of Frank, "The Voice", can be found in the anthology Mark Steyn From Head To Toe. Personally autographed copies of both books are exclusively available from the SteynOnline bookstore.
SINATRA CENTURY
at SteynOnline
6) THE ONE I LOVE (BELONGS TO SOMEBODY ELSE)
8) STARDUST
10) WHAT IS THIS THING CALLED LOVE?
11) CHICAGO
12) THE CONTINENTAL
13) ALL OF ME
15) NIGHT AND DAY
16) I WON'T DANCE
17) I'VE GOT YOU UNDER MY SKIN
19) EAST OF THE SUN (AND WEST OF THE MOON)
21) A FOGGY DAY (IN LONDON TOWN)
24) OUR LOVE
27) FOOLS RUSH IN
32) I'LL BE AROUND
36) GUESS I'LL HANG MY TEARS OUT TO DRY
37) NANCY (WITH THE LAUGHING FACE)
38) SOMETHIN' STUPID
40) I GET ALONG WITHOUT YOU VERY WELL (EXCEPT SOMETIMES)
41) SOLILOQUY
42) THE COFFEE SONG
44) HOW ABOUT YOU?
46) LUCK BE A LADY
48) (AH, THE APPLE TREES) WHEN THE WORLD WAS YOUNG
49) I HAVE DREAMED
51) I'VE GOT THE WORLD ON A STRING
52) YOUNG AT HEART
54) BAUBLES, BANGLES AND BEADS
55) IN THE WEE SMALL HOURS OF THE MORNING
57) THE TENDER TRAP
59) WITCHCRAFT
60) EBB TIDE
61) COME FLY WITH ME
62) ANGEL EYES
63) JUST IN TIME
65) NICE 'N' EASY
66) OL' MACDONALD
68) AUTUMN LEAVES