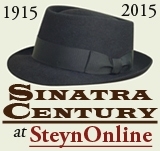 In honor of Alan Bergman's 90th birthday, we've been spending a little time this weekend with some of his early hits for Sinatra. Although I myself have recorded an Alan & Marilyn Bergman number, I reluctantly concede that, vocalist-wise, they're better known for their association with Barbra Streisand ("The Way We Were", "You Don't Bring Me Flowers", etc). But long before Barbra they wrote a few songs for Frank that have a different character from much of their later work. On Friday, we celebrated "Nice 'n' Easy". This one also swings, nicer 'n' easier than it ever did before.
Many years ago I asked Alan and Marilyn how the song came about, and they said it started with Bobby Darin. In 1959 and 1960, he had had two big hits with "Mack The Knife" and "Oh, My Darlin' Clementine", hard-swinging reinventions of multi-verse story songs modulating upward half-a-tone verse by verse throughout the record. And they thought it would be fun to find an old favorite and do that for Sinatra. "Clementine" was a 19th century folk song, so for a while they rummaged through the folkie stuff. And then they figured: Why not a nursery rhyme?
Ol' MacDonald had a farm
E-i-e-i-o
And on that farm he had a chick...
You can pretty much guess how things go from there. It is in its way a brilliant joke: the old traveling-man-and-the-farmer's-daughter scenario with Frank as the salesman, played out to "Ol' MacDonald Had A Farm", and all hung on the fact that "chick" is a homonym, meaning both newborn poultry and a human being of the female persuasion. I would love to have been in the room with the Bergmans when that light bulb went off:
With a little curve here and a little curve there
This chick, she had curves everywhere
Ol' MacDonald had a farm
E-i-e-i-o...
Presumably Frank knew the song. But I've always wondered whether he'd actually warbled it back when he was a kid. It's hard to imagine Sinatra singing nursery rhymes even when he was in the nursery. The number is younger than you might think - although, like a lot of the big hits in the Anonymous catalogue, it has its roots in older songs. Of its twin hooks, "with a little this here and a little that there" seems to have originated in Britain and the old "e-i-e-i-o" appears to be American.
The earliest recorded appearance of the first hook goes back three centuries, to Thomas d'Urfey's 1706 ballad opera The Kingdom of the Birds, wherein can be found a laundry list of farmyard animals called "A Charming Country Life":
Quacking here, quacking there
Here a quack, there a quack
Everywhere a quack...
By the 19th century the hook had parted company with its original setting. Cecil Sharp, the tireless transcriber of British folk songs, took down the following version from 74-year-old Mrs Goodey at the Marylebone Workhouse in 1908:
Up was I on my father's farm
On a May day morning early
Feeding of my father's cows
On a May day morning early
With a moo moo here and a moo moo there
Here a moo, there a moo
Here a pretty moo
Six pretty maids come and gang a-long o' me
To the merry green fields of the farmyard...
There's the germ of something there: the farm setting, the moo-moo here, moo-moo there. But it needs a bit more focusing before and after. Enter the second hook. It appears to have its origins in a number entitled "Old Macdougal Had A Farm In O-hi-o-i-o", which sounds plausible. Like, say, "Why o why o why o/Why Did I Ever Leave Ohio?", in Leonard Bernstein, Betty Comden and Adolph Green's Wonderful Town, it's one of many songs trading off the inherent musicality of the Buckeye State's name. Add that to the English here-a-quack-there-a-quack and you're in business:
Old Macdougal had a farm
In O-hi-o-i-o
And on that farm he had some dogs
In O-hi-o-i-o
With a bow-wow here and a bow-wow there
Here a bow, there a wow
Everywhere a bow-wow...
But maybe that O-hi-o-i-o is too specific when your target audience is youngsters who've barely been out of their hometowns. So Macdougal became MacDonald and Ohio got ditched in a favor of E-i-e-i-o, which is less a state than a state of mind. The earliest extant recording of "Old MacDonald Had A Farm" is by the Sam Patterson Trio in 1925, followed swiftly by Gid Tanner and his Skillet Lickers in 1927 and Warren Caplinger's Cumberland Mountain Entertainers in 1928. So the song may not have settled into its final version by the time Frankie Sinatra in Hoboken, New Jersey was out of short pants.
But, if you take that 1706-ish date seriously, that would make "Ol' MacDonald" the oldest song Sinatra ever recorded in the studio, except possibly "Adeste Fideles" on his Christmas album. Of course, it didn't sound that cobwebbed once Alan and Marilyn Bergman got going on their reconstruction of it. Lew Spence, their collaborator on "Nice 'n' Easy", also has a credit on the song, mostly one assumes because he was their composing partner at the time, but also because the tune does depart from the usual kindergarten form toward the close of the verse, abandoning that "Here a quack, there a quack, everywhere a quack-quack" in favor of something a little more musically satisfying. But for the most part the new "Ol' MacDonald" is really a lyricists' exercise:
And oh, this chick, she had a walk
E-i-e-i-o
And how this walk would drive 'em wild
Swingin' to and 'fro
With a little wiggle here and a little wiggle there
Man, this chick had wiggles to spare
Ol' MacDonald had a farm
E-i-e-i-o...
It's not as easy as it looks. The Bergmans are locked into just the same two rhymes in every verse -"oh", to rhyme with "e-i-e-i", and "air", to rhyme with "a little wiggle here and a little wiggle there". But they manage to ring the changes so deftly you don't even notice:
When she went walkin' into town
E-i-e-i-o
The local gentry popped their eyes
Tarnation, what a show!
With a goldang here and a goshdarn there
Heavens to Betsy, I do declare...
That's pretty good. The joke, of course, is the contrast between the rustic lingo and Sinatra at the acme of his ring-a-ding-ding Rat Pack persona, nicely caught by the authors in the couplet at the end of this verse:
There was a barn dance Saturday night
E-i-e-i-o
And the fellas came from miles around
Just to see her do-si-do
With a promenade here and a promenade there
At a square dance, boy, this chick was no square...
Like many nursery rhymes, "Ol' MacDonald" doesn't have an end. It just sort of peters out when you can't think of any more barnyard animals or the sounds they make. But the Bergmans were telling a story - boy meets girl, the same eternal story as "Nice 'n' Easy" - and like all good storytellers they gave it an ending:
This farmer's daughter knocked me out
E-i-e-i-o
I asked MacDonald for her hand
And Pappy hollered 'Go!'
If it was a cute idea having Frank singing all that barn-dance stuff, it was even more fun once Nelson Riddle got to work on that swingin' arrangement. Bill Miller is rightly acclaimed for his barroom piano accompaniment to "One For My Baby" (as with Frank's vocal, the piano is giving an acting performance, too), but the rhythmic intros that kick-start "The Lady Is A Tramp" or "Lonesome Road" are irresistible, too, and "Ol' MacDonald" is one of Miller's best. With the best will in the world, "Ol' MacDonald" isn't the most interesting tune in the world, and that's where Riddle and the band come in. Miller's piano in particular helps make it such a wild ride. He's like the mechanical hare at the greyhound track, if a mechanical hare could swing: he sets off, and the rhythm section and Sinatra take off, too. And Riddle's arrangement builds and builds with every verse and every key change, until Shorty Sherock's trumpet comes in and blows the roof off and you can hear Frank's just having a ball by that time. "We wanted to do something so that it would build like that," said Alan Bergman. "Nelson ran with it. His tempo was just perfect."
They recorded it on September 1st 1960 as a postscript to the Sinatra Swingin' Session!!! sessions. He wasn't in a good mood with Capitol Records at the time, and that was the album where he walked into the studio and announced they'd be doing all the songs twice as fast as Riddle had written them - which is why all the tracks come out around one-and-a-half or two minutes. But this one he liked enough to give it 2 minutes and 41 seconds of his full attention.
A lot of other people liked it, too: I seem to recall Grampa taking a shot at it in an episode of "The Simpsons". Yet others loathe it: There are plenty of serious Frankophiles who can't figure out why a guy who can sing Cole Porter and Rodgers & Hart would want to sing "Ol' MacDonald had a chick". I mean, even Snoop Dogg hasn't given us:
Ol' MacDonald had a farm...
And on this farm he had a ho...
Gene Lees, the lyricist of a handful of Sinatra bossa novas, denounced "Ol' MacDonald" at the time and was still mad about it when I brought up the subject 30 years later. As Lees saw it, the record was an act of arrogance: I'm so great and I'm so powerful that I can make a hit out of total garbage just to prove the point.
But the track isn't garbage. It's droll, and expertly done, with a great Riddle chart and sly Bergman verses that are a lot more adroit than Gene Lees' texts for all those Bill Evans jazz instrumentals he insisted on turning into bad songs. Indeed, the Bergmans' lyric is entirely free of the faintly queasy bits that taint even Lees' biggest hit, "Quiet Nights of Quiet Stars":
I who was lost and lonely
Believing life was only
A bitter tragic joke
Have found with you
The meaning of existence...
I don't regard that as superior to:
At a square dance, boy, this chick was no square...
At any rate, man cannot live on bitter tragic jokes alone. Sinatra plumbed darker depths than most singers have ever done, and he was entitled to lighten up when he wanted to. Besides, Nelson Riddle, acknowledged as the greatest arranger in the history of popular music, made an entire album of nursery rhymes: "Little Jack Horner", "Twinkle, Twinkle, Little Star", "London Bridge Is Falling Down", "Polly Put The Kettle On", the works. It almost makes you wish he and Frank had followed "Ol' MacDonald" with "Row, Row, Row Your Boat Gently Down the Stream" and driven Gene Lees to despair.
Readers seemed to enjoy the Peter Epsteen Pontiac version of "Come Fly With Me" a couple of weeks back, so just for the record in this centennial year here's Sinatra's other Pontiac commercial:
Ol' MacDonald had a farm
E-i-e-i-o
And on this farm he had a car
Swingingest car I know
It was a new Pontiac
With the dual wide track
What a kick to drive
It's like ballin' the jack
Peter Epsteen Pontiac
He sold a car to Mac

No one beats a deal by Pete
E-i-e-i-o
'Cause an Epsteen deal is really sweet
Pete can save you dough
You'll be flyin' high
'Cause you get a better buy
Get a lot, save a lot
Make a deal that's really hot
Peter Epsteen is my guy
E-i-e-i-o...
Wow, they even restored the original nursery tune - "Get a lot, save a lot/Make a deal that's really hot" - just for the commercial.
And that was that. "Ol' MacDonald" was to remain Sinatra's last excursion into the barnyard until 1979, when he recorded just one take of "The Surrey With The Fringe On Top":
Chicks and ducks and geese better scurry...
In Billy May's breakneck arrangement, they certainly did. And at the end of the run-through Frank said, "Too many words", and scrapped the number. So Sinatra's Come Farm With Me album has a terrific opener and not much else.
As I said a couple of days ago, Alan Bergman is performing at Birdland in New York next month. He does a marvelous version of "Nice 'n' Easy" (complete with second chorus), but I don't believe I've ever heard him do "Ol' MacDonald". It's never too late to add it to the act. I said above that the Bergmans gave the song what it had lacked: an ending. And Sinatra's extended outro over the full force of the band makes you wonder what he might have done with "Incey Wincey Spider":
With a little curve here and a little wiggle there
A goldang here and a goshdarn there
A do-si-do here and a promenade there
Got my own private county fair
'Cause Ol' MacDonald had a farm
E-i-o-i-o!
~For an alternative Sinatra Hot 100, Bob Belvedere over at The Camp Of The Saints places "Ol' MacDonald" at hit sound Number 85. The Evil Blogger Lady showcases another side of Alan and Marilyn Bergman with two appropriate songs as the first autumnal chill descends, "The Summer Knows" and "Summer Me, Winter Me". The Pundette is also counting down her own Frank hit parade, but she eschews Ol' MacDonald's daughter for Miss Jones.
~Mark's version of the Bergmans' "Sweet Gingerbread Man", with Jessica Martin, is also available on their Christmas CD. You can read the stories behind more Sinatra songs in Mark Steyn's American Songbook, and Steyn's original 1998 obituary of Frank, "The Voice", can be found in the anthology Mark Steyn From Head To Toe. Personally autographed copies of both books are exclusively available from the SteynOnline bookstore.
SINATRA CENTURY
at SteynOnline
6) THE ONE I LOVE (BELONGS TO SOMEBODY ELSE)
8) STARDUST
10) WHAT IS THIS THING CALLED LOVE?
11) CHICAGO
12) THE CONTINENTAL
13) ALL OF ME
15) NIGHT AND DAY
16) I WON'T DANCE
17) I'VE GOT YOU UNDER MY SKIN
19) EAST OF THE SUN (AND WEST OF THE MOON)
21) A FOGGY DAY (IN LONDON TOWN)
24) OUR LOVE
27) FOOLS RUSH IN
32) I'LL BE AROUND
36) GUESS I'LL HANG MY TEARS OUT TO DRY
37) NANCY (WITH THE LAUGHING FACE)
38) SOMETHIN' STUPID
40) I GET ALONG WITHOUT YOU VERY WELL (EXCEPT SOMETIMES)
41) SOLILOQUY
42) THE COFFEE SONG
44) HOW ABOUT YOU?
46) LUCK BE A LADY
48) (AH, THE APPLE TREES) WHEN THE WORLD WAS YOUNG
49) I HAVE DREAMED
51) I'VE GOT THE WORLD ON A STRING
52) YOUNG AT HEART
54) BAUBLES, BANGLES AND BEADS
55) IN THE WEE SMALL HOURS OF THE MORNING
57) THE TENDER TRAP
59) WITCHCRAFT
60) EBB TIDE
61) COME FLY WITH ME
62) ANGEL EYES
63) JUST IN TIME
65) NICE 'N' EASY