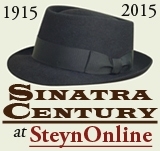 Sinatra sang a lot of Gershwin over the years, but if you had to name the most important "Gershwin song" in his book it would probably be "The Gal That Got Away" - words by Ira Gershwin, but music by Harold Arlen. He made a terrific record of it when the song was new, and then returned to it a quarter-century later to make it - in a medley with "It Never Entered My Mind" - the last great saloon-song sequence to be added to the Sinatra act.
But a lot of George Gershwin tunes stayed with him to the end, too, even if none ever quite became a "Sinatra song" in the sense that "I've Got You Under My Skin" is. There was "They Can't Take That Away From Me", "I've Got A Crush On You", "Someone To Watch Over Me", and "A Foggy Day (In London Town)". Between his first recording in November 1953 and his last (as a duet with Willie Nelson) four decades later, Frank sang "Foggy Day" on stages in London Town and around the world - and along the way he changed the song:
I viewed the morning
With much alarm
The British Museum
Had lost its charm...
We'll come back to that "much" a little later. As to the charms of the British Museum, that phrase is Ira Gershwin's, and has passed into the language. In the Sixties, David Lodge wrote a novel about a literature student who's supposed to be working on his thesis in the Reading Room of the British Museum but is ever more distracted by the charms of Swingin' London. The title, obviously, was meant to be The British Museum Had Lost Its Charm, but for legal reasons the publishers substituted The British Museum Is Falling Down, which doesn't really work quite as well. Arthur Schwartz was a good friend of Ira's, and the composer of "Dancing In The Dark", "I See Your Face Before Me", "I Guess I'll Have To Change My Plan", "By The Beautiful Sea" and "You And The Night And The Music", all recorded by Frank. Living in London late in life, Schwartz chanced to be strolling past the British Museum on a lovely summer's morn. So he stopped at the souvenir kiosk, bought a postcard of the place, and mailed it to Ira with nothing on the back but:
To the contrary...
The charms of the British Museum were a long way away when the Gershwins wrote the song. It comes from a 1937 film called A Damsel In Distress, adapted from the P G Wodehouse novel of the same name. It wasn't a terribly Wodehousian adaptation, even though RKO hired Wodehouse to write the screenplay. George Gershwin was the driving force behind making the film, mainly because, said Wodehouse, it was about the romantic British adventures of a young American musical-comedy composer called "George". Some, indeed, have suggested that the original 1919 novel was, in fact, based on George Gershwin - who a couple of years earlier had chanced to be the rehearsal pianist on a Broadway musical called Miss 1917, written by Wodehouse with Guy Bolton and Jerome Kern. That seems a stretch to me. Filming A Damsel In Distress twenty years later, the main point of distress was the lack of a damsel. The role of the young composer George had gone to Fred Astaire, but Ginger Rogers had decided she'd done enough musicals and wanted to be a great dramatic actress. So they hired 19-year-old Joan Fontaine, who couldn't sing or dance. So all the numbers had to be written and staged around her limitations.
Still, it's a fine score. The other big standard is "Nice Work If You Can Get It" (recorded by Sinatra twice, with Nelson Riddle in the Fifties and Count Basie in the Sixties), but there's some good second-tier songs, too - "Things Are Looking Up", "I Can't Be Bothered Now" - and a tip of the hat from Ira Gershwin to the Wodehousian source material: "Stiff Upper Lip." "A Foggy Day" was born in the wee small hours one night when the bookish Ira had stayed home and bachelor George had gone out to a party. He came back around one in the morning, threw off his tux, sat down at the piano, and said to Ira, "How about some work? Got any ideas?"
"Well, there's one spot we might do something about a fog... How about 'A Foggy Day In London' or maybe 'Foggy Day In London Town'?"
"Sounds good," said George. "I like it better with town" - and off he went:
A Foggy Day
In London Town
Had me low
And had me down...
Does anyone actually say "London Town"? Oh, well. "Town" turned out to be the key to the whole tune. The additional syllable gave George two symmetrical four-note phrases, which in turn led to the parallel lines "had me low" and "had me down. More than any other of the marquee names of the American songbook, George was partial to repeated notes: "Oh, Lady Be Good!", "Someone To Watch Over Me",, the verse of "They Can't Take That Away From Me"... But on this one, thanks to Ira's addition of "town", they're underpinning the entire song: A fog-gy C-C-C. In Lon-don E flat-E flat-E flat. Same with the next phrase: "I viewed the", all the same note. "The Bri-tish", same same same. You can get away with this device more easily in a spiky, angular rhythm number, but you have to be very assured to do it in a ballad. Here, the repeated notes of the melody and the shifting harmony underneath give the love song a subtly mature and understated quality, as we build toward the climax:
How long I wondered
Could this thing last?
But the age of miracles
Hadn't passed
For suddenly
I saw you there...
The setting of "suddenly" - F-F-D - is brilliant: The whole foggy scenario turns on that one line, and suddenly the sun is shining everywhere, and so's the tune, busting the bounds of 32 bars and doubling the pace of the chord changes for a finale that couldn't be more different from all that repeat-note seesawing leading up to it. The Gershwin brothers finished the song within an hour, and retired for the night. They didn't usually write that fast, and certainly not Ira. But this (along with "Do Do Do" a decade earlier) was the zippiest soup-to-nuts chorus they'd ever rattled off.
The following morning Ira said to George, "How about an Irish verse?"
And, as Ira later wrote, George "sensed instantly the degree of wistful loneliness I meant":
I was a stranger in the city
Out of town were the people I knew
I had that feeling of self-pity
What to do?
What to do?
What to do?
The outlook was decidedly blue...
The outlook was even bluer for George Gershwin. He never saw A Damsel In Distress. Four months before the film's release he was dead of a brain tumor at the age of 37.
In the movie, Astaire sang it while walking through foggy woodland. That's not a London fog as Londoners understood the term in 1937. The traditional London pea-souper was a combination of millions of smoking chimneys with the mists of the Thames valley - the thick yellow-greenish sulfurous fog which provides such convenient cover for Moriarty, Jack the Ripper et al. After 4,000 people died in the Great Smog of 1952, the Clean Air Act was passed, and the old "London particular" became a thing of the past. Only someone who didn't live there would think to use London fog as a starting-point for romance, but then, even without the pollution, it's an unusual variation on the typical city song. "A Foggy Day" is far and away the most famous song about London, and London is certainly a great world-class city, but there's no start-spreading-the-news my-kind-of-town braggadocio. London's one big blah until you showed up, baby - as Ira Gershwin encapsulated in:
I viewed the morning
With alarm
The British Museum
Had lost its charm...
Fred Astaire had a hit record on the song, with the orchestra conducted by Ray Noble, who played Reggie in A Damsel In Distress and, being English himself, presumably knew the difference between a real London fog and the Gershwin version. (Noble was also a songwriter, whose greatest work, "The Very Thought Of You", was recorded by Sinatra in 1962.) Yet, after Astaire and the film, the song faded. The jazz guys were indifferent to it, and so were the big singers. It was left to Frank Sinatra to revive the song and establish it as a standard. Which he managed to do in the four-year interlude between the Great Smog of 1952 and the Clean Air Act of 1956, which one would have thought was not the most propitious time to hymn the delights of London fog.
Round about the time the Great Smog was afflicting London, Sinatra was playing the Riviera Club in Fort Lee, New Jersey. A longish career slump, like an unending fog, had him low, had him down. For the Riviera engagement, he had an eight-piece band and arrangements by George Siravo, to whom Frank's then orchestrator Axel Stordahl tended to sub-contract the "up" numbers. Among the charts was "A Foggy Day", to which Sinatra had taken a liking, perhaps because he was fond of London. He was proud of those Riviera arrangements, and, when he signed his contract with Capitol, he decided he wanted to put his road charts on record. And so on November 5th 1953 he found himself at KHJ Studios in Hollywood making his first Capitol album - all George Siravo arrangements, but conducted by Nelson Riddle and with the band bulked up to 11 men (two reeds, four strings, piano, guitar, bass, drums, harp, but no brass).
The first song on the stand that night was "A Foggy Day". The ensemble opens with what boils down to a foggy cloud descending and then Frank sings the verse with piano accompaniment only, putting a bluesy spin on "out of town were the people I knew". From that pensive intro, he builds to a rhythmic swing that, by the end of the first chorus, he's so into he extends "the sun was shining everywhere" into "shining shining shining shining shining everywhere" , at which point there's a rallentando and we're back to just piano for the start of the last half-chorus. The full band comes back in on "suddenly" and this time there's just one "shining", big and legato and lovingly lingered over. In the hundreds of records he made before and after that date, you'd be hard put to find one in which he sounds so rhythmically energized, but he's also in sync with the instruments in a way that few singers had been: the orchestration sounds the way he feels.
The album that resulted from that "Foggy Day" session was Songs For Young Lovers. It's Sinatra in transition, creating the sound that by the time of its near namesake, Songs For Swingin' Lovers, three years later would be fully formed. The Young Lovers LP cover said only "accompanied by Nelson Riddle", and listeners assumed the arrangements were his, too. George Siravo felt cheated out of his credit, and, when the album's that good, you can see why it would rankle. In the case of "Foggy Day", the Sinatra/Siravo version re-kindled the song. After a decade-and-a-half in the ice-box, in the five years after Young Lovers everyone picked up on it: Benny Carter, Oscar Peterson, Charles Mingus, Art Tatum, Ella Fitzgerald, Louis Armstrong, Lester Young, Billie Holiday... It became an important Gershwin song in a way it had never been before.
Seven years after that first album for Capitol, Sinatra was back in the studio to make his first album for Reprise Records, Ring-A-Ding Ding! For the title song, modeled on a Frank catchphrase, the arranger Johnny Mandel had written in some ring-a-ding-dingin' bells. So with a percussionist on hand for the session, Mandel figured he might as well add some bells to "A Foggy Day" and let Emil Richards make with the Big Ben bongs through the track. There's no verse, no tempo changes, no contrast in instrumentations, and in that sense the storytelling is less interesting than in the George Siravo version. It starts out with Emil Richards' pealing bells and then just cooks all the way to the end. But it's a useful lesson in the Sinatra style. It's a fatter band than on the earlier session and, in the first chorus, when the strings come floating in, he's as smooth and sustained as they are - and for the first and only time he sings the line as Ira Gershwin wrote it:
I viewed the morning
With alarm
The British Museum
Had lost its charm...
But the second chorus cranks it up a notch, with the bass and drums moving from a two- to a four-beat feel and the strings replaced by stabbing brass, and so Sinatra, again perfectly attuned to what the band's doing, chops up the lines and goes for a more rhythmic, staccato approach:
I looked at the morning
With much alarm
The British Museum
It lost its charm...
His phrasing on that last line is super-cool.
A third of a century later, he took one more crack at it, in a manufactured duet with Willie Nelson, who finds himself with little choice but to sing along with Sinatra's Frankisms - "shining shining shining shining" is back, and all the more fun for having Willie along for the ride. But we're a long way from London fog and Irish verses; it's a swingin' day in Frank's town.
Back in 1953, George Siravo had a tag on the end of his "Foggy Day" chart that Sinatra, in live performances over many years, liked to have a little fun with, coming in for a soft landing on the number by singing over it: "And an Englishman is happy when he's fighting for his Queen." I like to think that would have appealed to the erudite anglophile in Ira Gershwin. But Sinatra's other Frankisms did not sit so well with Ira, at least according to Michael Feinstein, who had been the lyricist's archivist and secretary in his final years.
I first met Feinstein in the late 1980s, and he bemoaned to me that younger singers tend to learn songs from their favorite older singer's recording. Which is true. When you hear some chantoosie do "Teach Me Tonight", she's invariably singing Dinah Washington's version thereof, rather than anything on the sheet music. Same with "At Last", where Etta James' record is the usual template. So Feinstein said to me he was off to London, where he was intending to sing "A Foggy Day". "But I'm going to sing it the way George and Ira wrote it," he said. "It's quite a different mood. Most singers think of Sinatra's recording and they want to do the same kind of macho interpretation." And Feinstein obligingly machoed himself up to demonstrate Frank's finger-snappy style at its most unfoggiest. "Ira loved Sinatra, but he didn't like his interpolations, especially 'I viewed the morning with much alarm.' Ira very much disliked that 'much'."
I didn't think it was that big a deal myself, but a decade or so later Feinstein reiterated the point to me. "'Much alarm' changes the meaning," he said, "and it breaks the flow of the line."
Hmm. I think you could make the case that, when Ira wrote up George's tune for "A Foggy Day," that line - "I viewed the morning with alarm"- is flawed. The word "with" is given far too much weight: it's a minim and it falls on the first beat of the bar, which is a hell of a starring role for an inconsequential preposition. If you sing it as written, it lasts forever. Ira could be careless, especially about prepositions ("They all laughed at Rockefeller Center, now they're fighting to get in"). Sinatra is too naturalistic a singer to be comfortable with that overweighted "with": his solution - the interpolated "much"- seems perfectly acceptable, which may be why younger singers have retained some variation of it. (Michael Bublé: "I viewed the morning with such alarm." Singing is, after all, an interpreter's art. "Without the rendition, there is no song," Jule Styne, Sinatra's onetime flatmate and long-time composer ("Time After Time," "Guess I'll Hang My Tears Out to Dry"), used to say. And sometimes - not always - the interpreter knows better than the writer.
You can make a better case against Frank's fetish for post-noun pronouns - to which his versions of "A Foggy Day" were particularly prone. Sinatra 1953:
How long, I wondered
Could this thing last?
But the age of miracles
It hadn't passed...
Sinatra 1960:
But the age of miracles
They hadn't passed...
That really does chop up the flow of the lyric. On that second occasion with Feinstein, as we strolled out of the room he was still rolling his eyes at Sinatra's late performances of "The Gal That Got Away". "'The night, it is bitter/The stars, they have lost their glitter'," he sighed. "Who needs it?"
Oh, well. Who's to say we'd even know the song without Frank? Sinatra was the fellow who called Ira up and asked if he could rewrite "The Man That Got Away" so a guy could sing it ...and he was the singer who cemented "I've Got A Crush On You" as a ballad now and forever ...and in 1953 he took a semi-forgotten ballad from an obscure Fred-&-Ginger-without-Ginger film and cleared away the fog once and for all:
And in foggy London Town
The sun was shining shining shining shining shining
Ev'rywhere.
And for that we all owe him a debt of gratitude.
~Mark's beloved book A Song For The Season includes his essays on "Almost Like Being In Love", "My Funny Valentine", "I'll Never Smile Again", "Autumn Leaves" and other Sinatra songs. It's finally out in eBook - at Amazon, Barnes & Noble, Indigo-Chapters in Canada, and worldwide. So, whatever your preferred digital distribution method, you can be reading it within a minute!
Steyn's original 1998 obituary of Sinatra, "The Voice", appears in the anthology Mark Steyn From Head To Toe. There's more about the Gershwins in Mark's critically acclaimed classic Broadway Babies Say Goodnight. Personally autographed copies of both books are exclusively available from the Steyn store.
~For an alternative Sinatra Hot 100, the Pundette has launched her own Frank countdown. She has a little more Sinatra/Gershwin at Number 83 with "Embraceable You". Bob Belvedere over at The Camp Of The Saints is also counting down his Top 100 Sinatra tracks, and offers some Cole Porter at hit sound 68, "Night And Day".
SINATRA CENTURY
at SteynOnline
6) THE ONE I LOVE (BELONGS TO SOMEBODY ELSE)
8) STARDUST
10) WHAT IS THIS THING CALLED LOVE?
11) CHICAGO
12) THE CONTINENTAL
13) ALL OF ME
15) NIGHT AND DAY
16) I WON'T DANCE
17) I'VE GOT YOU UNDER MY SKIN
19) EAST OF THE SUN (AND WEST OF THE MOON)