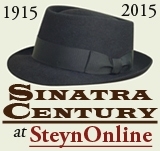 Where do you head after you've gone "South Of The Border"? Oh, that's easy:
East Of The Sun
And West Of The Moon
We'll build a dream house
Of love, dear...
Frank Sinatra sang it at the very dawn of his career, early in 1940 at the Riverside Theatre in Milwaukee on one of his first dates with the Tommy Dorsey Orchestra. He sang it again in the Sixties in a fun arrangement that concludes in an unending series of endings. Since when the song has never really gone away. It's been sung and played by Benny Goodman, Lester Young, Billie Holiday, Sarah Vaughan, Guy Mitchell, Charlie Parker, Stan Getz, Louis Armstrong, Lee Wiley, Ella Fitzgerald, George Shearing, Mama Cass, George Benson, Wynton Marsalis, Diana Krall...
Yes, yes, but where did it come from? A big Broadway show? A Hollywood movie? In fact, it came from a production called Stags At Bay mounted by the Triangle Club at Princeton University in 1934. The Triangle Club was an all-male acting troupe founded in 1891, and whose alumni include F Scott Fitzgerald, James Stewart, José Ferrer, Wayne Rogers (Trapper John from "M*A*S*H"), David E Kelley (creator of "Ally McBeal"), and (once they gave up having the boys dress as chorus girls) Brooke Shields. Things weren't quite so glittering eight decades ago. As the curtain rose on Stags At Bay, the word was that if this show was as bad as its recent predecessors, it would be the end of the Triangle Club.
Fortunately, the company included among their number Brooks Bowman, Princeton Class of '36. The undergraduate hailed from Cleveland, where he was born in October 1913. His father had been a successful businessman until the Wall Street Crash shattered the three potteries he owned. Utterly broke, the family was forced to move back to Mrs Bowman's family homestead in Salem, about 60 miles to the south-east. Somehow they scraped together the money to send young Brooks, a diabetic since the age of 11, to university back east - first to Stanford and then, when he became smitten by the Triangle Club, to Princeton.
Brooks Bowman did a little bit of everything: He acted, he sang, and he took a crack at songwriting, too. As his fellow student Frank Taplin, a formally trained musician, put it:
Brooks played enough hunt-and-peck piano to get the kind of melody and harmony he wanted, but he couldn't play the piano. It was very clear, though, that he had a tremendous melodic gift.
So, for Stags At Bay, he wrote half-a-dozen songs - words and music for most, just lyrics for a couple of them. He was lucky in that, unlike most new songs in student productions, his were staged by a professional director: Joshua Logan. Logan had graduated from Princeton three years earlier, and would eventually go on to direct the stage and screen hits South Pacific, Mister Roberts, Bus Stop, and many more. But even in 1934 he had some serious credits: he'd played on Broadway and directed a tour of Camille in Britain. And he liked Brooks Bowman's songs. "He was not a studied musician," said Logan. "He just had a talent, a smell for it."
Everyone liked the songs in Stags At Bay. The take-home tune was supposed to be "Love And A Dime", which the Triangle Club liked so much they arranged to have published. And the publisher liked it so much he gave Brooks Bowman a $1,000 bonus, which was not to be sneezed at in 1934 when your dad's gone bust and the family's had to move back to mom's hometown. More or less exactly eight decades ago - March 25th 1935 - the Bowmans' neighbors in Salem, Ohio sat around their radios and heard the Triangle Club players sing "Love And A Dime" on the Kate Smith show. The listeners loved it and demanded to hear it again, so on the following week's broadcast Miss Smith sang it herself:
We've got Love And A Dime
We've just found it in time
We've got reams of love
Livin' on two nickels with the sun up above...
The tune is rather ordinary but the lyric is adroitly crafted, and I like the wind-up:
I love you and you're not fickle
You got five cents and I got a nickel
We've got Love And A Dime.
Hal Kemp made a record of it, and so did Glen Gray and the Casa Loma Orchestra. That's not bad for a song by an undergraduate from a student show. But Brooks Bowman's other hit from Stags At Bay surpassed even "Love And A Dime". He knew it was special, and called Frank Taplin excitedly: "I've got a song I think we ought to get down on paper," he said. "We ought to think about it for the show."
He rushed round to Taplin's place and picked it out on the piano as his friend scribbled it down on the manuscript paper. "Brooks had a very accurate idea of what he wanted," said Frank. "I just wrote as he dictated." Back in Ohio, his mother Mary, a fine pianist, helped him fill out a finished score for the pit band.
As for the title, that came from his boyhood home, too - the first of the colored Fairy Books by the Scots poet Andrew Lang. Lang's Blue Fairy Book was published in 1889 and quickly became a fixture on children's bookshelves around the world, and therein you will find a story from Norway about a prince who's cursed to go to his stepmother's castle and marry her hideous troll daughter. The stepmother's castle is located "east of the sun and west of the moon". Brooks Bowman took the title and ran with it. Well, okay, not "ran", but he walked it around for 32 bars:
East Of The Sun
And West Of The Moon
We'll build a dream house
Of love, dear
Near to the sun in the day
Near to the moon at night
We'll live in a lovely way, dear
Living on love and pale moonlight...
In his book The Jazz Standards, Ted Gioia professed to find "the melody a little too predictable and the lyrics too vague", but that drop from C to E flat on the big fat semibreves of "love, dear" is just lovely and a gift to singers. And much of the rest of the piece seems to serve as a kind of sturdy clothes horse on which performers can hang their own interpretations. As Alec Wilder noticed, almost every singer eschews the way "pale moonlight" is actually written on the sheet in favor of half-tone steps from B natural to B flat to A. In this case, posterity's judgment serves the lyric better than Bowman's original construction.
On the other hand, it could have been a lot worse. Among the fans of the song was F Scott Fitzgerald, Princeton Class of '17. In January 1935, he wrote to young Brooks Bowman to say how much he appreciated the number and suggested the composer should turn it into "a song of devotion" to Princeton by "making a few changes to the lyric":
East Of The Sun
And West Of The Moon
Lies Princeton...
If you're thinking, "Hang on, doesn't Princeton lie in New Jersey?", well, as Scott Fitzgerald explained his conception to Bowman, "Princeton, to Princeton men, lies outside of time and space".
The songwriter decided not to follow Mr Fitzgerald's advice. On May 28th 1935 Tom Coakley and his orchestra recorded it as a mellifluous fox trot with vocal by Carl Ravazza. It got to Number One - a year before Brooks Bowman graduated.
Some fifty miles north-east of Princeton, Frank Sinatra was embarking on his own music career. At the beginning of 1940, Frankie joined the Tommy Dorsey band. Dorsey's vocalist Jack Leonard had moved on and the replacement, a baritone called Allan DeWitt, wasn't working out. And so in April Sinatra found himself in the studio recording "East Of The Sun". I mentioned a few weeks back the Dorsey template established by the band's record of Irving Berlin's "Marie", in which the male vocalist gives a straight ballad reading punctuated by hipster interjections. That's what they did to Brooks Bowman's lyric:
East Of The Sun (Bathed in the brightness)
And West Of The Moon (we'll be digging the glow)
We'll build a dream house (a righteous pad)
Of love, dear (where you can really lay it on me)

Near to the sun in the day (we'll be jumping)
Near to the moon at night (you'll be with me)
We'll live in a lovely way, dear (solitudey I'm hip)
Living on love and pale moonlight (you're mellow)

Just you and I (we'll nix the squares...)
And if, by nixing the squares, you mean banishing all memory of Tom Coakley and Carl Ravazza, they did a pretty good job. By now, Coakley had quit the music biz for the legal profession, where he wound up as a federal judge handing out stiff sentences. Although, come to think of it, every sentence is a little stiff compared to "We'll nix the squares". Even young Frankie's legato balladeering can sound in spots somewhat tentative compared to the hep cats a-hollerin' behind him.
And then things get even wilder. As Sinatra wraps up the vocal, the lads yell, "Take it, Bunny!" and in comes Mr Berigan of that ilk with a killer trumpet solo. Frank loved working with Berigan, although rooming with the bibulous Bunny (as he did on those Dorsey tours) must have taken its toll. Still, almost half-a-century on, when Berigan's great turn "I Can't Get Started" was in his stage act, Sinatra would make a point of crediting him: "Bunny Berigan was the greatest trumpet player in the world," he'd say. "Then one day we couldn't find him."
That 1940 recording was arranged by Sy Oliver. Twenty-one years later, Oliver and Sinatra were back in the studio making a tribute album to the now dead Dorsey. Most of the tracks were songs that young Frankie the boy vocalist had sung a generation earlier and was now revisiting in his maturity. There's no vocal chorus insisting Frank "lay it on me" and "nix the squares" but Sy Oliver has the band shadow their parts behind Sinatra, and, unlike April 1940, he's swingin' all the way through to those multiple false endings:
Way up among the stars we'll find
A harmony of life to a lovely tune
East Of The Sun
And West Of The Moon, dear
East Of The Sun
And West Of The Moon!
And again:
Hey, up among the stars we'll find
A harmony of life to a lovely tune
East Of The Sun
And West Of The Moon, dear
East Of The Sun
And West Of The Moon!
And one more once:
We-ell, up among the stars we'll find
A harmony of life to a lovely tune
East Of The Sun
And West Of The Moon, dear
East Of The Sun
And West Of The Moon!
The harmony he does on that last "harmony" is especially nice. The instrumentalists never stopped playing "East Of The Sun", and the lady singers gave it a lot of play through the Fifties, but, when I hear Diana Krall and Stacey Kent and other younger vocalists sing the number these days, I get the strong sense they discovered it primarily through that Sinatra/Sy Oliver track from 1961.
Brooks Bowman would have been a couple of years shy of fifty when that record came out, but he never heard it. Nor did he hear the Sinatra/Dorsey record released a mere six years after he wrote the song. By the time he graduated in 1936, Bowman was known as "Princeton's Cole Porter". A few months after bidding farewell to the old school, he drove west to Hollywood where he met Yale's Cole Porter - ie, the real Cole Porter, who was impressed by the young composer and recommended him to various producers. In 1937, he headed back east to begin a songwriting partnership with a Princeton pal, Bill Borden. On Friday October 15th, Bowman and Borden were invited to the offices of bigtime music publisher Jack Robbins and auditioned their first song. "I'll publish it," said Robbins. "Come back Monday and I'll give you an advance."
You don't get better starts to the weekend than that. On Saturday Bowman and his girlfriend Edith Brooks went to the Yale-Army football game at New Haven, Connecticut, and then set off for a house party in the Catskills with their friends Richard Pettit and Betty Zimmerman. On Cat Rock Road, Route 403, near Garrison, New York, a tire blew and Pettit lost control, the rear end of the car slamming into a stone wall. Pettit was unhurt. Edith and Betty suffered only minor injuries. But Bowman was thrown forward, and his heart punctured. He was driven to Butterfield Hospital in Cold Spring, where he was pronounced dead.
Bowman was four days short of his 24th birthday, and two days short of signing that contract with Jack Robbins. And so "Princeton's Cole Porter" left us a catalogue of just one strange, ethereal standard:
Just you and I
Forever and a day
Love will not die
We'll keep it that way
Up among the stars we'll find
A harmony of life to a lovely tune
East Of The Sun
And West Of The Moon.
~Our German readers may enjoy this excellent portrait of Brooks Bowman by the musician Hans Martin Fleischer. Mark tells the story behind Sinatra songs such as "I'll Never Smile Again" and "Autumn Leaves" in his book A Song For The Season. Steyn's original 1998 obituary of Sinatra, "The Voice", appears in the anthology Mark Steyn From Head To Toe. Personally autographed copies of both books are exclusively available from the Steyn store.
~For an alternative Sinatra Hot 100, the Pundette has launched her own Frank countdown, as has Bob Belvedere over at The Camp Of The Saints. The Pundette has reached hit sound 79, a marvelous Billy May arrangement of a great Rodgers & Hart song, "Have You Met Miss Jones?" Mr Belvedere is up to Number 74, a favorite for Rat Pack clowning and duets with Satchmo, "Birth Of The Blues".
SINATRA CENTURY
at SteynOnline
6) THE ONE I LOVE (BELONGS TO SOMEBODY ELSE)
8) STARDUST
10) WHAT IS THIS THING CALLED LOVE?
11) CHICAGO
12) THE CONTINENTAL
13) ALL OF ME
15) NIGHT AND DAY
16) I WON'T DANCE
17) I'VE GOT YOU UNDER MY SKIN