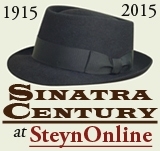 It's July 8th 1939 and the Harry James orchestra is on stage at the Roseland Ballroom in New York. They have a new singer - a 23-year old boy vocalist who signed with the band a few days earlier - and he steps to the microphone to sing:
Sometimes I wonder
Why I spend the lonely night
Dreaming of a song
The melody haunts my reverie...
"Stardust" isn't thought of as a Sinatra song - Nat "King" Cole's is probably the voice that first springs to mind in association with the ballad, and Artie Shaw's clarinet when it comes to instrumental recordings. But "Stardust" was part of Frank Sinatra's story from his earliest days as a professional singer. In fact, it was the very first song he sang after signing a two-year contract with Harry James in June of 1939. He formally joined the orchestra at a gig in New Haven, Connecticut, as Jack Palmer, a featured trumpeter with the James band, recalled:
I'll never forget how Harry introduced him to the audience. He said, 'Ladies and Gentlemen, this is our new vocalist, and we don't have any arrangements for him as yet. Frank, do you think we can scare something up for you to sing?' Sinatra called out 'Stardust', which is not the easiest song to sing. Frank gave us the key and the piano and rhythm section began, and we just tried to get some background to hold it all together.
Palmer's right. It's not "the easiest song to sing" - which is why, 76 years ago, it was played far more often than it was sung. It's one of those songs about a song, "dreaming of a (presumably entirely different) song", but it was written as an instrumental with dreams of a very particular instrumentalist. "The verse," noticed Mel Tormé, "rambles up the scale and down, resembling nothing so much as an improvisational cornet solo."
The composer was Hoagy Carmichael and back around 1926-27 that's what he was dreaming of - not a starry, romantic ballad, but the hot licks of his pal, corrnetist Bix Beiderbecke. Many people with no interest in the songwriting credits on album sleeves know Carmichael's name: He was a singer-songwriter long before anyone had ever heard the term, enjoying hit records with his own compositions. He's the thin fellow with the hat pushed back on his head tinkling the piano in the bar scene of any number of films, usually playing a character with a singular name - Cricket, Happy, Jingles - and contributing some terse late-night philosophical solace for whatever's on the stars' minds. But they were big stars: Bogie and Bacall in To Have And Have Not, Myrna Loy and Fredric March in The Best Years Of Our Lives. (Sinatra himself cuts an oddly Hoagy-esque figure as a down-at-heel musician in the film Young At Heart - especially playing barroom piano on "Night And Day".) And, according to Ian Fleming in the very first 007 novel, Hoagy Carmichael - rather than Sean Connery or Daniel Craig - is what James Bond is meant to look like.
But in 1927 all that lay ahead. Hoagy Carmichael had written a couple of songs - "Washboard Blues" and "Riverboat Shuffle" - but he wasn't an actor or a singer or a composer. What he was was a lawyer. You don't have to have legal training to write "Stardust" but it helps: the song's lyricist Mitchell Parish was himself a law clerk at this time. "Hoagy studied law," Parish told me many years later, "and he was practicing in Florida when they had that real estate boom in the Twenties. And he didn't like the practice of law. It didn't suit his creative inclination. Something gets into your blood - like lyric writing in mine, popular songs. The same bug got into his blood. He would have done very well as an attorney because he was a very gifted person and very intelligent. But the songwriting, writing music, made him."
So in 1927 Carmichael quit his law practice in Florida and went back home to Bloomington, Indiana. The official version of the creation of "Stardust" is that young Hoagland was in love with a girl called Dorothy Kelly, and one night, strolling across the campus of Indiana University, he came to the so-called "spooning wall". And, seeing the happy couples and pining for Dorothy, he looked up at the starry sky and started whistling a tune.
Which, even in his moony, lovelorn state, he recognized as pretty good. So he hastened over to a joint called the Book Nook that had a piano. "The notes sounded good," said Hoagy, "and I played till I was tossed out, protesting, still groping for the full content of my music."
Well, as I said, that's the official version. According to his most recent biographer Richard Sudhalter, Carmichael had in fact been working on the tune much earlier, and, as the melody suggests, with the intention of capturing the essence of a Bix Beiderbecke cornet solo. Bix can stake a claim to being the first great fatality of jazz - dying young years before it became a cliché of the industry. Hoagy outlived him by half-a-century, and a great and brilliant man spent the rest of his life trying to live up to a fellow who checked out in his twenties. Hoagy named his son after Beiderbecke, and his very last composition, "Piano Pedal Rag", premiered at Carnegie Hall in 1979, was an attempt to write "something that was a little bit like something Bix might have liked".
But really, when a guy's written "Stardust" for you, that ought to be enough. Carmichael took the tune round to his old roommate Stuart Gorrell (who would later write the lyric for our Song of the Week #216 "Georgia On My Mind"), and played it through for him. And a couple of mornings later Gorrell came running round the soldiers' and sailors' monument in Indianapolis and caught up with Carmichael, stuck his arms in the air, and made little falling-from-the-sky motions with his hands. His chum was baffled. But Gorrell said he thought the melody was like "the dust from the stars drifting down through a summer night". And thus the tune had a title: "Star Dust" - two words, because back then nobody had ever heard of such a thing as "stardust". "I had no idea what the title meant," said Hoagy, "but I thought it was gorgeous." It is. By the time Woody Allen made Stardust Memories in 1980, with its heavy reliance on Louis Armstrong's record of the song, "stardust" was a word and a familiar concept, but it was brand new when Stu Gorrell coined it 53 years earlier.
On Halloween 1927, the composer and a group of local musicians led by Emile Seidel trekked 70 miles to Richmond, Indiana to Gennett Records, where "Hoagy Carmichael and his Pals" made the first ever recording of "Star Dust" - two words, no lyric, and a hell of a clip, to anyone who knows the song at Sinatra or Nat Cole tempo. Other than slow blues, there wasn't a lot of ballad jazz in those days, just hot stuff. A year later, Carmichael himself wrote a lyric for the tune and went back to Gennett Records to re-record his instrumental as a song. But the first version had flopped, and Gennett weren't interested in taking a flyer on another.
And so another year went by, and Hoagy got to know a young house lyricist working for the New York music publisher Irving Mills. "We weren't palsy-walsy," Mitchell Parish told me, "we just happened to be on the scene at the same publishing house, and that's how I got to know him. But he had this tune and it was a swing tune. It wasn't popular at all, it was just a couple of 'in' bands who knew about it. It was swing, and it was very rhythmic."
And an octogenarian songwriter, accompanied by thwacks against the arm of his chair, demonstrated to me the way it sounded: "Ta-da-da-da-da-da-da-da-da-da-da... It wasn't the way it is today, the way it's known today, a romantic, sweet, smooth melody. So Victor Young, who was with Isham Jones' orchestra, made an arrangement of it..."
Jones, you'll recall, was the composer of our Sinatra songs #5 and 6, "It Had To Be You" and "The One I Love (Belongs To Somebody Else)". But he was a good half-decade past his hit compositional streak, and back to being purely a bandleader. Victor Young, his arranger, was about to embark on his own brilliant composing career - "Street Of Dreams", "My Foolish Heart", "Around The World", all recorded by Sinatra. But with this one record Jones and Young transformed "Stardust". "Victor Young's arrangement made it into – I don't say he created 'Stardust', I'm not taking any credit away from anybody," Mitchell Parish was at pains to emphasize to me. "Hoagy wrote the melody and I don't want anybody to think that I'm saying Isham Jones was part of the creative process with 'Stardust', all Hoagy Carmichael 100 per cent. But the arrangement was romantic, sweet, and the way it is known today. So I was enamored or fascinated with the melody, not with the swing version, because then I wasn't interested in it, nobody was interested. But when Victor Young arranged it in its present form, then I wrote the lyric."
It's a dreamy, poetic text right from that odd throwaway opening: "Sometimes I wonder..." And it just "rambles" (in Mel Tormé's word) on from there:
And I am once again with you
When our love was new
And each kiss an inspiration
But that was long ago and now my consolation
Is in the Stardust of a song...
When I discussed the lyric with Parish, I suggested it to him that it had "very few rhymes". That's not actually true: There are rhymes - some monosyllabic and Tin Pan Alley-ish ("you"/"new"), some very unusual ("inspiration"/"consolation") - but the ear doesn't hear them as rhymes because rhymes generally come at the end of lines, and "Stardust" is composed as a cornetist's solo, so none of the lines actually end at all but instead run straight into whatever's next, much as this sentence does. So Mitch Parish wrote his lyric as a continuous poetic ramble: "The melody haunts my reverie and I am once again with you when our love was new and each kiss an inspiration but that was long ago..."
He does, however, manage to get in an oblique reference to Indiana University's "spooning wall":
Beside a garden wall when stars are bright
You are in my arms
The nightingale tells his fairy tale
Of paradise where roses grew...
There aren't a lot of rhymes there - nothing for "bright", "arms" or "grew", and just an internal one for "nightingale" and "fairy tale". The tune has an ABAC structure, which isn't so unusual, but the lyric has no conventional pop structure at all, just a thought sustained across 32 bars within precisely two mentions of the title - "the Stardust of a song", and "my Stardust melody".
Yet the ballad tempo and Parish's lyric gave "Stardust" the character it had never quite had in its first incarnations, and finally vindicated Stu Gorrell's gorgeous title. It moved the number out of the jazz world and made it a tune for everyone - for the dance floor, for courting couples. By the time Hoagy Carmichael died in 1981, it was the most recorded popular song of all time. And yet for its first decade or so it wasn't really a singer's song at all. Crosby sang it, and Armstrong, but when the big bandleaders commissioned their mandatory arrangements it was generally felt to be a star turn for an instrumentalist.
Sinatra was unusual in that regard. Asked by bandleaders what he'd like to sing, young Frank answered "Stardust" not so much to impress them but as a way of reassuring his new employers that they didn't have to worry. That's what he did with the Harry James band in Connecticut in 1939, and that's what he did when he joined the Tommy Dorsey Orchestra a year later. "We knew we were going to have a boy singer," recalled Jo Stafford, "but we didn't know anything about him. We didn't even meet him before the first show. Out came this rather frail looking young man with a whole bunch of hair. I just thought, hmm, kinda thin. But he sang no more than a few bars of 'Stardust' and a great hush fell over the theatre. Nobody had ever sounded like that before." Or as Dorsey's radio producer, Herb Sanford, put it after hearing the same song: "Boy, this is something else!"
When they recorded it, it was, indeed, something else. It was "I'll Never Smile Again", a Number One record for Dorsey, Sinatra and the Pied Pipers for 12 weeks through the late summer and early fall of 1940. By the time they went into the studio on November 11th to lay down "Stardust", the plan was to turn it into "I'll Never Smile Again, Again". Frank has barely a handful of solo lines, as does Jo Stafford, but the shared vocal burden with the Pipers is eerie and beautiful, as is Dorsey's trombone solo. Sy Oliver's arrangement is constructed to sell the whole rather than the sum of its various parts, but it has some very affecting moments, including right at the beginning:
Sometimes I wonder why I spend the lonely nights...
Sinatra and the Pied Pipers start off singing together, but the Pipers drop out somewhere after the "n" of "nights", leaving Frank with half-a-word and the next line - "dreaming of a song" - all to himself. Just as the lyric follows a soloist's phrasing, so too do the singers seem to follow his dynamics. It's a grand record. Dorsey's drummer, Buddy Rich, was the butchest boy in the band and no moony sentimentalist, but he told Mel Tormé that, hearing Frank and the Pipers do "Stardust", he had to cover his face, so no one would see his tears.
A decade and a half later, Nat "King" Cole made a superb pop-standard recording of "Stardust" with one of Gordon Jenkins' best arrangements. Insofar as any singer can lay claim to a standard song, Cole laid claim to "Stardust" in the same way Sinatra did to "I've Got You Under My Skin". Frank was not intimidated by other singers' interpretations, but he was respectful, especially of Nat Cole. Yet five years later, on November 20th 1961, he was back in the studio for his first recording of "Stardust" in two decades. The album was Sinatra & Strings, his first collaboration with Don Costa, and a set that produced some of Costa's best work. Tony Mottola, Frank's longtime guitarist, told me this was one of his all-time favorite Sinatra tracks, and he never ceased to marvel at the beautiful, unhurried introduction Costa wrote - "almost classical," said Mottola, "a tone poem". Sinatra scholar Will Friedwald put it more cutely when he said that Costa wasn't "averse to writing a verse to a verse". It's nothing to do with anything on Carmichael's sheet music, but Costa's introductory inspiration sets up Parish's verse beautifully:
And now the purple dust of twilight time
Steals across the meadows of my heart...
That's a bit too purple on the page, but somehow it's forgiveable and beautiful set to Carmichael's notes, at least when sung with the sincerity of Sinatra in 1961. As much as the chorus, Parish's lyric wanders along with the tune:
You wandered down a lane and far away
Leaving me a song that will not die
Love is now the Stardust of yesterday
The music of the years gone by...
And then, after the 16-bar verse, just at the point where the "Sometimes I wonder" is supposed to come in, followed by the melody haunting his reverie and the garden wall and the paradise where roses grew, we return instead to that Don Costa "tone poem", with flutes and violins, and a gorgeous orchestral cloud.
And then the record ends.
"How would you like to have one of your songs recorded with just the verse?" Mitchell Parish asked me. "No chorus! Frank Sinatra recorded the verse of 'Stardust' and not the chorus. He'd recorded the chorus on another recording but then he made a record that was known as 'The Verse of "Stardust"' and there was no chorus on it. Frank Sinatra sang the verse, and that was the record."
How'd that happen? There was a time in the middle years of the century when, if a singer was up on stage, he was either singing "Stardust" or listening to the customers demanding he sing "Stardust". And eventually you get sick of it. Sinatra had been one of the first vocalists to sing what became the recorded song of all time, and after 20 years he'd had his fill. It was Bill Miller, his pianist for over four decades, who came up with the ingenious wrinkle: "Hey, Frank, why don't you just sing the verse? We'll put a little orchestral thing up front, and at the end, and that'll be the record."
On his famous 1938 radio adaptation of H G Wells' War Of The Worlds, Orson Welles had used "Stardust" - as played by "Ramón Raquello and his Orchestra" (actually a bunch of studio musicians, including future Frank nemesis Mitch Miller) - for the dramatic "we interrupt this broadcast" opening of the play. But nobody ever interrupted "Stardust" the way Sinatra did on that 1961 record of the verse.
Mitch Parish liked it, Hoagy Carmichael not so much. "I wrote a whole song, not just a verse," he grumbled. Sinatra was never one of those verse snobs, like so many of the cabaret darlings today, dredging up obscure and often deservedly forgotten verses of beloved choruses in order to demonstrate their archival bona fides. But, with "Stardust", he and Don Costa felt the verse was beautiful and rhapsodic, and strong enough to stand on its own. So they let it.
Twenty-two years earlier, on that appearance with the Harry James band at Roseland, he'd skipped the verse and, after one piano plink, gone straight in on the chorus, supported mostly by very respectful reeds. Only when young Frank has had his say on the ballad does the piano dare to pick up the rhythm and the saxes start swooping up and down and around the melody, and then James' trumpet takes over, very ardently, and finally the rest of the brass come in to drive the thing all the way home. You wish you could take that great late Thirties wild ride on "Stardust"'s chorus and connect it up to that early Sixties "tone poem" on "Stardust"'s verse and come up with one great, complete, all-in, soup-to-nuts Sinatra version of one of the greatest popular songs of all time. But you can't: young Frank has his big-band arrangement by Andy Gibson, and mature Frank has his semi-classical Don Costa, and ne'er the twain shall meet.
I've remarked earlier that sometimes there's a definitive ballad treatment of a song and sometimes there's a definitive up-tempo treatment, and sometimes they're both by Sinatra. But this is taking it to a whole other level: A great record of the verse, and a great record of the chorus - and they're entirely separate. As the song says:
Though I dream in vain
In my heart it will remain
My Stardust melody
The memory of love's refrain.
And that's all Frank and Don Costa give us: the memory of the refrain.
One last thought: When Orson Welles used "Stardust" in War Of The Worlds, it was a warning. Sometimes that star dust dancing in the night sky might portend an alien invasion. On the other hand, when the US was still in the space-shuttle business, they used Willie Nelson's version of "Stardust" as an alarm call for the astronauts.
Oh, and one final personal note: Mitchell Parish asked me to go on "a double date" with him. I had to decline, as I had to fly from New York to London or somewhere. He was six decades older than me, and I regret having to pass up his invitation because, as the decades roll by, I've found myself more and more curious whether the chicks he had lined up were his age, my age, or from one of the several generations in between. Like the song says:
Sometimes I wonder...
~Mark's original 1998 obituary of Sinatra, "The Voice", appears in the anthology Mark Steyn From Head To Toe. You can read about the creation of some classic Sinatra songs in Mark Steyn's American Songbook. Personally autographed copies of both books are exclusively available from the Steyn store.
SINATRA CENTURY
at SteynOnline
6) THE ONE I LOVE (BELONGS TO SOMEBODY ELSE)
~There are all kinds of Sinatra centenary tributes out there, including a new CD from Bob Dylan. In this five-star review of Bob-sings-Frank in the British magazine Mojo, Michael Simmons concludes his appreciation by citing Mark on "Why Try To Change Me Now?".
For an alternative Sinatra Hot 100, the Pundette has launched her own Sinatra Centenary site, counting down from Number 100 to Number One. She's now at Number 90 - a great single from the Capitol Days, "Crazy Love".
Bob Belvedere is in the midst of his own Sinatra hit parade at The Camp Of The Saints, and includes another Mitchell Parish lyric to an instrumental: "Moonlight Serenade". It's not Parish's best work, but the way Frank bends the line on "do you know?" is just lovely.