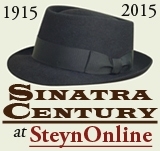 He was the saloon singer - quarter to three, set 'em up, Joe, drinkin' again and thinkin' o' when... spinning round in my brain, like the bubbles in a glass of champagne... But Sinatra liked a non-alcoholic tipple, too. He took "Tea For Two" with Dinah Shore in 1947, and in 1960 recorded "When I Take My Sugar To Tea". But he wasn't averse to something a little more caffeinated:
Way down among Brazilians
Coffee beans grow by the millions
So they've got to find those extra cups to fill...
They've got an awful lot of coffee songs that have been stewing on the counter for years. There's the peppy good-morning pick-you-up - "You're The Cream In My Coffee" - and there's the bleaker morning-after trudge to the kitchen in your housecoat. Think Peggy Lee, "Black Coffee". Oh, and we can't forget this one - Ian Fleming toward the end of James Bond's mission in Thunderball:
In the background to Leiter's voice there was a medley of soft noises – the high, constant whine of a generator overlaid by the muted background of canned music – the Ink Spots singing 'I love coffee, I love tea'...
Fleming was all but incapable of writing a dull sentence but there's something not right about that one. You could pick a gazillion songs to stand for the general phenomenon of "canned music", but "Java Jive" doesn't quite work. It's not canned, it's freshly percolated, every time:
I love coffee, I love tea
I love the Java Jive and it loves me
Coffee and tea and the jivin' an' me
A cup, a cup, a cup, a cup, a cup!
Still, as time goes by, it seems to me that many coffee songs belong increasingly to a lost age when you'd swing by the diner, growl, "Hey, Cindy, shoot me a cuppa joe," and she'd pour it for you right there and then, and for 30 cents you could sit till sundown enjoying all the free refills your bladder could handle. Hard to credit in a world in which coffee has evolved into a knickerbocker glory with a shot of espresso, requiring sprinkles, squirts, slices and soupçons, all for six bucks and a 20-minute wait. Don't worry, I'm not warming to my theme - I've a whole chapter on that in The [Un]documented Mark Steyn, if you're that interested. I'm just saying the great American coffee song seems to belong to the pre-barista era.
But "The Coffee Song" is the coffee song:
Way down among Brazilians
Coffee beans grow by the millions
So they've got to find those extra cups to fill
They've got an awful lot of coffee in Brazil...
That's the obvious title, but for whatever reason, back in 1946, Dick Miles and Bob Hilliard chose to eschew it. This would prove to be Miles' only big hit, but Hilliard had quite a run in what was a too short life, starting with early hits like "Civilization (Bongo Bongo Bongo)" with Carl Sigman (my "Marshmallow" man). Hilliard and Sigman met at the Brill Building, where Bob Hilliard liked to call up one of the gals and pretend to be the plumber or whoever. The lady in question, Terry, worked for Louis Prima, which must have taxed her dictation-taking skills, and eventually became Mrs Carl Sigman. But Bob Hilliard came along on the honeymoon. You can hear one of my favorite Sigman/Hilliard numbers "The Thousand Islands Song" (a tale of lost love on the St Lawrence River) sung by Louis Prima in our Carl Sigman centenary podcast.
Sigman and Hilliard eventually went their separate ways, but Hilliard hung in there until "Our Day Will Come", his last big hit, a Number One for Ruby and the Romantics in 1963. Three of his songs were recorded by Frank: "Don't Ever Be Afraid To Go Home" in 1952, and then three years later the song that sums up one half of the Sinatra oeuvre, "In The Wee Small Hours Of The Morning". You've got to be versatile to write those, and then this:
You can't get cherry soda
'Cause they've got to sell their quota
And the way things are I guess they never will
They've got a zillion tons of coffee in Brazil...
When I was a teenager, I always liked that "soda"/"quota rhyme - so American. So's "zillion", which was to become a very Frank word. The aforementioned "When I Take My Sugar To Tea":
Rubbing elbows at the Ritz
With those zillionaires...
And upping the ante with My Fair Lady:
I could have spread my wings
And done a zillion things...
But I believe that's the first time he ever put it on record, for "The Coffee Song", back in 1946 - and he didn't ad lib, it's right there in the lyric by Bob Hilliard.
Miles and Hilliard wrote the song for the Copacabana, the famous New York nightclub that for people under a certain age is something Barry Manilow made up to string a song around. But it was a real place - and, supposedly, still is. That's to say, there remains a nightclub in Manhattan called "the Copacabana", although whether the original proprietor, Monte Proser, would recognize his brand therein is unclear. But in the Forties it was where Dean Martin and Jerry Lewis, and Danny Thomas and Mel Tormé all played. And, even when they didn't, the showgirls with pink hair and mink bikinis kinda held your attention. A lot of folks liked the Copa - it was where much of Carl and Terry Sigman's whirlwind courtship took place. Sinatra spent a lot of time there, and eventually Axel Stordahl and Sammy Cahn wrote him a song called "Meet Me At The Copa".
But that was 30 years ago when they used to have a show. Actually, make that 70 years ago. In those days, every so often the management would take the best bits of the Copacabana shows, and present Monte Proser's Copacabana Revue. And so in May 1946 Julie Wilson, later a great lady of New York cabaret, wound up standing in front of Desi Arnaz's orchestra and a row of Copa Girls singing about how much coffee they have down in Brazil:
No tea or tomato juice
You'll see no potato juice
The planters
Down in Santos
All say no no no...
Billboard declared the song a "standout". We don't think of coffee as particularly Brazilian these days, but back then it supplied a lot of what Americans were drinking. It's such a cute idea for a song, it doesn't have to strain for labored laughs. But the lines are memorable. My dad always liked this bit:
A politician's daughter
Was accused of drinking water
And was fined a great big fifty-dollar bill...
Could be. The coffee guys were a powerful political lobby in Brazil for over half-a-century.
Sinatra must have been tickled by Julie Wilson's rendition because a few weeks later- July 24th 1946 - he and Axel Stordahl were in the studio recording a goofy novelty number by two unknown writers.
Frank spent more time than he expected to at the Copa that summer - and in a non-singing role. In August, Rags Ragland, a now forgotten figure but beloved by Sinatra and Phil Silvers, returned to Los Angeles from an almighty bender south of the border with Orson Welles and had to be hospitalized. Sinatra flew in a specialist, but alcohol had eaten away his insides, and Ragland fell into a coma and died a couple of days before his 41st birthday. Phil Silvers delivered the eulogy, and Frank sang. Ragland and Silvers had been booked to make their debut at the Copa, and the nightclub insisted to Silvers that the show go on. How do you do a double-act when there's only one of you? On the first evening, Silvers walked into his dressing room and there, to his astonishment, was Sinatra, who'd flown in from MGM in Hollywood and said he'd do Rags' lines. So he did, and he saved the day (a belated thank-you, I suppose, for "Nancy With The Laughing Face"). At the end they each took a bow, and then one for Rags.
The following month, Frank's record of "The Coffee Song" entered the charts. If you know his later remake, it's a very laid-back Latin, just a little bit of scene-setting rhythm at the top and tail, with most of the local color provided by Sinatra's outro: "Hey, Peedro, get dee flashlight. I cannot find dee sugar." But it hit Number Six and sold a million, and, even though nobody today thinks of "The Coffee Song" as a Sinatra song, it's doubtful whether the number would have outlasted the Copacabana Revue had not Frank taken it up.
It stayed a big song for him through the late Forties and early Fifties. Years ago, over lunch in London, Sammy Cahn was telling me about the pre-Capitol low-point of Sinatra's career. He was going into the Empire Room at the Waldorf, and he'd asked Sammy to fly in to punch up the act. Cahn laid out the running order and decided they'd start with "The Coffee Song". Frank was so nervy at this point that he demanded Sammy hold down the nearest table in the room, so that, if he blanked on a lyric Cahn (who knew not only all his own songs but all everybody else's) could prompt him. On opening night, Sammy arrives, and, as Frank's telling him where to sit and to make sure he knows the words, Cahn says, "Hey, you know what would be cute? Suppose for that coffee number, you walk out holding a cup of coffee?" And Sinatra looks at him like he's nuts.
Sammy takes his seat, the lights go out, Axel Stordahl's Latin rhythm starts up, and Frank strolls on in a follow-spot sipping a cup of coffee. And then:
Way down among Brazilions
Coffee beans grow by the billions...
"Wow!" said Sammy, recounting this to me decades later. "What an opening!"
I was about to ask what the big deal was about Frank Sinatra sipping from a coffee cup, but the waiter arrived to take our dessert order and then Sammy went to the men's room, and, by the time he came back, he was enthusing about something else. But I still couldn't see why it was such a spectacular event.
And then about three months after hearing Cahn's anecdote I happened to be with Henry Mancini and, while we're talking about something else entirely, he mentions that to celebrate his engagement he and his fiancée Ginny decided to treat themselves and go see Frank Sinatra at the Empire Room. "And I've never forgotten it," he says. "The lights went down, and Axel's brilliant intro begins, and there's Frank threading his way through the tables with a cup and saucer singing 'They've got an awful lot of coffee in Brazil...'"
Hence the photograph at the top of this essay. Don't all faint at once.
Sinatra put the number aside during the Capitol years, and then at the dawn of the Sixties revived it. He was making his very first album on his very own label, and he had everything he needed except an arranger. Nelson Riddle and Billy May were both exclusively contracted to Capitol until 1963, and Capitol weren't about to let them go moonlighting with a star who'd just quit on them. One night Sinatra went to see Vic Damone at the Sands in Vegas, and, instead of the big balladeering Frank had been expecting, Damone did a lot of hard swinging. Afterwards an impressed Sinatra went up to him and said, "Geez, who wrote those things?"
"Johnny Mandel," said Damone.
And so it fell to Mandel to launch the Reprise phase of Sinatra's career with the album Ring-a-Ding Ding! Frank's great, the charts are great, the band's great - but the mixing and mastering by Reprise engineers leaves an awful lot to be desired. Still, you can forgive most of it when we hit "The Coffee Song". It's a much busier and much more Latin arrangement, a kind of hard rhumba that Sinatra is so rhythmically on the money for. But Mandel understands all the other colors, tooo - the strings and the counter-melody behind the "politician's daughter/accused of drinking water" are especially fine. And let's face it, if a coffee song can't have a counter melody, you're in the wrong espresso bar. When we get to the key change, we hear the couplet Frank left out on his '46 recording:
You date a girl and find out later
She smells like a percolator
- which is fun but not, technically, a rhyme. "Later" and "perco-lator" is an identity. If you want a rhyme for percolator, you have to go back to the Ink Spots:
Waiter, waiter
Percolator!

I like coffee, I like tea...
But let's not nitpick. The second chorus of "The Coffee Song" offers some of the breeziest lyrics Sinatra ever sang:
So you'll add to the local color
Serving coffee with a cruller
Dunkin' doesn't take a lot of skill...
And then, once again, he put the song away.
Nineteen years later, he agreed to do, for the first time ever, some live shows in Brazil - two at the Rio Palace and one in the Macarana stadium before a record 175,000 people. And just as he did at the Empire Room three decades earlier and 174,300 customers fewer, for the stadium show on January 26th 1980 he decided to open with "The Coffee Song":
Way down among Brazilians...
Which is a perfect line when you're among 175,000 of them.
And when their ham and eggs need savor
Coffee ketchup gives 'em flavor
Coffee pickles way outsell the dill
Why, they put coffee in the coffee in Brazil...
Nobody needed any coffee that night. Sinatra's energy caffeinated the stadium.
~For an alternative Sinatra Hot 100, Bob Belvedere over at The Camp Of The Saints has his own Frankapalooza and puts "The Coffee Song" at Hit Sound 73. The Evil Blogger Lady is over at the UK end of the Sinatra songbook - the great Tony Hatch's "Call Me". The Pundette has also launched a Sinatra countdown. She has the lovely "It Might As Well Be Spring" at Number 53, and is surprised to find she prefers the Don Costa arrangement to Nelson Riddle's. The Costa of the Sinatra and Strings album is a little different from what came later. Two months before the S&S sessions Sinatra had recorded what would be his final album with a cancer-stricken Axel Stordahl, Point of No Return. Sammy Cahn told me years ago that on Sinatra & Strings Frank wanted Costa to be "a new Axel", whose string arrangements were just ravishing. Costa did a magnificent job - as on "It Might As Well Be Spring" - and then spent the next two decades as the arranger charged with finding some kind of accommodation between Sinatra's style and whatever passing pop novelty they thought might work for him - hence, "My Way", "Bad, Bad Leroy Brown, "Just The Way You Are", etc. A long way from Sinatra and Strings.
~You can find the stories behind many more Sinatra songs in Mark Steyn's American Songbook, while Steyn's original 1998 obituary of Frank, "The Voice", can be found in the anthology Mark Steyn From Head To Toe. Personally autographed copies of both books are exclusively available from the SteynOnline bookstore.
SINATRA CENTURY
at SteynOnline
6) THE ONE I LOVE (BELONGS TO SOMEBODY ELSE)
8) STARDUST
10) WHAT IS THIS THING CALLED LOVE?
11) CHICAGO
12) THE CONTINENTAL
13) ALL OF ME
15) NIGHT AND DAY
16) I WON'T DANCE
17) I'VE GOT YOU UNDER MY SKIN
19) EAST OF THE SUN (AND WEST OF THE MOON)
21) A FOGGY DAY (IN LONDON TOWN)
24) OUR LOVE
27) FOOLS RUSH IN
32) I'LL BE AROUND
36) GUESS I'LL HANG MY TEARS OUT TO DRY
37) NANCY (WITH THE LAUGHING FACE)
38) SOMETHIN' STUPID
40) I GET ALONG WITHOUT YOU VERY WELL (EXCEPT SOMETIMES)
41) SOLILOQUY