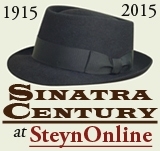 When I first got interested in the great standard songs as a teenager, I sort of assumed that they were all written by the big names - Cole Porter, Gershwin. It took a while to dawn that not everything from, say, the Thirties was concocted by a major writer for a famous Broadway score or a Fred Astaire movie. So after a while, when I heard a song I liked, I'd say, "Hey, I wonder who wrote that." Quite often, the answer would be "Matt Dennis & Tom Adair". Let's just stick to the Sinatra end of their catalogue: Who wrote "The Night We Called It A Day"? Matt Dennis & Tom Adair. Who wrote "Let's Get Away From It All"? Matt Dennis & Tom Adair. Who wrote "Violets For Your Furs"? Matt Dennis & Tom Adair. Who wrote "Angel Eyes"? Matt Dennis. Who wrote "There's No You"? Tom Adair. And who wrote..?
I make a date for golf and you can bet your life it rains
I try to give a party but the guy upstairs complains
I guess I'll go through life just catchin' colds and missin' planes
Everything Happens To Me...
A few months ago, after I'd written a few words about Tom Adair, I had a delightful email from his granddaughter Kristi:
I just wanted to thank you. I remember all his work through the Seventies and Eighties. He was a regular writer for Disney as well, having penned Annette Funicello's first solo hit in the Fifties and multiple hits and skits on the Seventies Mouseketeer Clubhouse as well. I also remember him working on the Black Album with Sinatra in the early Eighties.

Sinatra loved my grandpa and even aptly named his CD of all HIS favorites after my grandpa's song "Everything Happens to Me". Matt Dennis was a big part of our family too. What a talented duo.
No argument there. But "Everything Happens To Me" was especially special to Sinatra. He recorded it on four separate occasions, in four different decades, giving darker and darker readings every time. And then, as Kristi says, a couple of years before he died and over half-a-century since he had first sung her grandpa's song, Frank put together his own compilation album of his personal favorite recordings - and chose as the title track "Everything Happens To Me". By then, everything had happened to him, yet he was still singing a rueful ballad he'd first recorded back in February 1941, before anything very much at all had happened to him:
I never miss a thing, I've had the measles and the mumps
And every time I play an ace my partner always trumps
I guess I'm just a fool who never looks before he jumps
Everything Happens To Me...
How many songs do you know with the word "mumps"? And it doesn't seem at all contrived, either. That's Kristi's grandpa at work.
Tom Adair was born on June 15th 1913 in Newton, Kansas, and whether he had the measles and the mumps posterity does not record. But at the age of ten he and the family moved to Los Angeles - which was the place to be for a kid who liked writing and had a yen to turn his hand to songs and scripts. Instead, he wound up working on the complaints desk of the local power company, for eight long years.
Matt Dennis, on the other hand, was born in a trunk - on February 11th 1914 in Seattle and into a showbiz family. His father was a vocalist and his mother was a violinist and they had a vaudeville act, the Five Musical Lovelands. From The Pittston Gazette of Pittston, Pennsylvania, January 25th 1911:
Much interest has been aroused by the announcement that vaudeville of a high class will be given at the Broad street theatre, commencing Monday, Jan. 30th... The Five Musical Lovelands is one of the costliest musical acts in the profession, and surprise has been evinced at the announcement that they have been secured for Pittston at any price, some persons going so far as to express a doubt as to this being the genuine 'Loveland company. We are assured by the management that there is no deception and that this and other acts will be 'the real goods.'
And so young Matt joined the Musical Lovelands because it was the family business and that's what kids did. Still in his teens, he got a job in San Francisco as a singer, pianist and arranger with Horace Heidt and his Musical Knights. Then he moved on to accompany a sister act with a show on KHJ Los Angeles. The Stafford Sisters were Pauline, Christine and the youngest, Jo. Jo Stafford left to join a larger vocal group, and Tommy Dorsey hired them for a radio show he was doing back in New York and that's how the Pied Pipers hit the big time. Matt Dennis found another vocal group to accompany, Six Hits and a Miss, and they needed a theme song, so he wrote one, words and music.
One evening in 1940, he was singing and playing piano in some joint in Hollywood, and a fellow came up to him in the break and introduced himself. "I'm Tom Adair," he said. "I'd like to write a song with you." He explained that he worked for the electric company, but he'd had a couple of poems published in The Saturday Evening Post a year or two back.
"Let me see what you have," said Matt Dennis, without much enthusiasm.
Adair reached in his pocket and pulled out what Dennis would recall later as "a hell of a lyric". It was a catalogue song - one of those laundry lists whose vast accumulation of evidence all goes to demonstrate the singular point that "You're The Top" ...or "The Lady Is A Tramp" ...or, in this case, "Will You Still Be Mine?"
When cabs don't drive around the park
No windows light the summer dark
When love has lost its secret spark
Will You Still Be Mine?
It's not the most original premise for a song - is this love for keeps? - but the form makes it fresh. So Matt Dennis took it home and set it to music, and produced a tune that effervesces all the way to the end. I especially like the middle section:
When moonlight on the Hudson's not romancey
And spring no longer turns a young man's fancy...
A day or two later they wrote another song. "Let's Get Away From It All" is a sprightly travelogue of romantic destinations:
Let's go again to Niagara
This time we'll peek at the fall...
Dennis & Adair worked over the phone, with the lyricist dialing in verses while manning the complaints desk at the utilities company. In this age of rolling blackouts and water rationing in California, there'd presumably be fewer lulls in the complaints. But in 1940 things were so ticketty-boo on the satisfied-customers front that a couple of days later Adair called Dennis with a third song, beginning with a spooky verse:
Black cats creep across my path
Until I'm almost mad
I must have roused the Devil's wrath
'Cause all my luck is bad

I make a date for golf and you can bet your life it rains
I try to give a party but the guy upstairs complains
I guess I'll go through life just catchin' colds and missin' planes
Everything Happens To Me...
Within seven days of meeting, Dennis & Adair had written "Will You Still Be Mine?", "Let's Get Away From It All" and "Everything Happens To Me". "All in all," said Matt Dennis, "it was a hell of a week."
Jo Stafford heard some of the songs, and suggested to Tommy Dorsey that Dennis & Adair should fly to New York and let him hear them. Late one night, after the Dorsey band's gig at the Paramount, the two writers auditioned for the bandleader. He liked what he heard, and signed them to his music publishing company to serve as the orchestra's in-house songwriters. A few weeks later, February 7th 1941, they were in the studio recording "Everything Happens To Me" with Dorsey's boy vocalist, Frank Sinatra. Ten days later, February 17th, Dorsey devoted the entire session to a mammoth two-sided production-number recording of "Let's Get Away From It All", featuring all the band's singers - Sinatra, Connie Haines, the Pied Pipers - plus Ziggy Elman and all the star instrumentalists. Another two weeks later, Miss Haines took the vocal on Dennis & Adair's third song, "Will You Still Be Mine?"
Sinatra's "Everything Happens To Me" hit the charts in April 1941 and reached Number 9. "Let's Get Away From It All" followed two weeks later and reached Number 7. The third song, "Will You Still Be Mine?", wasn't issued until 1944, but, when it was, it too was a hit.
With laundry lists, you want them to go on forever, chorus after chorus. So, for "Will You Still Be Mine?", Adair threw in a few extras: "When FDR declines to run... When Garbo gives out interviews..." But I have to say, although Connie Haines' vocal on the original Dorsey hit is one of the best records she ever made, my favorite version is Dennis himself, from a live record made at a long forgotten LA nightclub called the Tally Ho back in 1954, with its topical references updated a decade: "When Johnnie Ray won't shed a tear... When Miss Monroe grows old and fat..." Miss Monroe never got to grow old, and Dennis' performance functions as a cool, airy, swingin' time-capsule of a very particular cultural moment. This quatrain is adroit and fun:
When they invent eternal youth
When used-car dealers tell the truth
When Em'ly Post is too uncouth
Will You Still Be Mine?
As for the remaining two of those first three Dennis & Adair collaborations, It doesn't hurt to have Frank Sinatra on hand to introduce your songs. On the other hand, it doesn't hurt to have Matt Dennis around when you're trying to get a handle on a new number. It fell to the composer to teach his songs to the Dorsey band, and Frank (Dennis told Will Friedwald) "would flatter even me 'cause he would listen to the way I phrase my songs. They were my songs and he would interpret them much as I did." As a singer, the composer doesn't have the lung power or the breath control of Sinatra, but he has an enviably breezy swing and a light vocal tone that sounds like he got it from Mel Tormé. Except if you ever suggested as much to Mel Tormé (not always the most generous man), Tormé would insist he got it from Matt Dennis.
Sinatra liked the songs - a lot. "Let's Get Away From It All" was one of those Tommy Dorsey hits that Frank would revive in his maturity - in this case, with Billy May at Capitol - although its place in the repertoire was rendered somewhat precarious at the end of the Fifties by Alaska and Hawaii's accession to the union:
We'll travel roun'
From town to town
We'll visit ev'ry state
And I'll repeat
I love you, sweet
In all the forty-eight...
But it was the third song, "Everything Happened To Me", that really got under Sinatra's skin. The musicologist Alec Wilder considered the song "more to be admired for its lyric than its melody. The lyric is extremely charming, but the melody, while well written, is simply too notey to be considered as anything more than a framework for the lyric."
I know what he means. Sometimes a writer needs a lot of syllables, but usually if he's got a very "notey" patch he'll contrast it with a few lines of big, fat, clean minims and semi-breves - on the title phrase, or the middle eight. In this case, however, the verse is notey, and the main theme, and the title, and the middle section:
At first my heart thought you could break this jinx for me
That love would turn the trick to end despair
But now I just can't fool this head that thinks for me
I've mortgaged all my castles in the air...
Ted Gioa, who's been playing the tune for decades, describes the bass line as "almost vaudevillian" in its predictability, but admires the way Dennis draws on some of the color tones in the chords "in shaping an affecting melody". If the music were, as Wilder says, nothing more than "a framework for the lyric", it's hard to see why so many instrumentalists have been drawn to it: Charlie Parker, Thelonious Monk, Scott Hamilton, Art Pepper, Branford Marsalis... Singers, on the other hand, have to be really sure-footed. The lyric requires a very skillful negotiation of the perilous waters between the Scylla of ruefulness and the Charybdis of self-pity:
I've telegraphed and phoned, sent an Air Mail Special, too
Your answer was "Goodbye" - and there was even postage due
I fell in love just once and then it had to be with you
Everything Happens To Me.
"Your answer was 'Goodbye' - and there was even postage due"? How do you sing that? Are you trying to get a laugh? Are you trying to make them cringe with embarrassment? By the time he returned to the song 15 years later, Sinatra knew exactly how to play it. Close to You is one of his most fully realized concept albums, with arrangements by Nelson Riddle for the Hollywood String Quartet that are both exquisite and profound. It would have been easy to make it merely a beautiful musical experience, yet Sinatra chose material that uses Riddle's brilliant chamber writing as a background for some very mordant and blackly comic reflections on the vicissitudes of love. From the shivering Halloween verse ("Black cats creep across my path..."), it's a magnificent recording, but it would grow darker yet. In 1974, he asked Gordon Jenkins for a new arrangement and Tom Adair for a new set of lyrics:
I never found a rainbow, never saw a pot of gold
I lost at dice in Vegas every single time I rolled
I've stamped my daydreams cancelled, and the winter's getting cold
Everything Happens To Me...
Jenkins does his usual thing - glacial strings, harmonically undernourished - but the effect is haunting, of a man's life existing on the thinnest of thin ice, with the rhythm section at death-march tempo nudging him further and further out there. Sinatra listened to his record - and put it to one side, unreleased.
Seven years later - 1981 - he was working on what Kristi Adair calls above "the Black Album", the one that became She Shot Me Down, with a bomber-jacketed Sinatra wreathed in smoke for what would prove his last ever album of saloon songs. The voice has grown a little more worn, and it suits Jenkins' strings and Adair's bleak denouement:
Now in the school of life, well, I was lucky just to pass
And now I'm chasing rainbows with the losers of the class
But, pal, you can't find rainbows in the bottom of a glass
Everything Happens To Me.
In the cold light of print, it trembles on the brink of ridiculousness. You've got to be very assured to pull that off. Sinatra's performance is great ...but yet again he put it to one side, and it didn't make the album.
Another decade-and-a-half goes by. Sinatra is 80, and, although it's not official, he's given up touring, and recording. And someone at Reprise gets the idea for a Sinatra compilation album - not the usual thing, not "Strangers In The Night", "My Way", "New York, New York", but Frank's pick of the tracks: love songs from a guy who's seen a lifetime of it. There's Harold Arlen and Johnny Mercer and Rodgers & Hart and Sammy Cahn and Jimmy Van Heusen, but also Antonio Carlos Jobim and Jacques Brel and Lennon & McCartney, and for the title song a ballad he'd lived with a long while: "Everything Happens To Me."
The new CD was released on February 6th 1996 - 55 years less one day since he and the Tommy Dorsey orchestra had first recorded the song.
Frank wrote the sleeve notes for this one. He recalled some words of advice from his old singing teacher John Quinlan, "a crusty, Irish drunk who agreed to work with this skinny dago" for two bucks a lesson way back in the early Thirties:
You can't sing what you don't understand.
And Sinatra added:
All of us start out trying to sing like Crosby or Jolson, older and more experienced in 'life's struggles.' So, 'Stormy Weather' didn't really hit for me until later. You get the picture. But I learned fast and emotionally graduated to the songs of love, loss, joy and despair, expertly conveyed by the best lyricists and songwriters in the world. There are songs of the soul. These are my songs.
That was certainly true of this song: He sang it, and then he lived it, and then he sang it again, and again.
~For an alternative Sinatra Hot 100, the Pundette has launched her own Frank countdown. She has another Matt Dennis & Tom Adair classic at Number 72, involving the world's swingingest trip to, er, Nyack. Bob Belvedere over at The Camp Of The Saints is also counting down his Top 100 Sinatra tracks, and has doo-be-doo-be-dooed his way up to #56, "Strangers In The Night". The Evil Blogger Lady has some Frank & Ella, which is always nice.
~Mark's beloved book A Song For The Season, which includes the stories behind such Sinatra songs as "Autumn Leaves" and "They All Laughed", is now available in eBook, at Amazon, Barnes & Noble, Indigo-Chapters in Canada, and worldwide.
Steyn's original 1998 obituary of Sinatra, "The Voice", appears in the anthology Mark Steyn From Head To Toe. There's more Sinatra songs in Mark Steyn's American Songbook. Personally autographed copies of all three books are exclusively available from the Steyn store.
SINATRA CENTURY
at SteynOnline
6) THE ONE I LOVE (BELONGS TO SOMEBODY ELSE)
8) STARDUST
10) WHAT IS THIS THING CALLED LOVE?
11) CHICAGO
12) THE CONTINENTAL
13) ALL OF ME
15) NIGHT AND DAY
16) I WON'T DANCE
17) I'VE GOT YOU UNDER MY SKIN
19) EAST OF THE SUN (AND WEST OF THE MOON)
21) A FOGGY DAY (IN LONDON TOWN)
24) OUR LOVE
27) FOOLS RUSH IN