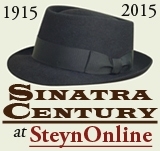 Before St George's Day fades for another year, I thought we'd have a Sinatra English song.
He sang a lot over the years, from Rudyard Kipling's barrack-room ballad "Road To Mandalay" and the most beautiful song of the Great War, "Roses Of Picardy", all the way to the Swingin' Sixties, and the Beatles' "Yesterday" and "Something", and John Barry and Don Black's "Born Free", and Geoff Stephens' "Winchester Cathedral", which Frank recorded because his friend Bennett Cerf, the founder of Random House, told him he should.
There were English songs he loved and recorded over and over, even though the public never quite warmed up to them, like Carroll Coates' "London By Night".
There were English musical figures who were good friends of Frank's, like Noël Coward. Yet few Sinatra fans would put his recordings of either of Sir Noël's big ballads ("I'll Follow My Secret Heart" and "I'll See You Again") on their list of all-time Frank classics.
And the only album Sinatra ever recorded outside the United States was Great Songs From Great Britain, recorded in London in 1962. But his voice was tired after a world tour, and the charts - by the great English, er, Canadian arranger Robert Farnon (with whom I had a slight acquaintanceship and for whom I have a great admiration) - are often very good but don't seem particularly to connect with Frank in any way. The choice of songs is also a little strange: he can't get into the stiff-upper-lipped stoicism of "We'll Meet Again" at all. (That's Vera Lynn's World War Two blockbuster, composed by the grandfather of my pal Jessica Martin's pianist - small world, huh?) On the other hand, "A Garden In The Rain" is lovely, and both Farnon and Sinatra do excellent work on "We'll Gather Lilacs", a song that in the right circumstances can make me a little teary.
But, come to think of it, that's by a Welshman, Ivor Novello.
So here's an indisputably great Sinatra record of an indisputably great and kinda English song. Once upon a time - 1902, to be precise - a chap called Robert Mellin was born in Surrey. Nine years later, another chap called Guy Wood was born in Manchester. So that's two fine upstanding native-born Englishmen right there. Well, almost. Right at the end of his life, it emerged that Mr Mellin had been born not in the leafy English Home Counties, but in Kiev, in the Ukraine, where Israel Melnikoff entered the world on September 22nd 1902. He was brought to England as a baby, but didn't stay there long. His parents moved on, and eventually settled in Chicago.
On the other hand, Robert Mellin eventually moved back to England. The short version of these guys' biographies is that Guy Wood spent his early life in England and later life in America, and Robert Mellin spent his early life in America and later life in England. But at one point they were in the same country long enough to write a song together.
Actually, that's not true, either. They didn't really write the song "together". In fact, Guy Wood didn't find out he was part of a songwriting team with Bobby Mellin until after Frank Sinatra had recorded the song on which they supposedly "collaborated".
Wood had been a saxophonist in English dance bands and eventually wound up in the foreign-production division of Paramount Pictures. Then he started a fitful composing career, and in 1940, although they never made a record of it, the Tommy Dorsey band played one of his songs, "Halfway Down The Street", on a few band dates, with featured vocal by their new singer, Frank Sinatra. After that Wood wrote maybe a dozen songs that anybody knows about - "Till Then", a hit for the Mills Broothers; "Shoo-Fly Pie And Apple Pan Dowdy"; and the music for "Captain Kangaroo". Sometimes he wrote lyrics, but mostly he wrote music.
Bobby Mellin sometimes wrote music and sometimes wrote lyrics but mostly he was a publisher. A song plugger for Remick's in Chicago, he eventually became the proprietor of Robert Mellin Inc in the US and Robert Mellin Ltd in the UK. He found a German tune and put English words to it, and "You, You, You" became a big hit for the Ames Brothers. (I had the pleasure of having dinner with Ed Ames a couple of years back, and "Rag Mop" and "You, You, You" were two of the early hits we talked about.) Mellin's biggest hit at the time was probably Acker Bilk's early Sixties blockbuster "Stranger On The Shore" for which he wrote an entirely superfluous lyric that hardly anyone has ever sung. After that, he started composing music for spaghetti westerns and various films from Czechoslovakia and Romania, with whose Chief Commissars of Motion Pictures he struck very advantageous and exclusive deals.
At any rate, it was as a publisher that he first came across "My One And Only Love" - or the tune thereof. The song was born six years before Sinatra's recording, in 1947. "Originally I had the melody alone and I was having trouble getting the lyric to it," Guy Wood told Sinatra scholar Will Friedwald. You can see why. It's one of those compositions that starts with a very appealing phrase ascending up over an octave - a bit like the opening of Duke Ellington's "In A Sentimental Mood" or George Gershwin's "Someone To Watch Over Me". But those tunes settle down, and once a lyric writer's solved the problem of that opening phrase a lot of what follows isn't too difficult. Guy Wood's melody has odd intervals that it's not easy to put conversational speech on top of. He played it to various lyricists and they told him it was "too rangey" and "not commercial".
Someone suggested he take it to Robert Mellin Inc, and the eponymous Mr Mellin said, "Gee, that's a great tune. I'll get a lyric for you, if you let me have the rights." The publisher offered it to Jack Lawrence, the man who eight years earlier had written Sinatra's hit with the Harry James band, "All Or Nothing At All". Lawrence returned with a very odd lyric:
The night was velvet and the stars were gold
And my heart was young but the moon was old
I was listening for the music
Music From Beyond The Moon...
"Music From Beyond The Moon"? What does that even mean? Well, I guess Lawrence felt that the unusual tune sounded vaguely otherworldly - like, from way out there, man. But that was his concept and he was sticking to it:
You came along and filled my empty arms
And my eager lips thrilled to all your charms
When we touched I heard the music
Music From Beyond The Moon...
If you know the song as "My One And Only Love", by now you may be wondering, hang on, "My One And Only Love" is six syllables and "Music From Beyond The Moon" is seven. How did they shoehorn in the extra one? Well, "beyond" was sung on one note. So, having come up with a weird title, Lawrence thought, hey, let's go one better and make it a weird and clunky title: "Mu-sic From B'yond The Moon."
But Bobby Mellin didn't seem to mind, and got it to Vic Damone, who made a pleasant record of it that went nowhere. Other singers were no luckier, including Harry Prime, who briefly took Sinatra's role as boy vocalist with the Tommy Dorsey band. In 1948, Prime and Dorsey had a big hit with "Until". But Prime's recording of "Music From Beyond The Moon" flopped. As did Tony Martin's.
And that was that until a couple of years later when Al Collins started using an instrumental version of "Music From Beyond The Moon" as a theme tune on the radio. Collins was one of the great disc-jockeys at WNEW New York and elsewhere around the dial until his death in 1997, and also briefly a "Tonight Show" host on NBC - for a year or so, between the departure of Steve Allen and the arrival of Jack Paar. He called himself Jazzbo, after a range of clip-on bow ties he'd seen called "Jazzbows". Later, in the Sixties, he fancied it up and made it Jazzbeaux - the "x" is fairly ridiculous, I think, but chacun à son goût and all that. But anyway in the early Fifties he was less pretentiously "Jazzbo Collins in the Purple Grotto" on WNEW and figured that "Music From Beyond The Moon" was appropriately grotto-esque.
And there it lay in Jazzbo's grotto for a year or two until 1953, when Guy Wood chanced to hear from a pal that Frank Sinatra had just recorded one of his songs. "Oh, yeah?" said Wood. "Which one?"
"'My One And Only Love.'"
Which was odd. Because Wood couldn't remember ever having written a song called "My One And Only Love". So he went round to see Bobby Mellin, and Mellin said ah, yes, he'd figured out the problem with "Music From Beyond The Moon". "I didn't tell you," he conceded, "but I wrote another lyric on that myself": "My One And Only Love."
Guy Wood wasn't a big fan of the new title. "It was just another song title like millions of other 'love' titles," he told Will Friedwald, who was inclined to agree: "The melody which began life with one of the oddest titles ever, 'Music From Beyond The Moon'," he wrote, "somehow wound up with one of the most pedestrian, 'My One And Only Love'." Friedwald further chides Mellin for being lazy enough to start his own lyric with the far superior title of an entirely different song:
The very thought of you makes my heart sing...
"The Very Thought Of You" is Ray Noble's very greatest song that Sinatra eventually recorded with Bob Farnon in 1962. But there it was a decade earlier, sitting on top of that rapturous ascending phrase of Guy Wood's. Mellin wasn't wrong about Jack Lawrence's lyric. The title is just too clogged: The "k" sound of "music" bumped up against the "fr" of "from", the "m" of "from" against the "b'yo-" of "b'yond", the "d" of "b'yond" against the "the"... So he threw out all the consonants, and replaced it with something that may be "pedestrian" but gives the tune enough room to breathe. I look on it as I do the Merry Widow waltz: if the music is that good, you want to match it; but, if you can't match it, the next best thing is to not get in its way. At the very minimum, Mellin's substitute title does that:
The very thought of you makes my heart sing
Like an April breeze on the wings of spring
And you appear in all your splendor
My One And Only Love...
Maybe, as Friedwald says, it's all a bit ordinary: singing heart, April breeze, spring... But "splendor"'s nice, and the intervals are unusual enough that, even if it's a catchpenny sentiment in the cold light of the printed page, it's transformed when sung. Especially when sung by the right singer. On May 2nd 1953, at KHJ Studios in Hollywood, with Nelson Riddle at the podium, Frank Sinatra stood in front of the orchestra and set to it:
The shadows fall and spread their mystic charms
In the hush of night, while you're in my arms
I feel your lips so warm and tender
My One And Only Love...
Riddle's arrangement dispenses with an intro for just a two-note orchestral ta-da, as if to announce, "Here it is!" What follows is an unusual performance of a ballad for 1953 - "warm and tender", certainly, but very intense, and with an understated formality. In the middle section, which is rather less interesting musically, Riddle puts some rather bluesy licks in the fills, but Sinatra evidently feels under no pressure play off them:
The touch of your hand is like heaven
A heaven that I've never known
The blush on your cheek
Whenever I speak
Tells me that you are my own...
Most singers would go big on all that "heaven I've ever known" stuff. Today, all the melisma queens would be bellowing into the stratosphere, but Sinatra's interpretation draws it down, centering the section on the intimacy of "the blush on your cheek".
"South Of The Border", our Sinatra song a few weeks ago, came from his very first session with Nelson Riddle on April 30th. As we discussed back then, in moving from Columbia to Capitol, Frank had wanted to keep Axel Stordahl, his arranger since the Tommy Dorsey days. Alan Livingston and Voyle Gilmore at Capitol, on the other hand, felt the Stordahl partnership was exhausted and wanted to pair him with Riddle. On April 30th, Sinatra thought the arrangements were by Billy May, and Nelson was merely conducting. But "I've Got The World On A String" isn't a bit like Billy May: It's the Riddle Sinatra sound, fully formed on its very first outing. With that first number, Frank understood he was in safe hands on the swingers, and the only question was whether Riddle could also do ballads.
Two days later, on May 2nd 1953, "My One And Only Love" answered that question definitively. The string writing and Skeets Herfurt's alto are especially fine. Capitol put it on the B side of "World On A String", and found they had a hit record. The tenor saxophonist Charlie Ventura heard it, and liked that ascending melody with the descending bass. So he started playing the tune, and pretty soon every jazz tenor was slurping his way up that opening phrase - Ben Webster, Sonny Rollins, and eventually John Coltrane in a famous pairing with smokey vocalist Johnny Hartman. That last would rank as many people's favorite version of "My One And Only Love" - except that Hartman, who was never exactly known for discovering new material, would never have recorded the song had not Sinatra introduced it to the world a decade earlier. But both records have an appeal to younger singers, and so a ballad written at the very tail end of an era acquired a cachet among the rock generation that older, more established pop standards don't have: Rickie Lee Jones, Paul McCartney and Sting are among those who've tried to appropriate a little of its cool in recent years.
As for Sinatra, he made a perfect B-side, and seems to have been content to leave it at that. It could easily have found a place on one of the great concept albums, but he appears not to have given the song any further thought in the next 45 years. The writers, too, seemed to sense that this was a one-off for both of them. A life of "Captain Kangaroo" and Romanian westerns lay ahead. The next time Frank Sinatra would sing a Robert Mellin lyric would be the end of 1953, a very sodden version of "Rain". The next time he would sing a Guy Wood tune would be 1958, the goofy novelty song "French Foreign Legion".
As for Jack Lawrence and all that "Music From Beyond The Moon", he retained a sort of ghostly presence in the song that supplanted his. Mellin kept a distinctive word or two, like "eager":
You fill my eager heart with such desire
Every kiss you give sets my soul on fire
I give myself in sweet surrender
My One And Only Love.
Eager hearts, desire, kisses setting your soul a-fire... Faced with lyrics that ripe, the average vocalist attempts to give them meaning through volume and bombast. But Sinatra does the opposite: He shrinks the declarative boilerplate into something wistful and tender and true. That's a guy who knows how to sing.
~Mark's beloved book A Song For The Season, which includes the stories behind such Sinatra songs as "Autumn Leaves" and "They All Laughed", is now available in eBook, at Amazon, Barnes & Noble, Indigo-Chapters in Canada, and worldwide.
Steyn's original 1998 obituary of Sinatra, "The Voice", appears in the anthology Mark Steyn From Head To Toe. There's more Sinatra songs in Mark Steyn's American Songbook. Personally autographed copies of all three books are exclusively available from the Steyn store.
~For an alternative Sinatra Hot 100, the Pundette has launched her own Frank countdown. She has a truly classic English song at Number 70, the aforementioned Ray Noble's "The Very Thought Of You". Bob Belvedere over at The Camp Of The Saints is also counting down his Top 100 Sinatra tracks, and, although there's nothing very English on there so far, he does have at Number 87 a classic French song, "Comme D'Habitude", better known in the Anglo world as "My Way". And, while we're still in Israel Independence Day mode, the Evil Blogger Lady presents Frank serenading the IDF.
SINATRA CENTURY
at SteynOnline
6) THE ONE I LOVE (BELONGS TO SOMEBODY ELSE)
8) STARDUST
10) WHAT IS THIS THING CALLED LOVE?
11) CHICAGO
12) THE CONTINENTAL
13) ALL OF ME
15) NIGHT AND DAY
16) I WON'T DANCE
17) I'VE GOT YOU UNDER MY SKIN
19) EAST OF THE SUN (AND WEST OF THE MOON)
21) A FOGGY DAY (IN LONDON TOWN)
24) OUR LOVE
27) FOOLS RUSH IN