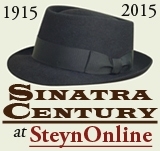 2015 is not only the centenary year of Frank Sinatra but also of Billie Holiday, born April 7th 1915 in Philadelphia. We will mark the occasion formally a little later this week, and acknowledge Sinatra's admiration for Holiday. But the respect was mutual, and on Billie Holiday's last major recording the stand-out track was a Sinatra song:
I'm A Fool To Want You
I'm A Fool To Want You
To want a love that can't be true
A love that's there for others too...
Billie Holiday isn't the only singer to have covered "I'm A Fool To Want You". The most recent crack at it is by Bob Dylan, for his Sinatra tribute album, artfully titled Shadows In The Night. As he told AARP magazine:
A song like 'I'm a Fool to Want You' — I know that song. I can sing that song. I've felt every word in that song. I mean, I know that song. It's like I wrote it. It's easier for me to sing that song than it is to sing 'Won't you come see me, Queen Jane?' At one time that wouldn't have been so. But now it is. Because Queen Jane' might be a little bit outdated. But this song is not outdated. It has to do with human emotion.
So, as Bob sees it, "Queen Jane Approximately", a Dylan song he did in fact write (for his landmark 1965 album Highway 61 Revisited), is "outdated", but "I'm A Fool To Want You", a song that feels "like I wrote it", isn't outdated at all.
So who actually did write "Fool To Want You"?
Frank Sinatra.
That's right. Just like Bob Dylan, Frank was a singer-songwriter. Well, kinda sorta. At any rate, he was never just a singer. He conducted albums of fellow vocalists (Dean Martin, Peggy Lee, Sylvia Syms) and non-vocal albums, too (Alec Wilder's chamber music, instrumental themes from "pictures and plays", and a set of specially commissioned "tone poems of color"). He founded his own record company. He optioned books and produced movies (The Manchurian Candidate). He had his own music publishing company - because after all, if you're the singer everyone wants to get his song to, you might as well be the publisher, too. And once in a while he co-wrote a song. There is a faintly disreputable practice in the music business of "cutting in" - of bigtime stars demanding their name be added to the credit of a tune as the price the writers are required to pay for having him sing it. But Sinatra's song credits are so rare over the years that he seems to have reserved them for numbers where he did indeed make some contribution to the piece.
The first song he wrote was back in 1941, as boy vocalist for the Tommy Dorsey band. Sinatra and Hank Sanicola, a Dorsey staffer who used to run down Frank's numbers with him, and a song-plugger called Sol Parker cooked up a ballad called "This Love Of Mine". Young Frankie shyly showed the music and lyrics to Matt Dennis and Tom Adair (Dorsey's in-house writers, who wrote "Everything Happens To Me", "Let's Get Away From It All" and "Violets For Your Furs") and asked if they could look it over to see if it was okay. It was. It made a nice record, not just for Sinatra and Dorsey but over the years for Count Basie, Ella Fitzgerald, Ray Charles, Keely Smith, Shirley Bassey, Little Anthony and the Imperials, Lawrence Welk, Van Morrison...
Nine years later, Sinatra had his most productive burst of composition, co-writing "Take My Love", of which more in a moment, and "Sheila", which is basically "Laura"'s less prepossessing sister, and "Peachtree Street", which made for an utterly charming duet with Rosemary Clooney. In 1957, he and Hank Sanicola wrote a Christmas song, "Mistletoe And Holly", which has stacked up a steady run of interpretations over the years, from Jack Jones, Charlie Byrd and others. And in 1958, again with Sanicola, he wrote his last ever song, a brash blaring number called "Mr Success" disfigured by all kinds of bum rhymes. After which Frank hung up his songwriter's hat for good.
But midway through his "writing" career came a small masterpiece. His composing partner was a fellow called Joel Herron, who'd known Sinatra since his early Dorsey days. In March 1940, a few weeks after Frank joined the band, Joel Herron was playing piano for Johnny Green's radio orchestra when the trumpeter Pee Wee Erwin asked him if he'd like to go to the Paramount tonight. Herron asked why, and Erwin said, "Jack Leonard's outside. He's in his soldier's suit. He's been hauled into the army, and he wants to go over and hear the new kid with Dorsey."
Leonard had been Tommy Dorsey's male vocalist and had had some pretty big hits with the band. And he figured it'd be kind of a laugh to go over and hear what a flop the new guy was. "We went there essentially to see this kid get killed," said Herron. So the band came out and did Dorsey's theme tune, "I'm Getting Sentimental Over You", and then Tommy stepped forward and said, "We'd like to introduce our new boy singer, Frank Sinatra, singing our hit record, 'Who'." That had been a smash in 1937, with Jack Leonard handling the vocal, and Leonard, Herron and Pee Wee Erwin were convinced that the newbie "was gonna fall on his ass".
But as Herron told Sinatra scholar Will Friedwald, "When he started to sing, I sunk down in my seat. I felt humiliated for the guy who was sitting next to me" - Jack Leonard - "who had just become the oldest kind of news that there was in the world."
A decade later, Herron was bandleader at the Copacabana and musical director for "The Jane Froman Show". He liked to use as his theme the Andantino from Brahms' Third Symphony, and one day a lyricist, Jack Wolf, got the idea of putting words to it and making it a love song. Herron fiddled around with the music, wrote a new middle-eight, and took it to Sinatra's publishing company. Frank made some changes to the lyric, so he got a co-writing credit, which is how "Take My Love" wound up the only composition in the history of music by Brahms and Sinatra. The Violin Sonata No 3 in D minor? Johannes didn't need Frank. "Mistletoe And Holly"? Frank didn't need Johannes. But "Take My Love" apparently took both of 'em.
The song was picked up for a movie called Undercurrent, with Katharine Hepburn and Robert Taylor. At the time, Joel Herron was musical director for a radio show called "MGM Theatre of the Air", a series of weekly audio adaptations of current MGM movies. When it came time to adapt Undercurrent, there was a licensing problem (presumably connected with Sinatra's publishing house) in getting permission to use the film song for the radio version. So Herron wound up having to rewrite his own song sideways - complete with a point in the tune at which (for plot purposes) a piano lid could be slammed down on somebody's fingers. The rewrite turned out to be superior to the original, especially with Jack Wolf's words:
I'm a fool to hold you
Such a fool to hold you
To seek a kiss not mine alone...
Herron and Wolf took it to Sinatra, then in the midst of his turbulent and doomed relationship with Ava Gardner. And Frank got so into the ballad he wound up rewriting enough of the lyric to match his mood that it transformed the song. When the session ended, Herron and Wolf were sitting with Ben Barton and Hank Sanicola, and went off on their own to confer: "He's gotta be on this song!" said Herron - and so Sinatra wound up as co-writer.
Axel Stordahl's arrangement has a brooding film noir intro and a wordless choir (the Ray Charles Singers - not that Ray Charles, the other one, the vocal arranger), and then suddenly there's Frank:
I'm A Fool To Want You
I'm A Fool To Want You
To want a love that can't be true
A love that's there for others too...
It's a magnificent reading, in which Sinatra can put completely contrasting interpretations on the same four commonplace words. The first "time and time again" soars with Herron's melody and Stordahl's orchestra, as if breaking free is the solution to his problems:
Time and time again I said I'd leave you
Time and time again I went away...
But the second "time and time again" follows the music down, to bleakness and resignation and defeat. Stordahl brings in a solo violin crying into its pillow, or its beer, and then tacets the entire orchestra, so it's just Frank, begging:
Take me back - I love you
Pity me - I need you...
The portamento on "need" is both beautifully natural and very precisely poised. And then the wordless choir returns for the last few bars. Sinatra's record is just one 32-measure chorus, in which he packs, as Will Friedwald says, "an opera's worth of pathos":
I know it's wrong, it must be wrong
But right or wrong, I can't get along
Without you!
The individual elements could easily seem preposterous - the sobbing fiddle, the ah-ing choir, the perilously ripe lyric ("a kiss the devil has known"), but Sinatra ties it all together with complete sincerity and emotional truth. "An actor is pretending to be somebody, but a singer isn't. He's not hiding behind anything," says Bob Dylan in that AARP magazine interview. "People talk about Frank all the time. He had this ability to get inside of the song in a sort of a conversational way."
But, coming out of the release of "Fool To Want You", it's as if the process has been inverted: The song is inside him. We're inside him. "Take me back - I love you/Pity me - I need you..." It was March 27th 1951, and he had Ava Gardner on his mind. That record is the first take. Is that because he's a consummate professional who'd thought through the song and knew exactly what he wanted to do? Or is it because of Ava and it all just poured out? "Frank was really worked up that night," a friend told Gay Talese for his famous "Frank Sinatra Has A Cold" profile. "He did the song in one take, then turned around and walked out of the studio and that was that..."
According to legend, he was sobbing and fled into the night. According to Charles Pignone, Senior Vice-President of Frank Sinatra Enterprises, that's unlikely because he stuck around to sing another song at that session, "Love Me". Maybe it was just a bathroom break.
According to Nelson Riddle at Capitol Records a few years later, "It was Ava who taught him how to sing a torch song. That's how he learned. She was the greatest love of his life and he lost her." But, according to Mitch Miller, then running Sinatra's career at Columbia Records, "That's bullsh*t! Because what he's drawing is the emotion from your personal life. He's saying it for you."
And according to Sinatra: "You have to scrape bottom to appreciate life and start living again." Sixty-four years ago the bottom was scraping him raw, one way or the other. If you want the entire history of popular music - the tug between its highest aspirations and its basest instincts - Sinatra wrapped it up on one single in 1951: Mitch Miller put "I'm A Fool To Want You" on the B-side. On the A-side was "Mama Will Bark", a canine love duet that is (as the lyric puts it) "the doggone-est thing you ever heard", performed by Frank and the big-breasted faux-Swede "actress" Dagmar. The early Fifties, don't forget, were the heyday of the dog song, and rare was the pop star who managed to avoid having one inflicted on him: Frank didn't take it well. The Singing Dogs, who barked their way through "Oh, Susanna" and other favorites, were more relaxed about it, but then, of course, they were dogs. By the standards of the era, "How Much Is That Doggie In The Window?" was pretty much Best in Show.
Novelty songs, they used to call them. But, in the early Fifties, novelties weren't so much a novelty as terrifyingly ubiquitous. Mitch Miller, top dog at Columbia, insisted Sinatra do "Mama Will Bark". Frank wound up leaving the label, but he never forgave his old boss. Years later, they happened to be crossing a Vegas lobby from opposite ends. Miller extended his hand in friendship; Sinatra snarled, "F*ck you! Keep walking!"
But Mitch didn't care what went on the B-side of the record. So, to accompany "Mama Will Bark", there was one of the bleakest, most harrowing, most exposed performances in the Sinatra oeuvre:
Time and time again, I went away
But then would come the time when I would need you
And once again these words I'd have to say...
Is that somewhat unnatural word order one of Frank's lines? It doesn't sound quite like the work of a fellow who writes songs for a living. But, on the other hand, Sinatra's co-lyricist, Jack Wolf, never had another song like this, just the modest success of a "Paris blues" for Sinatra, "Azure-Te". And of the more than 100 songs Joel Herron composed over the years, this remains his only hit.
Six years later, Frank was back in the studio for a second take of "I'm A Fool To Want You". He and Ava Gardner were history, and he had a new record company - Capitol - and the world on a string. The arranger for the album, Where Are You?, was Gordon Jenkins, and his "Fool" comes in two minutes longer than the Axel Stordahl version. There's nothing wrong with the track: Jenkins' harmonically thin orchestration style gives an icy quality to the strings in the instrumental intro and outro, although they can sound a bit clunky in the fills between Sinatra's vocal. Frank's good, too, although more mature and reflective. But Joel Herron always preferred Sinatral's original, and it's hard to reprise something that's a pure jolt of pain, and self-pity, and self-disgust, and all manner of emotional depths pop singing rarely plumbs.
Still, when you write a song - or even just a few lines of a song - and it takes off, it wiggles free of its creators and leaves them behind. "I'm A Fool To Want You" quickly became the most widely covered of any song co-written by Sinatra, recorded by everyone from Peggy Lee, Dexter Gordon, Dinah Washington, Tony Bennett, Illinois Jacquet, Sammy Davis, Donald Byrd, Elvin Jones and Chet Baker to Linda Ronstadt, Tom Jones, Carly Simon, Elvis Costello, Dionne Warwick and eventually Bob Dylan, one singer-songwriter tipping his hat to another. But, as someone who'd learned so much about phrasing and storytelling from her, Sinatra must surely have appreciated that Billie Holiday version, from the last album released before her death. As her arranger Ray Ellis remembered it:
I would say that the most emotional moment was her listening to the playback of 'I'm a Fool to Want You'. There were tears in her eyes... After we finished the album I went into the control room and listened to all the takes. I must admit I was unhappy with her performance, but I was just listening musically instead of emotionally. It wasn't until I heard the final mix a few weeks later that I realized how great her performance really was.
She had a terrific song to work with. It's just about possible to imagine a bizarro universe in which Sinatra the singer falls into obscurity, but Sinatra the songwriter endures as one-third of the authors of one of the best torch ballads ever composed. Not bad for the B-side of "Mama Will Bark".
~Mark's beloved book A Song For The Season includes his essays on "My Funny Valentine", "Easter Parade", "Autumn Leaves" and other Sinatra songs. It's finally out in eBook - at Amazon, Barnes & Noble, Indigo-Chapters in Canada, and worldwide. So, whatever your preferred digital distribution method, you can be reading it within a minute!
Steyn's original 1998 obituary of Sinatra, "The Voice", appears in the anthology Mark Steyn From Head To Toe. There's more Sinatra songs in Mark Steyn's American Songbook. Personally autographed copies of both books are exclusively available from the Steyn store.
~For an alternative Sinatra Hot 100, the Pundette has launched her own Frank countdown. She's up to Number 74, wherein the Chairman of the Board makes a pizza. Bob Belvedere over at The Camp Of The Saints is also counting down his Top 100 Sinatra tracks, and at Number 67 he has Frank and a gang of jazz all-stars pitching the woo to "Sweet Lorraine". Meanwhile, the Evil Blogger Lady has a Sinatra song for the season.
SINATRA CENTURY
at SteynOnline
6) THE ONE I LOVE (BELONGS TO SOMEBODY ELSE)
8) STARDUST
10) WHAT IS THIS THING CALLED LOVE?
11) CHICAGO
12) THE CONTINENTAL
13) ALL OF ME
15) NIGHT AND DAY
16) I WON'T DANCE
17) I'VE GOT YOU UNDER MY SKIN
19) EAST OF THE SUN (AND WEST OF THE MOON)
21) A FOGGY DAY (IN LONDON TOWN)