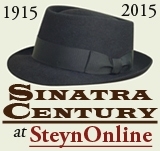 When Frank Sinatra was 18, it was a very good year. Anything Goes opened at the Alvin Theatre in November 1934 and provided young Frank with a slew of Cole Porter material he would sing in his maturity: The title song turned up in 1956 on his landmark album Songs For Swingin' Lovers; "Easy To Love" was dropped at the insistence of leading man William Gaxton, but survived Jimmy Stewart's screen rendition to become a highlight of Sinatra's first album at Reprise; and Frank himself took the William Gaxton role in a 1954 TV production of Anything Goes opposite the original star Ethel Merman. Sinatra and Merman were said not to have got on during rehearsals, but, albeit an odd couple, they're very affecting together - and their romp through "You're The Top" is great fun.
But the Anything Goes song that stayed with Sinatra across the decades was the very first number in the show:
I get no kick from champagne
Mere alcohol
Doesn't thrill me at all
So tell me why should it be true
That I Get A Kick Out Of You?
Anything Goes had a famously chaotic ride to opening night. The producer Vinton Freedley had fled the United States to avoid his creditors and was living on a ship in international waters. And, with time on his hands, he thought a shipboard musical could be a great hit. He asked Cole Porter, P G Wodehouse and Guy Bolton to write it, and Bolton & Wodehouse came up with a plot involving a bomb threat, a shipwreck, and ensuing capers on a desert island. And then, two months before opening, the SS Morro Castle caught fire en route from Havana to New York, and 137 passengers and crew lost their lives. So Freedley decided the whole bomb-threat-shipwreck plot was no longer in good taste, and demanded rewrites. Bolton & Wodehouse were over in London, so Howard Lindsay and Russel Crouse (who would go on to write Life With Father and The Sound Of Music) were drafted to retool the plot. They began rehearsals with only a First Act. They opened in Boston without an ending. The show's title was switched from Hard To Get to Bon Voyage, and then finally Anything Goes - because by that stage anything did.
And yet the first night was a triumph, from the moment the curtain went up. And, although the show has been extensively rewritten over the years, not much has changed about that opening. A young man called Billy Crocker goes to bid farewell to his chum Reno Sweeney before she sails for Europe. She's just a pal to him, but that's not how she sees it, as she reveals after he's left, and she's alone:
I get a kick ev'ry time I see
You're standing there before me
I get a kick though it's clear to me
You obviously don't adore me...
A couple of years ago my daughter and I went to see the Broadway revival with Sutton Foster. Great seats. Fifth row center. And from the moment Miss Foster sang "I get no kick from champagne", my girl was rapt and agog - and still plays the cast album on her "device" (as Hillary Clinton calls it). It's a perfect opening number because it tells the audience, today as it did in 1934, "Relax - this is Cole Porter at his best. You're in for the time of your life."
Nevertheless, as brilliantly as it works in the show, "I Get A Kick Out Of You" wasn't written for Anything Goes. In 1931, Porter and Herbert Fields had written a musical called Star Dust, which was backed by a tobacco company. But then (according to Porter) somebody introduced a new cigarette tax, and the company decided Broadway was an indulgence it could no longer afford. The composer put the score in his trunk, and three years later found a spot for the thwarted musical's greatest loss - albeit with a change of ending. In the original version, the singer concluded:
I get no kick in a plane
I shouldn't care
For those nights in the air
That the fair Mrs Lindbergh goes through
Yet I Get A Kick Out Of You.
But between Star Dust in 1931 and Anything Goes in 1934, the Lindberghs' baby was kidnapped and murdered, and the nights that the fair Mrs Lindbergh had gone through were no longer the stuff of musical comedy. Porter rewrote the ending:
I get no kick in a plane
Flying too high
With some guy in the sky
Is my idea of nothing to do...
That's a sextuple rhyme: Fly-high-guy-sky-my-i(dea).
It's not like Sinatra's "Kick", however. In the show, "I Get A Kick Out Of You" has a most insistent rippling accompanying figure that seems almost as much part of the song as, say, the vamp in "New York, New York". And the second bar of the main phrase - "kick-from-cham-" - is written as triplets, as is most of the next line - "-hol-does-n't/thrill-me-at" - and the one after that - "tell-me-why/should-it-be" - so that, if a singer's not paying attention, the tune can collapse into a waltz. And Porter's step-up-the-scale melody - "I get no kick from champagne" is a straightforward climb from C to B flat - somehow underlines that waltz-teetering effect.
Sinatra's first kick at the song was a George Siravo arrangement he used for that eight-piece band he had at the Riviera in Fort Lee, New Jersey - one of the charts that (like "A Foggy Day") he decided he wanted to get on record for his first LP at Capitol Records, Songs For Young Lovers, in 1953. It begins with the introductory verse - just Frank and piano:
My story is much too sad to be told
But practic'lly ev'rything leaves me totally cold
The only exception I know is the case
When I'm out on a quiet spree
Fighting vainly the old ennui
And I suddenly turn and see...
At which point the band come in to underline the point, and Frank exclaims:
Your fabulous face!
Over the next four decades the "f" of "fabulous" would get longer and longer: Your ffffffffffffffffabulous face! I suppose a singer doesn't get many opportunities to sing "fabulous" so you might as well make a meal of it. What Sinatra seemed to like about "I Get A Kick Out Of You" was the space it gave him to try things out. Siravo's chart is constructed like a Benny Goodman small-group arrangement - with little riffs behind Sinatra for rhythm guitar, clarinet, piano. Even though Nelson Riddle's conducting, it's nothing like Riddle's sound. But it changed the song, forever:
I get no kick from champagne...
Wait a minute: What happened to those triplets? Frank makes "kick" a minim and "from cham-" two crotchets, as every singer and most instrumentalists have done in the six decades since. "Kick" in Porter's original is a word. In Sinatra's hands, it's an exercise in musical onomatopoeia. On the final line of the phrase - "That I Get A Kick" - the drums illustrate the kick immediately after.
Those effects would be explored and experimented with over the years. On TV not long after the record, Frank was backed by a giant replica of the Songs For Young Lovers LP cover but with the title replaced by the words "Songs For Smokers Only". Cigarette in hand, Sinatra gives a reading that starts out somewhat tentative until he gets to the last half of the title phrase, "Out Of You", and decides he's going to go for the all-time world record in backphrasing. You could go to the kitchen and brew a nice pot of tea in the space between that post-kick drumbeat and Sinatra's leisurely "Out.... Of.... You". But he always makes it back in time for the next line.
Did young Frank ever see the original Broadway run of Anything Goes? Ethel Merman had a trick she used to do in the second go-round of the main phrase:
I get no kick from cocaine
I'm sure that if
I took even one sniff
That would bore me terrific'ly too...
Merman would mimic snorting coke, and then pause woozily in the middle of "terrif ...ic'ly", always getting a laugh. Whether or not he got it from the Merm, Frank as the years went by took to singing the word "terrifffffff ...ic'ly", which apart from anything else emphasizes what a cute rhyme it is for "if" and "sniff".
There wasn't much cocaine, though. That sort of thing was fine for high-toned Broadway audiences, but for radio and record something else was required. Porter's lyric has a simple premise: The singer gets a high from the object of her affection rather than the things which usually give one a high - such as alcohol and drugs, and finally, in a somewhat punning example of a "high", airplanes. The problem is, if you have to remove cocaine, there aren't a lot of alternative highs to replace it with. Most singers settled for "Some like the perfume from Spain". Perfume can certainly be heady, but the real intoxicating stuff comes from France, not Spain - or Ukraine or Bahrain. Some get a kick from butane? Rogaine? John McCain? Saddam Hussein? Some get a kick from sheer pain? Maybe for Songs For Swingin' From The Wall Clamps In Your Bondage Dungeon, but not otherwise... Porter, anxious to relocate that improbable Spanish perfume, offered a whiff of Guerlain, which is certainly olfactorily arousing, but offensive as a rhyme to francophones and somewhat obscure a reference for non-francophones. Sinatra's own choices for that second section varied over the years, and on more than a few live stage appearances he'd sing "Some like the cocaine from Spain", which rather defeats the point of the thing.
Jazzy types opted for:
Some like a bop-type refrain
I'm sure that if
I heard even one riff...
That's what Frank sings on his second studio recording, for one of the jazziest sets he ever made, Sinatra And Swingin' Brass with Neal Hefti in 1962. This take is a pure kick - no verse, one of Hefti's call-and-response instrumentals, a great solo by tenor sax Joe Maini, and an inversion of the "kick-plus-drumbeat formula of the Siravo chart: This time Sinatra lets the band take the lead - "Yet I Get A [brass stab] Kick Outta You..."
Frank sang the Hefti arrangement live for a while, but gradually returned to some or other variant of the George Siravo original. By comparison with Michael Feinstein or the fastidious cabaret chantoosies, Sinatra didn't sing a lot of verses, but he missed this one. And so he put it back, and, if you ever caught Frank and Dean Martin together, you'd know that Dino enjoyed interrupting it:
My story is much too sad to be told...
At which point Dean would interject, "Then I don't wanna hear it." "You gotta hear it," Frank would respond. "The door's locked."
Did ever a Sinatra song get so many bits of business attached to it? In the stadium era, between the verse and the chorus, Frank liked to caper round the stage for a few bars while his rhythm section vamped underneath, and he'd crow to the crowd, "Who'd ya think taught Gene Kelly how to dance?"
Let me put in a word for two other "Kicks" from around the same time as Sinatra's mid-Seventies stage clowning. In Britain and much of the Commonwealth, the Aussie folkie Gary Shearston had a hit with a wonderfully lugubrious guitar-driven version, complete with cocaine. And Mel Brooks, whose best screen moments are always musical, used it to memorable effect in Blazing Saddles, when Lyle, the supervisor on the railroad project, decides to have sport with his Negro workers and demands they sing him "a good ol' nigger work song". Cleavon Little and his fellow toilers go immediately fall into a beautiful, sophisticated a capella version of:
I get no kick from champagne
Mere alcohol
Doesn't thrill me at all
So tell me why should it be true
That I get a belt out of you?
The redneck cowboys standing around are bewildered, and, after the next line, Lyle interrupts:
Hold it! Hold it! What the hell is that sh*t? I meant a song. A real song. Something like...
And off Lyle and the rednecks go into "De Camptown Ladies" prancing around like a bad minstrel act, until their boss rides up and demands to know why they're carrying on like a bunch of...
By the way, that "I get a belt out of you" is Brooks' hommage to one of Sinatra's Frankisms - "I get a boot out of you."
Bill Miller, Sinatra's longtime pianist, once told me he thought Siravo's "Kick" was "kinda square". Maybe he got bored with it over half-a-century. But Frank never did. And, when Miller was taking a break from Sinatra for a few years in the late Seventies/early Eighties, Frank and his replacement pianist Vincent Falcone revitalized "Kick" as a freewheeling number for rhythm section only. This was the jazziest Sinatra had been in a couple of decades, and, when he wanted something to kick around, the best kick remained "I Get A Kick Out Of You". Some get a kick from champagne and cocaine, but at 70 Frank Sinatra got a kick from an ancient George Siravo layout and kicking around with the four or five musicians he knew best.
~Mark's beloved book A Song For The Season includes his essays on "Almost Like Being In Love", "My Funny Valentine", "I'll Never Smile Again", "Autumn Leaves" and other Sinatra songs. It's finally out in eBook - at Amazon, Barnes & Noble, Indigo-Chapters in Canada, and worldwide. So, whatever your preferred digital distribution method, you can be reading it within a minute!
Steyn's original 1998 obituary of Sinatra, "The Voice", appears in the anthology Mark Steyn From Head To Toe. There's more about Cole Porter in Mark's critically acclaimed classic Broadway Babies Say Goodnight. Personally autographed copies of both books are exclusively available from the Steyn store.
~For an alternative Sinatra Hot 100, the Pundette has launched her own Frank countdown. She has the title song from Anything Goes at hit sound Number 77. Bob Belvedere over at The Camp Of The Saints is also counting down his Top 100 Sinatra tracks, and there's so much great Frank'n'Cole that even "From This Moment On" only comes in at Honorable Mention #5. Meanwhile, the Evil Blogger Lady has a Sinatra song for the season.
SINATRA CENTURY
at SteynOnline
6) THE ONE I LOVE (BELONGS TO SOMEBODY ELSE)
8) STARDUST
10) WHAT IS THIS THING CALLED LOVE?
11) CHICAGO
12) THE CONTINENTAL
13) ALL OF ME
15) NIGHT AND DAY
16) I WON'T DANCE
17) I'VE GOT YOU UNDER MY SKIN
19) EAST OF THE SUN (AND WEST OF THE MOON)