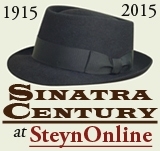 This one stayed in Sinatra's book almost to the end, mainly because he just had so much fun singing it:
Ev'ry time it rains it rains
Pennies From Heaven
Don't you know each cloud contains
Pennies From Heaven?
To be honest, I'm not sure I do know that each cloud contains pennies from heaven. But the song certainly rained down colossal amounts of pennies on Frank, as it had a generation earlier for Bing. Crosby's original record was Number One in 1936, and the biggest hit of the year - and still sounds good,not least the marvelous introductory verse, which Sinatra eschewed for the entirety of his career:
A long time ago, a million years BC
The best things in life were absolutely free
But no one appreciated
A sky that was always blue
And no one congratulated
A moon that was always new
So it was planned that they would vanish now and then
And you must pay before you get them back again
That's what storms were made for
But you shouldn't be afraid for...

Ev'ry time it rains it rains...
That's more Sinatra's story than Crosby's: the best things in life vanished now and then, and he had to pay to get them back again. But, for whatever reason, Frank throughout his long life with the song left the verse to Bing. In 1936, "Pennies From Heaven" was the first Number One collaboration between Crosby and the lyricist Johnny Burke, and helped establish the Burke/Bing partnership that produced some of the highlights of the American songbook. Burke was a good friend of Sinatra's, too, and his decision to take an afternoon off work one day in the Forties led, in a roundabout way, to the creation of a very personal song for Frank, "Nancy (With The Laughing Face)". A decade later, Johnny Burke's decision to take one too many days off led to the creation of the songwriting team that would define Sinatra's new persona as a finger-snappy' ring-a-ding-dingin' swingin' bachelor.
Johnny Burke was dubbed by his fellow lyricist Sammy Cahn "the Irish poet", and like many Irish poets he enjoyed a tipple. It ended his career, and eventually his life, a couple of decades ahead of his principal collaborators and equally prodigious drinkers, Crosby and Jimmy Van Heusen. But in the twenty or so years he was at his peak, Burke produced a catalogue of songs that puts him in the very top tier of lyric-writers. He was born in 1908 in Antioch, California, and he hit his stride around his 30th birthday, writing classic ballads, rhythm numbers, comedy novelties ...and the all-time greatest animal song:
But if you don't care a feather or a fig
You may grow up to be a pig.
The title of that Crosby hit from 1944 catches the Johnny Burke style: To modify Oscar Wilde, a lot of drunks are lying in the gutter, but few of them are swinging on a star. Burke dealt in a lot of conventional Tin Pan Alley imagery - the stars, the moon, the heavens - but the celestial stuff was lightly worn:
Would you like to swing on a star?
Carry moonbeams home in a jar?
Come again? Carry moonbeams home in a jar? That's one of those potentially perilous images that few writers could pull off. Years and years ago, I wrote a little comedy sketch featuring a fey hippie chick called Carrie Moonbeams, and the actress playing her said, "Wow, what a great name! Where'd you come up with that?" "Oh, you'll figure it out," I said - and sure enough, a few other folks have found inspiration in Johnny Burke's lyric over the years. It's one of those goofily memorable phrases (like "reindeer games" in "Rudolph") that only a popular song can embed in the language. Burke's words swung among the stars but without ever losing their footing. Take "Moonlight Becomes You":
You're all dressed up to go dreaming
Don't tell me I'm wrong
And what a night to go dreaming
Mind if I tag along?
After trembling on the brink of over-ripe grandiosity with "all dressed up to go dreaming", the casual conversational throwaway - "Mind if I tag along?" - is just lovely set against the lush flow of the melody. Sinatra recorded both "Moonlight Becomes You" and "Swinging On A Star" with Nelson Riddle on their album of Oscar-winners, and, if he never quite wrests the songs from Crosby, the romantic lyricism of the former and the gleeful swing of the latter are both memorable.
Burke grew up in Chicago, played piano in the orchestra at college, and then joined the Irving Berlin Company as a song plugger. He was teamed with an up-and-coming composer called Harold Spina and in the early Thirties they wrote, among other things, some wonderful novelty songs for Fats Waller - "You're Not The Only Oyster In The Stew" and "My Very Good Friend, The Milkman". Then Hollywood called, and Burke hooked up with Jimmy Monaco to write songs for Bing Crosby's pictures: "Pocketful Of Dreams", "An Apple For The Teacher", and a number whose title is the very definition of Bing's deceptively careless ease, "That Sly Old Gentleman From Featherbed Lane".
Burke had original ideas and unusual imagery, but he hadn't yet found his voice for love ballads. That came in 1939, courtesy of the bass player for Bing's brother, bandleader Bob Crosby. Bob Haggart had written a tune for the band's trumpeter Billy Butterfield to blow the hell out of, and it went down so well that it occurred to Bob Crosby he might have another "And The Angels Sing" on his hands. That's to say, Ziggy Elman, Benny Goodman's trumpeter, had written a nifty tune, and Johnny Mercer had put words to it, and "The Angels Sing" had cleaned up on the hit parade. So Crosby took the little instrumental, which Haggart called "I'm Free", over to Mercer, and asked him to write a lyric. Mercer worked on it for two months but couldn't get beyond:
I'm free
Free as a bird in a tree...
Etc. So Bob Crosby then gave the tune to Johnny Burke, and with it a great piece of advice: Keep it conversational - "something like 'What's new?', 'How's things?', that kind of thing". Burke knew enough not to look a gift horse in the mouth:
What's New?
How is the world treating you?
You haven't changed a bit...
It's an instantly familiar situation: Two old lovers running into each other on the street, and making small talk. We hear only one end of the conversation, that of the party for whom the small talk isn't small at all:
What's New?
Probably I'm boring you...
Probably. And then as the melody plunges down to the last line:
Of course you couldn't know
I haven't changed
I still love you so.
"What's New?" stayed in Sinatra's act almost to the end, too, in a Nelson Riddle arrangement he first recorded in 1958. On stage, it was one of those ballads that brought out the actor in him: he inhabited the situation. Back in 1939, it was the song that sealed the deal with Bob Crosby's brother Bing and made Johnny Burke house lyricist for the world's most popular singer.
On the second of Bing and Bob Hope's Road pictures, Burke was paired with a new composer and began the most important partnership of his career. Jimmy Van Heusen had started out in life as Chester Babcock until one day, working on the radio in Syracuse, New York, he was told by the station manager he needed a better name on air, and looked out the window to see a shirt manufacturer's truck parked outside. So "Jimmy Van Heusen" became a Hollywood composer, and "Chester Babcock" was affectionately kept on as the name of Bob Hope's character in the Road movies. It didn't really matter what either Van Heusen or Burke was called: Once they formed their partnership, they were a two-headed creature called Burke-&-Van-Heusen that wrote as one and drank enough for ten. "Every man wants to be Sinatra," Sammy Cahn liked to say. "Except Sinatra. He wants to be Van Heusen." You can hear more of Sammy's thoughts on Van Heusen and Sinatra in our Cahn centenary podcast, and we'll have more to come in the weeks ahead. But for now let's just note that Jimmy Van Heusen is one of only two non-Sinatras to be buried in the Sinatra family plot (the other is Frank's pally, restaurateur and sometime bodyguard Jilly Rizzo).
Van Heusen liked booze and broads, and, if the latter interfered with the former, he moved on. Yet a composer who apparently never needed any enduring love of his own wrote some of the most enduring love songs for everybody else, and Burke provided him with lyrics that are modest and rueful and touching, and whose understatement makes the tune perfectly bewitching. Sinatra made just one record of "But Beautiful" with Axel Stordahl in 1947, but he sang it on TV until the Seventies:
Beautiful
To take a chance
And if you fall, you fall
And I'm thinking
I wouldn't mind at all...
Or this one, an early Dorsey recording he revived twenty years later:
Have you ever felt a gentle touch
And then a kiss
And then and then
Find it's only your Imagination again?
Oh, well...
That "and then and then" is very nice. So is the "Oh, well..." As Burke wrote, and Sinatra sang with the Hollywood String Quartet:
Hide your heart from sight
Lock your dreams at night
It Could Happen To You...
In the Forties, it happened to Burke and Van Heusen and Crosby with effortless ease: "It's Always You", "Like Someone In Love", "Polka Dots And Moonbeams"... "Comes Love" is all imagery and a strong central idea:
Comes a heatwave you can hurry to the shore
Comes a summons you can hide behind the door
Comes Love
Nothing can be done...
Burke wrote 25 film scores for Crosby and gave him six number ones. But come the booze, nothing could be done, and when Bing and Jimmy Van Heusen reckon you're drinking too much, that's the gold medal in the Bibulous Olympics. Crosby told Burke to quit boozing or else ...but he didn't, and the "or else" turned out to be Sammy Cahn. Sammy says on our podcast that, around the same time, Sinatra had determined to bring him and Van Heusen together. One day, at Frank's behest, Sammy was round at Jimmy's pad, getting to know him, kicking around some ideas. "Suddenly the doorbell rang," said Cahn, "and Johnny Burke came in. For a lyric writer that's like being caught with somebody else's wife." There was one last Burke & Van Heusen ballad, the best of all, written for a Broadway flop called Carnival In Flanders. Why would anyone write a show called Carnival In Flanders and not expect it to flop? Title-wise, it's up there with Springtime For Hitler. But among the rubble was Van Heusen's all-time favorite song, with a wonderfully tentative opening from Burke that Sinatra captured absolutely beautifully:
Maybe
I should have saved those leftover dreams
Funny
But Here's That Rainy Day...
Did Johnny Burke have leftover dreams? After a final hit - the words to Erroll Garner's tune "Misty" - the last ten years weren't so much a rainy day as one long drought, ending with his death at 55 in 1964. Meanwhile, Van Heusen and his new partner Cahn became the signature songwriters for the reborn Capitol-era Sinatra: "The Tender Trap", "All The Way", "Come Fly With Me", "Come Dance With Me"... In his book The House That George Built, Wilfrid Sheed writes that Kathryn Crosby mentions a letter Frank wrote to Bing shortly before his death, expressing concern over Jimmy's drinking. "I know," she said with a smile, "I know..." As Sheed puts it, "Any one of them could have written the note about any of the others." But by then the fourth hard-drinking musketeer, Johnny Burke, was a long time in his grave.
At his best he was up there with the very top of the top tier. Sinatra sang Johnny Burke from his very first day in the recording studio with Tommy Dorsey, February 1st 1940: a Burke/Jimmy Monaco ballad called "Too Romantic". But the Burke song that Sinatra took palpable pleasure in was that first real hit for Crosby, the title tune of a long forgotten picture from 1936. Arthur Johnston, a musical stenographer for Irving Berlin, wrote the melody, and Burke came up with a marvelously simple lyrical idea. Was it all those repeated notes in the main phrase that evoked the drip-drip-drip of the raindrops? Here was another "Rainy Day", but this time a cause for celebration:
Ev'ry time it rains it rains
Pennies From Heaven
Don't you know each cloud contains
Pennies From Heaven?
Around the turn of the century Regis sang it on "Who Wants To Be A Millionaire?", presumably because they couldn't get the rights to the Cole Porter song. But, in fact, there's something quintessentially American in finding sunshine in the rain. Who needs a silver lining when the good luck's all in the precipitation?
You'll find your fortune falling
All over town
Be sure that your umbrella
Is upside down...
Sinatra made two great recordings of the song - first, in 1956, with Nelson Riddle on the landmark Songs For Swingin' Lovers; then again, seven years later, in a Neal Hefti arrangement for Sinatra-Basie: An Historic Musical First. There's nothing wrong with Riddle's lightly swingin' chart - from the opening orchestral rainburst to Bill Miller on celeste plinky-plunking out the raindrops. But you can tell from the moment the Hefti arrangement starts that Sinatra is much more engaged by it. It's a harder swing, but Frank knows just where to place himself, from that first back-phrased "Pennies From Heaven" all the way to that joyful closing "for you and for you and for you and...", which Sinatra improvised in the studio on the third take. On the recent Sinatra-Basie Complete Studio Recordings release, you can hear one of the earlier takes, where he just sings one long "meeeeeeeeeeee!" while the band swings that three-note phrase over and over under him. Somewhere along the way Frank decided he liked the arrangement so much he was going to sing along with it - and that's how it stayed, on stage and TV, for the next three decades.
The tenor solo is by Frank Foster (later Sinatra's arranger on "After You've Gone") and the latter half of the break is a classic call-and-response between the brass and the reeds. In later years, Sinatra liked to hum along with that, too, before finally emerging from the instrumental with:
As I was saying just a minute ago...

Ev'ry time it rains it rains
Pennies From Heaven...
And, depending on his mood, when he got to your fortune falling all over time and making sure your umbrella was facing the right way, he'd either sing "up-side down" in a very Basie-esque stop-time, or he'd render it as a stage-Italian "oop-a-side-a-down". But, however he called it, he was into it.
Oddly enough, it's not Count Basie on piano but Sinatra's longtime accompanist Bill Miller. He's the guy who played that wonderful celeste on the 1956 record, and here he is in October 1962 playing a brilliantly Basie-like piano on the new version. Sinatra performed it with the Count himself at the keyboard plenty of times over the years, and on Frank's 1981 TV special the sheer joy on both men's faces alone is worth the price of admission. This is music that requires no other justification than the pure pleasure it occasions in both performers and audience. I'm sorry Johnny Burke never heard that 1980s "Pennies"; I hope he heard Sinatra and the Basie band on that 1962 recording.
Not everyone feels the same, of course. In the Seventies, the British TV playwright Dennis Potter used "Pennies From Heaven" as the title for a BBC drama set in the Thirties. Characters were wont to break into song - or, rather, into mime, mouthing along with hits of the period: "Pennies From Heaven", "Roll Along, Prairie Moon", "The Glory Of Love", usually in insipid versions by mediocre British dance bands. The idea was to contrast the illusions of the songs with grubby reality, and it proved such a goldmine for Potter he flogged the gimmick unto his death in the Nineties. Those Brit telly critics who hailed him as a genius used to refer airily to "Dennis Potter's Pennies From Heaven", a formulation which always irked me. After all, he'd never have been able to mock it in his own writing (he referred to the Tin Pan Alley songs that had so enriched him as "vomit") if Johnston and Burke hadn't written it for real in the first place. And to me that's the greater achievement. Popular song is a miniature art form but one that, at its best, reaches the heights - a penny soaring into heaven, and swinging on a star:
So when you hear it thunder
Don't run under
A tree
There'll be Pennies From Heaven
For you and
For you and
For you and...

Meeeeee!
~For an alternative Sinatra Hot 100, the Pundette has launched her own Frank countdown. She also favors the Sinatra/Basie version of "Pennies From Heaven", at Number 94. Bob Belvedere over at The Camp Of The Saints is also counting down his Top 100 Sinatra tracks, and he likes Count 'n' the "Pennies" even more: it's his hit sound 45. Meanwhile, the Evil Blogger Lady offers a birthday salute to Nelson Riddle.
~There's more Sinatra songs in Mark Steyn's American Songbook, and Steyn's original 1998 obituary of Sinatra, "The Voice", appears in the anthology Mark Steyn From Head To Toe. Personally autographed copies of both books are exclusively available from the Steyn store.
SINATRA CENTURY
at SteynOnline
6) THE ONE I LOVE (BELONGS TO SOMEBODY ELSE)
8) STARDUST
10) WHAT IS THIS THING CALLED LOVE?
11) CHICAGO
12) THE CONTINENTAL
13) ALL OF ME
15) NIGHT AND DAY
16) I WON'T DANCE
17) I'VE GOT YOU UNDER MY SKIN
19) EAST OF THE SUN (AND WEST OF THE MOON)
21) A FOGGY DAY (IN LONDON TOWN)
24) OUR LOVE
27) FOOLS RUSH IN
32) I'LL BE AROUND