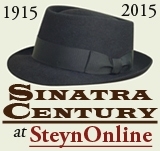 Seventy-one years ago this Monday, June 8th, a cute little four-year-old girl was having a birthday party, and a couple of pals of her dad decided to present her with a very special gift - a song:
If I don't see her each day I miss her
Gee, what a thrill each time I kiss her
Believe me I've got a case
On Nancy with the laughing face...
We've discussed previously how Frank Sinatra did things no singer had done before: He was the first to found his own record company, and the first to own his own masters - which is one reason the anthologies released in this centenary year are so well put together. But he did things differently in all kinds of other ways, too. And thus he was the first pop idol to have a hit with a song about his daughter.
Like most vocalists, Sinatra sang "name" songs: "Adelaide","Dolores" and "Once In Love With Amy" (all by Frank Loesser), "Charmaine" from the Twenties, "Elizabeth" from his concept album with the Four Seasons guys, the haunting "Laura", the "Laura"-like "Sheila", the Gallic temptress "Monique", "Emily", "Lily Belle", "Sweet Lorraine", "Sweet Caroline", "Stella By Starlight", and, of course, "My Cousin Louella". But this one was special to him:
She takes the winter and makes it summer
Summer could take some lessons from her
Picture a tomboy in lace
That's Nancy with the laughing face
It was born just a few weeks before little Nancy's fourth birthday party. I mentioned a few days ago that Sinatra's arranger Axel Stordahl and lyricist Sammy Cahn had met one summer in the early Thirties in the Catskills. That same season they became pals with an aspiring comic called Phil Silvers (pre-Sergeant Bilko, and so long ago he still had hair). Not long after, they got to know Jimmy Van Heusen, who was the rehearsal pianist at Remick Music and also tinkling the ivories at Polly Adler's whorehouse. Van Heusen started writing songs with Johnny Burke, and pretty soon there was a tight little group of chums hanging out together in Hollywood. One afternoon in the spring of '44, a few of them were round at Burke's pad, and Phil Silvers was telling jokes, and one of them brought on a fit of the giggles in Burke's wife Bessie. And Silvers said she was "Bessie with the laughing face."
Something about the phrase resonated with Van Heusen, and he thought it might make a good song title. But Burke wasn't interested. He'd decided to take a day off from writing, and was resolved to stick to it. And so, in the absence of any other lyricist, Van Heusen asked Phil Silvers if he'd like to take a crack at it. And that's how a then minor movie comic wound up writing a song with a very great popular composer.
And somewhere along the way "Bessie with the laughing face" became "Nancy with the laughing face" - for a pal's daughter's birthday just a few weeks later:
Did you ever hear mission bells ringing?
Well, she'll give you the very same glow
When she speaks you would think it was singing
Just hear her say hello...
Whatever happened to "mission bells"? They seem to have dropped right out of the lyricist's lexicon. But you could do a couple of CDs of The Mission Bells Songbook - "Vaya Con Dios" ("Now the village mission bells are softly ringing"), "Ramona" ("I hear the mission bells above"), "When The Swallows Come Back To Capistrano" ("All the mission bells will ring") - and at least an EP from Frank's own ring-a-ding-dingin' set of mission bells - "Nancy", "South of the Border" ("The mission bells told me") and not forgetting "Serenade of the Bells".
Van Heusen's tune for "Nancy" is very tender with a lovely opening phrase starting at the top of the range that gives the melody the air of a thought that's just occurred to you:
If I don't see her each day I miss her
Gee, what a thrill each time I kiss her...
Most name songs don't really flesh out their eponymous subject matter much beyond the rhyme: "Rosie (You are my posy)", "Ida (Sweet as apple cider)", "My three o'clock thrill/Is a girl named Jill", etc. But "Nancy" seems to be written with a real person in mind. Yes, yes, there's some songwritery stuff in there: "Picture a tomboy in lace..." The tomboy's only in "lace", as opposed to calico or taffeta, because it rhymes with "face". But still I'm rather glad Johnny Burke took the day off, because I don't think a professional writer would have written it the way Phil Silvers did:
She takes the winter and makes it summer
Summer could take some lessons from her...
"Summer"/"from 'er"? I once had an argument with Gene Lees (lyricist of "Quiet Night Of Quiet Stars" and other Sinatra bossa novas) over that couplet, Lees insisting it was a false rhyme that disfigured the song and me objecting that it was a somewhat ungainly rhyme, especially for Van Heusen's almost Kern-like melody, but it was not, technically, false. Lees said Shakespeare had used the same rhyme, although where I can't recall. But that was an ancient dispute, and these days I'm not sure I'd even say it was "ungainly". It's precisely because Johnny Burke would have eschewed such a rhyme that Silvers' couplet is so distinctive and particular. So's this one:
Keep Betty Grable, Lamour and Turner
She makes my heart a charcoal burner...
Are there any other "charcoal burners" in the song catalogue? They're certainly rarer than mission bells. This colloquialism is nice, too:
Believe me I've got a case
On Nancy with the laughing face...
What little Nancy Sinatra, named for her mom, made of her fourth-birthday present posterity does not record. At that age, she might have preferred "Incey Wincey Spider". But her father loved it, and sang it on his radio show just ahead of Father's Day a couple of weeks later. The following month he recorded two versions of the song for V-disc, the special records made only for the troops overseas. Usually these were rehearsal takes from Sinatra's radio shows, but in this case a studio was booked for what would be Frank's only original recording for the V-Disc series. At the end of the year, he made a record for Columbia, which the company liked so much they sat on it for half-a-century - until 1993. And, as Phil Silvers remembered it, that was that: one radio performance, a V-disc, and a nothingburger that Sinatra's record label stuck in the vault.
In June 1945, the USO sent Frank on a European tour for all those GIs who'd just liberated a continent. And, that being so, the singer thought they ought to have a say in the programme. So he asked for requests and, as Phil Silvers recalled, "the first scream from 2,000 men was for 'Nancy (with the laughing face)'". They knew the song from the V-disc, and, like "White Christmas", it had been enlarged by the times: Frank's ode to his little girl made hundreds of thousands of US soldiers think of their own daughters far away - maybe not Nancys, but Bettys and Marys and Janes and Joans. For their fathers, Phil Silvers' first line - "If I don't see her each day I miss her" - brought a real jolt of pain. "Nancy" remains the only standard song introduced to the world by V-disc, beloved by America's men in uniform before most of the planet had even heard it.
Sinatra went back to America and recorded the "Nancy" that's played to this day. It's one of Axel Stordahl's best arrangements, albeit rather faster than on the V-disc version the guys out in France and Germany had fallen in love with. Stordahl starts his chart with a four-note seesaw for the strings that grows into an intro that adds a whole other layer of wistfulness and tenderness to Van Heusen's tune. It's Stordahl's string writing at its best: violins on the major notes, violas and 'cellos underneath on the minor ones. The eight-bar passage is deservedly reprised at the close of the record, as if the entire scenario is returning to a warm domestic contentment. In between it's Sinatra at his most expressive - the way he lingers on the "Gee" of "Gee, what a thrill.." - over an arrangement that, with the exception of some plucking strings mimicking those mission bells, seems to waft on a kind of placid romantic glow.
Just before Christmas of 1945 it made the Top Ten. But it was a bigger and more enduring song than its chart ranking might suggest. "Whenever I announce that I'm going to do 'Nancy,'" said Sinatra, "there's a kind of a deep breath from the audience." For the first few years audiences assumed he'd written the number himself, so heartfelt were his performances. "So I had to explain to them that it was Jimmy Van Heusen, and when I mentioned Phil Silvers, everybody giggled."
He kept singing it, even as the passing years imposed various lyric rewrites. Eight years after his firstborn's birth, Nancy got a sister, which caused a few problems for this couplet:
I swear to goodness you can't resist her
Sorry for you she has no sister...
- which Sinatra would amend to "Wait'll you meet Tina, her sister" or some such. The line had always been in danger of being eclipsed by events. On one of those two original V-disc versions, Frank sings: "Give me some time and she'll have a sister."
And as the Forties turned to the Fifties, Betty Grable, Dorothy Lamour and Lana Turner were no longer the last word in screen sirens. By the time he remade the song, for Sinatra's Sinatra in 1963, it was:
Keep Audrey Hepburn, and keep Liz Taylor
Nancy's the feature - they're just the trailer...
But I kinda miss that charcoal burner. The 1963 version is perfectly respectable, but Nelson Riddle's full orchestral forces sound a little overblown to me, and I miss the delicate intimacy of Stordahl's chart under the 1945 Sinatra's voice - a young man full of wonder at the miracle of fatherhood.
There would be one more studio "Nancy" - again with Riddle, in 1977, for an album of name songs - "Linda", "Sweet Lorraine" - aborted perhaps because en masse they all come out a bit the same. Something of the same problem attends the song Frank commissioned in honor of his second daughter (as far as I know, Frank Jr remains songless). "Tina" was written by Jimmy Van Heusen, but this time with a lyric by Sammy Cahn:
You simply can't forget her
The moment you have met her
Your heart will never ever be the same
Tina, Tina
Nobody else but Tina
That's the little lady's name...
Unlike Phil Silvers, with his summer from 'er and his charcoal burners, Sammy wrote a perfectly professional lyric - bland and generic and forgettable. And then there was "Barbara", commissioned for that abandoned Here's to the Ladies project in honor of Frank's last wife. Van Heusen dutifully did as asked, and this time the lyric fell to Mack David, brother of Hal, whose history with Sinatra goes all the way back to August 1939, when he was at the Roseland Ballroom with the Harry James band and sang David's "Moon Love". I love "Moon Love". But, as for "Barbara", let me cite Tina Sinatra's assessment: "a treacly ballad, soon mercifully interred." Not soon enough.
So that's Jimmy Van Heusen's contribution to the Sinatra family songbook: two daughters and a stepmom. As for Phil Silvers, if he ever felt moved to write another song, I've never heard it. He went on to Bilko and Broadway and guest shots on "Happy Days" and "CHiPS". But Tony Bennett and Ray Charles and Cannonball Adderley and John Coltrane have ensured that "Nancy" isn't "just" a Sinatra song - and, indeed, in a memorable "Sopranos" episode it was, for Paulie Gualtieri hearing the number just out of jail, "my song". And for one First Lady of the United States, serenaded by Frank at a presidential inaugural, it was, for one night only, "Nancy with the Reagan face".
I'm not a regular viewer of Nick at Nite or TV Land or the other rerun channels, but I noticed a few years back that when I'm in some hotel room surfing the dial that you don't seem to see Bilko anymore. Sammy Cahn told me years ago that Jimmy Van Heusen gave his royalties for the song to Nancy herself in perpetuity (no idea whether that's true or not), but I wouldn't be surprised if these days the biggest source of income to the Silvers estate is his share of his one hit. Not bad for half-an-hour's work one afternoon in 1944. Whatever Gene Lees might say, professional lyricists could take some lessons from 'im:
I swear to goodness you can't resist her
Sorry for you she has no sister
No angel could replace
Nancy with the laughing face.
~For an alternative Sinatra Hot 100, the Pundette has launched her own Frank countdown. There's no Phil Silvers on the list, but losts of Jimmy Van Heusen, including at Number 76 "Come Dance With Me" and immediately after, at Number 75, "I Thought About You". Bob Belvedere over at The Camp Of The Saints is also counting down his Top 100 Sinatra tracks, and he has "Come Dance With Me"'s companion piece, "Come Fly With Me", at hit sound #62. The Evil Blogger Lady has a Sinatra/Riddle classic, "Ebb Tide", co-written by Carl Sigman, a songwriter to whom Mark is especially partial.
~There's lots more Jule Styne, and Sammy Cahn, and Frank Sinatra in the Styne and Sinatra sections of Mark Steyn's American Songbook, while Steyn's original 1998 obituary of Sinatra, "The Voice", can be found in the anthology Mark Steyn From Head To Toe. Personally autographed copies of both books are exclusively available from the Steyn store. And Sinatra sings Styne & Cahn galore in Mark's special two-part Sammy Cahn centenary podcast.
SINATRA CENTURY
at SteynOnline
6) THE ONE I LOVE (BELONGS TO SOMEBODY ELSE)
8) STARDUST
10) WHAT IS THIS THING CALLED LOVE?
11) CHICAGO
12) THE CONTINENTAL
13) ALL OF ME
15) NIGHT AND DAY
16) I WON'T DANCE
17) I'VE GOT YOU UNDER MY SKIN
19) EAST OF THE SUN (AND WEST OF THE MOON)
21) A FOGGY DAY (IN LONDON TOWN)
24) OUR LOVE
27) FOOLS RUSH IN
32) I'LL BE AROUND