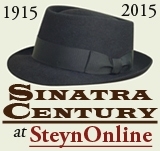 As a companion piece to Friday's "Nancy (with the Laughing Face)", here's a Frank-and-Nancy moment from a couple of decades later, when Sinatra was wrapping up a bossa nova album with Antonio Carlos Jobim, a lovely set and one of his most unexpected and most satisfying records.
But man cannot live on bossa alone. And at the end of the session on February 1st 1967 Jobim and Sinatra's rhythm section stepped out of the studio and Frank's daughter Nancy and her rhythm section stepped in, and they prepared to make a single. The engineers set up two mikes side by side and Sinatra père et fille sang:
I know I stand in line until you think you have the time to spend an evening with me
And if we go someplace to dance I know that there's a chance you won't be leaving with me
Then afterwards we drop into a quiet little place and have a drink or two
And then I go and spoil it all by saying Somethin' Stupid like "I love you"...
A few weeks later it was Number One in the United States and Number One in the United Kingdom and, as its composer liked to say, "every other country in the world that had electricity or radios". Which is an exaggeration, but a slight one.
It was an unusual hit in its day and it has retained a strange cachet over the decades. Some years ago, back when radio stations were giving up on being programmed by human beings and switching over to computerized formatting, an old pal of mine in Britain wired up a bunch of folks to a CD player to determine scientifically the music his station ought to be playing to maximize profits. The rock fans hated the rap, and the rap fans hated the country, and so on. But an astonishing percentage responded warmly to "Somethin' Stupid". And even the ones who didn't warm to it were never more antipathetic than "Didn't mind it".
Which left my friend with a bit of a problem – because, if this was the kind of record the least number of people objected to, where was he going to find any more like it? It exists in a weird niche all its own. I once heard the disc-jockey Jonathan Schwartz play the Frank & Nancy single and remark afterwards that he didn't know any other versions of the song. In fact, there are hundreds of vocalists who've tackled it, from Marvin Gaye and Tammi Terrell to Trisha Yearwood and the Mavericks to Andy Williams and ...nobody: he did it solo. There's even been a successful father/daughter remake: Ali Campbell of UB40 and his daughter Kibibi charted with it in 1995. But it's striking that the only version to approach the success of the original was an all but karaoke singalong to the Sinatra arrangement by Robbie Williams and Nicole Kidman. It was Britain's Christmas Number One 35 years after Frank and Nancy, and thus made "Stupid" the only song to hit the top in two different records of the same arrangement a third of a century apart. In that sense, you can't really call "Somethin' Stupid" a standard, because it's almost as if there's only one way to do it.
Where did it come from? How did it happen? It began in Philadelphia in 1936 with the birth of Clarence Carson Parks II. His father was ...Clarence Carson Parks I? No, actually. Richard Hill Parks III, a psychiatrist who liked to play the clarinet and had his own band in med school - Dick Parks and his White Swan Serenaders. He was later the US Army's chief psychiatric officer at Dachau.
His son Carson grew up and became one of those fellows who does well enough in the music biz to make a living but never quite well enough to hit the big time. Coming out of college, he figured the Kingston Trio were hot and decided to do likewise with a buddy called Bernie Armstrong. That didn't really add up to a trio, so they called themselves the Steeltown Two. Then they ran into Terry Gilkyson, a quirky songwriter who'd composed "Memories Are Made Of This" for Dino and would later top that with "The Bear Necessities" for The Jungle Book. But in between he had a group called the Easy Riders. After meeting Carson Parks, he folded the Steeltown Two into the Riders, and they sang on the soundtrack of John Wayne's movie The Alamo. Then Carson reformed the Steeltown Two with his brother, Van Dyke Parks. Then he spotted the success of the New Christy Minstrels and started his own variation thereof: the Greenwood County Singers. And then he noticed that every genre of music had a successful boy/girl duo – Steve and Eydie, Sonny and Cher – except the folkie field. So he and a gal from the Greenwoods called Gaile Foote (also Mrs Carson Parks) launched themselves as Carson and Gaile, and looked around for three or four songs to do for a demo.
And that's when Carson Parks hit on a really great idea. He realized that the big money isn't in singing songs but in writing them. And so he decided to write a handful for him and Gaile. At this point his brother, Van Dyke Parks, was heading in the same direction, writing lyrics with Brian Wilson for the Beach Boys' Smile project and eventually winding up as the singer-songwriters' singer-songwriter, the one everyone from Randy Newman to Fiona Apple digs big-time. His brother Carson, on the other hand, turned to songwriting just to make a little dough. And he did, thanks to a song that started out with a punchline: "Then I go and spoil it all by saying somethin' stupid like 'I love you'."
That's all he had, but it was enough. "After that," said Parks, "all I had to do with the lyrics was to get this guy into a position when as soon as it gets all hot and heavy with a girl he can't think of anything more original to say than all the other geeks." It's a terrific idea for a song – not just some silly pop hook but a great premise, a solid situation. So, as Cole Porter did, he started with the big finish and wrote up to it:
I know I stand in line until you think you have the time to spend an evening with me...
It's a shame he muffs the rhyme with as stale an impurity as "line/time", but otherwise it's very nicely done. The tune's as simple as can be - four-quaver repeated notes climbing up the scale - but it's effective and appealing, with long flowing even lines that glide over the internal rhymes:
And if we go someplace to dance I know that there's a chance you won't be leaving with me...
And at the end of each of those long lines the guitar does a little echoey fill, and the ascent up the scale gives the words a kind of narrative tension. And whaddayaknow? Carson Parks is already halfway to the punchline and ready to bring it on home:
Then afterwards we drop into a quiet little place and have a drink or two
And then I go and spoil it all by saying something stupid like "I love you"...
The middle section is very deft, right down to the triple rhyme:
I can see it in your eyes that you despise the same old lines you heard the night before
And though it's just a line to you for me it's true and never seemed so right before...
But the bit I especially like is in the final section where the melodic line climbs and the romantic intoxication of the lyric gets palpably headier:
The time is right, your perfume fills my head, the stars get red, and oh the night's so blue...
Very nice. So Carson and Gaile recorded it, and at that point his manager, Wally Brady, remembered that one of Frank Sinatra's favorite put-downs was "stoopid" (in Noo Joizyese) and thought: Hey, what if we could get the song to Frank?
Everybody has that thought at some point or other. There was a "Frasier" episode back in the Nineties where his dad writes a song for Sinatra:
You're such a groovy lady
You make my heart go hi-de-hay-dee...
Dad had to make do with Frasier and Niles singing it, but Wally Brady succeeded: he got the song to Frank. He called in a favor to Mo Ostin, who ran Reprise Records for Sinatra. Mo didn't care for the song but Frank liked it. "It's a dog," said Ostin. "Well, I'm going to do it," said the Chairman. "It'll be great for me and Nancy."
Frank knew exactly how he wanted to do it, too. "Get me the guitarist on this cassette," he said to Ostin, "and we'll add strings." Which is pretty much what happened. They got James Burton from the Carson & Gaile demo, kept it in the same key and added a Billy Strange string arrangement. Nancy's producer was Lee Hazlewood, and Frank's producer, for his pop-oriented stuff, was Jimmy Bowen, so they booked both of them to co-produce, and at 10.30 at night the bossa boys departed, and Bowen, Hazlewood & Co moved in. "I just knew this song would work," Nancy Sinatra told her radio colleague Chuck Granata many years later. "I can't say exactly why you know something will be a hit, but when you hear it you just know." She's had that feeling just twice over the years - with "These Boots Are Made For Walking", and "Somethin' Stupid".
In the studio, while they were waiting to do the second take, Frank asked for the guitars to run through the jangly intro again: "I love those guitars!" said Nancy. "Pretty sound," agreed Frank. "That's the whole trick of the record." Not quite. If you listen to Carson and Gaile, with just the guitar it's not quite buoyant enough. But make the guitar parts a little fancier and float them on a cushion of strings and you're on to something. The Sinatras made other changes, too. On "quiet little place and have a drink or two", Carson and Gaile sing "drink or two" as a triplet and it sounds oddly hurried, like last orders. Frank and Nancy take their time, making "drink' a crotchet.
On the first take, Frank was clowning around. "Daddy got silly," said Nancy, "sounding his S's like Daffy Duck, which made me laugh." He was sensitive to consonants and not well disposed toward this particular one. In a contender for World"s Shortest Conversation, I once asked him about an obscure Jule Styne song I thought he should record and he shrugged, "Too many S's in it", and turned away. In this case, the fact that he was coming off the Antonio Carlos Jobim session helped. The Claus Ogerman arrangements for him and Jobim were among the most lightly shimmering in his catalogue. "I haven't sung so soft since I had the laryngitis," said Sinatra. Had Frank just finished a session of "Fly Me To The Moon" and "New York, New York", he'd have bit into Carson Parks' song and "ate it up and spit it out". But having Jobim and the bossa boys as the warm-up act helped put him in the mood. The Frankologist Will Friedwald calls the track "almost charming in a savorless way" with the two Sinatras "chanting away in bland folkish harmony".
That's a wee bit condescending. When the sniggering naysayers tittered about a father and daughter singing a love song to each other, they were missing the point: it's not that kind of duet. It's not like Frank singing "So In Love" with and to Keely Smith, trading lines explicitly addressed to one another. It's more like parallel soliloquies. And, if that sounds like over-thinking the psychology of the situation, the real model for "Somethin' Stupid" is what Friedwald would call the "bland folkish harmony" of stuff like Peter, Paul and Mary's "Leavin' On A Jet Plane", which nobody thinks is about a busted-up threesome: in other words, they're just singing a song.
Whatever. Mo Ostin still didn't like it, so Frank bet him two bucks it would make the Top Ten. It entered the charts in March, got to Number One and went gold in April. Ostin gave Sinatra a framed two-dollar bill with the inscription "You were right". Nancy still has it hanging on the wall.
As for Carson Parks, he could have used that two bucks in February 1967. By April, his bank balance was $19 plus change. Wally Brady came over to the house to break the news that Frank and Nancy had just hit Number One, and Parks asked his manager how much money he thought he'd make from the song. Brady did some rough math, scribbled a number on a piece of paper and slid it across the table. Parks gasped. Then he got Wally to loan him $500.
Mo Ostin thought the Sinatras ought to do a sequel. "You mean," said Frank, 'Somethin' Even More Stupid'?" He and Nancy did a couple of other songs, "Feelin' Kinda Sunday" and "Life's A Trippy Thing", which in their fey faux-folkish goofiness almost live up to Frank's challenge. But, unless you count "Cab Driver" for the Mills Brothers (and I'm not sure I would), Parks never wrote another enduring hit, and never needed to. He put his kids through college on the song, and sat back and watched as Sacha Distel adapted it into the Euro-smash "Ces mots stupides", and it turned up on "The Simpsons", and two actors from Britain's blockbuster soap "Coronation Street" recorded it, and on and on and on, until Robbie Williams and Nicole Kidman made 2002 an especially sweet year for Parks' royalty checks. He died in 2005, a rare example of a one-hit writer whose one hit has proved amazingly potent. As Ira Gershwin liked to say:
A title
Is vital
Once you've it
Prove it.
Carson Parks did. Great punchline, great premise, great title, and he didn't spoil it all:
The time is right, your perfume fills my head, the stars get red, and oh the night's so blue
And then I go and spoil it all by saying Somethin' Stupid like "I love you".
~For an alternative Sinatra Hot 100, the Pundette has launched her own Frank countdown. She's up to Number 56, Nelson Riddle's swingin' take on Irving Berlin's "Always". Bob Belvedere over at The Camp Of The Saints is also counting down his Top 100 Sinatra tracks, and, somewhat amazingly, he has Frank's version of Dame Vera's wartime classic "We'll Meet Again" way up in the Top 40 at hit sound 39. To my ears, Sinatra can't wrap his head around the song's stoic stiff-upper-lipped sexlessness at all, but each to his own: As I said way back at the beginning of the year, we could all do Sinatra Hot 100s and come up with a hundred entirely different songs. Incidentally, the pianist for my own delightful duet partner, Miss Jessica Martin, is the grandson of the composer of "We'll Meet Again", Hughie Charles. Small world.
Also: Fausta at Da Tech Guy has one of the great moments of music television, an "exquisitely civilizing" medley from Sinatra and Antonio Carlos Jobim. And there's more Nancy over at the Evil Blogger Lady.
~You can find the stories behind many more Sinatra songs in Mark Steyn's American Songbook, while Steyn's original 1998 obituary of Frank, "The Voice", can be found in the anthology Mark Steyn From Head To Toe. Personally autographed copies of both books are exclusively available from the Steyn store.
SINATRA CENTURY
at SteynOnline
6) THE ONE I LOVE (BELONGS TO SOMEBODY ELSE)
8) STARDUST
10) WHAT IS THIS THING CALLED LOVE?
11) CHICAGO
12) THE CONTINENTAL
13) ALL OF ME
15) NIGHT AND DAY
16) I WON'T DANCE
17) I'VE GOT YOU UNDER MY SKIN
19) EAST OF THE SUN (AND WEST OF THE MOON)
21) A FOGGY DAY (IN LONDON TOWN)
24) OUR LOVE
27) FOOLS RUSH IN
32) I'LL BE AROUND
36) GUESS I'LL HANG MY TEARS OUT TO DRY