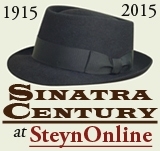 One Sunday in the summer of 1954 Alec Wilder, a composer of serious concert music, went with a couple of friends to a bar in Toms River on the New Jersey shore. He had some loose change in his pocket, so he went to the jukebox and dropped a nickel on the new Sinatra single. The machine extracted the 45, lowered it to the turntable, and dropped the needle. A big brassy vamp filled the barroom, reprised by the rest of the orchestra, and at a brisk clip. And then Frank:
The night is bitter
The stars have lost their glitter
The winds grow colder
And suddenly you're older
And all because of
The Gal That Got Away...
Wilder was a longhair from the conservatory and a friend of Sinatra's, who called him "The Professor". Frank had recorded a few of the Prof's pop songs, including "I'll Be Around", and had even conducted an album of Wilder's chamber music. And Alec in turn liked Frank's records, although rarely as much as he liked this new single. When the record ended, he went back to the jukebox with another nickel, and played it again, and again, and again, all day long. No one seemed to mind. "The customers and the bartender were either deaf or compassionate," said Wilder. "Surely they couldn't have loved it for as long as I and my friends did!"
Probably not. It wasn't that big a hit in that long-ago summer - just Number 21 on the hit parade - and he made a lot of great singles in that period, songs that weren't anything to do with the magnificent concept albums of the Capitol era but were just self-contained three-minute one-offs, most of which he promptly forgot about. This one stuck around, though, and re-emerged in epic form in the very late autumn of his years. In that bar in Toms River, Wilder wasn't nursing the blues, carrying a torch, crying into his beer. It's doubtful he ever enjoyed a sustained, intimate, romantic relationship in his entire life. He loved the record on purely musical grounds - Sinatra's vocal, Nelson Riddle's arrangement, Harold Arlen's use of the fourth interval. But it was Sinatra's saloon-song persona played out for real that Sunday. Set 'em up, Joe, it's quarter to three, make it one for my baby, all played for real on the Jersey shore:
No more her eager call
The writing's on the wall
The dreams you dreamed have all
Gone astray...
It came from a movie not yet released, called A Star Is Born. But the song was born a decade and a half earlier. Harold Arlen was working with Johnny Mercer on the film Blues In The Night, for which they wrote the song "Blues In The Night", which would be enough for mere mortals. But Arlen cooked up another pretty good tune and Mercer put words to it:
I've seen Sequoia
It's really very pretty
The art of Goya
And Rockefeller City
But since I saw you
I Can't Believe My Eyes...
And that killed the tune stone dead. It was cute-ish, after a fashion:
You've got that ooh-la-la
That old je ne sais quoi
I feel like shoutin 'Ma!
Just my size!'
Arlen and Mercer were at the beginning of a pretty good run through the Forties: "One For My Baby", "My Shining Hour", "That Old Black Magic", "Come Rain Or Come Shine", just to name their contributions to the Sinatra repertoire. But this time Mercer blew it: "I Can't Believe My Eyes" is a shallow lyric that doesn't say what the music says. Arlen alluded to it decades later, while careful to avoid mentioning the culprit by name:
I wrote a song with a pretty goddam wonderful lyric-writer. He brought me a lyric that didn't have any strength. Sometimes a lyric depletes a melody, just as a poor melody can deplete a good lyric.
"I Can't Believe My Eyes" never made it into the picture. Twelve years on, Arlen and Ira Gershwin had agreed to write the songs for a musical remake of the old Janet Gaynor/Fredric March film A Star Is Born. It would be remade yet again as a rock(-ish) musical in the Seventies, with Barbra Streisand and Kris Kristofferson - but the less said about that the better (although Sinatra did attempt a record of its big hit song "Evergreen"). The 1954 version was supposed to be Judy Garland's "comeback": she'd not made a film since MGM had canceled her contract four years earlier. Her new man, Sid Luft, was producing it at Warner Brothers. He'd hired the distinguished playwright Moss Hart for the script and the great George Cukor to direct, and Cukor wanted Cary Grant to star in the role of Judy Garland's mentor and husband, whose own star is eclipsed as Judy's rise. But Grant turned it down because (according to Cukor) "Judy Garland was a drug addict". The director then proposed Humphrey Bogart and Frank Sinatra, but Jack Warner nixed both. So James Mason was hired (and our old friend Kit Carson's uncle Jack for the third-billed role).
So Harold Arlen went round to Ira Gershwin's pad to work on the score. The house was at 1021 North Roxbury, next to what had once been the home of Ira's late brother George. (Rosemary Clooney subsequently lived there). Ira's secretary Lawrence Stewart sets the scene:
Harold Arlen arrives about two-thirty in the afternoon with his old tan briefcase under his arm... Gershwin moves to a cat-clawed green armchair nearer the piano, where he sits with Calliope, the Siamese, on his lap and pets her abstractedly as he smokes a cigar. He puts his glasses upon his forehead, leans back and closes his eyes, as he moves his hands in tempo with the music.
They wrote a couple of numbers, and then they turned to what Moss Hart called "the dive song" - because that's where it was going to be sung: in some basement nightclub after hours, with a just a small jazz combo. This was the score's designated Big Song and, as it was Judy's comeback picture, the Big song had to be Big!!! It had to land. Arlen noodled around on the keyboard and then started to play something.
And from the kitchen or the hall or some such Ira's wife Leonore called out:
Sounds like Gershwin to me!
I suppose she meant well, although with Lee Gershwin it wasn't always easy to tell. But Arlen froze. This was George Gershwin's old piano he was playing. George had died, not yet 40, in 1937, and a big part of Ira Gershwin the lyricist had died with him. Ira wrote very occasionally after that, usually when some good friend - Arlen, Jerome Kern, Kurt Weill, Burton Lane - twisted his arm and dragged him into it. But Arlen in particular felt the ghost of George. And here he was in the house next door to George Gershwin's, with George Gershwin's brother, playing George Gershwin's piano, and being told by George Gershwin's sister-in-law he was writing a pretty good imitation of a George Gershwin tune. Not an Arlen tune, but a Gershwin tune. I like a Gershwin tune - how about you, Harold?
So he immediately abandoned his "sounds like Gershwin" composition and, for want of anything better, segued into that old trunk melody Johnny Mercer had wrecked twelve years earlier. As Lawrence Stewart put it, "When Ira heard this music he was instantly on the alert."
"Play it again," he instructed Arlen. The composer did and Ira Gershwin sat back, eyes closed.
At the end, he leaned forward and whispered to the man at the piano: "'The Man That Got Away'."
"I like," replied Harold.
Ira attached great importance to titles and usually had great difficulty finding them, so this one came surprisingly easy. If you're about to object "Shouldn't it be 'The Man Who Got Away'?", well, no. Ira was thinking of the fisherman's traditional plaint: "You should have seen the one that got away." You had him, just for a while, but you couldn't quite reel him in. As I write in my book A Song For The Season (personally autographed copies of which are exclusively available right here), Ira preferred what he called "the left-field or circuitous approach to the subject preponderant in Songdom" -ie, love songs:
Required to approach said preponderant subject less circuitously, the lyricist fell back on the lamest of lame clichés. 'There have,' wrote Wilfrid Sheed, 'seldom been dumber words to anything than those of the young Ira Gershwin's "Lady Be Good" and "The Man I Love".' Very true:
Someday he'll come along
The Man I Love
And he'll be big and strong
The Man I Love...
We'll build a little home
Just made for two
From which I'll never roam
Who would? Would you?

That's it? How could anyone do that to that music? Who would? Would you? But Ira, unlike Cole Porter, eschewed passion, no matter what George had going on in the music.
The fishing origins of the title suggest that Ira has latched on to yet another twee, amusingly literate angle on "the subject preponderant" - like "They All Laughed" or "Let's Call The Whole Thing Off" - that will allow him to do the usual "circuitous" avoidance of having to say "I love you". Instead, in this, the last great lyric of a 35-year career, Ira finally tackles "the subject preponderant" head on, and with real feeling:
The night is bitter
The stars have lost their glitter
The winds grow colder
And suddenly you're older...
It took hours for those lines to emerge that day round the piano with Harold Arlen. Ira was always a slow writer. Stalled on "Embraceable You", he once holed up in a New York hotel room to emerge triumphantly 48 hours later with "Come to poppa, come to poppa, do" - which I don't think is worth the minibar tab, never mind the NYC room-occupancy tax, bellboy's tips, and all the rest. Like the proverbial angler, Ira had a hard time reeling this one in. He'd correctly figured that the main theme sounds better with the rhyme scheme AABB than Johnny Mercer's AABA:
I've seen the table
That held the Declaration
And Betty Grable
In my imagination...
Bitter/glitter and colder/older serves the tune much better. But Ira had a hard time getting there. Originally he started out with:
There's just no sleeping
Your eyes are red with weeping
Though you know better
You're waiting for that letter...
Which is like the torch-song version of "The Man I Love"'s vapidities. But he pushed on."Good riddance, goodbye", for the first five notes of the release, took half-a-day to come up with. And there were a lot of notes to fill: "Arlen is no 32-bar man," observed Ira in his book Lyrics On Several Occasions, and it's true. "The Man I Love" is 62 bars. It's not a blues in the twelve-bar "Well, I woke up this morning" sense, but it's blues-infused, and it obliged Ira Gershwin to write with a rare emotional directness:
The road gets rougher
It's lonelier and tougher
With hope you burn up
Tomorrow he may turn up
There's just no let-up
The live-long night and day...
When they'd finished, they knew they had something special. At which point Arlen announced he was going to Palm Springs for the weekend. Ira Gershwin didn't like the sound of that: for one reason or another, he wanted to keep the song under his hat for a while, and he knew Judy Garland, Sid Luft and Moss Hart were all in Palm Springs, and Arlen was almost bound to run into one or all of them. So Ira made Harold swear not to breathe a word about the song.
Saturday morning in Palm Springs, and Arlen heads to the Tamarisk Country Club and the first people he sees, just about to tee off, are Sid and Judy. And so Harold joins the Lufts and a hole or two later, just as Sid's putting, Harold finds himself whistling a phrase from "The Man That Got Away". Some 20 yards away, Judy has an odd feeling: she recognizes that she doesn't recognize whatever it is he's whistling. So she asks, "What is that, Harold?"
"Oh, it's nothing," he says.
But a hole or two further on he finds himself whistling another phrase from the song, and Judy, by now suspicious, demands: "What are you whistling, Harold? Is that for A Star Is Born?"
He murmurs no, no, nothing could be further from his mind. But on the 18th hole he whistles it again, and Sid Luft lobs his ball 320 yards into the sand trap, and, while he's digging it out, Judy drags Harold back to the clubhouse, sits him down at the piano, and forces him to play that damn tune he's been whistling all day. And so he does. And she's delighted. And, when Sid gets out of the sandpit, she calls him in to hear it. And he loves it. And Sid wants Moss Hart to hear it, so they all go round to Frank Sinatra's place, where Moss Hart and my old chum Kitty Carlisle are staying (Kitty and I used to introduce the "Lost Musicals" at the Barbican in London a zillion years ago). And there they run into a slight hiccup, because, somewhat remarkably, there's no piano at the Sinatra compound. But next door is the old Jolson pad, where Joley's widow Erle now lives with the screenwriter Norman Krasna, who'd just finished White Christmas. So off they go and Arlen plays it again, and the Lufts love it, and the Harts love it, and the Krasnas love it, and pretty soon half of Palm Springs has heard it, and "The Man That Got Away" has become the song that got away - from Ira Gershwin. And, while Arlen is still wondering how he's going to explain all this to his writing partner, Moss Hart wanders back to the Sinatra house and calls Ira to rave that the new song is going gangbusters "out of town".
On the set George Cukor shot the number in one take, and it's a very different feel from the way musical films of the day inflated even intimate numbers. It's a smokey poky joint after closing, chairs upturned on tables. But the musicians are still around, and Garland, enjoined by the pianist to "Take it, honey, C'mon...", rises from the bench and starts to sing, moving among the players.
For his part, Cukor, always felt that she sang it "too loud", but, given that her husband was the producer, he couldn't figure out a way to tell her that. As he complained to Hugh Martin, "Can't you do anything to stop her yelling it?" If you've heard part two of our tribute to him, you'll know that Hugh, the composer of "Have Yourself A Merry Little Christmas", was the vocal arranger on A Star Is Born and felt that she should sing it a tone down. Judy arranged a run-through in the lower key, gave a lackluster performance, and then sneered at him before the full room, "Admit it, Hugh. You're wrong. You're so f**king wrong about the lower key." And, being a rather shy and retiring fellow, he replied, "I don't know why you bother asking me, Judy. I'm always so f**king wrong." And she said, "You got that f**king right." And so, in front all the musicians and everyone else, Hugh picked up his arrangements, walked out the studio door, got into his car, and it wasn't until he was driving through the Rockies that he switched on the radio and heard she'd fired him from the picture.
It was that kind of a movie. After turning in a film lasting three-and-a-quarter hours, George Cukor himself wound up being removed from the picture. But, with its release still some months away, one afternoon Ira Gershwin got a phone call from Frank Sinatra. Frank explained that he'd like to record "The Man That Got Away". Ira pointed out that the instance of "man" in the title "usually limits the rendition of a song to female vocalists". But, as we've remarked here over the weeks, Sinatra was the first vocalist at ease with revealing the vulnerability of the more overwrought sections of the distaff repertoire: he enjoyed singing female songs and he actively sought them out. So he pointed out to Ira that, aside from switching a few pronouns, all that was needed was a modification to the ending:
Ever since this world began
There is nothing sadder than
A one-man woman looking for
The Man That Got Away...
The lyricist considered the matter and, with Frank hanging on the line, Ira improvised:
Ever since this world began
There is nothing sadder than
A lost, lost loser looking for
The Gal That Got Away...
Frank liked the line and wrote it down. "His excellent recording resulted, and 'The Gal That Got Away' got away with it," wrote Ira, while primly noting that "a sex transilience of this sort is unusual".
Ira Gershwin's right: Sinatra's record, to a great Nelson Riddle arrangement, is indeed "excellent". I'm not sure one can say the same about that "lost, lost loser" modification. But "The Gal That Got Away" entered the Billboard charts in July 1954, followed by Judy Garland's own version in August. If there was any rivalry between the two, it had vanished by the end of September, when Frank attended the premiere of Judy's movie and was effusive in his praise. So were the critics. Time reported that Arlen and Gershwin had given Miss Garland "one unforgettable lump in the throat, 'The Man That Got Away'. Her big dark voice sobs, sighs, sulks and socks them out like a cross between Tara's harp and the late Bessie Smith." As he had done 15 years earlier with "Over The Rainbow", Arlen had given Garland a song that her fans would call out for at every concert for the rest of her short life.
Still, Riddle's arrangement for Sinatra is, I think, far superior to Skip Martin's on the Garland record. Frank and Judy were fast friends for life, and he was there for her when a lot of others weren't - which was more demanding than you might think. As I wrote in Mark Steyn's Passing Parade:
Between bust-ups and reconciliations, Judy was finding consolation elsewhere. She'd go round to Sinatra's pad and hector Frank into having sex with her. He would plan a quiet night sitting in his orange mohair sweater reading Bennett Cerf, only to look down and find Judy trying to pull his pants off. One night her TV producer, Bill Colleran, was at her place watching the show when he noticed her hand on his crotch. "I can't," he protested quaintly. "I'm married." Judy flounced across the room and sighed, "Nobody wants to f**k the legend."
But Sinatra respected her professionally and, perhaps out of deference to her claim on the song, he didn't return to "The Gal That Got Away" as often he might have. However, he did sing it live with the Count Basie band on the "Hollywood Palace" TV show in 1966, and it's a magnificent performance:
The gal that won you
She's run off and undone you
That great beginning
Has seen the final inning
I don't know what happened
It's all a crazy game...
He's slowed down the Riddle arrangement, and it's on its way to becoming a saloon song:
No more that all-time thrill
'Cause you've been through the mill
And never a new love will be the same...
The next passage - around "But fools will be fools" can be especially tough for a singer, as the vocal line and the harmony seem to part company, and it's very easy to find yourself adrift while almost atonal chords are flying all around you. Frank and the Basie band get through it, and he's so on top of all the drama, all the storytelling. Sinatra could be very tentative on TV, especially in ballads, because there are so many technical considerations and he hated having to do retakes. But on live TV he was often more relaxed. And on this broadcast he got just a wee bit too relaxed and made one mistake - but it's a doozy. In an otherwise peerless rendition, he botched Ira Gershwin's ending and reverted to the female original:
Ever since this world began
There ain't nothing sadder than
A one-man woman...
Uh-oh. You can hear a little something in his voice - he knows he's gone astray - but there's nowhere to go, so he concludes Sapphically:
...a one-man woman looking for
The Gal That Got Away...
And he takes a pause before starting the leisurely out-vocal and you can see on his face that he knows he's blown it. But it's still a great performance, and it shows that even, after the arrangement and the recording and the chart hit, Sinatra didn't stop thinking about ways to improve the song, to serve it better.
Flash forward another decade or so, to the late Seventies. "The Man That Got Away" had languished since Garland's early death. At that time in Britain, the camp comic Larry Grayson used its fabulous vamp as the theme music for his TV show - a joke I doubt very few of his millions of fans got, but a splendid jest nonetheless. But in the wider world the song seemed to be having a bit of difficulty wriggling free of the vaguely camp sensibility its association with Garland had given it.
Meanwhile, Sinatra had fallen out with his longtime pianist Bill Miller - mercifully only temporarily. Nevertheless, in Miller's absence, he put aside "One For My Baby (And One More For The Road)", which must surely have been painful for him. But the song never quite worked as well without Miller at the piano, and Sinatra was too good a musician not to know that. So he needed a new number for the saloon-song moment in his live show. And somewhere along the way he came up with the idea of a medley. Aside from TV bits with Dino, Frank wasn't really a medley kind of guy, so this was a very unusual move for him. But he thought his arrangement of "The Gal That Got Away" was pretty great and he thought his arrangement of "It Never Entered My Mind" was pretty great, and he thought they'd be even greater together. The latter song is by Rodgers & Hart from a 1940 Broadway show called Higher And Higher that young Frankie had been in the film version of, back in 1944. But RKO thought the smart move was to snap up the film rights to a Rodgers & Hart Broadway hit and then throw out all the Rodgers & Hart songs. Among those to be tossed in the trash was Sinatra's favorite ballad from the score - and a lot of other people's, too. As I mentioned a few months back, Mort Shuman, writer of "Save The Last Dance For Me" and a ton of Elvis songs, once told me, "One of my favorite songs is 'It Never Entered My Mind'. When Hart wrote...
You have what I lack myself
Now I even have to scratch my back myself
...I thought, yeah, I've always had this little place on my back that I can't quite reach, and I thought about the times I've asked a lover to scratch it for me. That's brilliant writing."
Too brilliant for RKO. So, three years after the film, Sinatra and Axel Stordhal made their own record of the song at Columbia. It was one of the first examples of Sinatra rehabilitating a "standard" - a category he played a large part in creating. Another eight years later, in 1955, Frank took another crack at the song, this time with Nelson Riddle for the album In The Wee Small Hours. And in the late Seventies, it was this Riddle chart for "It Never Entered My Mind" that he wished to pair with Riddle's chart for "The Gal That Got Away". The only problem was that, aside from falling out with Bill Miller, Frank had also fallen out with Nelson Riddle.
So it fell to Don Costa to slow the songs down and stitch them together - by inserting "It Never Entered" into the middle of "Got Away". Vincent Falcone was the pianist who'd replaced Miller and he was told by Costa on the day they were due to do the medley that they were keeping their options open as to whether they'd do both songs with the full orchestra, or "Gal" with the band and "Never Entered" with just the piano. The final call would be Frank's, obviously. "We were rehearsing the medley, and we got to the section where we went into 'It Never Entered My Mind'," recalled Falcone, "and he waved the orchestra off and he pointed to me. I played it alone with him." The young pianist got through it, and then they rehearsed the number with the full band:
I fully expected that when I came back to do the show that night, it would be with the orchestra. But, just to be on the safe side, I went home after the rehearsal and woodshedded the accompaniment. I practiced it until I knew it backward, forward, and sideways. If I was going to play this thing alone, I would know exactly how it went, and how I wanted to do it.

I didn't even think of it again until I got back there that night. The solo accompaniment had slipped my mind until Frank Sinatra's pal Jilly Rizzo came out of the dressing room and said, 'Hey kid, you know that medley? Well, Frank wants you to do it. No orchestra. Just you.' I played it, and Mr S introduced me for the first time. Man, what a feeling. What a rush. My knees shook. Frank Sinatra is recognizing me. This wasn't Luigi's in Syracuse. This wasn't the Park Motor Hotel in Niagara Falls. This was the real thing.
And that's how they did it ever after. It was always a thrilling moment on stage when the medley moved from Arlen & Gershwin to Rodgers & Hart via Falcone's piano:
...and never a new love
Will ever be the same...
[PIANO]
Once I laughed when I heard you saying
That I'd be playing
Solitaire
Uneasy in my easy chair
It Never Entered My Mind...
Rodgers' tune seesaws every half-bar from major to minor, and, with just Frank and piano, the combination of Hart's words and Rodgers' music is both ruefully comic and painfully somber. And the way Sinatra slides back from Rodgers & Hart to Arlen & Gershwin is superb:
Once you warned me
That if you scorned me
I'd say a lover's prayer again
And wish that you were there again
To get into my hair again
It Never Entered My Mind...
At which point Sinatra on stage would seem completely lost in reverie, sitting at a stool, cigarette in hand, alongside Falcone's piano. And then he'd stand up for a brief moment of defiance:
Good riddance! Goodbye!
Ev'ry trick of hers you're on to!
But fools will be fools
And where's she gone?
Where has she gone?
And on the great orchestral well under that line we're back into Arlen's final section. Ira Gershwin actually wrote "Ev'ry trick of hers you're on to/But fools will be fools and where's she gone to?" But "on to/gone to" is one of those musical-comedy rhymes, and, in discarding it, Frank made the moment dramatically truer.
He put the medley on record in 1981 for his last great ballad album, She Shot Me Down. Ira Gershwin didn't care for it. Sinatra sang the song as "The Gal Who Got Away". It wasn't just Ira's attachment to the fisherman's tall-tale origin of his title: he thought "The Man Who Got Away" sounded like a murder mystery and he would never have used it for a love song. Sinatra sang it throughout - and across a quarter-century various other Frankisms had settled in, too. About 15 years ago I was interviewing Michael Feinstein somewhere in New York and we got into a polite but spirited disagreement about Sinatra. Mr Feinstein has warmed up to Frank somewhat in the intervening years, judging from his two Sinatra Project CDs, but he was more of a purist about these things back then and, as Ira Gershwin's secretary in 1981, he was there when the great man took the LP out of its cover and put it on the stereo. And, as we walked out from the interview, Feinstein turned to me in mockery and sang:
The night, it is bitter
The stars, they have lost their glitter...
He rolled his eyes. "Who needs it?" It wasn't all like that, but the criticism is not without merit. Back in 1954, Sinatra made a great record and gave a great musical performance of "The Gal That Got Away". In the Eighties night after night he dug deep into the song and gave a great, powerful, dramatico-musical performance that was, by definition, more interpretative. And, whatever liberties he took, by the end of the medley you knew he'd lived the lines.
Along the way in that 1980s arrangement he also improved Ira Gershwin's amended ending:
A long-lost loser looking for
The Gal That Got Away...
And then the vamp returns, and Sinatra does his brooding outro:
Please come back...

Won't you come back..?

Mm-mm-mm, mm-mm, mmm...
I always found that low concluding hum - more of a meditative growl on some nights - as moving as anything he'd ever done. As one early critic remarked, Sinatra sang these songs as if he believed them. The guy meant it as a snide criticism. But it was in fact the highest praise.
~There's more Gershwin and Rodgers & Hart in Mark's acclaimed classic Broadway Babies Say Goodnight, which is even more fun when you order it with our Frank Loesser centenary salute. Steyn's original 1998 obituary of Frank, "The Voice", can be found in the anthology Mark Steyn From Head To Toe, while you can read the stories behind many other Sinatra songs in Mark Steyn's American Songbook. Personally autographed copies of both books are exclusively available from the SteynOnline bookstore.
~For an alternative Sinatra Hot 100, the Pundette has also launched a Frank countdown. She has a little more Harold Arlen and little more of the wind blowing colder at Number 65 with "Ill Wind". Bob Belvedere over at The Camp Of The Saints is likewise counting down his own Sinatrapalooza, and has a little more Ira Gershwin, pardon his mush, at Number 32 - "I've Got A Crush On You". And as we've been featuring Ira Gershwin without George, here, courtesy of the Evil Blogger Lady, is Frank and a little George Gershwin without Ira - "Summertime" and "Somebody Loves Me".
SINATRA CENTURY
at SteynOnline
6) THE ONE I LOVE (BELONGS TO SOMEBODY ELSE)
8) STARDUST
10) WHAT IS THIS THING CALLED LOVE?
11) CHICAGO
12) THE CONTINENTAL
13) ALL OF ME
15) NIGHT AND DAY
16) I WON'T DANCE
17) I'VE GOT YOU UNDER MY SKIN
19) EAST OF THE SUN (AND WEST OF THE MOON)
21) A FOGGY DAY (IN LONDON TOWN)
24) OUR LOVE
27) FOOLS RUSH IN
32) I'LL BE AROUND
36) GUESS I'LL HANG MY TEARS OUT TO DRY
37) NANCY (WITH THE LAUGHING FACE)
38) SOMETHIN' STUPID
40) I GET ALONG WITHOUT YOU VERY WELL (EXCEPT SOMETIMES)
41) SOLILOQUY
42) THE COFFEE SONG
44) HOW ABOUT YOU?
46) LUCK BE A LADY
48) (AH, THE APPLE TREES) WHEN THE WORLD WAS YOUNG
49) I HAVE DREAMED
51) I'VE GOT THE WORLD ON A STRING
52) YOUNG AT HEART