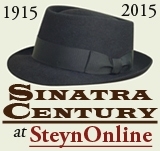 Dominion Day looms - on Wednesday - and we always like to have a Canadian song for the national holiday. Sinatra recorded many maple-infused numbers over six decades, from "I'll Never Smile Again" and "Put Your Dreams Away", both by my fellow Torontonian Ruth Lowe, all the way to Joni Mitchell's "Both Sides Now" and, of course, Paul Anka's "My Way" (he wrote the English lyric). But, for a great national occasion, I figured what could be more Canadian than...
I like New York in June
How About You?
I like a Gershwin tune
How About You?
That's one of the most memorable opening lines in any song, but the lyric hymning New York in June was written by a gentleman born in Vancouver in May. Ralph Freed was born on May 1st 1907 in Vancouver, British Columbia, and, although he hit it biggish down south, he didn't write exclusively about the charms of the Great Satan. Even in Hollywood, he wasn't averse to celebrating his native land: Consider, for example, his songs, including the robust ode "Saskatchewan", for the lively 1942 film Pierre Of The Plains, starring John Carroll as the eponymous plainsman Pierre, who wants to stop his beloved Daisy, a local saloon-keeper, from marrying the dodgy Mountie "Jap" Durkin. Still, it seems reasonable to assume that, over four decades after his death, that Ralph's words on New York in June have proved more lucrative for his heirs than any of his ones about Moose Hill, Saskatchewan at any time of year.
Ralph Freed was the much younger brother of another lyricist, Arthur Freed, born in 1893 in Charleston, South Carolina. The Freeds - or Grossmans, as they then were - moved to Seattle and raised their children on the Washington coast, with occasional detours up to British Columbia. Arthur went on to write "Singin' In The Rain" and a bunch of other songs for the very earliest talking pictures, and then, after a stint as associate producer on The Wizard Of Oz, moved into the executive office and became head of MGM's Freed Unit, producing all the very greatest movie musicals of the Forties and Fifties, including Easter Parade, An American In Paris, Gigi, Singin' In The Rain and some Sinatra movies along the way such as Take Me Out To The Ball Game and On The Town. (See our salute last year to one of the talents he nurtured, director Stanley Donen.) Ralph followed his older brother to Hollywood and, while he never matched Arthur's success, he had gainful employment in the movie biz for a good couple of decades - with a little help from his pal in the corner office. It was Arthur Freed who optioned the Broadway hit DuBarry Was A Lady, decided the Cole Porter score was a stinkeroo, and hired his kid brother to improve it. Ralph replaced Porter with sophisticated authentically Gallic numbers such as "Madame, I Love Your Crepes Suzette".

Still, one of his earliest songs, "Little Dutch Mill", was a Number One for Bing Crosby for a month in 1934, although it hasn't been heard terribly often since. But "You Leave Me Breathless" is a lovely ballad, and "Babes On Broadway" is the rouser that defines the whole Judy Garland-Mickey Rooney let's-do-the-show-right-here-in-the-barn ethos. It's hard not to warm to a line like "Oh, we're milkin' applause instead of milkin' a cow". The first time Sinatra sang Ralph Freed was with the Tommy Dorsey band in July 1940 - a song written with Joseph Meyer and Carl ("Marshmallow World") Sigman, and recorded in a rather jaunty arrangement, considering the theme:
Love Lies
Have a way of sounding true
When Love Lies
Come from one as sweet as you...
Don't you just hate that? A year later, the film Babes On Broadway would produce Ralph Freed's most enduring song. It's what they call a "catalogue song" or a "laundry list", an accumulation of specifics that all go to prove the same point - that "You're The Top" or "They Can't Take That Away From Me" or "These Foolish Things remind me of you". The verse sets it up:
When a girl meets boy
Life can be a joy
But the note they end on
Will depend on
Little pleasures they will share
So let us compare...
In other words, what have they got in common? And fortunately they've got plenty of "little pleasures" that they share:
I love a fireside
When a storm is due
I like potato chips
Moonlight and motor trips
How About You?
Talk about compatible! Judy and Mickey introduced it, and Burton Lane, a gentle giant of popular music, provided the music. Lane was born in 1912 and was a professional songwriter by his teens. He went on to write the scores for Finian's Rainbow (which Frank produced an all-star cast album of) and On A Clear Day You Can See Forever (which he recorded a couple of songs from), but in his early days Lane was an assignment writer in Hollywood. He had an eye for talent - he's often credited with "discovering" the 11-year old Judy Garland, and certainly, by the time of Babes On Broadway, he knew her well enough to craft a song that's perfect for her. Most laundry lists are a chance for lyricists (or at least their rhyming dictionaries) to show off ("You're The Top/You're the Colosseum/You're The Top/You're the Louvre Museum"), but Ralph Freed's is so down to earth and everyday it has an entirely different quality.
"Ralph's lyric is wonderful," Burton Lane told me a few years ago, "but I got a line in there, too." He beamed proudly and revealed that he'd suggested the second image in the song: "I like a Gershwin tune." While barely out of short pants, young Burton had been befriended by the Gershwin brothers who'd helped him get his first foot on the showbiz ladder. And in 1941, just four years after George's early death, this line was a small acknowledgment by Lane to his great mentor. Gershwin isn't the only real person cited in "How About You?" Here's a couplet that dates the song:
I'm mad about good books
Can't get my fill
And Franklin Roosevelt's looks
Give me a thrill...
That's been given a few updates over the years. The sentiment sat nicely in young Judy's voice, but when Frank recorded it with the Dorsey band at the end of 1941 he kept the FDR line. He was a big fan of Roosevelt, and in fact his son Frank Sinatra Jr has the perhaps unique distinction of being a Junior with an entirely different name from the Senior. That's to say, Pop was Francis Albert Sinatra but he named his kid Franklin Wayne Emmanuel Sinatra. I'm not sure about "Wayne", but "Emmanuel" was after Sinatra's second father Manie Sachs at Columbia, and "Franklin" was from Roosevelt. After Sinatra re-recorded "How About You?" for the blockbuster Songs For Swingin' Lovers in 1956, everybody and his cat started singing it and concluded that maybe the reference to the late President required updating. Rosemary Clooney changed it to "and Frank Sinatra's looks". Bobby Darin kept the idea of political glamor: "And Mister Kennedy's looks/Give me a thrill..." (the extra syllable is awkward). As far as I know, the Dixie Chicks have yet to sing "And George W Bush's looks/Give me a thrill..." But perhaps the coolest rewrite was by Sinatra himself on that '56 recording with Nelson Riddle, tipping the fedora to a great pal:
And James Durante's looks
Give me a thrill...
Indeed.
The mistake composers make with list songs is to assume it's all about the lyric and to phone in the tune. But Burton Lane wrote what Alec Wilder called "a marvelous, healthy, rhythmic ballad". Even the title phrase varies in unusual ways - the third "How about you?", in the 15th bar, puts the "how" on a high D sharp, full of romantic yearning. And the irresistible device of the rat-a-tat-tat repeated notes - "I like po-ta-to chips/Moon-light and mo-tor trips" - returns even more dramatically in the conclusion:
Holding hands
In the movie show
When
All the lights are low
May not be new...
That's the very definition of songwriting: not words, not notes, not a lyric, not a melody, but the two so inextricably linked that they're indivisible. Was the tune written to accommodate the lines or vice-versa? I asked Burton Lane and he couldn't recall. "All I remember is that I thought it was a terrific idea for a song," he said, "and we were so enthusiastic about it we wrote it very quickly, and I knew we'd got it right. Sometimes that happens."
The lightning never struck quite as bright for Ralph Freed ever again. He died in February 1973 and his older brother Arthur followed a couple of months later. But this song shines on, and a few years ago accompanied Ralph Freed on his posthumous induction into the Canadian Songwriters' Hall of Fame. I like a Burton Lane tune in a Nelson Riddle arrangement with a Frank Sinatra vocal - how about you? And, if only for the gift of this song, I'll always be quite partial to Vancouver in May:
I like it
How About You?
Happy Dominion Day!
~For an alternative Sinatra Hot 100, Bob Belvedere over at The Camp Of The Saints is counting down his own Frankiepalooza. Bob likes a Gershwin tune - how about you? Number 32 is "I've Got A Crush On You". The Pundette has also launched a Sinatra countdown. At Number 61, she likes a Burton Lane tune - how about you? A Lane/Sinatra classic, "Old Devil Moon". The Evil Blogger Lady likes - gulp - a Judith Caldwell tune - how about you? Um, I'll get back to you on that.
~From the Steyn archives, Mark talks to the late Burton Lane about many of the early movie songs he wrote with Frank Loesser on our two-CD Loesser centenary celebration, available exclusively from SteynOnline as part of our Broadway Double-Bill. You can find the stories behind many more Sinatra songs - including Cole Porter - in Mark Steyn's American Songbook, while Steyn's original 1998 obituary of Frank, "The Voice", can be found in the anthology Mark Steyn From Head To Toe. Personally autographed copies of both books are exclusively available from the SteynOnline bookstore.
SINATRA CENTURY
at SteynOnline
6) THE ONE I LOVE (BELONGS TO SOMEBODY ELSE)
8) STARDUST
10) WHAT IS THIS THING CALLED LOVE?
11) CHICAGO
12) THE CONTINENTAL
13) ALL OF ME
15) NIGHT AND DAY
16) I WON'T DANCE
17) I'VE GOT YOU UNDER MY SKIN
19) EAST OF THE SUN (AND WEST OF THE MOON)
21) A FOGGY DAY (IN LONDON TOWN)
24) OUR LOVE
27) FOOLS RUSH IN
32) I'LL BE AROUND
36) GUESS I'LL HANG MY TEARS OUT TO DRY
37) NANCY (WITH THE LAUGHING FACE)
38) SOMETHIN' STUPID
40) I GET ALONG WITHOUT YOU VERY WELL (EXCEPT SOMETIMES)
41) SOLILOQUY
42) THE COFFEE SONG