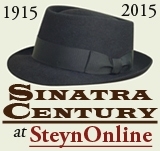 When Frank Sinatra conducted an album of classical works by Alec Wilder, among the players under his baton was a talented and sensitive oboeist called Mitch Miller. That was 1946. By 1952 it was Miller wielding the stick. As head of Artists & Repertoire at Columbia Records, he decided which singers got to sing which songs. In which capacity he mothballed his oboe and English horn and looked for material like "She Wears Red Feathers (And A Huly-Huly Skirt)", "Mule Train", "Come On-a My House", "Belle, Belle, My Liberty Belle", "Where Will The Baby's Dimple Be?", "Feet Up (Pat Him On The Po-Po)" and, of course, "Ooh Bang Jiggily Jang". They called them "novelty songs", but Mitch Miller made them so ubiquitous in the early Fifties that it was a novelty for a Columbia artist to get a hit without something involving whip-cracks, bagpipes, echo chambers and overdubbing. Miller loathed rock'n'roll, but he pioneered what became a fixture of the rock era: the star producer who doesn't merely stick a microphone in front of a musical performance but creates it; his is the vision and technical wizardry through which the raw and often unpromising elements are processed to emerge as a hit record.
Notwithstanding his choice of songs, great talents such as Rosemary Clooney and Tony Bennett prospered under Miller, and so did many lesser names. But Sinatra not so much. When Frank put his foot down and refused to sing the overblown "My Heart Cries For You" and the faux-folk "Roving Kind", Miller shrugged, found a young vocalist of Croat origin called Albert Cernik, gave him a less obviously ethnic monkiker , and made him one of the biggest stars of the day. If you're wondering how Mitch Miller came up with the new name, well, he looked at the Croat and said: "My name's Mitchell and you seem a nice guy, so we'll call you 'Guy Mitchell'".
If he'd had to come up with a new name for Sinatra, it would have been Fuh Geddabouttim or Moretrouble Thanhesworth. Years after they worked together, Miller and Sinatra chanced to be crossing a Vegas lobby from opposite ends. Mitch extended his hand in friendship; Frank snarled, "F**k you! Keep walking." That would also have been a good name for him: F**kyou Keepwalking.
When he wasn't recording Miller's idea of the next surefire hit - "Mama Will Bark", the doggy duet that's "the doggone-est thing you ever heard" on which he was accompanied by the small-voiced but big-breasted Dagmar, or "Tennessee Newsboy", on which he was accompanied by a man who could make chicken noises with his guitar - Sinatra's song list in his last years at Columbia reads like a cry for help for a fast vanishing career: "Life Is So Peculiar", "I Guess I'll Have To Dream The Rest", "There's Something Missing", "Birth of the Blues" ...and finally "Why Try To Change Me Now?"
The last one was a breakthrough song for a young composer who would later provide Sinatra with a hit that stayed with him all the way to the end, and another that stayed with him all the way to the grave. We'll get to those later in this series. But in 1952 Cy Coleman was entirely unknown in the pop songwriting world. He'd started out classical. A tenant at his parents' Bronx apartment house moved out and left the piano behind and, even though his carpenter dad nailed the lid down, four-year old Seymour managed to pry it open. By the age of seven, he was playing Carnegie Hall.
His favorite composer in those days was Beethoven. How do you get to Carnegie Hall? Practice. How do you get away from it? Improvise. The child prodigy heard the call of jazz and his wandering fingers told him the whole classical thing was just hemming him in too much. So he skipped Juilliard, and at 15 began playing nightclubs. While still at high school, he was asked to play for the publisher Jack Robbins. "He pronounced me the new Gershwin," he told me, "because everyone who walked in that day and was young was the new Gershwin. Then he told me to write three piano preludes like Gershwin. So I wrote the fourth, fifth and sixth preludes of Gershwin. A-hur-hur-hur," he added. Cy had a wonderful wheezy boyish giggle, which I can hear to this day. One time, at the Prince of Wales Theatre in London, he demonstrated various songs to me at the piano while reminiscing about their creation, and it took me some years before I ceased expecting to hear "I could see you were a real Big Spender a-hur-hur-hur..."
Aside from the fourth, fifth and sixth Gershwin piano preludes, he wrote while still a teenager a fiendishly complex sonata. Sadly, between his hectic club life and social life, he misplaced it.
"Surely you can play it from memory?" I suggested.
"Sit down and order dinner," he said, and turned to the keyboard. If you asked him, he'd still tinkle a little Chopin or Mozart, but after a few bars he'd segue into a party piece about the cocktail pianist trying to play Clair de lune.
So the teenager got a trio and was sufficiently impressed by his dressing room at the Sherry-Netherland that he moved in. The problem with being musically sophisticated at an early age is that you're not always lyrically sophisticated. He wrote a Latin number and a pal put words to it:
Oh, Castanetta
Oh, lovely lovely Castanetta
I can't forget the night I met 'er
She cast a net round my heart

Her heels were kicking
Her castanets were gaily clicking
With every click my heart was ticking
She had me right from the start...
Joe McCarthy, a more professional hand, rewrote it as:
The Riviera
On every street a gay casino
Where continentals sip their vino...
Mabel Mercer and a few other upscale chanteuses began singing it. It would be hard not to improve on "Castanetta", and "The Riviera" certainly has its moments – "where matrons draped in Paris fashions/Prolong the twilight of their passions" – but its lyrical "sophistication" always seems to me only marginally less unconvincing than the original. Still, the composer was impressed: Unlike Coleman, Joe McCarthy came with a pedigree. He wasn't the son of Joe McCarthy, Tailgunner Joe, Senator McCarthy, but he was the son of Joe McCarthy the lyricist, who back around the First World War had written "You Made Me Love You", "Alice Blue Gown" and "I'm Always Chasing Rainbows". Sinatra sang "Alice Blue Gown" (as in Alice Roosevelt Longworth, daughter of Teddy) at the Roof Garden of the Hotel Astor with the Tommy Dorsey band on August 14th 1940. Which means that Joseph McCarthy Sr and Joseph McCarthy Jr are the only father and son who can both claim to have had Frank Sinatra sing their songs. Frank also sang McCarthy père's "I'm Always Chasing Rainbows" on TV in 1951, which means they're the only dad'n'kid to have had Sinatra sing their songs in successive years.
Cy Coleman was 23, and Joe McCarthy a decade older, which kind of rankled with young Cy because he came on a bit worldly and paternal. Also, although he hadn't much of a claim to fame other than being the son of some guy who'd written a couple of hits a third of a century back, and having had a very small hit himself with "A Boy From Texas, A Girl From Tennessee", Joe McCarthy was somehow dating a movie star: Veronica Lake, she of the long hair trailing down over her eye and cheek. Granted her screen career, like Sinatra's, was on the slide by 1952, and she'd just filed for bankruptcy, but she still turned heads when she walked into a nightclub, with McCarthy on her arm and Coleman bringing up the rear.
In 1952 Cy's trio were playing the Hickory House in New York, and McCarthy and his siren would show up and wait for Coleman to finish and then they'd all go clubbing uptown and down. McCarthy was something of a mean drunk, and, as Coleman's occasional bassist Bill Crow put it, "his idea of fun was to break up the joint". So sooner or later you run out of clubs to go to, and in the early hours one morning they all wound up at McCarthy's pad down in the Village, and at about four or five, with Veronica Lake and a few other cats sprawled on the couch, Cy and Joe commenced to write a song - a lovely rueful ballad:
I'm sentimental, so I walk in the rain
I've got some habits even I can't explain
Could start for the corner, turn up in Spain
But Why Try To Change Me Now?
Somehow they got it to Sinatra - which isn't quite the accomplishment it would have been a couple of years earlier. He had been let go by Columbia and no other record company had signed him up, or seemed minded to. But he owed Mitch Miller one last record, and so he picked this for his very last session at Columbia. September 17th 1952: Not a regular four-song session, but just the one. They were grim times for Frank. Axel Stordahl, who'd conducted practically everything Sinatra had recorded since the Dorsey days, had quit Columbia and was exclusively contracted to Capitol. So Percy Faith was drafted to arrange and conduct the song, and Frank arrived at the 30th Street studio in New York for the last time. Faith was a kindly Canadian and he'd orchestrated "Why Try?" in the Stordahl style, flutes and strings and celeste, in order not to discombobulate the singer any more than he evidently was. And Sinatra sings with a simple humility, and very reflectively, as if this last recording is all the recordings through all the years rolled into one. Regrets, he's had a few, but then again...
I sit and daydream, I've got daydreams galore
Cigarette ashes, there they go on the floor
I go away weekends, leave my keys in the door
But Why Try To Change Me Now?
It's a song about a man who doesn't fit in - which is certainly how he must have felt in the age of huly-huly skirts and doggies in windows. The song is always disfigured for me by the middle section - not Coleman's tune, which is okay, but McCarthy's lyric which is a bit too on the nose. And yet for Sinatra it was utterly true: What, after all, was Miller demanding of him?
Why can't I be more conventional?
People talk, people stare, so I try
But that's not for me
'Cause I can't see
My kind of crazy world go passing me by...
On September 17th 1952, the guy staring was Cy Coleman, who attended the session. He was excited, as who wouldn't be? His new song was about to be recorded by Frank Sinatra! Percy Faith raised his baton, the introduction began, and in came Frank:
I'm sentimental, so I walk in the rain...
And Coleman was ever so slightly perturbed: Sinatra had altered the second note. He'd changed "Why Try To Change Me?" But what are you going to do? Tell Mitch Miller to stop the tape and barge in and yell at Frank Sinatra? So Coleman said nothing. "But it bothered me," he told me years later. "When the record came out, I went home and put it on and sat in the dark listening to it over and over, night after night. And, after about a year of listening to him change that note, I said, 'You know what? He's right.' So I changed it on the sheet music."
"Do you do that a lot?" I asked.
"That's the one and only time," he said. "As a matter of fact, somebody else did it and I told them, 'I don't mind you changing a note, but you chose one of my rejects.' A-hur-hur-hur."
"Why Try To Change Me Now?" wound up on the B-side of "Birth Of The Blues", and, while it wasn't a big hit for Sinatra, he planted the song in the repertoire, and it stayed. Fiona Apple recorded it a couple of years back - although I always feel that, as Jule Styne used to say about another Sinatra song "Time After Time", it always loses a little something when a woman sings it. I heard Diana Krall on the radio a while back talking about how much she loves the song, and how she's attempted to make her own version of it on a couple of occasions. And she does great until:
So let people wonder, let them laugh, let them frown
You know I'll love you till the moon's upside down
Don't you remember? I was always your clown...
And at that point she stops and goes, "Nah, I'll leave it to Frank." Miss Krall was interviewed by my old chums at Maclean's a few weeks back and the ballad came up again:
Q: Are some songs best sung at a certain age?

A: Most certainly. Hearing Dylan sing [Frank Sinatra's] Why Try to Change Me Now was hard. I've recorded demos of it and I couldn't get to a certain passage in the song: [sings] "Don't you remember I was always your clown / I'm sentimental so I walk in the rain." I'm fine until halfway through and then it doesn't represent anything that I am. It suits a 73-year-old like Dylan. He knows it and he's lived it.
That's on his Sinatra album Shadows In The Night, which I think would tickle Cy. Diana Krall is right to latch on to the significance of that line: you can't do the song if you don't believe it. And, in the the ashes of his career, Sinatra did. For all he knew that night, it would be the last record he would ever make. And, if it had been, it would have been a fine way to take his leave.
Instead, seven years after the Percy Faith recording, Sinatra remade "Why Try To Change Me Now?" with Gordon Jenkins for the album No One Cares. If 1952 was the worst of times, 1959 is the best: the new Sinatra with the world on a string. This time it's the usual Jenkins treatment, with thin yet lugubrious strings that seem to weigh Frank down even beyond the slower tempo. It's not a question of "young Frank" vs "old Frank": He's only seven years on from his first bite at "Why Try To Change Me?", but he's changed, and he knows how to imbue mere syllables with all kinds of nuance. On his first record, he's a humble optimist who figures she loves him despite himself: When he sings "Don't you remember? I was always your clown", he's offering it sincerely in the expectation that it just might work. In the darker Jenkins version, he gets to the line, and he's staring at his reflection in the bottom of the glass: she's not going to go for it this time.
Don't you remember? I was always your clown
Why try to change me..?
Why Try To Change Me Now?
Seven years earlier he didn't know he'd ever get a chance for a second take. But he knew these were the songs he wanted to sing, and so his final record for Columbia was a flip of the finger to the man who'd saddled him with "Bim Bam Baby" and "Tennessee Newsboy" and "Mama Will Bark". Frank was no longer going to be Mitch Miller's clown. "Why Try To Change Me Now?" was Sinatra's way of saying no, thanks, I'll stick with the music, and in the end the music will win.
That wasn't such a sure thing in 1952. Sinatra had lost fans, lost his voice, lost his movie career, lost his TV show ...and he was saying goodbye to Columbia with nowhere else to go. On the studio tapes of that September 17th session, you hear Frank close out the song:
So let people wonder, let them laugh, let them frown
You know I'll love you till the moon's upside down
Don't you remember? I was always your clown
Why Try To Change Me Now?
And then, over the speaker, from the booth, there comes the voice of the guy running the show, Mitch Miller:
That's it, Frank.
And it was.
~Mark's appreciation of Cy Coleman is included in his acclaimed collection of obituaries Mark Steyn's Passing Parade - which is also available in expanded eBook version. Steyn's original 1998 obituary of Frank, "The Voice", can be found in the anthology Mark Steyn From Head To Toe, while you can read the stories behind many other Sinatra songs in Mark Steyn's American Songbook. Personally autographed copies of both books are exclusively available from the SteynOnline bookstore.
~For an alternative Sinatra Hot 100, the Pundette has also launched a Frank countdown. She has a Cy Coleman/Sinatra classic at Number 46, "The Best Is Yet To Come". Bob Belvedere over at The Camp Of The Saints is counting down his own Sinatrapalooza, and he has more Cy and Frank at Number 35, "Witchcraft" - which is also a selection of the Evil Blogger Lady.
SINATRA CENTURY
at SteynOnline
6) THE ONE I LOVE (BELONGS TO SOMEBODY ELSE)
8) STARDUST
10) WHAT IS THIS THING CALLED LOVE?
11) CHICAGO
12) THE CONTINENTAL
13) ALL OF ME
15) NIGHT AND DAY
16) I WON'T DANCE
17) I'VE GOT YOU UNDER MY SKIN
19) EAST OF THE SUN (AND WEST OF THE MOON)
21) A FOGGY DAY (IN LONDON TOWN)
24) OUR LOVE
27) FOOLS RUSH IN
32) I'LL BE AROUND
36) GUESS I'LL HANG MY TEARS OUT TO DRY
37) NANCY (WITH THE LAUGHING FACE)
38) SOMETHIN' STUPID
40) I GET ALONG WITHOUT YOU VERY WELL (EXCEPT SOMETIMES)
41) SOLILOQUY
42) THE COFFEE SONG
44) HOW ABOUT YOU?
46) LUCK BE A LADY
48) (AH, THE APPLE TREES) WHEN THE WORLD WAS YOUNG
49) I HAVE DREAMED