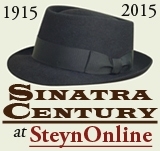 One night in 1951 the Frank Sinatra television show booked as its guest stars Perry Como and Frankie Laine. What to do with such a combination of talent? In the end, the three of them donned frocks to recreate the Andrews Sisters' rendition of "Sonny Boy", with Laine in the title role climbing upon Sinatra and Como's knees. At the close of the number, the real Andrews Sisters crash the set and start clobbering the lads.
It was not an easy time for Sinatra. The early Fifties were the low point of his career, and almost everyone in the music world thought "the Voice"'s best days were behind him. It wasn't only that he was no longer the biggest pop singer in the business; he was no longer even the biggest pop singer called Frankie in the business. That honor belonged to Laine, who was as far from the tender, intimate ballad style of Columbia-era Sinatra as you could get. Frankie Laine sang in exclamation points. Even if they weren't there in the sheet music, they were there by the time they came blasting through the radio at you:
Jezebe-e-e-e-el!
Jezebe-e-e-e-el!
If ever the devil was born!
Without a pair of horns!
And:
Jealousy!
Night and day you torture me!
And:
Mule tra-ain!
Mule tra-ain!
Clippetty-clopping over hill and plain...
And of course:
Move 'em on, head 'em up!
Head 'em up, move 'em on!
Move 'em on, head 'em up, Rawhide!
Count 'em out, ride 'em in!
Ride 'em in, count 'em out!
Count 'em out, ride 'em in, Rawhide!
H'yah! H'yah!
H'yah h'yah indeed. Big exclamation points, invariably followed by a whip-crack or a hog-call. Frankie Laine provided much of the soundtrack for that strange era between the big bands and rock'n'roll: in the early Fifties, he had the biggest hits, the million-sellers, the ones that were Number One for weeks and months on both sides of the Atlantic. He sang country songs and movie themes and novelty duets and religious ballads and showtunes, and, when Elvis and the Beatles showed up and put a crimp in his "bum-freezer jacket" (as Fleet Street dubbed his tailoring), he kept going with Vegas and r'n'b and weird rock remakes of his blockbusters. And every now and then he struck gold all over again. In the Seventies, he got a call from some guy he'd never heard of who was making a western and figured it wouldn't be the real deal unless he had Frankie Laine for the theme song. After all, Laine had sung over the titles of Gunfight At The OK Corral, 3.10 To Yuma, Bullwhip and The Hanging Tree, not to mention Rawhide on TV week after week. So Laine went into the studio and sang:
He rode a blazing saddle
He wore a shining star
His job to offer battle
To bad men near and far...
That's such a lovely American rhyme – "saddle" and "baddle". And made for Frankie Laine, who in "High Noon" was famously torn between "doody" and his "fair-haired byoody". The guy Laine had never heard of was a fellow called Mel Brooks. When I asked Brooks about the song a few years back, he told me he wrote it with Frankie Laine in mind but that he never told him the film was a comedy. That's what makes it such a great performance – Laine's singing this thing for real:
He conquered fear and he conquered hate
He turned dark night into day
He made his blazing saddle
A torch to light the way...
And, given some of the lyrics he had million-selling blockbusters with, why would Laine ever have suspected the above might have been pastiche? I pointed out that "saddle/baddle" pairing to Brooks and he told me he did it to sound authentically western: it's the kind of detail you find in Mel's songs rather than his scripts. There's a big lesson in Frankie Laine's performance of the theme: the funniest comedy is always deadly serious.
For me, that's what redeems Laine's blockbusters. The Fifties was the heyday of the novelty song – "How Much Is That Doggie In The Window?", "She Wears Red Feathers", "Where Will The Baby's Dimple Be?", huge hits that managed to shrink whoever sang them. At the time Mitch Miller was in charge of both Frankies' recording careers: He fought with Sinatra over every stupid itsy-bitsy bit of poppy frivolity, but he slid "Mule Train" onto Frankie Laine's stand and Laine figured why not, and they struck gold. And thereafter Miller managed to find songs that matched the size of his singer's voice – a "foghorn with lips", as Bob Hope called him. There was more to him than that, but at the end of his life Al Jolson still couldn't figure out what the appeal of soft mike-caressing crooners like Sinatra was and the only one of the newer guys he thought worth a damn was Frankie Laine. By then Laine was the only singer who could do what Jolson did: fill a theatre and belt a number to the back of the balcony without a microphone.
The Frankie Laine of the early Fifties was a mélange of styles. He did Tin Pan Alley love songs very bluesily. On the other hand, he did a great Broadway ballad like "Woman In Love" in martial tempo. And on "Granada" his snarl sounds positively menacing. But a lot of this material trembles on the brink of self-parody anyway. Think of that overwrought tango, "Jealousy":
Jealousy!
Night and day you torture me!
I sometimes wonder
If this spell I'm under...
Howard Dietz, writer of "Dancing In The Dark", was once bet that he couldn't come up with an instant lyric to "Jealousy" and improvised on the spot:
Cyd Charisse!
Up there on my mantelpiece
You're such a shock there
We need a clock there...
But before the goldmine of "Jealousy" and "Jezebel" and "Mule Train" there was another Frankie Laine – not the "talentless hack" the Sinatra scholar Will Friedwald dismissed him as in his book Jazz Singing, but a fine if idiosyncratic interpreter of the great American songbook who made some splendid records in the late Forties. And Laine had another distinction, too: he was also a songwriter. A real songwriter, that is. Most of the time when singers like Jolson, Crosby or Sinatra get a credit on a song, they're the third name on there – a clue that perhaps they weren't doing a lot of the heavy lifting. Yet Laine was a competent lyricist who wrote songs with some of the very best composers – among them Duke Ellington, Matt Dennis, Mel Tormé and the guy who gave him his lucky break after catching his act at a Los Angeles nightclub in 1943, Hoagy Carmichael. His regular songwriting partner was Carl Fischer, who became Laine's pianist in 1944. The following year they wrote a truly magnificent ballad:
No tears
No fears
Remember there's always tomorrow
So what if we have to part?
We'll Be Together Again...
That's a fabulous first eight bars. That pair of two-note phrases at the top – the E/C followed and intensified by the B flat/G – are so confident, and Laine was a skilled enough lyric-writer to understand the value of their boldness. In the second eight, he follows the "no tears/no fears" symmetry with:
Your kiss
Your smile...
And in the final section:
Some day
Some way...
Carl Fischer was a very likable chap and a skilled accompanist but the ache and yearning in this tune seem to come from out of nowhere. Musically, it has one of the most organic middle-eights of any pop tune, based essentially on an echo of the seventh-bar (the phrase "We'll be together..." sits on) but extending it beautifully:
Times when I know you'll be lonesome
Times when I know you'll be sad
Don't let temptation surround you
Don't let the blues make you bad...
Isn't that a great line? Gene Lees, who wrote the English words for "Quiet Night Of Quiet Stars" and a bunch of Jobim bossa nova biggies for Sinatra, calls Laine's text an "excellent – and overlooked – lyric" but says that with that marvelously dark phrase he "touched the ground".
As I said, he wrote it in 1945. But it wasn't a hit for him in the Forties. He had to wait for "That's My Desire" to kick-start his record sales. And Carl Fischer, a very sweet man by all accounts, never lived to hear his song get the treatment it really deserved. He died in 1954 - still Frankie Laine's pianist and gamely sticking with him through the whipcracking Jezebels.
Two years later, Sinatra recorded "We'll Be Together Again" for his Songs For Swingin' Lovers! project. It was January 1956 and it was business as usual for Frankie Laine: his new single that month was "Sixteen Tons". But Frankie Laine the songwriter was about to strike gold: His greatest ballad was about to be given the Nelson Riddle treatment, with Ted Nash on a bluesily sensual alto sax and a really terrific trumpet mute by Harry Edison - and Sinatra at the top of his game:
Your kiss
Your smile
Are mem'ries I'll treasure forever"
So try thinking with your heart
We'll Be Together Again...
It's the closest to a ballad on Swingin' Lovers' otherwise swingin' set, but Riddle keeps it rhythmically underpinned in the first chorus and opens up with a great gut-wrenching wail in the instrumental from the band, augmented by Sweets Edison's gorgeous mute. And then Sinatra returns and puts a lovely onomatopoeic spin on the "blues" in Laine's middle eight:
Don't let temptation surround you
Don't let the blues make you bad...
I would love to have been there when Frankie Laine first put the Sinatra disc on his record player and heard "We'll Be Together Again" the way it had been waiting to be done for 11 long years. When it was over, did he cheer? Was he stunned? Or did he just put it on the shelf and go back to "Sixteen Tons", "Moby Dick" and "Champion The Wonder Horse", to name but three of Laine's preoccupations in early 1956. After hearing Frankie sing Frankie, it would have been interesting to have had Laine return the compliment and record one of Sinatra's compositions such as "This Love Of Mine" or "I'm A Fool To Want You". But, like I said, he had Champion the Wonder Horse saddled up and ready to ride...
Other brilliant interpreters would recognize the little jewel that is "We'll Be Together Again": Billie Holiday sang it, and Doris Day and Louis Armstrong and Anita O'Day and Johnny Hartman and Carmen McRae and Tony Bennett with Bill Evans. And Stan Getz made a brooding recording of it, including the comparatively unsung verse. But it was Sinatra on Swingin' Lovers who made it a standard, and is the primary reason current singers perform it. Indeed, I'll bet in recent years the biggest individual source of income for Frankie Laine's estate has come not from sales of any of his own "Greatest Hits" compilations but from recordings of "We'll Be Together Again" not only by Sinatra but also by Johnnies-come-lately like Rod Stewart. A standard always outlasts a hit. "Jezebel" and "Mule Train" will fade in time, and, when they're gone, Frankie Laine's unique contribution to the American songbook will still be here - as (he told me about a decade before he died) he'd always hoped it would. In the Fifties, he used to close his TV show with it – the title was too apt not to use:
Some day
Some way
We both have a lifetime before us
For parting is not goodbye
We'll Be Together Again.
But it was Sinatra, Riddle, Harry Edison and Ted Nash who raised it to art - and, for four minutes and 27 seconds, put the man who sang "Mule Train" and "Rawhide" up there with Cole Porter and the Gershwins.
~For an alternative Sinatra Hot 100, the Pundette has also launched a Frank countdown. She has another song for swingin' lovers at Number 61, "Old Devil Moon". Bob Belvedere over at The Camp Of The Saints is counting down his own Sinatrapalooza. There's plenty of songs for swingin' lovers on there, too, including at hit sound 33 "Makin' Whoopee". The Evil Blogger Lady is spending time on the beach with Frank and Jill St John, and who can argue with that?
~ You can find the stories behind many more Sinatra songs in Mark Steyn's American Songbook, while Steyn's original 1998 obituary of Frank, "The Voice", can be found in the anthology Mark Steyn From Head To Toe. Personally autographed copies of both books are exclusively available from the SteynOnline bookstore.
SINATRA CENTURY
at SteynOnline
6) THE ONE I LOVE (BELONGS TO SOMEBODY ELSE)
8) STARDUST
10) WHAT IS THIS THING CALLED LOVE?
11) CHICAGO
12) THE CONTINENTAL
13) ALL OF ME
15) NIGHT AND DAY
16) I WON'T DANCE
17) I'VE GOT YOU UNDER MY SKIN
19) EAST OF THE SUN (AND WEST OF THE MOON)
21) A FOGGY DAY (IN LONDON TOWN)
24) OUR LOVE
27) FOOLS RUSH IN
32) I'LL BE AROUND
36) GUESS I'LL HANG MY TEARS OUT TO DRY
37) NANCY (WITH THE LAUGHING FACE)
38) SOMETHIN' STUPID
40) I GET ALONG WITHOUT YOU VERY WELL (EXCEPT SOMETIMES)
41) SOLILOQUY
42) THE COFFEE SONG
44) HOW ABOUT YOU?
46) LUCK BE A LADY