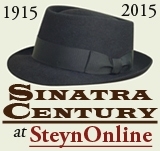 The early Fifties were a rough time for Sinatra, and for his voice. The man himself was losing popularity on the pop charts, on the big screen, in the newspaper gossip columns, and with the executives of his record company. But, more disturbingly, the voice was worn and tired. He no longer had the beautiful pure tone that gave his early solo records a uniquely tender, intimate feeling. And it wasn't yet clear what else he could do. When he tried swingin' or anything up-tempo, it came over as aggressive and angry. Sometimes that worked, as in singles like "Bim-Bam Baby", which to a certain degree prefigure rock'n'roll, attitudinally speaking. But more often they had a hard edge that wore you down after a couple of listens. Sinatra was no longer the bow-tied bobbysoxer pin-up but it wasn't clear what, if anything, he was going to be instead.
He still had great taste in songs, though - notwithstanding his sour and hostile relations with Columbia Records. So on February 2nd 1951 he went into the studio to record two songs from The King And I. He hadn't seen the show, because nobody had. The out-of-town tryout in New Haven was still three-and-a-half weeks away, to be followed by a Boston run for most of March, and finally the Broadway premiere at the St James on March 29th. So some two months ahead of Gertrude Lawrence and Yul Brynner's opening night, Sinatra was taking a crack at three brand new showtunes with no very clear idea of what their dramatic context was. Usually when Frank took a liking to a Broadway score, it was because of a character that appealed to the actor in him - Billy Bigelow in Carousel, Sky Masterson in Guys And Dolls. But in The King And I there's nothing really for him to play: Even with a shaved head he would be an unpersuasive King of Siam, and even in a hooped skirt he would be an unconvincing English governess. Nevertheless, Rodgers & Hammerstein's publisher thought it worth dropping half the numbers in his lap and getting a couple of Sinatra records on the songs well in advance of opening night.
For the score of a musical play set at the Siamese court, Richard Rodgers' music is barely any more Siamese than (future Sinatra producer) Sonny Burke's "Siamese Cat Song" in Lady And The Tramp. Rodgers holds the orientalisms basically down to the open fifth chord, which is enough to give the score a vaguely non-western quality, plus a few chords that are sufficiently unusual for the key of their songs to give them a vaguely "foreign" sound. But the setting of the show inspired Frank's arranger Axel Stordahl to interpolate a few exotic eastern touches of his own. He contacted Zildjian, the Armenian-American percussion manufacturers founded in Constantinople in 1618 by an alchemist trying to turn base metal into gold who wound up inventing a new kind of cymbal instead (Zil-dji means "cymbal maker" in Turkish). If you're asking what an Armenian cymbal has to do with the Siamese royal family, well, it's close enough. Stordahl asked Zildjian to provide Frank's drummer Johnny Blowers with a set of miniature finger cymbals for the first of the King things:
Hello, Young Lovers, whoever you are
I hope your troubles are few
All my good wishes go with you tonight
I've been in love like you...
Gertrude Lawrence was a fiftysomething actress playing a widowed governess, and the point of the song is to show that, although she's alone, she's known love, known "how it feels/To have wings on your heels". It's a lovely thought from Hammerstein, although a difficult song to pull off outside the show. To be honest, I'm not sure Sammy Cahn's parody rewrite for Rat Pack kibbitzing isn't more immediate and universal:
Hello, Young Lovers, whoever you are
Can I come over and watch?
Sinatra opts to do the number at crawl tempo. After a beautiful Stordahl minor-key opening with Johnny Blowers' Oriental bells and strings trembling on the brink of dissonance, Frank comes in weighing every word by the pound. Young love, you'd think, ought to be more giddy and carefree:
I know how it feels
To have wings on your heels
And to fly down the street in a trance...
Sinatra is certainly trance-like, but his heels seem to have lead weights tied to them. It seems an odd choice of song for a man in his mid-thirties. Nevertheless, he must really, truly have wanted to sing it this way, because it took most of the night. "We made 22 takes on 'Hello, Young Lovers'," Johnny Blowers recalled. "We hated that song" - speaking for the band, one assumes, not the vocalist. They were at the Columbia studio on 30th Street, next door to a bar."We wanted to get out of that studio so fast," said Blowers, "we raced each other out the door to see who could get a drink the fastest."
And yet all 22 takes availed Sinatra naught. The hit went to Perry Como, who breezed through the song. Frank tried again 14 years later, for his premature embrace of old age, the September Of My Years album. Gordon Jenkins' lugubrious arrangement isn't as good as Stordahl's, but, at almost the age of Gertie Lawrence on Broadway, Sinatra seems to have a perspective on the song that he didn't in 1951. I must confess, though, that if I had to pick a desert-island "Young Lovers" from Frank it would probably be the Don Costa groovy go-go arrangement that opened "Francis Albert Sinatra Does His Thing", the 1968 TV special in which the singer, not always wisely but gamely, engages with "youth culture". In this "Young Lovers", it's not about a lonely widow glancing wistfully at the careless rapture of youth, but a guy who's been there, done that lending his expertise to those less versed in the art of seduction.
On that February night in 1951, he sang two King And I songs and then returned the following month for a third: "I Whistle A Happy Tune". In fact, Frank steered clear of the whistling. Unlike "Blues In The Night", where Sinatra does his own, for this tune Mitch Miller brought in a body double to play the part of the Happy Whistler, leaving Sinatra to focus on the words:
Whenever I feel afraid
I hold my head erect
And whistle a happy tune
So no one will suspect
I'm afraid...
Written within a very narrow range to accommodate the limits of Gertie Lawrence's voice, it's an innocent, child-like song - although the way Sinatra was feeling about his career at this point, you wonder if he mightn't have been better to do one of those super-dark, wrist-slashing fool-to-want-you treatments. Instead, Frank opts for earnestness - no swingin', no back-phrasing, just two-and-a-half minutes of (as Frankologist Will Friedwald puts it) "singing squarely on the beat (for almost the only time in his career)".
One of the challenges Anna And The King Of Siam posed to its adapters is that it is the nature of the relationship between His Majesty and the governess that they can never sing a big love song together: everything has to be left unarticulated; the romance such as it is is supplied by the audience, urging them on. So the nearest thing to openly expressed amorous sentiment in the score are the numbers Rodgers & Hammerstein wrote for the secondary couple, a pair of doomed, tragic lovers - the slave girl Tuptim whom the King has chosen for his bride and the Burmese scholar Lun Tha who loves her and whom she loves. But in secret:
We Kiss In A Shadow
We hide from the moon
Our meetings are few
And over too soon...
Axel Stordahl's arrangement for Sinatra uses a five-note phrase fluttering among the flutes and other woodwinds and designed to evoke a sense of jittery, fleeting, stolen moments that blossom into full, open-throated desire at the end of the release:
Alone in our secret
Together we sigh
For one smiling day to be free!
It's the one track of the three that seems attuned to Sinatra as both musician and storyteller, and I regret it didn't stay in his book for long. Which makes you wonder how he settled on this particular trio of King And I songs. Why not "Getting To Know You"? Why not "Shall We Dance?", the sexy polka he could surely have turned into a sexy non-polka? There was to be a fourth King And I song from the singer, but it was a long time coming:
I Have Dreamed that your arms are lovely
I Have Dreamed what a joy you'll be
I Have Dreamed ev'ry word you'll whisper
When you're close
Close to me...
It was 12 years after that 1951 King And I session. Frank is making an album called The Concert Sinatra, which isn't a concert but a studio set of songs that demand an orchestra that's concert-sized - which is to say, symphonic. It's an album of "important" songs - "You'll Never Walk Alone", "Ol' Man River". Half the songs are by Rodgers & Hammerstein, and the other half are by either Rodgers or Hammerstein - with one exception ("Lost In The Stars" by Kurt Weill and Maxwell Anderson). It's a 73-piece orchestra, so big they have to record the album on a sound-stage at the Sam Goldwyn movie studios. Ever after Nelson Riddle would cite it as his favorite Reprise album for Frank, and sometimes his favorite album, period. Better than Songs For Swingin' Lovers? Better than Close To You, with Riddle's beautiful chamber arrangements for the Hollywood String Quartet? Better than any of the Frank/Nelson "concept albums"? They're telling a story, whereas this isn't telling you anything except that they've hired an orchestra big enough to match the importance - and in some cases self-importance - of a ragbag of songs.
But, as with Point Of No Return, Side One Track One is worth the price of admission all by itself. It begins ever so lightly, with shimmering flutes like fireflies in the moonlight, and the 30,000 string players creep in almost imperceptibly so you don't really notice them as a money-no-object force of unlimited manpower but as what Hammerstein (in another King And I song) called "a bright cloud of music". And the singer too is both formal and respectful but also real and lovestruck:
How you look in the glow of evening
I Have Dreamed...
The "glow of evening" is very aurally appealing, and Sinatra's tone is irresistible. Presumably, in an orchestra that size, there were a lot of unfamiliar faces among the players. But Frank wanted some old friends there, too. His longtime concertmaster, lead violinist and occasional conductor Felix Slatkin had had a fatal heart attack on February 8th 1963. He was only 47. The Concert Sinatra sessions were set to start on February 18th, and Frank had lost not only his principal violinist but his 'cellist, too, Slatkin's wife Eleanor. She was distraught, and befuddled, and lost. Frank wanted her on the date to help her understand that life went on.
"I wasn't really up to playing," Eleanor Slatkin recalled, "but he said, 'I won't play unless you agree to do the album.' He was trying to get me back, because I was nowhere. And finally, I said, 'Okay,' and I broke down completely..."
"Anything I can do for you," Frank told her. "No matter what, you're my 'cellist." As Eleanor described it, when you're his friend, you're his friend - or, as their son Leonard Slatkin, now the conductor of the Detroit Symphony, put it: "She was a friend first, who happened to be a 'cellist."
When Richard Rodgers wrote with Lorenz Hart, the music came first and Hart fit his lyrics to Rodgers' melodic imagination - hence all those flamboyant rhyme schemes. With Rodgers & Hammerstein, the words came first, and Rodgers' music took on a more formal, almost stately quality. It's very difficult writing words without notes: it can all come out a bit tumty-tumty. So Hammerstein liked to have a pre-existing tune in the back of his head to give him a metrical pattern to write to. It was usually some old vaudeville number from the beginning of the century, but in the case of "I Have Dreamed" he wrote it as a waltz:
I Have Dreamed
That Your Arms Are Love-ly
I Have Dreamed
What a joy you'll be...
He didn't tell Rodgers that, of course, and so the composer came back to him with a much better idea. Riddle is sensitive enough not to bury and overblow the tune, and his writing for Vince De Rosa's French horn is exquisite. The final section is a perfect meeting of voice and orchestra. "Although Sinatra never sounds as if he's straining", wrote Will Friedwald, "he has taken his chops to the very outer limits of where they can go" - and the result is as romantic as anything he's ever sung, a mature Sinatra's variation on the tonal purity of his youth:
In these dreams I've loved you so
That by now I think I know
What it's like to be loved by you...
I will love being loved by you.
"I Have Dreamed" wasn't a Sinatra regular, but he sang it live on stage from time to time over the years, sometimes by request (I think it was Princess Grace of Monaco who asked for it at the Royal Festival Hall in London), and it was always sincere and moving. It's so right for him you wonder why he didn't record it at that original King And I session back in 1951.
There's a very good reason for that: it hadn't yet been written. Sinatra recorded "Hello, Young Lovers" and "We Kiss In A Shadow" on February 2nd 1951. "I Have Dreamed" would not be written until about a month later, when it was decided to add it to the show during the Boston try-out in March, to punch up the Second Act. So Sinatra scheduled a session to record the best of The King And I, without realizing that the best of The King And I had yet to be written.
After The King And I had opened, and was a hit, Oscar Hammerstein II wrote to Richard Rodgers:
I am convinced that this is our best work. I have a kind of humble feeling of not knowing how we did it. It has more wisdom as well as heart than any other musical play by anybody. It will remain 'modern' long after any of our other plays.
Frank Sinatra didn't especially get on with Richard Rodgers, but he respected the pair as America's greatest musical dramatists and in February of 1951 he was so eager to record the finest songs from what, whether or not it was "our best work", was certainly a landmark score. Poor Frank made just one mistake: He should have waited till they finished it.
~For an alternative Sinatra Hot 100, the Pundette has also launched a Frank countdown. She has a real Steyn favorite at Number 45, "Swingin' Down The Lane". Bob Belvedere over at The Camp Of The Saints is counting down his own Sinatrapalooza, and he's rocketed up to hit sound 26, another solid Steyn favorite "Have You Met Miss Jones?" I'm sorry to see that the eponymous Margaret of Margaret's Belly is closing down her website, but she's given her own rendition of a Sinatra lyric of sorts - Rudyard Kipling's "Mandalay", but without Billy May backing her up.
~There's more on Rodgers & Hammerstein in Mark's acclaimed classic Broadway Babies Say Goodnight. You can read the stories behind many other Sinatra songs in Mark Steyn's American Songbook, while Steyn's original 1998 obituary of Frank, "The Voice", can be found in the anthology Mark Steyn From Head To Toe. Personally autographed copies of both books are exclusively available from the SteynOnline bookstore.
SINATRA CENTURY
at SteynOnline
6) THE ONE I LOVE (BELONGS TO SOMEBODY ELSE)
8) STARDUST
10) WHAT IS THIS THING CALLED LOVE?
11) CHICAGO
12) THE CONTINENTAL
13) ALL OF ME
15) NIGHT AND DAY
16) I WON'T DANCE
17) I'VE GOT YOU UNDER MY SKIN
19) EAST OF THE SUN (AND WEST OF THE MOON)
21) A FOGGY DAY (IN LONDON TOWN)
24) OUR LOVE
27) FOOLS RUSH IN
32) I'LL BE AROUND
36) GUESS I'LL HANG MY TEARS OUT TO DRY
37) NANCY (WITH THE LAUGHING FACE)
38) SOMETHIN' STUPID
40) I GET ALONG WITHOUT YOU VERY WELL (EXCEPT SOMETIMES)
41) SOLILOQUY
42) THE COFFEE SONG
44) HOW ABOUT YOU?
46) LUCK BE A LADY