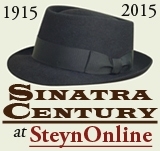 In the course of sixty years, Frank Sinatra recorded two numbers from the Silvers songbook. The first was "Nancy (With The Laughing Face)" by Sergeant Bilko himself, Phil Silvers. The second was "Learnin' The Blues":
The tables are empty
The dance floor's deserted
You play the same love song
It's the tenth time you've heard it
That's the beginning
Just one of the clues
You've had your first lesson
In Learnin' The Blues...
Don't tell me that was by Phil Silvers, too? No. The writer of "Learnin' The Blues" was, professionally speaking, Dolores Silvers, and, in her personal life, Vicki Silvers. She was not Mrs Phil Silvers, but rather Mrs Arthur Silvers, her husband being a sales manager for a ladies' wear manufacturer. Before she was Mrs Arthur Silvers she was briefly Miss Vicki Hollander, in which incarnation Miss Hollander was a regional finalist for Miss Press Photographer of 1948. This wasn't an award for lady photojournalists but a beauty pageant sponsored by the Press Photographers' Association. Nineteen years earlier, before she was Miss Vicki Hollander, she was born Doloris di Tullio - which spelling of "Doloris" always reminds me of a certain "Seinfeld" episode. Papa di Tullio was a furniture upholsterer and occasional pianist around Philadelphia.
Instead of going for a second shot at the Miss Press Photographer tiara, in 1954 Mrs Silvers was trying to write songs. One of them got recorded by a singer pal called Joe Valino, who was known as "the Frank Sinatra of Philadelphia". It was played on the WPEN 950 Club with Joe Grady and Ed Hurst, and listeners said nice things about it. But being the Frank of Philly wasn't enough: Valino wanted a crack at the big time. One Friday afternoon a couple of guys took his record along to Stanley Cooper at Barton Music on the fourth floor of the famous Brill Building in New York. Barton Music was run by Ben Barton and owned by Frank Sinatra, the idea being that, if Frank made the songs Barton found into hits, he'd get to enjoy a little of the publishing action, too. So these two fellows walked into Stanley Cooper's office, put on Joe Valino's demo and "Learnin' The Blues" filled the room:
The cigarettes you light
One after another
Won't help you forget her
And the way that you love her
You're only burnin'
A torch you can't lose
But you're on the right track
For Learnin' The Blues...
Stanley Cooper didn't think much of Valino's record. "He sounded too much like Sinatra. Dozens of singers were modeling their sound after Frank's," he told Marc Myers of JazzWax. "But the song, wow, that was different." So he asked who wrote it. And the guys from Philadelphia said, no way, we're here to sell you the singer not the song. Cooper wasn't interested in Joe Valino but he was very much interested in "Learnin' The Blues" and he persuaded them to cough up a name: Vicki Silvers. When they left, he called directory. It was Friday afternoon. The next morning he was on a train to Philly.
Cooper took a cab to Mr and Mrs Arthur Silvers' house where "a woman who looked like Ava Gardner opens the door". He asked if Mrs Silvers was in, and she replied, "I'm Vicki Silvers." "I was stunned," said Cooper. "Se looked like a movie actress" - which isn't how Sammy Cahn or Irving Berlin or most other songwriters look. He could certainly see why she was a regional finalist for Miss Press Photographer of 1948.
He explained he was from Frank Sinatra's publishing company and that they were interested in acquiring "Learnin' The Blues". He pulled out of his briefcase a standard contract, and her hubby, the dresswear sales manager, gave it the once over. He demanded one change to the boilerplate: If Sinatra hadn't recorded the song within six months, all rights would revert to Vicki. And Cooper said sure: He figured if Frank didn't like the song, it's going nowhere, so who cares? So they all sign. And then he got back on the train to New York, where he gave the song to Frank Military.
Sammy Cahn introduced me to Frank Military a zillion years ago at Warner Chappell's New York office, where I think he held the title of Senior Executive Vice-President. But that doesn't really explain who he was: I always found him a rather modest and low-key kind of fellow (although he was a big fixture at the Friars Club) but for half-a-century he had a genius for getting the right song to the right singer. And not just any old song, but the big iconic songs - the ones still standing when everything else on the Greatest Hits LP has been forgotten: "Misty" for Johnny Mathis, "What A Wonderful World" for Louis Armstrong. He went back a long way with Sinatra, and he was still delivering almost to the end: in 1977 he was the guy who brought Frank a song from a flop Martin Scorsese movie he thought Ol' Blue Eyes could make something of - "New York, New York".
Frank Military reckoned "Learnin' The Blues" was a pretty good song and he sent it over to Sinatra with maybe 20 other possibilities. This was the only one of the batch the singer liked. Nelson Riddle worked up an arrangement and on March 23rd 1955 he and Frank went into the Capitol studios and, after 31 takes (which may be a record for a Sinatra session), emerged with a helluva single. First that vamping intro, and then:
The tables are empty
The dance floor's deserted
You play the same love song
It's the tenth time you've heard it...
It's an up song about feeling down, with four terrific trumpeters - Harry "Sweets" Edison, Conrad Gozzo, Manny Klein, and Mickey Mangano - blowing very cool, and Frank Flynn, the guy who wallops that monster gong on "Road To Mandalay", taking over on vibes for the last part of the first chorus. And it was a big hit: Number Two in Britain, Number Two on the Cashbox charts, Number Two on the Billboard bestsellers chart, and Number One on Billboard's airplay chart, where on July 16th it got knocked off by "Rock Around The Clock" and then came roaring back and toppled Bill Haley from the top spot on July 23rd. That's to say, it held its own with a record that wasn't merely a hit but came to embody the triumph of a new and dominant form that would crush the music Sinatra loved. "Learnin' The Blues" isn't rock'n'roll, but it has an insistence and energy that matches anything Haley's Comets can offer. Ben Barton was so impressed he gave Stanley Cooper a $100 bonus.
Frank liked "Learnin' The Blues" and seven years later he remade it on his first LP with Count Basie. This is one of the great vocal albums in the entire history of recorded music, and Neal Hefti's arrangements are spectacular - on "I Won't Dance", "Pennies From Heaven", "I Only Have Eyes For You"... But, along with the remake of "Tender Trap", "Learnin' The Blues" is a very slight disappointment. It's one of the longer tracks on the set - four-and-a-half minutes - and it shows off the band nicely, but almost immediately settles into an easy Basie groove with a characteristically Hefti back-and-forth between the muted trumpets and the saxes. Where Riddle's version is restless and driven, Hefti's chart sounds a long way away from the sleepless nights and cigarettes and all the other imagery. "Learnin' The Blues" is what it is: a rough-and-ready pop song, and in smoothing out a lot of those rough edges something gets lost along the way.
Still, as rough-and-ready goes, it's not bad for a song written by an amateur. You can sort of tell Mrs Silvers is not a professional. "Deserted" and "heard it" is not a rhyme Ira Gershwin or Cole Porter would have offered, nor is "one after another" and "love her". Aside from the impurity of the latter, most songwriters would have been wary of a rhyme that confined the song to a male vocalist. When Rosemary Clooney recorded the number, she sang:
The cigarettes you light
One after another
Won't help you forget him
And the way that you love him...
Which replaces an impure rhyme with no rhyme at all. Half-a-century later, Katie Melua, the talented British singer (she's Ulster-Georgian, as it were, from Tbilisi via Belfast) made a fine record of "Learnin' The Blues" and, unlike Rosie, opted to replace one false rhyme with another:
The cigarettes you light
One after the other
Won't help you forget him
When you're losing your lover...
Which also loses a bit of sense, I think.
But this is to nitpick. The economy of the imagery - the empty tables, deserted dance floor, the chain-smoking and sleepless nights - sits perfectly on the tune's relentless energy, and then the broader legato middle section moves to two generalized contrasts, a Philly housewife's equivalent of Cole Porter's roaring traffic's boom and the silence of his lonely room:
When you're at home alone
The blues will taunt you constantly
When you're out in a crowd
The blues will haunt your memory...
That's quite a worldly view from a 25-year-old: If only more "amateur" songs were this good. Of all the songs Sinatra was sent unsolicited by budding Berlins and housewife Hammersteins over the years, "only one that was sent to me that ever had any - to use a strange word - professionality. It was called 'Learnin' the Blues,' and it was written by a girl named Silver [sic] from Philadelphia," he recalled years later. "She never wrote another that I know of."
That's not strictly true. ASCAP, the songwriters' royalty agency, lists another seven titles by Mrs Silvers, one of which was recorded by Dick Haymes - "Love Is A Great Big Nothing", a promising title she doesn't quite live up to.
But Frank's right in a broader sense: Vicki Silvers never had another hit song. Not long after, she appeared on "The Tonight Show" with Steve Allen (another one-hit writer: "This Could Be The Start Of Something Big") and made such an impression that NBC asked her to co-host "The Today Show". She turned them down - so it was left to Barbara Walters to become the show's first female anchor. Mrs Silvers opened a successful travel agency, whose clients included Philly police chief and mayor Frank "Big Bambino" Rizzo, the Democrat who ran on a pledge to "make Attila the Hun look like a faggot": When Rizzo comes a-callin', you'll be the one learnin' the blues. Vicki Silvers died in 2007, after a varied, rewarding and well-lived life.
The guy who spent the next four decades learnin' the blues was the fellow who'd first sung "Learnin' The Blues", Joe Valino. The following year - 1956 - he had a minor hit with a somewhat overwrought song, "Garden of Eden":
When you're yearning for loving
And she touches your hand
And your heart starts a-pounding
And you're feeling so grand
Can you leave her to heaven
And obey the command?
Can you walk from the garden?
Does your heart understand
When you walk in the garden
In the Garden of Eden
With a beautiful woman...
Etc. In Britain it was a Number One record for Frankie Vaughan. In America Joe Valino's version did not fare as well. It entered the Billboard charts on October 20th and had climbed by mid-December to Number 12. Who knows if it would have gone higher? But by then he was on trial in a Pennsylvania court. A girlfriend, Marian Melet, accused him of getting her pregnant and forcing her to get rid of the baby. Valino was charged with procuring an illegal abortion, found guilty on all counts and given a 17-year suspended sentence.
And the voice in the garden
In the Garden of Eden
Tells you she is forbidden
Can you leave her there?
Evidently not. Joe Valino was expelled from the Garden of Eden, and his recording of "Garden of Eden" was expelled from the airwaves and record stores. He worked fitfully but obscurely until dying of a heart attack in 1996, two years before Sinatra.
It's a sad story, and sad stories do strange things to those who bear their burdens. The man who has done more research than anyone into Valino's recording of "Learnin' The Blues" is Marc Myers of JazzWax, who's spoken with Valino's niece, with Vicki Silvers' daughter, and with the son of the orchestral contractor Joe Techner. Lisa Paulino regards Joe Valino not merely as a beloved uncle but a shouldda-been star who was robbed of his career - and not by a criminal conviction but by Sinatra and Mrs Silvers.
One can sympathize with a devoted niece's frustration: Sinatra's possession of the song endures even in death. If Ms Paulino dialed up the 2008 Grammy Awards, she'd have seen "Learnin' The Blues" performed by Alicia Keyes "duetting" via the miracle of technology with archive footage of Frank. Nevertheless, the eclipse of Uncle Joe has led Lisa Paulino to make entirely unsupported accusations. She believes inter alia that her uncle wrote "Learnin' The Blues" but that Vicki Silvers stole it from him and then sold it on to Sinatra's publisher. She further claims that Sinatra had his "goons" come down to Philadelphia, follow Valino's cab and, when it stopped to discharge them, beat up the singer and his girlfriend. (Whether it was the aforementioned Marian Melet is unclear.) By the time Joe Valino ever gets on the Grammies, it'll be because a duet of him and Alicia Keyes doing "Learnin' The Blues" ends with a hologram of Frank strolling on and taking a tire iron to the hologram of Joe.
The supposed reason for beating up an obscure South Philly singer was to warn Valino off from promoting his version of "Learnin' The Blues". Sinatra was apparently so anxious to kill Valino's disc stone dead that he recorded his own take and rushed it out in "something like five days". In fact, he recorded it on March 23rd and it was released on April 25th - which if anything was rather leisurely for those days. It certainly indicates no special urgency, and in any case Valino's recording had been out for months, gone nowhere and in terms of chart prospects was already dead.
Sinatra gets accused of having all kinds of people beaten up and his celebrity is big enough to shrug it off. But Vicki Silvers isn't a household name - just a Pennsylvania lady who happened to write one enormous hit. And Lisa Paulino's suggestion that she stole it from another man is really quite appalling. Janet Silvers told Marc Myers that her mother "was dear friends with Joe Valino till the day he died. I have every Christmas card he ever sent her, and they spoke quite often on the phone. I hardly think that would have happened if my mother had stolen the song from Joe... My mother was the sole writer of 'Learnin' The Blues'." Edward Marshall, a friend of Valino's and the writer of Frankie Avalon's hit "Venus", adds:
Any suggestion that anyone but Dolores Vicki Silvers wrote 'Learnin' The Blues' is nonsense. I met Joe Valino in February 1952, and we remained close friends for decades. Joe was a great singer and a fine musician, but he was not a songwriter and never made a serious attempt to be one... Joe always referred to 'Learnin' The Blues' as Dolores' song, and never once in all the years we were friends did he ever suggest that he or anyone else had anything to do with the composing of it.
And the best evidence of all that his niece's story is quite scurrilous is the very label of Valino's original recording of "Learnin' The Blues" which, long before Sinatra or any other publishers entered the picture, states quite clearly that the song's author is "Dolores Silvers". Why would Valino agree to that if he'd written the song?
Indeed, the only person who seems to be have behaved badly in all of this is Joe Valino. The trumpeter Joe Techner agreed to serve as contractor for Valino's record of "Learnin' The Blues" - the contractor is the guy who hires the musicians for the date, and this would be Joe Techner's first and last outing in that role. As his son Drew told Marc Myers:
My father had difficulty getting money from Valino to pay the band. Joe [Techner] had to borrow from his father to pay the musicians. Joe [Techner] then went to Local 77. With the union's pressure, Valino eventually paid.
Marc Myers says he prefers Joe Valino's version of "Learnin' The Blues" to Sinatra's. Fair enough. The two men are not tonally similar - Valino is a lot closer to the other Italiano balladeers of the era - but to each his own. According to Mr Myers, "Sinatra's interpretation sounds remarkably close to Valino's demo, causing some to wonder whether Sinatra was influenced by Valino's version" and claims that it was Valino's "vocal style that Sinatra adapted". What? Mr Myers also suggests, even more bizarrely, that Joe Techner's trumpet solo "inspired the use of Harry 'Sweets' Edison's mute similarly on Sinatra's Capitol recordings". This is just bonkers. First, I would bet Edison never heard Valino's record: not many people did. Second, I would bet that he had never heard "Learnin' The Blues" until, as was his habit with Sinatra and Riddle, he arrived half-an-hour early to prepare for the session (because he was a poor sight-reader). Third, his distinctive mute was already a part of the Nelson Riddle "signature", and in place on Sinatra records like "Get Happy" over a year earlier.
I know everyone likes finding a great undiscovered talent, but the idea that Sinatra and Edison built their careers on Joe Valino and Joe Techner is nuts. Sinatra in 1955 was well settled into his Capitol vocal style, with Sweets matching him in the fills. Yet, according to Joe Techner's son Drew, "Sinatra didn't have a hit for some time and needed a boost." Au contraire, as we've heard, by the time he released "Learnin' The Blues", Frank had the world on a string - with an Oscar on his mantelpiece, hit singles like "Young At Heart", and a brand new Number Two album, In The Wee Small Hours. Joe Valino would certainly like to have been that washed up.
But judge for yourself. Here's Joe Valino's "Learnin' The Blues".
It's a okay little record, although at the beginning Valino sounds more like the late Columbia Sinatra than the inspiration for Frank's Capitol style. But the intro's dandy. And Joe Techner's trumpet mute and Gene Klutch's piano solo are pretty good, although they're just generic solos - they don't connect with the emotional narrative of the song whatsoever. The one thing I do like, however, is Valino's wind-up:
The nights when you don't sleep
The whole night you're cryin'
But you can't forget her
Soon you even stop tryin'
You'll walk the floor
And wear out your shoes
When you feel your heart break
You'll know you've learned
The blues.
Valino finishes the story: When you feel your heart break, you'll know you've learned the blues. Man, you have your bachelor's, master's and doctor of bluesology hanging right there on the wall. A piano part for Gene Kutch suggests that might even have been the original title: "Learned The Blues." The trouble is "you know you've learned the blues" doesn't sing so easily, and Sinatra on his recording preferred to wrap it up less conclusively:
When you feel your heart break
You're learning those blues.
By the way, just before that, listen to how Sinatra rides Riddle's key change - "Mmmm, the nights when you don't sleep..." That's not the sound of a man trying to mimic some fellow in South Philadelphia. And there's nothing like it on Valino's record.
Why do some guys make it and others don't? As Artie Shaw said to me years ago, not everybody is a tragic artist; some guys just screw up. Joe Valino falls into the latter category: He screwed up big - in the abortion conviction - and he screwed up small - in not paying the musicians who played on "Learnin' The Blues". But in neither case was it the fault of Frank Sinatra or Vicki Silvers.
Fame is a fickle and fleeting siren. You glimpse her just for an instant across a crowded room, and if you can just hold that wisp of gossamer she can lead you to hit records and movie deals and sell-out nights in New York and Paris and London. But most times she shimmers and she's gone and you never sight her again. And so it was for "the Frank Sinatra of South Philly":
The nights when you don't sleep
The whole night you're cryin'
But you can't forget her
Soon you even stop tryin'...
~For an alternative Sinatra Hot 100, the Pundette has also launched a Frank countdown, as has Bob Belvedere over at The Camp Of The Saints. They both find room for "Learnin' The Blues: on Pundette's hit parade, it's Number 92; on Bob's, it's Number 51. The Evil Blogger Lady has some early Frank live at the Hollywood Bowl in the Forties.
~Steyn's original 1998 obituary of Frank, "The Voice", can be found in the anthology Mark Steyn From Head To Toe, while you can read the stories behind many other Sinatra songs in Mark Steyn's American Songbook. Personally autographed copies of both books are exclusively available from the SteynOnline bookstore.
SINATRA CENTURY
at SteynOnline
6) THE ONE I LOVE (BELONGS TO SOMEBODY ELSE)
8) STARDUST
10) WHAT IS THIS THING CALLED LOVE?
11) CHICAGO
12) THE CONTINENTAL
13) ALL OF ME
15) NIGHT AND DAY
16) I WON'T DANCE
17) I'VE GOT YOU UNDER MY SKIN
19) EAST OF THE SUN (AND WEST OF THE MOON)
21) A FOGGY DAY (IN LONDON TOWN)
24) OUR LOVE
27) FOOLS RUSH IN
32) I'LL BE AROUND
36) GUESS I'LL HANG MY TEARS OUT TO DRY
37) NANCY (WITH THE LAUGHING FACE)
38) SOMETHIN' STUPID
40) I GET ALONG WITHOUT YOU VERY WELL (EXCEPT SOMETIMES)
41) SOLILOQUY
42) THE COFFEE SONG
44) HOW ABOUT YOU?
46) LUCK BE A LADY
48) (AH, THE APPLE TREES) WHEN THE WORLD WAS YOUNG
49) I HAVE DREAMED
51) I'VE GOT THE WORLD ON A STRING
52) YOUNG AT HEART
54) BAUBLES, BANGLES AND BEADS