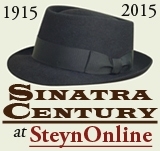 2015 is the centenary year not only of Frank Sinatra but also of Chet Forrest, born one hundred years ago this weekend on July 31st 1915 in Brooklyn, New York.
Chet who? Well, Robert Wright and his partner George "Chet" Forrest were never exactly household names in the music biz, but they certainly worked with a lot of household names, including Rachmaninov, Tchaikovsky and Rimsky-Korsakov. The songs they wrought from classical tunes were old-fashioned even at the time, but Sinatra recorded no fewer than four of them. Given that three of them were songs there was no reason to record, it seems safe to assume that he only did so because he liked them. Given that two of them were songs he recorded multiple times, it seems safe to conclude that he really liked them.
Wright and Forrest met in Miami, when Bob Wright was the high school piano star and Chet Forrest came in to audition for the Glee Club, and starting with their school song "Hail to Miami High!" they wrote together for the next seven decades - the longest exclusive partnership in showbiz history. When I met them, Wright was the garrulous one, and Forrest had long periods of silence verging on the Trappist - the result of a brutal mugging in New York in the Seventies. But, when he did speak, what he said was choice. We were discussing their only professional separation – a few weeks in 1930 when the 16-year-old Wright was on tour as pianist to the celebrated fan dancer Sally Rand. "But she was never nude," he assured me. "She always wore a French what-d'you-call-it?"
"Body stocking," said Forrest, who never got as close to her as Wright, but, like any good writer, had the mot juste at his fingertips.
After Miss Rand, they went upscale. Indeed, their list of composing partners is as classy as they come: Rachmaninov, Saint-Saëns, Grieg, and pretty well every other longhair you can think of. Conversely, as composers, they also worked with some unusual lyricists, setting (at the behest of the United States Government) Thomas Mann's Letter to the German People. But, if they could write both words and music, why did Wright and Forrest need third parties at all?
"We were swept from writing risqué material for cabaret to MGM, who signed us on the basis of 88 pop songs we had written," explained Wright. "And then our careers took a completely different turn. Hunt Stromberg, who'd produced the first two Jeanette MacDonald/Nelson Eddy pictures, agreed to do the third – Sigmund Romberg's Maytime – but only under the condition that they threw out everything. Then he said, 'I want the youngest, most inexperienced writers to work on this picture. I want something totally fresh.'
"Well, I was 21, Chet was 20. And the music department said to us, 'Romberg's here getting $2,500 a week, and Stromberg won't have him, he says he's finished. Do you fellers think you'd be able to cook up some tunes based on out-of-copyright music? You'll get no credit, because the Romberg contract won't allow it. Can you do that?' Well, we were writing jazz, pop tunes. Operetta was the furthest thing from our minds. We'd never even seen Nelson Eddy on screen. Anyway, he played a young music student, she was a famous opera singer – I'm trying to remember the plot – and they said, 'They've got to have some music to bring them together.' So we said, 'Suppose he was from Virginia and he invites her to breakfast?'"
As the show was set in Napoleon III's Paris, this seemed an unlikely premise for a song. Nonetheless, the executives raved, and Wright and Forrest went off and wrote:
I will fix you ham and eggs
Prime Virginia ham and eggs
Like they fix them way down south...
"Suddenly the word went out, 'They can write like Puccini or Verdi, and we've got the bastards for 200 bucks a week!'"
They're there, credited or uncredited, on all kinds of movies - not just Nelson Eddy and Jeanette MacDonald but The Thin Man, The Women and a 1940 film called Music In My Heart, of which more in a moment. It was an enjoyable and undemanding life, but one day Herbert Stothart, a longtime MGM music man who'd won an Oscar for scoring The Wizard of Oz, advised them, "You have to leave. Or nobody will have ever heard of you." They wrote a little revue that got put on in Los Angeles - "and once you hear an audience react live," Bob Wright told me, "once you hear them laugh, applaud, cheer, film work seems very boring."
In 1944 they made their Broadway debut with Song of Norway, written by Wright & Forrest with a genuine Norwegian, Grieg, although it was an involuntary collaboration on his part. Grieg didn't carry much clout with their agent: "Whaddaya wanna screw around with this guy for?" he said. "Who's he?" Wright & Forrest weren't expert enough to give an authoritative answer, but Cole Porter reassured them: "I've studied every songwriter. And the best who ever lived was Edvard Grieg."
So they set to work and turned "Wedding Day at Troldhaugen" (written in 1896 for Mr and Mrs Grieg's silver anniversary) into a song called "Strange Music":
Strange Music in my ears
Only now as you spoke did it start
Strange Music of the spheres
Could its lovely hum be coming from my heart?

You appear and I hear song sublime
Song that I'm
Incapable of...
It was a song that Frank Sinatra was certainly capable of, but nonetheless it was strange music for him. Yet three months after the show opened on Broadway in August 1944, Sinatra asked Axel Stordahl to work up an arrangement and sang it on the "For The Record" radio show and for a V-disc. No other pop singers were singing it. The following year James Melton, a tenor with the Metropolitan Opera, got to Number 21 on the charts with a somewhat stiff reading (compared to Frank's) and that was that. But Sinatra went back into the studio and made two recordings of the song for Columbia in 1946 and 1947. As with Tchaikovsky's "None But The Lonely Heart", it seemed to appeal to a sincere if self-conscious arty side of him. On the other hand, it brought out another side of Stordahl: Given a hep-cat pop tune, he'd arrange it for strings and let most of the other sections go out for a smoke. Here, given Grieg, he plays up the saxes.
But Sinatra wasn't yet done with Song Of Norway. In 1946, he also recorded the big love song from the score, which was, in fact, called "I Love You". This is one of three songs Frank recorded with that title, and in terms of the outcome the least satisfying record. But this "I Love You" can claim to have been first with the handle, having been known as "Ich liebe dich" since Grieg wrote it in 1864.
Nine years after Song of Norway, Wright & Forrest wrote what would prove to be their biggest Broadway hit. For Kismet, the producer originally said, "How about Tchaikovsky?"
"But we said no, we'd done that. Then he said Rimsky-Korsakov, but we said no, done that," Bob Wright told me.
It was Vernon Duke, the writer of "April In Paris", who hit upon the answer: "Tell the boys to look into Borodin."
Not long before I met Wright & Forrest, I'd been to the Royal Opera to see Borodin's own biggest stage hit, Prince Igor. And when they kicked up the Polovtsian Dances, I found myself silently singing along to the unadorned music:
Take my hand
I'm a Stranger in Paradise
All lost in a wonderland
A Stranger in Paradise...
That's the Wright & Forrest version from Kismet. In the show it's a duet between the beautiful Marsinah and the young Caliph. Whoa, don't worry. I don't mean "caliph" in the al-Baghdadi ISIS head-hacking sense. This was back in the Fifties, when caliphs were cuddly and Islam was just a bit of local color for a hit musical set in l'il ol' Baghdad town. Kismet gets pretty operatic for a Broadway show (especially on Wright & Forrest's beautiful "And This Is My Beloved"), and yet it was a smash. Whereas Borodin's Prince Igor ...not so much. "So why is that?" I asked.
"We like to think it's us," said Chet Forrest, disarmingly.
He had a point. Take that soaring and ethereal middle section of "Stranger In Paradise":
I saw your face
And I ascended
Out of the commonplace
Into the rare
Somewhere in space
I hang suspended
Until I know
There's a chance for me there...
"There's not a note of Borodin in there," said Wright. "There was no Borodin left. We'd used everything we could use."
"So we wrote it ourselves," added Forrest. What's impressive, though, is the way it seems to grow organically from Borodin's main theme: you can't spot the join. Insofar as they had a formula with these classical guys, that was it: Find something from Borodin that you could use as the main A theme and then, when it came to the middle section, write something yourself that sounds like something Borodin might have written had he been working in Tin Pan Alley.
Their best song was the other hit from Kismet, and a great favorite with jazz improvisers in the six decades since. It started out as the subordinate theme from the second movement - the scherzo - of Borodin's String Quartet No 2, written in 1881. Wright & Forrest immediately saw the vocal potential of the rising thirds in the composer's theme - "Bau-bles/ban-gles/hear how". It was the rest of the tune that gave them problems:
Baubles
Bangles
Hear how they jing jing-a-ling-a...
Jing-a-ling-a? I'm not sure Rodgers & Hart would ever have written that, but sometimes sound can be more important than sense:
Sparkles
Spangles
Your heart will sing sing-a-ling-a
Wearing Baubles, Bangles and Beads...
It looks faintly ridiculous on paper, but it was very aurally pleasing on stage, and it seemed to suit a somewhat exotic production like Kismet. Still, you're surprised it proved so popular outside the show. Peggy Lee was the first top-flight vocalist to sing it, and five years later, recording Come Dance With Me at the end of 1958, Sinatra and Billy May took a swingin' arrangement way beyond a Broadway operetta set in Baghdad and made it everybody's bag, dad. Yet, even as it swings, Frank's tone on the legato middle section is just perfect:
You'll glitter and gleam so
Make somebody dream so that

Some day
He may
Buy you a ring, ring-a-ling-a
I've heard that's where it leads...
So they say. This is a much more jumpin' album than the previous Sinatra/May set Come Fly With Me, and Frank seems jazzed just to be in the same room as the band. And he gets so pumped during the instrumentals that the energy levels when he returns for the out-vocals are as cranked up as anything he's ever done. Keep an ear out for the finger snaps, and then the killer ending:
When you're wearing baubles...
Bangles...
And them koo-koo beads!
That penultimate word is a Frankism not in Wright & Forrest's original lyric. I asked them whether they objected. George Forrest merely snorted with derision. Bob Wright said, "Are you kidding? Have you heard that record?"
Sinatra's fourth Wright & Forrest song was recorded in 1961 for his final Capitol album, Point of No Return. "It's A Blue World" was written for a 1940 musical romance called Music in My Heart, in which it was sung by Tony Martin, who had a hit with it, as did Glenn Miller. But it's hard to know why it would turn up on a Sinatra set list two decades later. Heinie Beau ghosted for Axel Stordahl and it's a sumptuous arrangement, although Frank doesn't quite tap into it: He sounds vaguely disconnected from the whole business. He was not in the best of moods with Capitol in late '61, and this sounds like one of those tracks where he did one take and then said, "Next!" Yet Ted Nash's tenor sax is very fine, and I always enjoy the ending:
The sea, the sky
My heart and I
We're all an indigo hue,
Without you
It's a blue, blue world.
I often wonder how Frank and the song would sound with a Nelson Riddle ballad chart, or stripped down with just Bill Miller on piano or Al Viola on guitar.
There was to be one more great Sinatra recording of a Wright & Forrest song. Because Antonio Carlos Jobim had a zillion tunes but very few English lyrics, "Baubles, Bangles and Beads" was chosen as one of the "American" standards to fill out the Sinatra/Jobim bossa nova album. Claus Ogerman's arrangement just shimmers all the way through, and Frank's singing so softly and sensuously it would never occur to him to toss in a stray "koo-koo". His sole lyrical amendment - the de-contraction of "I've" - seems subtly to intensify the intimacy:
I have heard that's where it leads
When you're wearing Baubles, Bangles and Beads...
Which is the definitive take on "Baubles"? Wrong question. In both cases, in both arrangements, Sinatra is in perfect sync with the band. The following year he added another wrinkle for the TV special Francis Albert Sinatra Does His Thing. The "thing" that Francis Albert was supposedly doing was grooving with the youth scene, so "Baubles, Bangles and Beads" was pressed into service with what was essentially the Billy May arrangement overlaid by Don Costa with dolly-bird backing vocals and an electric, walking bass to give it a more 1968 feel. And of course those crazy koo-koo beads are back. Indeed, you get the strong feeling that that's the only reason the song's there at all. Because even though the number was written for a show set in 9th century Baghdad, what could be more 1968 than crazy koo-koo love beads? Which Frank goes so far as to wear for the first and only time in his life later in the show when he dons his ruffles and psychedelic Nehru jacket to add a sixth to the Fifth Dimension.
As far as I'm aware, he never sang the Ogerman arrangement live. But in the late Seventies he dusted off "Baubles, Bangles and Beads" as a jump tune just to kick around with Vincent Falcone and the rhythm section. It was always a fun moment, and it's how I think of George Forrest on his hundredth birthday. As I said, Wright & Forrest were old-fashioned even then, with Borodin or without, but stick 'em up on stage with piano, bass, drums, guitar and Frank Sinatra, and they're the koo-koo ka-raziest thing you've ever heard:
When you're wearing baubles...
Bangles...
And them koo-koo beads!
~For an alternative Sinatra Hot 100, the Pundette has also launched a Frank countdown. She likes the Billy May arrangement of "Baubles, Bangles and Beads" and puts it at Hit Sound 48. Bob Belvedere at The Camp Of The Saints is likewise counting down his own Sinatrapalooza, and he has a little more Come Dance With Me at Number 82, "Just In Time". It's a blue world over at the Evil Blogger Lady, where she's celebrating Sinatra with "Blue Moon".
~Steyn's original 1998 obituary of Frank, "The Voice", can be found in the anthology Mark Steyn From Head To Toe, while you can read the stories behind many other Sinatra songs in Mark Steyn's American Songbook. Personally autographed copies of both books are exclusively available from the SteynOnline bookstore.
SINATRA CENTURY
at SteynOnline
6) THE ONE I LOVE (BELONGS TO SOMEBODY ELSE)
8) STARDUST
10) WHAT IS THIS THING CALLED LOVE?
11) CHICAGO
12) THE CONTINENTAL
13) ALL OF ME
15) NIGHT AND DAY
16) I WON'T DANCE
17) I'VE GOT YOU UNDER MY SKIN
19) EAST OF THE SUN (AND WEST OF THE MOON)
21) A FOGGY DAY (IN LONDON TOWN)
24) OUR LOVE
27) FOOLS RUSH IN
32) I'LL BE AROUND
36) GUESS I'LL HANG MY TEARS OUT TO DRY
37) NANCY (WITH THE LAUGHING FACE)
38) SOMETHIN' STUPID
40) I GET ALONG WITHOUT YOU VERY WELL (EXCEPT SOMETIMES)
41) SOLILOQUY
42) THE COFFEE SONG
44) HOW ABOUT YOU?
46) LUCK BE A LADY
48) (AH, THE APPLE TREES) WHEN THE WORLD WAS YOUNG
49) I HAVE DREAMED
51) I'VE GOT THE WORLD ON A STRING
52) YOUNG AT HEART