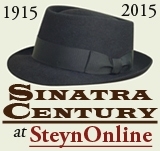 A few months ago, 20-year-old pop star Meghan Trainor gave an interview to Entertainment Weekly about her big international hit "All About That Bass", in the course of which she was asked:
Who were your idols as songwriters?

Phil Collins. And Stevie Wonder. And what always messed me up were Frank Sinatra songs, because of the lyrics and the melodies and how catchy they are. Even if I was going in to write for Rihanna, I'd put on Frank Sinatra and hear 'You may hear angels cheer/'Cause we're together'. No one writes like that anymore, because it's hard.
That would have been news to Jimmy Van Heusen and Sammy Cahn, to whom it, mostly, came easy. And, even when it didn't, it sounded easy, and breezy - and never more so than in their title song for a fun Sinatra travelogue. In fact, the fun starts before Van Heusen's melody or Cahn's lyric, but in Billy May's marvelous, unmistakeable intro with its taxi-down-the-runway-and-smooth-glide-take-off. At which point Frank is cleared to swing:
Come Fly With Me!
Let's fly! Let's fly away!
If you can use
Some exotic booze
There's a bar in far Bombay
Come Fly With Me!
Let's fly! Let's fly away...
The exclamations are Sammy Cahn's. He wrote the lyric first and, in lieu of notes to bounce off, he liked punctuation. Asked what came first - the words or the music - he liked to reply "The phone call." He insisted he was an assignment writer and so, if you didn't phone, he didn't write. On this particular occasion in 1957, the call was from Frank Sinatra, who wanted to know if Sammy and Jimmy could write him a title song for a new album. He was making an LP of songs about different places - Vermont ("Moonlight In..."), New York ("Autumn In..."), Paris ("April In..."), Capri ("Isle Of..."), London ("By Night"), Mandalay ("The Road To..."), etc - and he wanted a number that would tie the concept together.
Sammy said sure, why not? Commissioning someone to write a title song for an album was unusual in 1957. It was the first time Frank had done it, and, as far as I can tell, it was the first time any singer had done it. But Cahn & Van Heusen would go on to write another half-dozen specially commissioned LP title tracks for Frank over the next few years: Only The Lonely, Come Dance With Me, No One Cares, Ring-a-Ding-Ding!, September Of My Years and the unused Come Waltz With Me. But this first song was their entrée into what would become a lucrative niche market.
Sammy and Jimmy chewed things over for a bit, kicked around a few possibilities, and settled on the title "Come Fly With Me". That was unusual, too, in 1957. The first commercial airliner - the De Havilland Comet - had only been introduced into scheduled service by BOAC five years earlier (it was also the first commercial airliner to suffer from metal fatigue, but that's another story). The first transatlantic New York/London jet would not enter service until the year after the album's release. So air travel was not yet a common, shared experience - and yet there's Frank on the LP cover, on the runway with the steps up to the plane behind him and a cheery thumb saying "Hop aboard!" Most of his listeners nearly 60 years ago had never set foot on a plane, but why deny yourself the invitation? For 40 minutes, you too can live the high life with Sinatra.
Where to go? Well, like Frank says:
If you can use
Some exotic booze
There's a bar in far Bombay...
Sammy Cahn told me years ago that he didn't think he could "get away" with exotic "booze": The radio stations might not care for it. So he originally wrote "exotic views", and at the end of the session offered Frank the "booze" substitute to sing live, in Vegas and the like. Sinatra called the orchestra back, already heading out for some not so exotic booze, and re-recorded the song, deleting "views" and singing "booze".
Okay, a bar in far Bombay. Where else you wanna go?
Come Fly With Me!
Let's float down to Peru
In llama land
There's a one-man band
And he'll toot his flute for you
Come Fly With Me!
Let's take off in the blue...
That's a 12-bar phrase, as with "The Tender Trap". Cahn & Van Heusen didn't go in for self-consciously "important" or arty songs - like "Soliloquy" or "Blues In The Night" - but at a time of conventional 32-bar songs they wrote an awful lot of unconventional ones.
Sammy wasn't always the most punctilious lyricist but this is Cahn at his breezy best, in the voice that so suited Sinatra. "Llama land"? Hey, why not? And that "one-man band" is in reality some droning pan-piper who'll bore the pants off you after ten minutes - but not in FrankWorld where he'll "toot his flute" just for you.
Notice all the internal rhymes here: "a bar in far Bombay", "he'll toot his flute for you". Sammy wasn't an exhibitionist rhymester like Cole Porter or Larry Hart: these are not clever-clever rhymes designed to advertise the writer. They're not even particularly important words ("far"), but Cahn believed that you should always use internal rhymes when the opportunity presented. I don't especially agree with that: I wouldn't recommend it for, say, "Ol' Man River" or "I'm A Fool To Want You". But, when you have a composer as sensitive to the shape of a lyric as Van Heusen, they help to bounce the tune along and give it a freewheeling brio.
So Bombay, Llama land. Anywhere else?
Just say the words
And we'll beat the birds
Down to Ac-apulco Bay...
Wait a minute, what happened to those internal rhymes: It ought to be bar-in-far, toot-his-flute, ac-a-pac. But Sammy never worried too much about consistency. So instead of an internal rhyme for the final go-round we get that very distinctive pause between "Ac" and "-apulco". It's not the way you'd say it, but, as Cahn was wont to respond, "You're not speaking, you're singing."
If Sammy liked a line, his first inclination was to sing it again. An example from one of Sinatra's early solo hits:
Give me Five Minutes More
Only Five Minutes More
Let me stay
Let me stay...
At which point, Cahn's composer Jule Styne said: "Is there an echo in here?" There was an even more pronounced echo in Van Heusen's pad the night they wrote "Come Fly":
Come Fly With Me!
Let's fly! Let's fly away!
- which section eventually ends:
Come Fly With Me!
Let's fly! Let's fly away!
- and immediately resumes with:
Come Fly With Me!
Jimmy Van Heusen had worked with Sammy Cahn long enough not to send his endless repetitions to the same notes, and he made an interesting musical decision. The opening "flies" (if you'll pardon the expression) are set up high on top D (if you're in C) But the "flies" at the end of the section are down low, from E to E flat down to C. So the opening sounds as if you're taking off, right from that first leap on "Come fly", whereas the end of the section sounds as if you're settling into cruising altitude - and a smooth glide to Bombay. Then he lifts off again for the Peruvian leg. Van Heusen, as we've noted, had a second string to his bow as a test pilot for Lockheed Martin fighter jets, which were undoubtedly a bumpier ride than "Come Fly With Me". But he constructed this tune on a kind of flight pattern. Following what Sammy called the "notey" rhythmic main strain, the writers opted for something broader and legato for the middle section, beginning with:
Once I get you up there...
"Once I get you" just climbs steadily, stepping up the scale C-D-E-G. And then he leaps up on "up" to top C, and suddenly the tune is itself "up there"...
Where the air is rarefied
We'll just glide
Starry-eyed
Once I get you up there
I'll be holding you so near
You may hear
Angels cheer
'Cause we're
Together...
There's Sammy with his internal rhymes again: the "air" is "rar"-efied. And look at that "near"/"hear"/"cheer"/"we're"... The rhyme drives the thought: Why, in strict logic, should angels give a hoot whether we're together? But it's a cute conceit and, as Meghan Trainor recognized, makes the song entirely distinctive. Coming out of the middle section, Cahn used another favorite trick he commended to me - immediately rhyming the last word of the release with the first word of the main theme:
...'cause we're
Together
Weather-wise, it's such a lovely day...
His all-time favorite example of this was in a song by one of his lyric-writing heroes, Al Dubin, "I Only Have Eyes For You":
I don't know if we're in a garden
Or on a crowded avenue
You are here, so am I...
Sinatra made a great record of that song with Count Basie, and, if you ever hear a live version, you know that Frank, who learned from Tommy Dorsey to sing the last line of the release and the first line of the main theme in a single breath, got almost as much pleasure out of that "avenue/You" device as Sammy did.
Cahn & Van Heusen demonstrated "Come Fly With Me" to Sinatra, who loved it. It was the perfect title for the album, and he'd found the perfect arranger. Notwithstanding his newfound success with Nelson Riddle, Frank didn't want him to be his only, permanent, full-time arranger in the way that Axel Stordahl had been all through the Forties. He'd been wanting to work with Billy May since moving to Capitol - hence, all the fakey-fakery over "South Of The Border". In 1956 on his first Capitol album as a conductor - Frank Sinatra Conducts Tone Poems Of Color - he'd commissioned an orchestral piece by May. Three years earlier Frank had had a modest hit with another May composition, the semi-rockish novelty "Lean Baby", which has the distinction of being Billy May's biggest hit as a songwriter other than "I Taut I Taw A Puddy Tat" for Sylvester and Tweety - although neither tune compares with his glorious theme for the TV show "Naked City". Before all that, May had arranged a few numbers for Sinatra for "Your Hit Parade" on the radio in the Forties. But they'd never done any studio work together, and Frank had waited long enough.
They'd first met in 1939, when May was a trumpeter/arranger for Charlie Barnet and Sinatra was vocalist for Harry James, and both were about to be lured away by bigger bandleaders - Sinatra by Tommy Dorsey, May by Glenn Miller. May never wrote any of Miller's big signature charts, but he did do the dark brooding intro to Bill Finegan's arrangement of "Serenade In Blue", which digs rather deeper than Sinatra's own record of the song two decades later.
Billy May was a fat, jolly, bibulous larger-than-life character. He wasn't quite so large by the time I met him, and he'd quit drinking some years earlier. But in 1957 his intake was prodigious. He drank during sessions, which unnerved some of the musicians, who found him not the most skillful conductor at the best of times. But he would announce sternly at the beginning of the evening, "Ladies and gentlemen, there'll be no drinking off the job" - and then take a slug of scotch. He became Sinatra's go-to guy for fun exotica, for "Road To Mandalay", "Granada", "Moonlight On The Ganges (My little Hindu)"... But he also was a sensitive ballad writer, and his arrangement of "Moonlight In Vermont" would stay with Sinatra all the way to the mid-Nineties.
He was also a famously fast arranger. Is it true, I asked him, that he wrote the chart for "Come Fly With Me" an hour before the session while, ahem, somewhat the worse for wear? He smiled. "Maybe two hours."
Frank Flynn, the gong-walloper on "Road To Mandalay", was with May that afternoon, playing under him at a 4pm rehearsal for Stan Freberg's radio show. "Geez," said Billy afterwards, "I still have to write two arrangements for the date tonight." In the three-and-a-half hours between wrapping up the Freberg rehearsal and walking into the Capitol session, May wrote two charts, one of which was "Come Fly With Me". Sinatra sang it for the first time that night - October 8th 1957 - and never stopped singing it, all the way to the second of his celebrity Duets albums in 1994, in which his last ever recording of the song was disfigured by the utterly pointless insertion of what the liner notes describe as "Latin fly boy" Luis Miguel.
But on that first crack at the number in '57 Frank was in glorious voice. Ever after, Sammy Cahn would cite the tone of "it's such a lovely day" as an example of Sinatra's onomatopoeic skills - his "lovely" was lovelier than anybody else's, just as his "lonely" on Cahn & Van Heusen's "Only The Lonely" was lonelier than anybody else's. Weather-wise, such a lovely day became a "groovy" day and a "koo-koo" day in live performance, and beating the birds to Acapulco Bay evolved, too:
Just say the words
And we'll take our birds
Down to Ac-apulco Bay...
What does that mean? Ah, well, that's a little bit of Rat Pack slang. Let us quote from Gay Talese's famous Esquire piece "Frank Sinatra Has A Cold", which explains that "bird" is "a favorite Sinatra word":
He often inquires of his cronies, 'How's your bird?'; and when he nearly drowned in Hawaii, he later explained, 'Just got a little water on my bird'; and under a large photograph of him holding a whiskey bottle, a photo that hangs in the home of an actor friend named Dick Bakalyan, the inscription reads: 'Drink, Dickie! It's good for your bird.'
In other words "bird" was Frankese for the male member. I wonder if Luis Miguel was aware of that when he sang along with:
Just say those words
And we'll whip those birds
Down to Ac-apulco Bay...
Sinatra's other modification was to sing, when in Japan, "Come Fry With Me". Sammy Cahn offered his own variations over the years, including this one, sung by Sinatra on a commercial for Peter Epstein, then the biggest Pontiac dealer in the country and a specialist in the top-of-the-line wide-track model:
Come ride with me
Come ride the Pontiac
It's best by far
It's the greatest car
Got what all the others lack
It's Peter Epstein's
Brand new Pontiac

Come ride with me
Come ride that wider track
The Bonneville
Is a riding thrill
Really gets you there and back
It's Peter Epstein's
Brand new Pontiac

Once you get inside it
You will ride it starry-eyed
Satisfied
What a ride!
Drive the Catalina
Or the Starchief and the rest
Any test
Pontiac's always
The best car

Motor-wise what power it does pack
From rear to hood
Nothing's near as good
As the Epstein Pontiac
They're going fast
So came and see us on the run
Pete Epstein's Pontiac for '61!
I think I prefer the Epstein Pontiac commercial Sinatra sang to "Ol' MacDonald Had A Farm" ("and on this farm he had a car"). It's all a bit earthbound for such a perfect lightly-worn swinger.
Six years after Sinatra's recording, they used the song (with an ill-advised Frankie Avalon performance) as the title for a film about three stewardesses and the usual Coffee, Tea Or Me? complications. As Spielberg recognized when he used the song in the film Catch Me If You Can, it's the soundtrack of the jet age, when air travel was glamorous and liberating, and there were no TSA commissars to warble back at you:
Comply with me
Or you can't fly away
If you can cope
With a latex grope
Then you might take flight today
Comply with me
Or you won't fly, no way...
Oh, dear. Best to enjoy "Come Fly With Me" as an artifact of a lost world, on a Swinging 707 from Capitol Airways with test pilot Jimmy Van Heusen at the controls, Sammy Cahn next to him, and Billy May and Frank Sinatra coming down the aisle with Jack Daniel's:
Just say the words
And we'll beat the birds
Down to Ac-apulco Bay
It's perfect for a flying honeymoon, they say
Come Fly With Me!
Let's fly! Let's fly!

Pack up, let's fly away!
~There's lots more Sinatra, Cahn and Van Heusen in our Sammy Cahn centenary podcast. The stories behind many other Sammy and Sinatra songs are in Mark Steyn's American Songbook, and Steyn's original 1998 obituary of Frank, "The Voice", can be found in the anthology Mark Steyn From Head To Toe. Personally autographed copies of all three books are exclusively available from the SteynOnline bookstore.
~For an alternative Sinatra Hot 100, the Pundette is counting down her own Sinatra hit parade, and is up to Number 34, which is a later Cahn & Van Heusen song, "Call Me Irresponsible". Bob Belvedere over at The Camp Of The Saints is also picking the hits on a Frank countdown and has rocketed all the way up to Number 17, which is Cahn & Van Heusen's very first song for Sinatra, "The Tender Trap". The Evil Blogger Lady offers Sammy without Jimmy: Frank sings Cahn & Styne's "Guess I'll Hang My Tears Out To Dry".
SINATRA CENTURY
at SteynOnline
6) THE ONE I LOVE (BELONGS TO SOMEBODY ELSE)
8) STARDUST
10) WHAT IS THIS THING CALLED LOVE?
11) CHICAGO
12) THE CONTINENTAL
13) ALL OF ME
15) NIGHT AND DAY
16) I WON'T DANCE
17) I'VE GOT YOU UNDER MY SKIN
19) EAST OF THE SUN (AND WEST OF THE MOON)
21) A FOGGY DAY (IN LONDON TOWN)
24) OUR LOVE
27) FOOLS RUSH IN
32) I'LL BE AROUND
36) GUESS I'LL HANG MY TEARS OUT TO DRY
37) NANCY (WITH THE LAUGHING FACE)
38) SOMETHIN' STUPID
40) I GET ALONG WITHOUT YOU VERY WELL (EXCEPT SOMETIMES)
41) SOLILOQUY
42) THE COFFEE SONG
44) HOW ABOUT YOU?
46) LUCK BE A LADY
48) (AH, THE APPLE TREES) WHEN THE WORLD WAS YOUNG
49) I HAVE DREAMED
51) I'VE GOT THE WORLD ON A STRING
52) YOUNG AT HEART
54) BAUBLES, BANGLES AND BEADS
55) IN THE WEE SMALL HOURS OF THE MORNING
57) THE TENDER TRAP
59) WITCHCRAFT
60) EBB TIDE