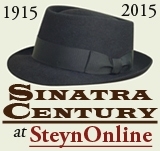 On the radio a few months back, I heard an old Wink Martindale interview with Ella Fitzgerald, from the Seventies. And apropos her famous songbook series - Kern, Gershwin, Porter, etc - Wink asked if there was one of those great writers with whom she felt a special affinity. And Ella demurred, and added that sometimes a great song could be written by somebody the public had never heard of - "like the boys who wrote 'Angel Eyes'." And you sort of got the impression that, if she'd been put on the spot, she herself couldn't reliably have fished their names out of the old mental filing cabinet. But she knew their song, and she loved their song. Asked by interviewers to name her all-time favorite tune, she replied more than once over the years that it was "Angel Eyes". She recorded it at least four times, and it meant more to her than any number of standards by all those Broadway blue-chips.
Sometimes that's all you need: You'll never be Rodgers & Hart or George & Ira, but just once somewhere along the way lightning struck and a moment of magic flashed through the air. For Earl Brent and Matt Dennis, it was the day they sat down to tell the story of "Angel Eyes". Order another round and pull up a chair:
Drink up, all you people
Order anything you see
Have fun, you happy people
The drink and the laugh's on me...
After Ella came Sinatra. And way after Sinatra Bruce Springsteen sang it, on TV, for Frank's 80th birthday. And Sting did it in Leaving Las Vegas, and my lower-case compatriot k d lang just a few years ago. To recap Ella's point, not every song is written by Cole Porter or Irving Berlin. As we discussed here a few weeks ago, quite a lot of young Frank Sinatra's early hits were written by Matt Dennis & Tom Adair - "Let's Get Away From It All", "Violets For Your Furs", "Everything Happens To Me".
It was Sinatra's Tommy Dorsey stablemate Jo Stafford who helped get Matt Dennis started as a songwriter. And in return Matt Dennis helped make Jo Stafford a solo singer. She loved the Pied Pipers and had no desire ever to do anything with her voice except blend it into the mix of a great vocal group. But she heard a minor Matt Dennis tune called "Little Man With A Candy Cigar", and went to Dorsey: "Tommy, this is the first time I've ever done this, and it'll probably be the last, but I want a favor of you. I want to do the record of 'Little Man With A Candy Cigar' solo." So Dorsey did Jo Stafford a favor, and from that first one-off solo record "You Belong To Me" and all her other big hits followed.
Dennis' last great song for the Sinatra-era Dorsey band was the greatest of all. He sang and played it for the bandleader backstage at the Paramount one night. "Tommy was seated next to Harry James and Ziggy Elman," he remembered. "As I ran the song over, I noticed Tommy looking at Harry and Ziggy and nodding their heads in approval."
As well they might. "The Night We Called It A Day" has a perfect title, and a spare bare-bones tune that somehow conjures all the vast emptiness of night. I don't want to go too far down that path, because the late Gene Lees, lyricist of "Quiet Nights Of Quiet Stars", liked to wax rhapsodic about how "the octave leap on the opening phrase, "There was a moon out in space" sort of makes you look up, lending a visual dimension to the song." Which is true. But I don't think Dennis set Adair's word that way consciously or, alternatively, Adair put that word to Dennis' note consciously. You just write that good when you're very sure of what you're doing, as Dennis and Adair were by this point. Unfortunately, Sinatra and Dorsey were fast approaching the night when they'd be calling it a day, and so it fell to Frank to record the song as a solo singer - in January 1942 with Axel Stordahl conducting his first ever session as a post-big band vocalist.
And then Matt Dennis disappeared into the military for three-and-a-half years, and, although he and Tom Adair never fell out or split up, by the time the war was over they too had called it a day. If you're wondering what fitful songwriters do when they're not writing songs, Adair went on to write scripts for "The Munsters" and "My Three Sons". And one day in 1946 Matt Dennis found himself composing what would be his greatest song of all with a jobbing lyricist/musician/arranger/man-about-Hollywood called Earl K Brent.
There are no and-then-I-wrote stories about "Angel Eyes". Two professional craftsmen simply got to it, and stuck with it until they were satisfied. But it's a remarkable piece. For a pop song, the tune is consciously bluesy in the way of "Harlem Nocturne" or "You Don't Know What Love Is", but the words go beyond, and the vocabulary and phrasing are very unusual:
Try to think
That love's not around
Still it's uncomf'tably near
My old heart
Ain't gainin' no ground
Because my Angel Eyes ain't here...
Dennis' music is memorable because of the arresting flat nine in Bar Three, and big leaps when the tune's going up, followed by small slips back down. It's a tune that's made for saloons - those up-leaps of anger and passion, and the slip-downs into dejection and despair. But that third bar could easily trip up a lyricist or at least put a speed-bump in his text. Instead, Earl Brent gets around it with a four-syllable word that, on those notes, is rendered onomatopoeic: When the singer sings "uncomf'tably near", you hear his discomfort. Even more remarkably, Dennis and Brent match it when the moment recurs in the next eight bars and again at the end:
Angel Eyes
That ol' devil sent
They glow unbearably bright...
And again in that word on that interval - "unbearably" - the singer sounds as if he truly can't bear it, not much longer. In theory, the melody sounds as if it ought to be an instrumental - one of those things like "Sophisticated Lady" or "Prelude To A Kiss" that sounds less like a song than a tune that someone's stuck words on - but Brent not only finds words that fit perfectly, but four-syllable ones at that:
Pardon me
But I gotta run
The fact's uncommonly clear...
The tune is so bluesy that, in the musicologist Ted Gioia's words, it "invites a soloist to pull out every stale minor blues cliche". Which happens rather a lot on instrumental versions. But the lyric makes it dark and strange and raw: a great ache of a melody with an oddly self-aware tale to tell. Dennis wrote his composition in D minor, which suits it perfectly, but the middle section is major in character and almost an inversion of the main theme: now the music leaps down and then climbs small steps back up. Lyric-wise, if the main section is like eavesdropping on someone's private pain, the release is an invitation to gather round and listen to him tell his story:
So drink up, all you people
Order anything you see...
In 1958, Sinatra, on his Only The Lonely album, famously started with the middle section. It's a good call: its declamatory quality is a way of inviting you into the tale. It's not a verse in the formal sense but it functions as one - and better than the actual verse Dennis and Brent belatedly wrote for "Angel Eyes" in the 1970s.
It's so skillfully done that it's hard to believe the authors came perilously close to killing the song stone dead. Having completed the piece, Matt Dennis played it through one last time and then turned to his lyricist: "The title," he said. "I don't like the title." Brent had called the song "Have Another Beer On Me":
My old heart
Ain't gainin' no ground
Have Another Beer On Me...
Even for a saloon song, that's too on the nose - like when Bono in the Nineties tried to write Sinatra a new "One For My Baby" and called it "One Shot Of Happy, Two Shots Of Sad". You can't spell it out that directly. So Brent agreed and a new title was found: "Angel Eyes".
Have another flop title on me. Herb Jeffries was the first to record "Angel Eyes", but his record company folded and the song sank and stayed sunk. But Matt Dennis always liked it. It turned up on screen in the film Jennifer, a 1953 Ida Lupino melodrama sold with the promotional tag: "Did Jennifer fear his fingers at her throat ...or the burning caress of his lips?" The noir-ish "Angel Eyes" fit perfectly, and Dennis sang it himself on screen.
But again nobody noticed. What saved the song was Ella Fitzgerald. One Monday night, Matt Dennis was playing a little joint in Reno, and Ella came in. So Dennis sang "Angel Eyes", and Ella told him she wanted to use it as her opening number when she began her own run at a Reno hotel two nights later. So he said, sure, and, when he went along to catch the act, she made him take a bow and told her fans, "I'm going to record this." And "Angel Eyes" was on its way.
Then came Sinatra. He called himself a "saloon singer", but he didn't really sing in saloons, and certainly not since before he and Dennis had worked together for Tommy Dorsey. Rather, he was a singer who sang saloon songs on bestselling albums and in upscale concert halls. "Angel Eyes" was a companion piece to "One For My Baby (And One More For The Road)". In the latter, it's quarter to three and there's no one in the place except him and the bartender; in the former, the room is still full of drinks and laughs and happy people. But both songs are conversational vignettes in which most of the specifics are left unsaid. The storytelling is all mood, and Sinatra was a master of that, able to walk out on stage in the biggest soulless cavernous rock arena on the edge of town and shrink it to the kind of decrepit joint where guys drowning their sorrows over "Angel Eyes" are to be found.
If Sinatra appropriated the "saloon singer" persona and took it to its apotheosis, Matt Dennis lived it at a humbler level, playing the Tally Ho and other long forgotten lounges, where sometimes the customers listened and a lot of times they didn't. I realized a while back that the 1950s nightclub singer in my head is Matt Dennis: He's the sound of that era and that ethos - a natural swinger, a versatile accompanist, a cool cat who knows all the obscure lyrics. But he never quite took it to world-fame level, and so he taught music, and wrote arrangements, and filled his time with this and that. Back in the Nineties, someone sent me a new book of sheet music - Porter, Coward, Rodgers & Hart, all arranged by Dennis and released under the title, The Elegant Piano Stylings of Matt Dennis. I've only ever used the phrase "elegant piano stylings" in a parodic sense, and I was rather touched to find he still meant it. A few years later, he was dead at the age of 88.
Today that small group of tunes he wrote between 1940 and 1946 are bigger than ever. But "Angel Eyes" beats them all. It's a conventional A-A-B-A song, but it has a musical tag at the end and Earl Brent wrote a great last line for it:
Pardon me
But I gotta run
The fact's uncommonly clear
I gotta find
Who's now Number One
And why my Angel Eyes ain't here
'Scuse me while I disappear.
"'Scuse me while I disappear"? What a great line, from a guy who never wrote anything like it again. Earl Brent had other opportunities - indeed, other opportunities with Sinatra. He wrote songs for what Frank came to regard as his worst ever picture, The Kissing Bandit, in which he was awkwardly paired with Kathryn Grayson, who regarded it as her worst picture, too.
But, unlike Ella, Frank knew who wrote "Angel Eyes", and most nights you could rely on him crediting "a marvelous song by Matt Dennis and Earl Brent" or some such. In the Sixties, he used the bridge - "Drink up, all you people" - to close out his TV specials, thanking his guests and arrangers before segueing into "Put Your Dreams Away". And on June 13th 1971, at the Los Angeles Music Center, three months after announcing what would prove to be a short-lived retirement, "Angel Eyes" was the song he chose for what he intended to be the end of his career, the last notes and words he would ever sing in public. As the number progressed, the lights dimmed until there was only one small spot and in it a man singing one of his two greatest saloon songs with his longtime pianist Bill Miller. The smoke from his cigarette wreathed the singer and danced in the shrinking spotlight, and, just before it faded to black, Sinatra sang the last line:
'Scuse me while I disappear.
And then he was gone.
~Steyn writes about "Angel Eyes"' companion saloon song, "One For My Baby (And One More For The Road)", in his appreciation of Bill Miller in the book Mark Steyn's Passing Parade. And he celebrates other Sinatra songs, including the classic "I've Got You Under My Skin", in Mark Steyn's American Songbook, and "I'll Never Smile Again", "My Funny Valentine" and, of course, "It Was A Very Good Year" in A Song For The Season. And don't miss Steyn's original 1998 obituary of Frank, "The Voice", in the anthology Mark Steyn From Head To Toe. Personally autographed copies of all four books are exclusively available from the SteynOnline bookstore.
~For an alternative Sinatra Hot 100, the Pundette is counting down her own Sinatra hit parade, and is up to Number 33, "That Old Black Magic". Bob Belvedere over at The Camp Of The Saints is also picking the hits on a Frank countdown and has rocketed all the way up to Number 14, "You Make Me Feel So Young". The Evil Blogger Lady has Sinatra and some Canadian air hostesses. Can't beat that.
SINATRA CENTURY
at SteynOnline
6) THE ONE I LOVE (BELONGS TO SOMEBODY ELSE)
8) STARDUST
10) WHAT IS THIS THING CALLED LOVE?
11) CHICAGO
12) THE CONTINENTAL
13) ALL OF ME
15) NIGHT AND DAY
16) I WON'T DANCE
17) I'VE GOT YOU UNDER MY SKIN
19) EAST OF THE SUN (AND WEST OF THE MOON)
21) A FOGGY DAY (IN LONDON TOWN)
24) OUR LOVE
27) FOOLS RUSH IN
32) I'LL BE AROUND
36) GUESS I'LL HANG MY TEARS OUT TO DRY
37) NANCY (WITH THE LAUGHING FACE)
38) SOMETHIN' STUPID
40) I GET ALONG WITHOUT YOU VERY WELL (EXCEPT SOMETIMES)
41) SOLILOQUY
42) THE COFFEE SONG
44) HOW ABOUT YOU?
46) LUCK BE A LADY
48) (AH, THE APPLE TREES) WHEN THE WORLD WAS YOUNG
49) I HAVE DREAMED
51) I'VE GOT THE WORLD ON A STRING
52) YOUNG AT HEART
54) BAUBLES, BANGLES AND BEADS
55) IN THE WEE SMALL HOURS OF THE MORNING
57) THE TENDER TRAP
59) WITCHCRAFT
60) EBB TIDE
61) COME FLY WITH ME