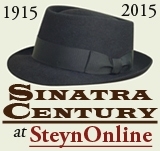 For most of his six-decade career, Sinatra was a perfectionist in the recording studio, requiring 22 takes of Cole Porter's "I've Got You Under My Skin" to get it the way he wanted. But on the film set it was a different story: He favored just one or two takes - because, as he saw it, in acting the important thing was to preserve the spontaneity. There are enough bleary slapdash Rat Pack capers to suggest this approach didn't always pay dividends, but also enough truly great Sinatra screen performances to indicate he knew what worked best for him. They're mostly non-singing roles, however. If I had to pick a musical moment from his screen career that matches the best of his studio albums, it would be this:
It's the wrong time
And the wrong place
Though your face is charming
It's the wrong face
It's not her face
But such a charming face
That It's All Right With Me...
It comes from Can-Can (1960), which is not a great film. Sinatra did it as a contractual obligation: After walking off the set of Carousel five years earlier, he owed 20th Century Fox a movie and agreed to do this one for $200,000 and a percentage. Which worked out pretty nicely for him, thanks to a famous visit during shooting by Nikita Kruschchev, who denounced Can-Can as "depraved" and "pornographic", which always helps.
Nonetheless, it's hard to get over the fact that Frank just doesn't look right wandering around Montmartre in the 1890s pretending to be a Frenchman called François Durnais. Particularly when all the other guys are genuine Frenchies - Maurice Chevalier and Louis Jourdan, holding a Gigi reunion and wondering how some American who can't do the accent managed to get past the doorman. Making her screen debut in Can-Can was Juliet Prowse, who wasn't French, but a child of the British Empire, born in Bombay to South African parents. But, in terms of that Gigi get-together, she does a passable Leslie Caron gamine-Gallic impression. By contrast, Shirley MacLaine as the female lead seems as out of place as Frank: There's her winsome-kook style of vocalizing, which doesn't seem to have anything to do with the material, - and she was too much an honorary Rat Pack buddy to have any real incendiary sexual chemistry with Frank.
Fortunately, he sang this song to Miss Prowse, during a break from Miss MacLaine caused by the usual plot complications:
It's the wrong song
In the wrong style
Though your smile is lovely
It's the wrong smile
It's not her smile
But such a lovely smile
That It's All Right With Me...
The Can-Can score is by Cole Porter, and top notch: "It's All Right With Me", "C'est Magnifique", "I Love Paris", "Live And Let Live"... Yet, upon the show premiere on Broadway seven years earlier, most critics had compared the songs unfavorably to Porter's earlier work.
It was not a good time for the composer. In 1952 his nonagenarian mother suffered a stroke and Cole went back to Indiana to be with her. She never regained consciousness, but he sat by her bedside that long summer until the end came. Afterwards, he stayed on for a few weeks to settle her estate and, as a respite from his grief, would sit on the porch of his family home and focus on the score of his upcoming show. The title song of Can-Can presented a challenge - how to write something that wasn't the can-can, the famous one by Offenbach, but sort of evoked it while also sounding like Cole Porter. He succeeded brilliantly:
If the Louvre custodian can
If the Guard Republican can
If Van Gogh and Matisse and Cézanne can
Baby, you can Can-Can too...
Thus Katie Porter's son, on the family porch, in that summer of mourning.
When working on a musical, Porter preferred to steer clear of the story, and of tedious story conferences. So back in New York his librettist Abe Burrows would mail him suggestions as to what, roughly, the sung material ought to be about:
Our hero is going to fall in love with the girl and he is going to be astounded by the fact. I should think it would be a good idea if the lyrics would contain, in addition to the hero's happiness, something about the fact that he is surprised by all this... He'll be frightened, happy, chilled, warmed, ecstatic, puzzled, upset, shocked, and delighted.
And from his Indiana porch Cole sent back:
When love comes in
And takes you for a spin
Oo-la-la-la!
C'est Magnifique...
"Our hero" was Judge Aristide Forestier. It's Paris in 1893, and His Honor is so scandalized by the new can-can dance that he decides to clean up the town. This is very bad news for La Môme Pistache, who owns the most popular nightspot in Montmartre. Fortunately, while on a fact-finding mission to the club, the judge falls in love with Pistache. The leading man was Peter Cookson, a modestly successful stage and screen actor who hadn't sung since high school and was astonished to find all the love songs of a new Cole Porter score dropped in his lap. And so it was on May 7th 1953 at the Shubert Theatre that Mr Cookson got to introduce the world to this:
It's the wrong time
And the wrong place
Though your face is charming
It's the wrong face
It's not her face
But such a charming face
That It's All Right With Me...
As we know, Frank Sinatra greatly admired Porter. As he once said:
I particularly like Cole's lyrics to sing because he made it fun to sing a song. He gave it a freshness. When I first would see one of his songs, the surprise of the couplet or the inner rhyme was always exciting to me.
And yet this song has no inner rhymes - nor many non-inner ones. There's a vernacular expression - "It's all right with me" - transformed into a rueful reflection on romantic attraction, but he doesn't rhyme it until the tag at the end of the song. Otherwise, there's one ordinary masculine rhyme per section - "place"/"face" - and then a lot of repetition: "...wrong face ...not her face ...charming face." Same in the next section:
It's the wrong song
In the wrong style
Though your smile is lovely
It's the wrong smile
It's not her smile
But such a lovely smile...
Porter didn't need to rhyme because the words are so strong they delineate the situation with great economy but absolute precision. For many lyric writers, rhyme imposes structure. Here, even as Porter eschews rhyme, his structure is very formal and disciiplined. And notice how within it the central image intensifies with each section: The wrong face, and then the wrong smile, and then the wrong lips. And likewise the only two-syllable word he uses grows more intimate: a charming face, a lovely smile, such tempting lips. It's brilliantly spare writing. Musically, it's also classic Porter - lyrically flowing, but underneath shifting very subtly from major to minor.
The producer of Can-Can, Cy Feuer, a short bullet-headed fireplug of a man, told me he'd complimented Porter on the score and predicted the critics would love it. "No," said Cole. "They'll say, 'Not up to Porter's usual standards.' They always do." He was right.
But the reviewers did love Gwen Verdon, in the supporting role of the saucy can-can dancer Claudine. Miss Verdon won the Tony Award and spent the next quarter-century - from Damn Yankees to Sweet Charity to Chicago - as Broadway's leading dance star. This wasn't meant to happen: the reviews were supposed to go to Lilo, the French cabaret star specially imported for the role of Pistache. Instead, Gwen got the notices and the nightly ovations, and, as she put it to me rather delicately many years later, a somewhat strained atmosphere developed backstage.
Because of that, the movie studios and, even more so, their stars were wary of a film version of Can-Can - notwithstanding that, thanks to Miss Verdon and the score, it was second only to Kiss Me, Kate as Porter's longest-running Broadway hit. No matter: no actress wanted to wind up like Lilo. Eventually, Shirley MacLaine agreed to do the picture on the condition that the Lilo/Verdon roles were combined - which they more or less were. The part of "Claudine" survived in much diminished form for Juliet Prowse. And, instead of the judge and the nightclub owner falling in love, Miss MacLaine's romantic interest was Sinatra as a more conventional habitué of Montmartre delights. So the plot became rather more ordinary - and casting Louis Jourdan as the prudish uptight judge when he was obviously one of the most effortlessly seductive men on the planet rendered what was left of the original premise even more idiotic.
A lot had happened to Cole Porter between the 1953 Broadway version and the 1960 movie. Seven years earlier, Can-Can had been, along with his scores for Silk Stockings and the Sinatra movie High Society, part of Porter's glorious Indian summer. But offstage the composer's world was disintegrating. The year after Can-Can, his beloved wife Linda died of emphysema. In 1958, after years of pain from being crushed by his horse in a riding accident, Porter had his leg amputated. And after that he never wrote another song.
Porter, formerly the life of the party and the toast of the town, shut out the world, retreating into solitude. Nevertheless, among the very few showbusiness friendships he kept up was his relationship with Sinatra. Unlike Krushchev, the composer never visited the set of Can-Can, but he did make some suggestions to Frank over dinner:
I was at the house several times during the course of the making of the picture. As a matter of fact, it was Cole who suggested to me that we do 'It's All Right With Me' in a very slow tempo. It was his suggestion. Because in those days everybody was doing it à la Stork Club - you know, Lester Lanin, if you'll excuse the expression. And we slowed it down, and it was quite effective as a matter of fact.
I'll say. Sinatra's right. The song was generally taken at a smooth society dance tempo, gliding across the emotions -
"Lester Lanin, if you'll excuse the expression". Frank's vocal and Nelson Riddle's arrangement reveal the song's tenderness and heartbreak. You can see how it might have worked on any of the great Sinatra/Riddle ballad sets - Wee Small Hours or Only The Lonely. Can-Can is a badly adapted movie with a dull plot and miscast actors, but for three minutes out of nowhere there's a guy communicating something real up there:
It's the wrong song
In the wrong style
Though your smile is lovely
It's the wrong smile...
The cue to the song isn't entirely persuasive, and the staging is busier than it needs to be, with some unnecessary bits of business involving Juliet Prowse lighting Frank's cigarette. But, if you want to see just how "quite effective" the Porter-recommended Sinatra treatment can be, watch Frank sing it to Miss Prowse on his TV show a couple of months before the film's release. A bare set, save for a couple of wooden chairs, and a whole lot of intense eyeball action between the parties. It's smoldering so much you're surprised Peter Cookson doesn't burst in as an outraged Judge Forestier to close it down on morals grounds. When Juliet turns away from Frank at the end of the middle section, you wish they'd done it this simply in the movie:
You can't know how happy I am that we met
I'm strangely attracted to you
There's someone I'm trying so hard to forget
Don't you want to forget someone, too?
Porter, notwithstanding a very happy marriage, was homosexual. And contemporary interpreters of the LGBT persuasion like to argue that this song has a gay sensibility: it's about "consolation sex" of the most fleeting and transient and anonymous kind. But I'm not so sure about that: many a hapless straight can relate to the situation as Sinatra outlines it. You've just bust up with someone you love, and you find yourself with someone you like. And, maybe if the wounds still weren't so raw, this would be a great night ...just not tonight:
It's the wrong game
With the wrong chips
Though your lips are tempting
They're the wrong lips
They're not her lips
But they're such tempting lips
That if some night you're free
Dear, it's all right
Yes, It's All Right With Me.
It's a song for adults, who've loved and lost, and recognize the possibility of new love, but a ways down the road, on "some night you're free". Sinatra delivers it beautifully, and reprised it in memory of the author, with somewhat stiff piano accompaniment by Roger Edens, in a celebration of the man's life at the new Cole Porter Library at the University of Southern California in 1967.
And then, seventeen years later, he turned the song on his head - for the 1984 album LA Is My Lady, in a jumpin' jazzy arrangement by Sammy Nestico whose sheer vitality prompts Frank to take some improvisational liberties with Porter's tune - and loosen up the lyric a little:
They're not her chops
But they're such tempting chops...
If you like the ballad version, it's a shock: to modify Porter, it's the right song in the wrong style. And, compared to the heartache of Riddle's chart, this time he doesn't sound too bothered about that wrong face, wrong smile, wrong lips. But it's a fizzy, peppy, irresistible arrangement that serves well the near septuagenarian singer's, er, chops. And the band is great, from Ray Brown's bass in the minimalist intro to George Benson's guitar and those jittery trumpets in the instrumental. Sinatra's two interpretations of the same song have nothing to do with each other; they are united only within the breadth of his art. Which is where we came in 67 songs ago:
Sometimes there's a definitive ballad treatment of a standard, and sometimes there's a definitive up-tempo treatment of a standard, and sometimes they're by the same guy: Frank Sinatra, a man who did more than anyone to establish the very concept of the standard song.
And one final thought on the particular intensity of that Riddle film arrangement, and the lady he was singing to: Juliet Prowse. Not long after, they were engaged, briefly. Ultimately it turned out to be the wrong song in the wrong style and the wrong smile and the wrong face, but for a while it was all right with Frank and Juliet.
~For an alternative Sinatra Hot 100, the Pundette is also counting down her Frank hit parade, as is Bob Belvedere over at The Camp Of The Saints. And Bob is the first centennial disc-jockey to get to Number One. We won't give it away, but you can find it here. The Pundette is taking things more leisurely and is up to her hit sound 28, "It Had To Be You". The Evil Blogger Lady offers Frank, Basie and Teutonic dolly birds the Kessler Sisters.
~You can read the stories behind more Sinatra songs, including Frank, Cole Porter and Nelson Riddle's masterpiece "I've Got You Under My Skin", in Mark Steyn's American Songbook, and Steyn's original 1998 obituary of Frank, "The Voice", can be found in the anthology Mark Steyn From Head To Toe. Personally autographed copies of both books are exclusively available from the SteynOnline bookstore.
SINATRA CENTURY
at SteynOnline
6) THE ONE I LOVE (BELONGS TO SOMEBODY ELSE)
8) STARDUST
10) WHAT IS THIS THING CALLED LOVE?
11) CHICAGO
12) THE CONTINENTAL
13) ALL OF ME
15) NIGHT AND DAY
16) I WON'T DANCE
17) I'VE GOT YOU UNDER MY SKIN
19) EAST OF THE SUN (AND WEST OF THE MOON)
21) A FOGGY DAY (IN LONDON TOWN)
24) OUR LOVE
27) FOOLS RUSH IN
32) I'LL BE AROUND
36) GUESS I'LL HANG MY TEARS OUT TO DRY
37) NANCY (WITH THE LAUGHING FACE)
38) SOMETHIN' STUPID
40) I GET ALONG WITHOUT YOU VERY WELL (EXCEPT SOMETIMES)
41) SOLILOQUY
42) THE COFFEE SONG
44) HOW ABOUT YOU?
46) LUCK BE A LADY
48) (AH, THE APPLE TREES) WHEN THE WORLD WAS YOUNG
49) I HAVE DREAMED
51) I'VE GOT THE WORLD ON A STRING
52) YOUNG AT HEART
54) BAUBLES, BANGLES AND BEADS
55) IN THE WEE SMALL HOURS OF THE MORNING
57) THE TENDER TRAP
59) WITCHCRAFT
60) EBB TIDE
61) COME FLY WITH ME
62) ANGEL EYES
63) JUST IN TIME
65) NICE 'N' EASY
66) OL' MACDONALD
68) AUTUMN LEAVES