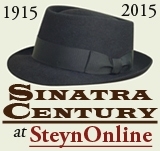 With the exception of my own, most American states can boast some great songs written about their charms. But one couldn't honestly say Frank Sinatra sang the best of them. Over the years he gave us "I Got A Gal I Love (In North And South Dakota" (1946), "I Went Down To Virginia" (1947), "Tennessee Newsboy" (1952), "Blue Hawaii" (1957), and the hollow grandiosity of Cahn & Van Heusen's "California" (1963). There was also "Sunflower" - as in "She's my Sunflower from the Sunflower State", a Mack David song Sinatra recorded in 1948 that earned the bulk of its money from David's successful suit of a melodically similar song Sinatra recorded in 1964, "Hello, Dolly!" While we're scraping around a bit, we might also mention Frank's fine 1962 recording of "Don'cha Go Way Mad" by, er, Illinois Jacquet.
But the only two truly first-class state songs in his six-decade oeuvre are, from 1956, "Stars Fell On Alabama", and, from the following year, "a beautiful ballad" about what Frank called "one of the prettiest states in our great country":
Pennies in a stream
Falling leaves, a sycamore
Moonlight In Vermont...
Everyone loves this song. I remember, a long time ago, when I first bought my home in New Hampshire, going to a New Year's party across the river in the Green Mountain State. At the stroke of midnight the band played "Auld Lang Syne" and then segued deftly into "Moonlight In Vermont", and, as I would many times over the ensuing years, I felt a pang of regret that the Granite State had nothing to match it. It's a major standard by two almost wholly unknown writers.
John Blackburn was born a couple of years before Sinatra, July 19th 1913, and grew up not in Vermont but in Shaker Heights, Ohio. Yet he gave the state a great gift with this song. He was never at any time in his life a full-time songwriter, but for a couple of years he taught in the drama department at Bennington College down in south-western Vermont. That's his Green Mountain connection.
So come the early 1940s he's over on the other side of the country, in California working for Lockheed – that's an aerospace corporation, not a music publisher – and he hooks up with a fellow called Karl Suessdorf, who was a few years younger than Blackburn and was trying his hand at composition. And they wind up writing a song evoking a faraway state Blackburn knew for just a brief moment:
Icy finger waves
Ski trails on a mountainside
Snowlight in Vermont...
Somehow they got it to Johnny Mercer, who'd just founded Capitol Records. And Mercer thought it would be perfect for a young singer called Margaret Whiting, the daughter of his old composing partner Richard Whiting (whose "Too Marvelous For Words" was a song Sinatra loved). Maggie responded, "How can I sing about a place I've never been?"
"I've never been to Vermont either," said Mercer. "Let's use your imagination – just picture it: the ski trails, the red and gold leaves, the maple syrup... "
Telegraph cables sing down the highway
And travel each bend in the road
People who meet in this romantic setting
Are so hypnotized...
And people who'd never been anywhere near that romantic setting were nevertheless hypnotized by Billy Butterfield's trumpet and Margaret Whiting's creamy voice, and the result was one of the big hits of 1944.
For two guys who'd never had a hit or even published a song, Karl Suessdorf and John Blackburn did a terrific job. Every eight-bar section is about a season – it's kinda like Vivaldi's Four Seasons but they wrap it up in 32 bars. The first eight bars is autumn:
Pennies in a stream
Falling leaves, a sycamore...
The next eight bars is winter:
Icy finger waves
Ski trails on a mountain side...
The final eight bars is summer
Evening summer breeze
Warbling of a meadow lark...
There's no spring, because, as you know if you live in the North Country, we don't really have any such thing. There's winter, and then the snow melts and it's "mud season", when the roads turn to sludge. And I guess they didn't fancy writing eight bars rhapsodizing about mud. So instead they wrote that middle section about telegraph cables singing down the highway. Which sounds kinda boring. And just like a telegram Karl Suessdorf sets the lyric at the same pitch – ba-ba-ba ba-ba – but then he gets to "each bend in the road" and he takes that big octave leap, and suddenly he makes those boring telegraph poles the most romantic thing in the world. The harmony in the release is quite lovely, too. Years ago, the novelist Sebastian Faulks, who wrote Birdsong and a new James Bond novel for the Ian Fleming centenary, came to stay with me in New Hampshire, because he was writing a story partly set just across the river in Vermont. And in the eventual novel (A Fool's Alphabet) Sebastian made an observation that, for all the natural beauty of Vermont, those wooden poles trav'ling each bend in the road are somehow necessary to the picture, too. And, when you hear "Moonlight In Vermont", you understand what he's getting at.
But that four-season structure isn't even the most distinctive thing in the song. Listen:
Pennies in a stream
Falling leaves, a sycamore
Moonlight in Vermont...
Where are the rhymes?
Icy finger waves
Ski trails on a mountainside
Snowlight in Vermont...
Stream, sycamore, Vermont, waves, mountainside, Vermont... Still no rhymes.
Telegraph cables sing down the highway
And travel each bend in the road
People who meet in this romantic setting
Are so hypnotized by the lovely...
Well, it kinda sounds as if it's about to rhyme there: The "so hypnotized" line gives the impression it's working up to rhyme with "travel each bend in the road" - "so hypnotized by the toad" or "so hypnotized by Morse code". But then it goes off into that two-syllable "lovely" and links seamlessly back to that main theme again:
...by the lovely
Evening summer breeze
Warbling of a meadowlark
Moonlight in Vermont.
Stream, sycamore, waves, mountainside, highway, road, setting, lovely, breeze, meadowlark... There's not a single rhyme in "Moonlight In Vermont". Why would they ever write it that way? Well, after completing the first section of lyric, John Blackburn realized it was rhymeless and then said to his composer let's keep it like that through the whole song. As he put it, "It seemed right."
They could have rhymed across the sections, like "Sunny Side Of The Street" ("Grab your coat and get your hat/Leave your worries on the doorstep... Can't you hear that pit-a-pat/Oh, that happy tune is your step"), but Blackburn seemed to understand that it would intrude on the mood. And let's face it, by the early 1940s the very word "moon" had become shorthand for the worst kind of Tin Pan Alley hack writing: moon/June/croon/spoon... So instead of adding to the clichés, John Blackburn eschewed rhyme and wrote three Japanese Haikus. Haiku Number One for autumn's falling leaves and a sycamore, haiku Number Two for winter ski trails down a mountainside, haiku Number Three for evening summer breeze and the warbling of a meadowlark.
There's a slight question mark over that meadowlark. There aren't a lot of meadowlarks in Vermont, nor a lot of sycamores – not compared to maples. So John Blackburn's memories of his days at Bennington were a little woozy. But cut the guy some slack: he wrote the first pop standard with not a single rhyme. And ever after Margaret Whiting put it in the hit parade, whenever she was playing somewhere, Johnny Mercer would turn up and say, "Sing that song again that hasn't got a rhyme in it." It was her theme tune for the rest of her life.
Lots of other singers picked up on it, including, eventually, Sinatra, in 1957, for his first album with Billy May, Come Fly With Me. As Frank said, introducing "Moonlight In Vermont" on stage at the Meadowlands in New Jersey 30 years later, Billy is better known for his jazz charts - the jumpin' rhythm numbers and the comedy exotica. And certainly there's plenty of both on Come Fly With Me - "Brazil", "The Road To Mandalay". But May's ballad writing on the album is gorgeous, and none more so than "Moonlight In Vermont". Which is why it was the only other number from that set apart from the title track to stay in Sinatra's book right to the end. He loved that ballad – even though, notwithstanding his effusions about "one of the prettiest states", as far as I know he never feel the slightest urge ever to set foot in the state of Vermont. Maybe he worried it couldn't live up to the song.
That October 1957 recording is Sinatra's mid-career legato ballad style at its most subtly and sensuously interpretative. He had learned from Tommy Dorsey's trombone how effective it was to connect up the end of the middle eight with the return to the main theme by singing it through in a single breath - and that's obviously even more important here, when the middle doesn't come to an end but sort of hangs suspended ("...by the lovely") until the principal theme comes back and completes the thought ("evening summer breeze"). I can't understand singers who take a breath - or, worse, come to a grinding halt - between "lovely" and "evening". Not only does Frank sing it all in one, but he does a lovely portamento slide on "evening". For the out-chorus, Billy May wrote in a key change for the transition back to the main theme and the way the singer takes it in a single breath and then glides up on "evening" is as near to a musical evocation of a summer twilight deepening into a starry night as you'll hear. It's almost as if he's there, on the scene, marveling at the wonder of it. On the original mono mix, the reverb on the final "Vermont" is also utterly enchanting, but, for various technical reasons, had vanished by the time they released it in stereo four years later.
He sang it live around the world - Paris, London, Melbourne - and loved to do that seamless no-breath transition on stage. On one early Sixties gig in Vegas, he accomplishes it so perfectly - "...are so hypnotized by the lovely evening summer breeze" - he impresses even himself: "Hot damn, boy!" He's earned the self-congratulation, but it is a mood-disrupting blemish on an otherwise transporting performance.
His last recording of the song, for the 1994 album Duets II, was with Linda Ronstadt. Whatever the failures of the various other techno-duets on this set, May's "Moonlight" arrangement is perfectly suited to Miss Ronstadt. Sinatra's voice is rough and haggard in places, and she provides a tonally romantic ballast to it. As she told Parade magazine recently:
His voice was in decline and I did a lot of improvising. But I was astounded at how much story he could still deliver and how much color was there. As Rosemary Clooney used to say, 'Darling, he's still dangerous.'
That gave me a chuckle because 20 years ago I ran into Miss Clooney and congratulated her on her Demi-Centennial album and suggested it was a shoo-in for the Grammy. "No," she said. "It'll be Sinatra" - who'd been nominated for Duets II.
"Seriously?" I asked.
Rosie replied: "I don't care how old he gets, he's still dangerous." She was right. He won - and surely in part thanks to "Moonlight In Vermont".
So I was staggered to discover that Sinatra apparently sang it for over a third of a century without noticing its unusual structure. The two last occasions I saw him live, in the early Nineties, he was touring with Steve Lawrence and Eydie Gormé - "the kids", as he used to call them on stage. After the show, Frank liked to relax, have a few drinks, listen to a little piano, shoot the breeze - and so Steve Lawrence found himself keeping the old man company. One night in Dublin, after a great show at the Point, they're back at the Shelbourne Hotel, and a local musician has been procured to tinkle the ivories. And at quarter to three with no one in the place but Frank and Steve and the pianist, Sinatra asks Lawrence to name his favorite song. And he hems and haws a bit, and eventually says, "Well, if I have to pick just one, 'Moonlight In Vermont'."
"Why?" asks Frank.
"It's a great melody, great lyric. And there's not one rhyme in the whole song."
"What are you talking about?" says Frank.
"There are no rhymes in 'Moonlight In Vermont'," says Steve. "None."
And Frank turns to the piano player and says, "Play 'Moonlight In Vermont'." And he starts to sing it to Steve Lawrence across the table at the Shelbourne, and at the end of it he goes: "Well, I be damned. There's no rhymes. I never realized that."
Maybe John Blackburn and Karl Suessdorf should have stuck to that template. They subsequently wrote a song called "Susquehanna" that Oscar Peterson recorded with an intro that sounds like "Moonlight In Vermont" sideways. I always love to hear Oscar Peterson singing, but "night along the Susquehanna" was no match for "Moonlight In Vermont" - and rhyming "drama" and "Susquehanna" is cringe-making. With a couple of other lyricists Karl Suessdorf wrote "Did Anyone Ever Tell You, Mrs Murphy?" But that's even further from "Moonlight In Vermont" than night along the Susquehanna. And, for both Suessdorf and Blackburn, the little bit of Green Mountain lightning that struck in 1944 never came again.
As I said above,I love the Granite State in every respect except one. It has no great song written about it - no "California, Here I Come", "Yellow Rose of Texas", "My Old Kentucky Home"... And it feels almost unAmerican to be in a state with no song. And so I looked enviously across the Connecticut River at "Moonlight In Vermont" and my resentment festered – until one day I got an idea, and called up my old Vermonty friend Elisabeth von Trapp, granddaughter of Baron von Trapp and Sister Maria of Sound of Music fame, and invited her to let "Moonlight In Vermont" do a little bit of slumming with a very obscure song from this side of the river called "Ain't You Coming Back To Old New Hampshire, Molly?" You can hear how it turned out here. In the course of the medley we remain jurisdictionally distinct - Elisabeth sings the Vermont song, and I the New Hampshire one - but we do come together at the end for Karl Suessdorf and John Blackburn's little tag:
You and I and Moonlight In Vermont.
So I was about to say that those words represent one of the very few lines recorded by both Steyn and Sinatra - except that, cannily anticipating my pathetic need to muscle in on his catalogue, in all the four decades he sang "Moonlight In Vermont" Frank never once sang that closing line. The nearest he got is on his final Duets album, when Linda Ronstadt trills it underneath him very beautifully.
John Blackburn lived a long life, well into his nineties, and a full life – in the Sixties, he was a big part of the Apollo Space Program. And he carried on writing both music and lyrics until his death in 2006, and they're almost all unpublished and unrecorded. But if you're only ever going to write one standard song this isn't a bad claim to fame. A song about the most tired imagery in Tin Pan Alley, but made so fresh that it evokes its subject perfectly – a song suffused in moonlight:
People who meet in this romantic setting
Are so hypnotized by the lovely

Evening summer breeze
Warbling of a meadowlark
Moonlight In Vermont.
~Mark and Elisabeth von Trapp's medley of "Moonlight In Vermont" and "Ain't You Coming Back To Old New Hampshire?" can be found here. You can read the stories behind more Sinatra songs in Mark Steyn's American Songbook, and Steyn's original 1998 obituary of Frank, "The Voice", can be found in the anthology Mark Steyn From Head To Toe. Personally autographed copies of both books are exclusively available from the SteynOnline bookstore.
~For an alternative Sinatra Hot 100, the Pundette is also counting down her Frank hit parade, and is up to Number 27, "Only The Lonely". The Evil Blogger Lady offers Sinatra, Duke Ellington and Billy May with one of Mark's favorite songs, Victor Herbert and Al Dubin's "Indian Summer". And Bob Belvedere over at The Camp Of The Saints, having galloped all the way up to Number One of his Top 100 Sinatra tracks, has moved straight on to his Top Ten Sinatra albums.
SINATRA CENTURY
at SteynOnline
6) THE ONE I LOVE (BELONGS TO SOMEBODY ELSE)
8) STARDUST
10) WHAT IS THIS THING CALLED LOVE?
11) CHICAGO
12) THE CONTINENTAL
13) ALL OF ME
15) NIGHT AND DAY
16) I WON'T DANCE
17) I'VE GOT YOU UNDER MY SKIN
19) EAST OF THE SUN (AND WEST OF THE MOON)
21) A FOGGY DAY (IN LONDON TOWN)
24) OUR LOVE
27) FOOLS RUSH IN
32) I'LL BE AROUND
36) GUESS I'LL HANG MY TEARS OUT TO DRY
37) NANCY (WITH THE LAUGHING FACE)
38) SOMETHIN' STUPID
40) I GET ALONG WITHOUT YOU VERY WELL (EXCEPT SOMETIMES)
41) SOLILOQUY
42) THE COFFEE SONG
44) HOW ABOUT YOU?
46) LUCK BE A LADY
48) (AH, THE APPLE TREES) WHEN THE WORLD WAS YOUNG
49) I HAVE DREAMED
51) I'VE GOT THE WORLD ON A STRING
52) YOUNG AT HEART
54) BAUBLES, BANGLES AND BEADS
55) IN THE WEE SMALL HOURS OF THE MORNING
57) THE TENDER TRAP
59) WITCHCRAFT
60) EBB TIDE
61) COME FLY WITH ME
62) ANGEL EYES
63) JUST IN TIME
65) NICE 'N' EASY
66) OL' MACDONALD
68) AUTUMN LEAVES