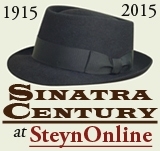 Halloween weekend is upon us, and so it seems appropriate to have something suitably spooky from the Sinatra songbook - "Bewitched, Bothered And Bewildered" perhaps, or "That Old Black Magic", or "I Don't Stand A Ghost Of A Chance". Yet few things are as scary on All Hallows' Eve as a black cat crossing your path - so I thought we'd have something from the black cat who crossed Frank's path way back when: Sammy Davis Jr.
He could certainly be one scary cat, running out on stage in a bell-bottomed cat suit of lurid hue and dripping in bling (as no one called it back then) to the sound of his somewhat eccentric choice of walk-on music, the theme from "Hawaii Five-O". "Spooky. A-boogie-boogie-boogie," as Sam liked to say in later years, introducing his version of the title song from Phantom Of The Opera.
So for Halloween here's a Frank'n'Sam duet from the Rat Pack heyday:
Like the wallpaper sticks to the wall!
Like the seashore clings to the sea!
Like you'll never get rid of your shadow
Frank, you'll never get rid of me...
Not that he ever wanted to. This black cat first crossed Frank's path in 1941 at the Michigan Theatre in Detroit. Tip, Tap & Toe were supposed to open for the Tommy Dorsey Orchestra, but were stuck somewhere. So the Will Mastin Trio were called upon to pinch-hit. The trio comprised the eponymous Mr Mastin, Sammy Davis Sr, and Mr Davis' teenage son Sammy Jr. There was a guy in his twenties standing backstage by the bulletin board who came up to introduce himself. "Hi ya." He stuck out his hand. "Frank. I sing with Dorsey."
As Sammy later wrote:
I stood in the wings at each performance, eating up Dorsey's music. The audiences loved Frank. He had a different style from other band vocalists. Easy and simple, and he sang the words so they weren't just an excuse for him to be singing the melody.

He and I went out for sandwiches a few times between shows, or we sat on the dressing-room stairs talking show business.
But after three days Tip, Tap & Toe turned up to reclaim their slot, and the Will Mastin Trio moved on. By then the 15-year-old Sammy Jr had been a dancer in the act for 12 years. He never went to school, and at the time he met Sinatra he couldn't read. He didn't learn to do so until he went into the army during the war - in one of the first integrated barracks, where a couple of white comrades broke his nose and greatly assisted his reading skills by painting "I'M A NIGGER" across his chest.
Six years after that Detroit engagement, Sammy, his dad and "Uncle" Will were playing Portland, Oregon when Mastin got a telegram:
OPEN CAPITOL THEATER NEW YORK NEXT MONTH. FRANK SINATRA SHOW. THREE WEEKS. $1250 PER. DETAILS FOLLOW. HARRY ROGERS
"We passed that telegram back and forth," said Sammy, "like three drunks working out of the same bottle."
On the first night at the Capitol, the band played the opening bars of "Night And Day" (Sinatra's theme song) as the orchestra pit rose up out of the depths to show Skitch Henderson conducting, and then the bobbysoxers began squealing and yelping and leaping up and down - and there was Frank. He sang three songs to calm them down, and then said:
We've got three cats here who really swing and they're all too much, but keep your eye on the little cat in the middle, because he's my boy! Here they are, the Will Mastin Trio and Sammy Davis Jr!
It was the big break they'd waited for for years, through all the nights of crummy towns, decrepit theatres, lousy pay. "Thank you very much, sir," Sammy Jr said to Sidney Piermont, who booked the acts for all the Loews venues.
"Don't thank me," he said. "I fought against hiring you. You were booked strictly because Frank insisted on you." Sinatra liked to have a colored act on the bill, and Piermont had proposed the Berry Brothers. But Frank remembered "a kid who comes to my radio show when he's in town, he works with his family, his name is Sam something..."
Between shows, the two sat in the star's dressing room and shot the breeze. Afterwards Sinatra and Davis would go out to eat together, which was unusual in the America of 1947. One time Frank made a suggestion to Sam: "Why don't you sing?"
"Well, I guess I sing when I do impressions," replied Sammy. "I don't have a style of my own."
"You've got the voice," said Frank. "Work on it, develop a style."
I'm not sure record-wise that Sammy ever did. On albums, almost to the end, he still feels like a guy doing an impression of a romantic singer singing a love song, rather than the real thing. I have almost everything Davis recorded, and with a very few exceptions (for example, Frank Loesser's "Joey Joey Joey", accompanied only by Laurindo Almeida's guitar) I don't quite buy it. The Wham Of Sam! is one of the all-time great album titles, but not, alas, a great album. Even on some of the Seventies fluff (such as his cover of the Mary Tyler Moore theme) he sounds mannered and artificial.
On the other hand, as Frank recognized in that intro, Davis can "really swing". Buddy Collette, the West Coast reedman who played on both The Wham Of Sam! and the even more exclamatory Sinatra's Swingin' Session!!!, credits Sam's wham with getting Sinatra swingin':
Sinatra was influenced a lot by Sammy. A lot! Sinatra was intrigued 'cause Sammy could swing anybody to death. Sammy was very influential as far as clipping the notes, popping the fingers and making sure the thing had a groove. I know that from the early 1950s, when I started working with Frank, to ten or fifteen years later, he was a different Sinatra in the way he approached a song.
Sammy had worse luck than Frank. Barely had his solo career got going than he lost an eye in a car crash. Frank and Dean wore eye patches in solidarity, while Sammy recuperated at Sinatra's Palm Springs pad. But he had it tougher in other ways, too. A few days ago, Vincent Falcone, Sinatra's conductor on "New York, New York", was talking to me about how Frank desegregated the Las Vegas hotels - because he wouldn't stay anywhere where Sammy couldn't stay, and in those days black performers were excluded from the swank joints even when they were playing there, to sell-out crowds. When the Rat Pack were booked at the Sands, four members of the act were given suites, and the fifth was supposed to stay at some rooming house or a motel in West Las Vegas. Sinatra told the Sands they could find a suite for Davis, or he wouldn't stay there, or play there.
For such a genial fellow, Davis became an oddly controversial figure to black liberationists. But he was an indispensable figure to the Rat Pack: just by being up there on stage with Frank and Dino, he made the act look more interesting - and, indeed, unlike any other in American showbusiness. Sinatra, Martin, Davis, Peter Lawford and Joey Bishop took their capers to the big screen, in movies like Ocean's Eleven, where they play old army buddies reuniting for a heist. But the original act is itself like an artfully ethno-culturally balanced platoon in a certain kind of war story: two Italian-American leading men, MGM's notion of an upper-class Englishman (and a Kennedy brother-in-law), a little Jewish shnook for the funny stuff ...and a short one-eyed Negro Jew. Joey Bishop's gags, by the way, are very good, in that they seem just like stuff these guys like to say. Today, one can quibble with or cringe at Dean picking Sammy up in his arms and pretending he's a trophy from the NAACP, etc, but the whole premise of the act is that these fellows are just doing what they want, so the idea that they'd care whether or not the shtick focus-groups well is ridiculous.
Sinatra started Reprise Records just as the Rat Pack hit its Vegas peak, and he wanted to get a flavor of that down on record. Sam and Dean were a big part of the "Reprise Repertory Theatre", the all-star cast albums Frank produced of his favorite Broadway shows (Kiss Me, Kate, Finian's Rainbow, South Pacific, Guys And Dolls), but there were a few looser projects, too - including a 1962 single with Dean and Sam singing "Sam's Song" on one side, and Frank and Sam taking the other with an old warhorse from the Twenties:
Me And My Shadow
Strolling down the avenue
Me And My Shadow
Not a soul to tell our troubles to...
"Me And My Shadow" was written in 1927 by Dave Dreyer, Billy Rose and Al Jolson. Precisely who wrote what is a matter of conjecture. Billy Rose was a showman who has his name on a lot of songs. From what I gathered from old-timers who wrote "with" him, his modus operandi was to come up with a title or an idea or a line and then hand it to the guys who actually cooked up the words and music. Nothing necessarily wrong with that: a good title can be half the song. "He was a great feeder," said Harry Warren, composer of "I Only Have Eyes For You" and much else. "He'd sit with the boys and say, 'Now come on, you can do better than that...' He'd make a thrust at a phrase; but he stimulated the real lyricists to produce."
On other occasions, though, he'd look over the sheet, change one word, and then add his name to the credited writers at the top of the page. In those days the practice was known as "cutting in": powerful publishers, performers and producers cut themselves in on the songwriting royalties. That's why it's unusual to find Billy Rose's name on a song with fewer than three writers. By way of example, let's use the handful of songs "by" Billy Rose that Sinatra recorded:
"Without A Song", recorded by Frank with the Dorsey band in 1941: Words and music by Billy Rose, Edward Eliscu and Vincent Youmans. Youmans wrote the tune, Eliscu wrote 95 per cent of the lyric.

"The Night Is Young And You're So Beautiful", recorded by Frank with Axel Stordahl in 1945: Words and music by Billy Rose, Irving Kahal and Dana Suesse. Ms Suesse wrote the (lovely) tune, Irving ("I'll Be Seeing You"), Kahal wrote 95 per cent of the lyric.

"It's Only A Paper Moon", recorded by Frank with George Siravo in 1950: Words and music by Billy Rose, E Y Harburg and Harold Arlen. Arlen wrote the tune, Yip ("Over The Rainbow") Harburg wrote 95 per cent of the lyric.

"More Than You Know", recorded by Frank with Billy May in 1979: Words and music by Billy Rose, Edward Eliscu and Vincent Youmans. Youmans wrote the tune, Eliscu wrote 95 per cent of the lyric.
But wait a minute, what's this? From Songs For Swingin' Lovers, a rare two-writer song from the Billy Rose oeuvre:
"It Happened In Monterey", recorded by Frank with Nelson Riddle in 1956: Words and music by Billy Rose and Mabel Wayne.
Well, maybe he had to work a little harder on that one.
"Me And My Shadow" was supposedly Billy Rose's favorite among "his" songs. Someone came to him with the title, which he liked. So he bought it for fifteen dollars, and then took it to the composer Dave Dreyer to write up. When Dreyer was finished, Rose, as was his wont, changed a word or two, and wrote in his name at the top of the manuscript. But Dave Dreyer had been pianist to Al Jolson and given him some big hits ("Back In Your Own Backyard", "There's A Rainbow Round My Shoulder", "Golden Gate"), and on this occasion the old mammy singer decided to cut in on the cutter-in. So Billy Rose wound up having to split his royalties with Al Jolson.
Philip Furia and Michael Lasser call the song "a witty treatment of solitude that uses one's shadow to provide companionship as a way to ease the pang of being alone":
Me And My Shadow
Not a soul to tell our troubles to...
It was an old - and old-fashioned - song by the Fifties, but one that, in the right context, still had the power to be very affecting. Judy Garland included its mournful verse:
Shades of night are falling and I'm lonely
Standing on the corner feeling blue
Sweethearts out for fun
Pass me one by one
Guess I'll wind up like I always do
With only

Me And My Shadow...
In 1958 Frank and Sam took a crack at it on Sinatra's television show. It's fine as a TV sketch reliant on visual humor but it's not much of a musical performance. Four years later, Sinatra and Davis took "Me And My Shadow" into the recording studio, with additional lyrics by Sammy Cahn, a new verse by Jimmy Van Heusen and a killer arrangement by Billy May. Between them, they reinvented the song as a Rat Pack party piece:
SAM: Like the wallpaper sticks to the wall!
FRANK: Like the seashore clings to the sea!
SAM: Like you'll never get rid of your shadow
Frank, you'll never get rid of me
FRANK: Let all the others fight and fuss
Whatever happens
BOTH: We've got us!

FRANK: Me And My Shadow...
The main theme now comes with a contrapuntal melody decked out with wonderfully period (1962) lyrics by Sammy Cahn:
We're closer than smog when it clings to LA!
We're closer than Bobby is to JFK!
Not a soul can bust this team in two
We stick together like glue...
The original 1920s version has a wonderfully lugubrious middle section, as the lonely loser heads up to his bleak garret:
And when it's twelve o'clock
We climb the stair
We never knock
'Cause nobody's there

Just me and my shadow...
That's not how Sinatra and Davis plan on passing the night:
FRANK: And when it's sleeping time (SAM: That's when we rise)
FRANK: We start to swing (SAM: Swing to the skies)
FRANK: Our clocks don't chime (SAM: What a surprise)
BOTH: They ring-a-ding ding!
Happy New Year!

FRANK: Me And My Shadow...
As we've noted previously, Frank inserted his "Ring-a-ding ding!" catchphrase into a couple of records - "I Won't Dance" (the Nelson Riddle version), "It's A Wonderful World" - plus the Can-Can soundtrack - at the end of "C'Est Magnifique" - and eventually commissioned Cahn & Van Heusen to write a song of that title. But I would have to say the middle section of "Me And My Shadow" is its most satisfying musical iteration.
And then of course there's the insider references in the wind-up:
Before we get finished, we'll make the town roar
We'll make all the late spots, and then a few more
We'll wind up at Jilly's right after Toots Shor...
Toots Shor was a celebrated restaurateur to whom Sinatra was partial. At the height of bobbysoxer frenzy, Frank and Toots arrived at his restaurant on West 51st Street in Manhattan to be greeted by hordes of screaming fans, and police trying to hold them back. Toots Shor pulled a dollar bill from his pocket and said to Sinatra: "Here, kid, go cross the street and get me a paper."
Jilly Rizzo was another restaurateur and even closer to Frank, the man at his side, as bodyguard and confidant, at thousands of live performances over the years. He and Jimmy Van Heusen are the only non-family members buried in the Sinatra family plot.
In 1995, when Dean bought the big casino - that's Ratpackese for "died" - the consensus was that he ended his days a pathetic, lonely anachronism - a drunk act in an age when pop stars like Carly Simon refuse to sing "One for My Baby (And One More for the Road)" because it encourages driving under the influence (and probably without a mandatory car seat for the newborn). In 1998, when Sinatra left us and the networks dusted off their old footage of him and Dean on stage, tumblers in hand, wreathed in smoke, the announcers all but prefaced the clips with "Don't try this at home, boys and girls". Between the deaths of the two star Rat Packers something happened: hip clubs in LA scheduled "lounge" nights for twentysomethings in snap-brim hats; martinis and cigars made a comeback; the big record chains introduced a new category, "Bachelor Pad Music"... The assumption was that Rat Pack fever was ironic and post-modern, like practically everything else. It seems more likely that 21st century Rat Packers, after growing up with parents who've inflicted plonkingly earnest rockers on them for 20 years, dig these cats for real. They'd love to be able to live like Frank and Dino, but they know, deep down, that guys will never be allowed to have that much fun again.
So on the one hand, for professional grievance mongers, "Me And My Shadow" is racist because the white guy has a black shadow. Simultaneously, it's the acme of Rat Pack cool, and so much so that all kinds of younger cats now issue their own karaoke performances of Frank and Sam. The version by West End leading man Michael Ball and Hollywood heartthrob Antonio Banderas is an oddly appealing train-wreck, especially the chorus in Spanish. And then there's Robbie Williams of Take That and Brit telly star Jonathan Wilkes. Their version of "Me And My Shadow" begins with Robbie identifying the singers in a fake American accent:
JONATHAN: Why are you talking like that? We're from Stoke.

ROBBIE: I know, but I can't stop it, pallie.
Still they do try to update the Rat Pack lyrics:
Before we get finished, we'll make the town roar
We'll hit all the late spots, and then a few more
We'll start out at Stringy's right after Grouch-o...
Does anyone call Stringfellow's Stringy's? And does anyone pronounce "Groucho" with the emphasis on the 'o"?
Oh, well. There are many examples of how the Sinatra arrangement has supplanted the song. But, in this case, it isn't so much an arrangement as an attitude. The original, though, will always beat the wannabes, especially the ending:
Life is gonna be we-wow-whee!
For my shadow and me!
And as the last note of Billy May's magnificent orchestra dies away, a voice pipes up:
SAM: Say, Frank?

FRANK: What is it, Sam?

SAM: Do me a favor?

FRANK: What do you want now?

SAM: Would you mind taking it, just one more time?

FRANK: From the top?

SAM: No, from the ending.

FRANK: Wonderful!

And while we are swinging, to mention a few
We'll drop in at Danny's, the Little Club too
We'll wind up at Jilly's, whatever we do
Life is gonna be we-wow-whee!
For my shadow and me!
And yet again Billy May's blast of an arrangement comes to a close. And then:
SAM: Frank?

FRANK: Oh forget it, Sam.

SAM: Okay.
~The Evil Blogger Lady has a bewitching Sinatra Halloween courtesy of Rodgers & Hart et al. For an alternative Frank Hot 100, check out Bob Belvedere over at The Camp Of The Saints who places "Me And My Shadow" at hit sound 92. Meanwhile, the Pundette is also counting down her Sinatra hit parade,, which includes another Billy Rose hit at Number 84, "It Happened In Monterey".
~Steyn's original 1998 obituary of Frank, "The Voice", can be found in the anthology Mark Steyn From Head To Toe, while you can read the stories behind many other Sinatra songs in Mark Steyn's American Songbook. Personally autographed copies of both books are exclusively available from the SteynOnline bookstore.
SINATRA CENTURY
at SteynOnline
6) THE ONE I LOVE (BELONGS TO SOMEBODY ELSE)
8) STARDUST
10) WHAT IS THIS THING CALLED LOVE?
11) CHICAGO
12) THE CONTINENTAL
13) ALL OF ME
15) NIGHT AND DAY
16) I WON'T DANCE
17) I'VE GOT YOU UNDER MY SKIN
19) EAST OF THE SUN (AND WEST OF THE MOON)
21) A FOGGY DAY (IN LONDON TOWN)
24) OUR LOVE
27) FOOLS RUSH IN
32) I'LL BE AROUND
36) GUESS I'LL HANG MY TEARS OUT TO DRY
37) NANCY (WITH THE LAUGHING FACE)
38) SOMETHIN' STUPID
40) I GET ALONG WITHOUT YOU VERY WELL (EXCEPT SOMETIMES)
41) SOLILOQUY
42) THE COFFEE SONG
44) HOW ABOUT YOU?
46) LUCK BE A LADY
48) (AH, THE APPLE TREES) WHEN THE WORLD WAS YOUNG
49) I HAVE DREAMED
51) I'VE GOT THE WORLD ON A STRING
52) YOUNG AT HEART
54) BAUBLES, BANGLES AND BEADS
55) IN THE WEE SMALL HOURS OF THE MORNING
57) THE TENDER TRAP
59) WITCHCRAFT
60) EBB TIDE
61) COME FLY WITH ME
62) ANGEL EYES
63) JUST IN TIME
65) NICE 'N' EASY
66) OL' MACDONALD
68) AUTUMN LEAVES
78) MOON LOVE