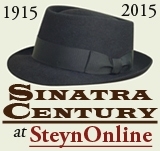 Not everyone cared for Frank Sinatra's habit, in concert, of crediting Rodgers & Hart and Cole Porter and the other composers and lyricists of the songs he sang. And there were moments when even he seemed to acknowledge there was more annotation than anybody needed. In the early Nineties, I heard him deliver the following intro:
Here's a marvelous song written by Orlando Murden and Ronald Miller. Whoever the hell they are.
Whoever the hell they are is easy to answer. They're the guys who wrote "For Once In My Life". And that's whoever the hell they'll be for all eternity. Orlando Murden is a one-hit wonder and runner-up to Orlando Gibbons (1583-1625), Gentleman of the Chapel Royal, in the "Name a composer called Orlando" round of "Family Feud". But Ron Miller had a goodish run of hits in the latter decades of the 20th century. Berry Gordy found him in a piano bar in Chicago and signed him up to be a house writer at Tamla Motown. One of the savvier moves Motown's founder had made was to create a Detroit version of Tin Pan Alley to provide material for his various acts, and, while Holland, Dozier, Holland were the marquee names at Gordy's publishing operation, Ron Miller had his moments, too. A lot of his songs were soul takes on cute lyrical ideas any opportunist Alleyman of the Twenties would have been proud of - "Yester-me, Yester-you, Yesterday" for Stevie Wonder, for example. At other times, he had a knack for using traditional pop form to evoke a vaguely contemporary sensibility:
Touch Me In The Morning
Then just close the door
Leave me as you found me
Empty like before...
Diana Ross made that one of the first big overwrought diva ballads, a sub-genre we take for granted after Mariah Carey and Céline Dion but which didn't really exist pre-"Touch Me". Do you believe a word of it? The premise seems highly suspect:
Well, I can say goodbye in the cold morning light
But I can't watch love die in the warmth of the night...
So reach out and touch me in the morning, then just walk away? Really?
At other times, Ron Miller's ability to articulate the spirit of the age trembled on the parodic: "I've Never Been To Me" is almost too good a title for the era of therapeutic solipsism. It was a blockbuster hit in the Eighties, and belongs to a select category of songs that are almost mesmerically awful:
Oh, I've been to Nice
And the isle of Greece
Where I've sipped champagne on a yacht
I've moved like Harlow
In Monte Carlo
And showed 'em what I've got
I've been undressed by kings
And I've seen some things
That a woman ain't s'posed to see
I've been to paradise
But I've Never Been To Me...
"The isle of Greece"?
Miller got his girlfriend Charlene to record the song in the Seventies, but then they bust up and she moved to England and wound up living in a council house and working in a sweet shop in Bromley-by-Bow in East London. In 1982, a disk-jockey in Florida started playing the song and Charlene found herself with a worldwide hit. I remember it vividly as the song that always seemed to be playing when I went to the hairdresser. More recently, Edie Britt sang it at a karaoke night on "Desperate Housewives" and made it the big song on the show's soundtrack album. But Charlene claims never to have made any money from it. "Ron made millions. Motown made millions. But I'd used a friend's lawyer husband to look at my contract and I guess he missed a vital clause." By the mid-oughts, she was living quietly in Suffolk and reflecting on the vicissitudes of the music business. "I'd sit there filling in these forms," she told The Mail On Sunday, "and I'd think, I've shared a jacuzzi with Frank Sinatra! I've sung a duet with Stevie Wonder! I went on 'Good Morning America' with Maurice Gibb! What am I doing with my life?"
Which sounds like a great verse Ron Miller never got around to rhyming up:
Oh, I dined and drank
And took baths with Frank
Where we sipped champagne knee to knee
I never shunned a
Duet with Wonder
Or telly with a Bee Gee...
Charlene's not been to paradise lately, but she's certainly been to her, and from the sound of it far more often than she'd ever expected to.
Hey-ho. Let's not judge Ron Miller by infelicitous affirmations of self-esteem for his ex-girlfriends, but for a song written half-a-century ago on the night his daughter Angel was born:
For Once In My Life
I have someone who needs me
Someone I've needed so long
For once unafraid
I can go where life leads me
And somehow I know I'll be strong...
For once in his life, Ron Miller had a song idea poised very adroitly - not too cute like "Yester-me, Yester-you", not too pat like "I've Never Been To Me", but just right. It's such an ordinary phrase - "For once in my life" - and Miller only uses it in the song three times, but he structures the entire lyric around the recapitulations of "for once":
For once I can touch
What my heart used to dream of...

For once I've got someone
I know won't desert me...

For once I can say
This is mine, you can't take it...
It's neatly and unobtrusively done, and it provides structure without seeming formulaic. Likewise, Orlando Murden's tune is basically one buoyant phrase he simply moves up tone by tone through the song, and yet, for all its predictability, it's very effective and very emotionally intense.
The first singer to record the song was Jean DuShon, a soulful chantoosie in Detroit whom Ron Miller invited over to the house to help him with a bit of instant demo-ing when he was still working on the lyric. He was so impressed by her living-room performance that he let her have the first record on the song, even though she wasn't a Motown singer. Instead, the single came out on Chess Records and WXYZ radio chose it as the "Pick Hit Of The Week". Enter Berry Gordy, who didn't like the idea of his house songwriters giving their best work to rival labels. So, for whatever reason, Chess declined to promote Miss DuShon's record, and Gordy started leaning on Motown artists to sing it. The Temptations recorded it as a smoldering ballad, and, when I interviewed them on the radio a few years back, it remained one of the tracks they were most proud of. And around the same time back in 1967 Stevie Wonder also recorded it, of which more in a moment. But, as eager as Gordy was for a Motown hit on the song, he couldn't stop it leaking out to the rest of the world. Carmen McRae heard the DuShon version and she and Frank Sinatra both recommended it to Tony Bennett, who was having a tough time finding new material. Sinatra did that fairly often - sometimes because a song he liked it wasn't quite right for him, at other times because it didn't fit with whatever he was planning next, and he didn't think it fair to keep a good song sitting around waiting.
Bennett accepted Frank and Carmen's gift, and did the song as a warm if somewhat formal ballad. His take has a kind of stately reflective contentment:
For Once In My Life
I won't let sorrow hurt me
Not like it's hurt me before
For once I've got someone
I know won't desert me
And I'm not alone anymore...
Notice, by the way, Ron Miller's ingenious lyric pattern: He rhymes everything but the title phrase. Pure feminine rhymes - "hurt me"/"desert me" - were rare by the time of Sixties pop, and pure feminine rhymes alternating with masculine - "before"/"anymore" - in an ABCDBC rhyme scheme is all but unique for a pop song of the period. Perhaps that's why the standards set all picked up on it. "There's a song in the States made popular by Tony Bennett," announced Ella Fitzgerald on stage in Berlin. "Such a beautiful tune. We'd like to try and sing it for you because we think the lyrics are so gorgeous and the tune itself is beautiful." And she did it beautifully, too - like Bennett, as a translucent ballad.
Meanwhile, what of that Stevie Wonder record gathering dust in the Motown vault? Why hadn't Berry Gordy released it? Well, he didn't like it. Stevie and his producer Hank Crosby had done the song up-tempo, building on irresistibly funky guitars and a little piccolo motif plus some groovy back-up singers and splendid ad-lib wailing from the vocal lead:
For once I can touch
What my heart used to dream of
Long before I knew
Someone warm like you
Could make my dreams come true
Whoa-oa-oa-oah...
Stevie Wonder's performance is a marvel of exuberance, but not to Berry Gordy. He thought it was a disaster and vetoed its release. And, by the time he realized he was wrong, it was 1968 and the song was a staple not just of Bennett's act but a bunch of other MOR singers'. And so, even though Stevie's version had been in the can long before anybody's except Jean DeShon, his seemed like the cover version. Notwithstanding that it was an original Motown song, the assumption was that the 17-year old Motown prodigy had been handed some squaresville easy-listening ballad everyone had heard a zillion times before and, for want of anything better to do with it, had turned in some wacky novelty funked-up arrangement of what should have remained the preserve of cheesy lounge acts.
Yet the public felt differently. It became Stevie Wonder's biggest-selling single to date, and by the time it hit Number Two on the charts, everybody was doing the song - except Jean DeShon:
For once I can say
This is mine, you can't take it...
It was hers, but they took it anyway. "I stopped singing it," she said. "It wasn't mine anymore."
The final straw was Sinatra's version, in the confident swank of a Don Costa mid-tempo swing arrangement, recorded in February 1969. It didn't seem anything special on the My Way album, in part because Frank's first chorus is oddly tentative, as if he doesn't know the song well enough to sing it out. By the end of the year, for a TV special with Costa, he was a little more comfortable with the song and the chart. Something about it caught Frank's fancy and over the next quarter-century it became more and more a pillar of his stage act. One of the all-time coolest openings I've ever seen was Sinatra at the Royal Albert Hall in the late Eighties. No announcement, no nuthin'. Everybody's chit-chattin' and we suddenly hear that great swaggering Don Costa intro, and there's Frank sauntering on stage and growling the opening lines as if he doesn't care whether we know he's there or not:
For Once In My Life
I got someone who needs me...
The Tommy Dorsey legato had pretty much gone, so he chopped the lines up with grace notes, a technical term which doesn't seem quite le mot juste for Ol' Blue Eyes' killer jabs and defiant punches on "For Once':
Long as there's love, babe
You can bet I'm gonna make it!
He'd lived with the song a long time, never tired of it, and packed it full of attitude. Frank was king of the consonants, and on "For once I can touch" the bite he'd put on that "-ch" was one of the great Sinatra moments, right to the end. As Ron Miller touches go, it's a much better "touch" than the "Touch Me In The Morning" touch. And by the time he came back after the instrumental break Sinatra was ready to drive the thing home: "For once I can say" - and he'd stab the air - "that's mine! You ain't gonna take it." And no-one did. Incidentally, that instrumental is one of Costa's best, and Frank appreciated it: Sometimes he'd shout "Wail!" or "Holler!" at the band to kick it up a notch. But, on other nights, if the fancy caught him, he liked to sing along to Costa's chart using an entirely different number from a generation earlier by his old pals Jule Styne and Sammy Cahn:
Kiss me once
Then kiss me twice
Then kiss me once again
It's Been A Long, Long Time...
And he made it fit.
Frank, Stevie, Tony: They're really the three templates for the piece. Formal ballad, cocksure swinger, up-tempo groover. Pace Berry Gordy, I think Frank and Stevie got it right. The song's a celebration, and doing it in ballad tempo too often turns it from reflective to lugubrious, wistful to bummer. In the mid-Nineties, for Sinatra's Duets project, Frank sang it, full of gravelly passion, with Gladys Knight. But the intro's a killer: a solo harmonica prelude by Stevie Wonder that evokes both his version and Sinatra's, and then the familiar Don Costa brass strikes up, and Wonder gives a joyous "Oooooooaaah!" and provides an impromptu lyric to the Costa arrangement:
Sing, Frank!
Sing, Frank and Gladys!
And they do. A decade later, Stevie tied all three landmark versions together by duetting on the ballad arrangement in a track for Tony Bennett's (mostly very dreary) 80th birthday album. All that was needed to bring it full circle was a Sinatra/Bennett duet on the Stevie Wonder arrangement, which would have been quite something. The Tony/Stevie track went on to win a Grammy, and at the ceremony Wonder dedicated the award very touchingly to his late mother (who always loved the song), after which Bennett thanked his sponsor Target. That's how the song works, too. It can be strictly business - a reliable crowd-pleaser (as it was for the young Michael Bublé, simply lifting Costa's arrangement) - and that's fine. But sometimes it gets under your skin, and it's real and true and irresistible. Motown produced a ton of hits in the Sixties, but this one is the company's single most recorded song - Dean Martin, Kiki Dee, Paul Anka, Jackie Wilson, Harry Connick Jr, Vonda Sheppard on Ally McBeal, on and on and on. Including, night after night, all the way into the mid-Nineties, Frank Sinatra:
For once I can say
This is mine, you can't take it
Long as I know I've got love I can make it
For Once In My Life
I've got someone who needs me.
For once in his late 1960s life, a passing pop hit worked out just great.
~For an alternative Frank Hot 100, the Pundette is also counting down her Sinatra hit parade, and is up to hit sound 16, Frank and Billy May's swingin' "Just In Time". And Bob Belvedere is celebrating Sinatra's Top Ten Albums and enters the Top Five with an early Capitol classic, Swing Easy. The Evil Blogger Lady, meanwhile, goes for a Frank favorite of the great Angie Dickinson - "Lean Baby".
~Steyn's original 1998 obituary of Frank, "The Voice", can be found in the anthology Mark Steyn From Head To Toe, while you can read the stories behind many other Sinatra songs in Mark Steyn's American Songbook. Personally autographed copies of both books are exclusively available from the SteynOnline bookstore.
SINATRA CENTURY
at SteynOnline
6) THE ONE I LOVE (BELONGS TO SOMEBODY ELSE)
8) STARDUST
10) WHAT IS THIS THING CALLED LOVE?
11) CHICAGO
12) THE CONTINENTAL
13) ALL OF ME
15) NIGHT AND DAY
16) I WON'T DANCE
17) I'VE GOT YOU UNDER MY SKIN
19) EAST OF THE SUN (AND WEST OF THE MOON)
21) A FOGGY DAY (IN LONDON TOWN)
24) OUR LOVE
27) FOOLS RUSH IN
32) I'LL BE AROUND
36) GUESS I'LL HANG MY TEARS OUT TO DRY
37) NANCY (WITH THE LAUGHING FACE)
38) SOMETHIN' STUPID
40) I GET ALONG WITHOUT YOU VERY WELL (EXCEPT SOMETIMES)
41) SOLILOQUY
42) THE COFFEE SONG
44) HOW ABOUT YOU?
46) LUCK BE A LADY
48) (AH, THE APPLE TREES) WHEN THE WORLD WAS YOUNG
49) I HAVE DREAMED
51) I'VE GOT THE WORLD ON A STRING
52) YOUNG AT HEART
54) BAUBLES, BANGLES AND BEADS
55) IN THE WEE SMALL HOURS OF THE MORNING
57) THE TENDER TRAP
59) WITCHCRAFT
60) EBB TIDE
61) COME FLY WITH ME
62) ANGEL EYES
63) JUST IN TIME
65) NICE 'N' EASY
66) OL' MACDONALD
68) AUTUMN LEAVES
78) MOON LOVE
79) ME AND MY SHADOW