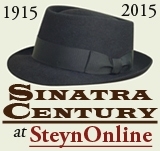 One of the more heartening musical trends of recent years is the habit of young standards singers doing ancient rock songs in the American Songbook style: Michael Bublé's swinging version of "Can't Buy Me Love" is an early example, and I like to think of my version of Ted Nugent's "Cat Scratch Fever" as my own modest contribution to the genre. After all, there have been plenty of rock'n'roll, rhythm'n'blues, doowop, Tamla Motown, folk-rock, disco, techno, punk versions of standards, so turnabout is fair play. The rock fans don't always take it well: I seem to recall John Pizzarelli's first jazzy album of Beatles songs was reviewed under the headline "Abbey Roadkill".
Nevertheless, in this as in so many other things, Frank Sinatra got there first. For example, few of those who heard Cher's bouncy-bouncy kiddiepop hit first time round in 1966 would have imagined its transformation 15 years later into the title song of one of the darkest concept albums Sinatra ever made:
Bang Bang!
She shot me down
Bang Bang!
I hit the ground
Bang Bang!
That awful sound
Bang Bang!
My Baby Shot Me Down...
And so Sonny Bono wound up with the title track of an album with songs by Rodgers & Hart, Harold Arlen, Ira Gershwin, Jule Styne, Alec Wilder and Stephen Sondheim. Congressman Bono, as he was by the time of his death, was even in his heyday a never entirely convincing face of rebellious youth:
They say we're young and we don't know
Won't find out until we grow...
Even then he seemed a good ten years too old to be singing about being too young. In his bobbed hair and bobcat vest, Sonny was more like some Tin Pan Alley opportunist promoter's idea of a folkie rocker than the real thing. Of course, in Sonny's case, the ersatz hippie and the opportunist promoter were the same guy. Not so long ago, zapping the remote in my hotel room, I came across a late-Seventies Love Boat in which Sonny was guesting as a hardcore glam rocker who secretly longs to be a romantic balladeer. I didn't quite buy him in either incarnation, but I suspect, had any such choice confronted him in real life, his calculations would have been strictly economic.
Still, he had an eye for cute song ideas and, for a while, a cute gal to put 'em over. This one was written by Sonny for Cher's second solo album, The Sonny Side of Chér, and was released as a single by Chèr. At this period in her career, Sonny had decided to Frenchify his Armenian mouthpiece, but somewhat erratically, so that her accents pointed in different directions according to whether she was spinning at 45 or 331⁄3. Be that as it may, he'd written a song for her that started in childhood, with boy-girl backyard playmates:
I was five and you were six
We rode on horses made of sticks
You wore black, I wore white
You would always win the fight

Bang bang!
You shot me down...
They grow up, and marry. And then one day he's gone:
He didn't even say goodbye
He didn't take the time to lie

Bang Bang!
He shot me down...
And so the pretend pain of childhood games is now real, and lasting. They used to play shoot-'em-ups when they were kids, but now they're grown up and he's shot her down metaphorically, straight through the heart. It's a simple idea, but very effective - even at mid-Sixties pop tempo. And it would prefigure the other story songs - "Half-Breed", "Gypsies, Tramps And Thieves" - that would define Cher's solo style until her re-invention in the Eighties. "Bang Bang" got to Number Two in the US, Number Three in the UK, and was by common consent the best thing on The Sonny Side of Chér. As the critic Tim Sendra observes:
The only track that has any real zest is the Bono-written novelty 'Bang Bang (My Baby Shot Me Down),' the kind of dramatic song Cher could knock out in her sleep but also a song with no real heart.
The singer who found its heart was Nancy Sinatra. She ditched the bouncy-bouncy arrangement, slowed it down and recorded it with nothing but Billy Strange's tremolo guitar with the reverb cranked up. Strange was the arranger on, among others, Nancy's "Boots Are Made For Walking" and Frank's "This Town", but "arranging" is far too formal a word for what he did here. "There was no arrangement," he said. "I just played what I thought was appropriate and Nancy liked the way it was sounding, so we recorded it... More than one instrument would have been too many." If you know your guitars, it was a Gibson 335 given to Billy by Nancy. The amp was his old Fender Twin, and the tremolo effect came courtesy of a small box manufactured by Vox. After the run-through, they made one take - and that was all that was needed. This "Bang Bang" is melancholy and haunting: as Miss Sinatra likes to say, "The poetry in it spoke to me." With Cher's version, you noticed the hook - "Bang bang!" With Nancy's, you followed the story:
Seasons came and changed the time
When I grew up I called him mine
He would always laugh and say
'Remember when we used to play

Bang bang!
I shot you down
Bang bang!
You hit the ground
Bang bang!
That awful sound
Bang bang!
I used to shoot you down...
Nancy Sinatra performed the same service for another song from 1966. As I often have cause to reflect between now and December 25th, I've never much cared for the forced jollity of "We Need A Little Christmas" (I think it's the "carols on the spinet" line). The only version I really enjoy is Nancy's, which slows it down to ballad tempo and once again finds the heart in the song - a real, lonely ache.
At the end of 1966, Miss Sinatra was invited to do a guest shot on her dad's TV special. The plan was for a fun medley with pa - "Downtown" and "These Boots Are Made For Walking" - plus a solo turn. Frank, by conscious choice, did not attempt to interfere in his daughter's pop career. Aside from giving her useful business advice - for example, always own your own masters - he left the songs and style to her. And so I would imagine that, when she chose to sing this song in this style on his TV special at the end of 1966, it was the first time he'd ever truly heard the number. And something in it spoke to him as it had spoken to Nancy.
Cher had the hit, but Nancy's was the version that lasted. Almost 40 years later, Quentin Tarantino's film Kill Bill Volume 1 opened with "The Bride" (Uma Thurman) in silhouette in her hospital bed as Nancy's "Bang Bang" plays over the soundtrack. What's great about that record is that Miss Sinatra took a bit of kitsch and made it real. The first time I saw Kill Bill I had the vague feeling Tarantino liked it for exactly the opposite reason: she takes a bit of kitsch and makes it kitschier – "What's kitschier than early Cher? Early Cher in a cover version by Nancy Sinatra!" But on reflection that's unfair to the director. I think he loves this record and he wanted to give it his due – and he certainly rescued it from obscurity, to the point where the year after the movie some hipsters called the Audio Bullys sampled Nancy's track for a Top Ten hit in the UK. And the year after that - 2005 - it was used as the theme song for the BBC's Wimbledon coverage. And, as a result, today Nancy Sinatra's version of "Bang Bang" is better known than Cher's. A few months ago, when Lady Gaga decided to include the song on her TV special with Tony Bennett, she did it Nancy-style.
The song is vital to the film. Cool and reflective, it nevertheless provides the only emotional pulse in the opening: Without it, there's nothing going on. In Kill Bill, Tarantino goes to some lengths to distance himself from the tentative nods toward characterization and emotional reality he made in parts of Pulp Fiction and Jackie Brown, presumably having decided that if you want that sort of stuff any old filmmaker can supply it. But he uses this song as an opening number to let you know that, underneath it all, something real is going on. In fact, Sonny Bono's kiddie song is a literal summation of the plot of Kill Bill: He shot her down, she hit the groun', bang bang, her (sort of ex-) baby shot her down. So she's going to shoot him down. That's it; that's all there is: The Basic Revenge Plot - with style.
The senior Sinatra first recorded it on June 4th 1973 at Goldwyn Studios in Hollywood, in a session for his post-"retirement" LP, Ol' Blue Eyes Is Back, arranged and conducted by Gordon Jenkins. "Bang Bang" didn't make the album, which, when you consider some of the stuff that did, is pretty amazing. Ol' Blue Eyes is a somewhat woozy and unfocused set, lurching from easy-listening radio filler ("Let Me Try Again") to essays of socio-cultural annotation ("And There Used To Be A Ballpark") to bizarre grotesques ("Noah"). It comes to something when a Cher novelty song is too deep and dignified for the company it would be keeping.
So the 1973 recording went unreleased. Eight years later Sinatra had even greater ambitions for the number. He had ended the Seventies with Trilogy: Past, Present, Future, a triple album parceled out to three arrangers - Billy May got "The Past", Don Costa "The Present", Gordon Jenkins "The Future". Two-thirds of it got rave reviews: It was two thumbs up for "The Past" and "The Present" - and one almighty thumbs down for "The Future: Reflections on the Future in Three Tenses", a free-form vocal-orchestral suite with words, music and orchestration by Jenkins. On WNEW, Jonathan Schwartz called "The Future" "narcissistic" and "a shocking embarrassment". Fifteen years later, Frankologist Will Friedwald pronounced it "the most spectacular disaster of his recording career".
Sinatra felt bad not for himself (he had those raves for "Past" and "Present" to console himself with) but for his old pal Lefty (as he called Jenkins). The arranger was already sick, with the Lou Gehrig's Disease that would eventually kill him, and the singer felt he owed him something after the brutal reviews of "Future". "Frank wanted to do one last album with him," said Vincent Falcone, his pianist-conductor during this period. "He wanted it to be Gordy's last stand, if you will. And I think a lot of that came from the fact that Gordon received such criticism for the Trilogy album."
But what to do? After the high-falutin' conceptual grandiosity of "Future", Sinatra and Jenkins decided to keep it simple: "A complete saloon album," decided Frank. "Tear-jerkers and cry-in-your-beer kind of things." It was mostly new material by writers in Sinatra's circle - Jenkins, Jule Styne, Alec Wilder - but added to the list was the song they'd first attempted almost a decade earlier: "Bang Bang."
It's a super-dark album, from the front cover of a bomber-jacketed Sinatra wreathed in smoke through to the last note of Side Two. I've loved She Shot Me Down ever since I first heard it, and played it over and over on the radio, to the point where listeners complained that it was too dark, too bleak. And yet how bleak can it be when it has the Sonny side of Cher as its title track?
Well, we're a long way from Cher. Sonny Bono wrote the song in the verse-chorus-verse-chorus style to which rock-era pop has reverted, but the arranger skillfully turns half of the central verse into a kind of functioning middle section:
Music played and people sang
Just for me the church bells rang...
And Jenkins opens up with a great orchestral wail that sounds like a wedding march for the Bride of Frankenstein. You know this isn't going to end well.
Frank figured he could make "Bang Bang" a bona fide saloon song, up there with Johnny Mercer and Matt Dennis, and Gordon Jenkins obliged with a dark, brooding orchestration that, in any rational sense, ought to be more than any Sonny Bono pop trifle can plausibly bear. Yet Sinatra and Jenkins infuse the performance with tremendous conviction. And after that orchestral wail the weary, quarter-to-three voice of the saloon singer returns to spell it out:
Now she's gone, I don't know why
And to this day sometimes I cry
She didn't even say goodbye
She didn't take the time to lie

Bang Bang!
She shot me down
Bang Bang!
I hit the ground
Bang Bang!
That awful sound
Bang Bang!
My baby shot me down.
At which point what's left to say? On "down", Jenkins slams in the first of a series of orchestral stabs that sound like the shower scene from Psycho. The band is basically pumping Sinatra full of lead - and when they're out of bullets the track ends.
In 1998, a few weeks before he died in a ski-ing accident, Congressman Bono, latterly Mayor of Palm Springs, offered his thoughts on one of his most famous constituents: "He really was the first rock star," he said. "Sinatra did to the teenagers and the young women in his age group what the Beatles did to their group and what so many young acts do now. He just turns them on, you know? It's the same thing Mick Jagger has but in a different way. It's a magical thing and they are just turned on. That's a rarity."
So, even after that harrowing version of Sonny Bono's own best song, the younger man has no idea why Sinatra endured and prospered longer than any other singer. If it was about "turning on" women, Frank would never have wasted his time turning bouncy-bouncy "Bang Bang" into a saloon song. It was to prove his last attempt to meet the rock'n'roll era on his own terms. She Shot Me Down was his final LP for the label he founded, Reprise Records. It was his last concept album, and not a successful one. What followed was LA Is My Lady, with Quincy Jones running the show and Frank feeling in hindsight that the project was too slick and "commercial" - and then came Duets, with Phil Ramone splicing into Sinatra performances a bunch of [Insert Name Here] celeb duettists the singer had, in many cases, never heard of.
So She Shot Me Down can be said to mark the close of Sinatra's career as a serious album artist - but what a fine way to go.
~Don't forget Mark's audio special with Celeste Holm on High Society, which happens to include Frank singing "You Go To My Head", Number Nine on the Pundette's alternative Sinatra Hot 100. Bob Belvedere has also been counting down his Frank Hit Parade and his Number Nine hit is something of a contrast: instead of Sinatra getting shot down, here he is downing a shot on "One For My Baby (And One More For The Road)". The Evil Blogger Lady, meanwhile, offers a Sinatra celeb-duet selection that includes one of his most charming songs with Rosie Clooney - the peachy "Peachtree Street".
~Mark's conversation with longtime Sinatra conductor Vincent Falcone, discussing "New York, New York" and many other songs, can be heard here. Steyn's original 1998 obituary of Frank, "The Voice", can be found in the anthology Mark Steyn From Head To Toe, while you can read the stories behind many other Sinatra songs in Mark Steyn's American Songbook. Personally autographed copies of both books are exclusively available from the SteynOnline bookstore.
SINATRA CENTURY
at SteynOnline
6) THE ONE I LOVE (BELONGS TO SOMEBODY ELSE)
8) STARDUST
10) WHAT IS THIS THING CALLED LOVE?
11) CHICAGO
12) THE CONTINENTAL
13) ALL OF ME
15) NIGHT AND DAY
16) I WON'T DANCE
17) I'VE GOT YOU UNDER MY SKIN
19) EAST OF THE SUN (AND WEST OF THE MOON)
21) A FOGGY DAY (IN LONDON TOWN)
24) OUR LOVE
27) FOOLS RUSH IN
32) I'LL BE AROUND
36) GUESS I'LL HANG MY TEARS OUT TO DRY
37) NANCY (WITH THE LAUGHING FACE)
38) SOMETHIN' STUPID
40) I GET ALONG WITHOUT YOU VERY WELL (EXCEPT SOMETIMES)
41) SOLILOQUY
42) THE COFFEE SONG
44) HOW ABOUT YOU?
46) LUCK BE A LADY
48) (AH, THE APPLE TREES) WHEN THE WORLD WAS YOUNG
49) I HAVE DREAMED
51) I'VE GOT THE WORLD ON A STRING
52) YOUNG AT HEART
54) BAUBLES, BANGLES AND BEADS
55) IN THE WEE SMALL HOURS OF THE MORNING
57) THE TENDER TRAP
59) WITCHCRAFT
60) EBB TIDE
61) COME FLY WITH ME
62) ANGEL EYES
63) JUST IN TIME
65) NICE 'N' EASY
66) OL' MACDONALD
68) AUTUMN LEAVES
78) MOON LOVE
79) ME AND MY SHADOW
81) QUIET NIGHTS OF QUIET STARS
84) MY WAY
86) SOMETHING