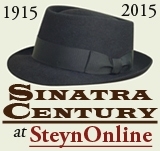 December marks the hundredth anniversary of Frank Sinatra's birth, so we're kicking up a notch our Sinatra centenary observances with a few special features - including this two-part conversation with the man who played piano and conducted for Frank during the Seventies and Eighties: Vincent Falcone Jr.
You can hear Part One of this audio special, in which Vinnie (as Frank called him) talks about "Strangers In The Night", "Just The Way You Are", "Something" and, of course, "New York, New York" here.
Part Two picks up where we left off with "New York, New York" and then looks at some of the other big Sinatra moments Vince Falcone was a part of, including a glimpse of behind-the-scenes ructions between Frank's core musicians. Along the way we'll hear plenty of great Sinatra performances conducted by Falcone - "I've Got You Under My Skin", "The Gal That Got Away", "Baubles, Bangles And Beads", "Quiet Nights Of Quiet Stars", "Guess I'll Hang My Tears Out To Dry", "All Or Nothing At All" and "The Song Is You". And we'll also hear Frank Sinatra conducting some Vincent Falcone arrangements, including one that may be of interest to the Pundette as it happens to be Sinatra's third recording of "You Go To My Head".
If you enjoy these two podcasts and would like to hear more from our guest, I heartily recommend Vinnie's memoir of his years with Frank, which is available from Amazon in print and eBook.
Click above to listen, and do join us for more audio specials in the days ahead.
~For Steyn's take on Sinatra at the movies see here. Mark and Celeste Holm recall Sinatra & Co in the film High Society here. And for a century's worth of Sinatra songs see here. Mark's original 1998 obituary of Frank, "The Voice", can be found in the anthology Mark Steyn From Head To Toe, while you can read the stories behind many other Sinatra songs in Mark Steyn's American Songbook. Personally autographed copies of both books are exclusively available from the SteynOnline bookstore.