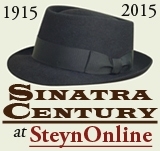 Jule Styne was a short, pugnacious scrapper who yelled a lot. "I like to yell," he'd say. "So what?" Yelling had worked on Funny Girl, Gypsy, Peter Pan, Gentlemen Prefer Blondes... Yelling had helped make him (as he announced in the Seventies with an endearing lack of modesty) "America's greatest living composer". When he yelled, he waved his arms around, and you noticed that he wore a gold bracelet. On the inside, the inscription read: "To Jule, who knew me when – Frankie" - a present from Sinatra, delivered by Cartier's the morning after the singer's spectacular solo debut at the Paramount in New York.
But the bracelet didn't stop him yelling at Sinatra. "Frank said in the papers that he didn't like my song 'People'. So he didn't like it. So it was top of the charts. So what does he know?" But Styne knew enough to know that people who need people are the luckiest people in the world, and he never forgot which people composers need. "I've been very fortunate in having my songs sung by the greatest male singer and the greatest female singer," he said, referring to his former flatmate (Sinatra) and a funny girl he helped make a star (Streisand).
When you write as many big hit songs as Styne and his lyricist Sammy Cahn cranked out for Sinatra in the Forties – "Five Minutes More", "Saturday Night Is The Loneliest Night Of The Week", "The Things We Did Last Summer" – people can get pretty sniffy about it. They assume that's what you do: you're a couple of savvy Tin Pan Alley hacks with a nose for what sells. After all, most pop songs are perishable: they sell a zillion that year and fade with the era; among 1940s blockbusters, no-one's recording "Mairzy Doats" or "San Fernando Valley" or "Pistol Packin' Mama" much these days. Styne & Cahn had 15 Number Ones, and most of them have great hooks, memorable lyrics, catchy rhythms, sentimental imagery, and that big-band sound Sammy loved. But the best ones transcend the passing parade effortlessly - like this one, a wonderful example of what Styne could do when the yelling fell quiet:
Time After Time
I tell myself that I'm
So lucky to be loving you...
Styne, Cahn and Sinatra arrived in Hollywood together and palled around. They liked to throw little musical soirées at which they'd preview new tunes, do parody lyrics, a couple of skits. On such evening in 1945, Jule Styne mentioned that the great Jerome Kern was doing a Broadway musical about the life of the sharpshooter Annie Oakley. So someone asked if he'd heard anything from the score.
There was no such score. In fact, Kern would soon collapse on a New York street and die before he had the chance to do any real work on the show, and the songs for what become Annie Get Your Gun would wind up being written by Irving Berlin. Nevertheless, asked if he knew anything from the score, Jule said, "Sure" - and sat down at the piano and played a very Kern-like melody. The party liked it, and asked if he had any more from "Kern's new score". But at that point Jule was Kerned out, and the evening moved on.
But he and Sammy remembered the tune. Styne had been a vocal coach, which gave him a keen insight into singers and songs, of all kinds. He had worked at Republic Pictures, which specialized in westerns. "I did everything," Styne said. "I coached Gene Autry, I coached his horse, I washed his horse... The horse got more respect than I did. The stable was better than my office." But, in teaching songs, he learned other composers' music. As we've heard, "Just In Time" had been his Vincent Youmans tune, and in this case his Jerome Kern tune would wind up as "Time After Time". Like, say, Kern's recent hit "Long Ago And Far Away", it flows very un-self-consciously from start to finish with very few rests. It starts straightforwardly:
Time After Time
I tell myself that I'm
So lucky to be loving you
- and then in the ninth bar soars way up for a second section full of what an admiring Alec Wilder called "melodic curves":
So lucky to be
The one you run to see
In the evening when the day is through...
It goes big just before the end, but seems to earn its high notes:
And Time After Time
You'll hear me say that I'm
So lucky to be loving you.
It wound up in a 1947 movie called It Happened In Brooklyn, an open-ended title that can embrace almost anything, including in this instance young Sinatra, Kathryn Grayson being operatic, Peter Lawford being Hollywood British, and Jimmy Durante being Jimmy Durante. The last was my youngest's favorite when we caught the movie a couple of years back. He liked the Styne & Cahn duet for Jimmy and Frank, "The Song's Gotta Come From The Heart":
We'll order our meals à la carte

(That's expensive!)

'Cause The Song's Gotta Come From The Heart!
At that age my kid understood that "That's expensive!" was a funny interjection, even though he didn't know why it was funny. And for a while he would baffle friends and even his music teacher by randomly interjecting "That's expensive!" in the fills of songs. "Time After Time" made less of an impression on him. For a great standard, it has an amazingly offhand premiere: the scene is Jimmy Durante's apartment, and Sinatra sings it to Durante as a lyric he's just written to a tune by Peter Lawford - Sinatra as Cahn, Lawford as Styne, as it were. The song itself gets a minute and a half, with Frank sounding a little stiff and a Ted Duncan arrangement that, André Previn's piano aside, is more florid than the music needs. (Frank and André are one of the few singer/accompanist teams who would later go on to share an ex-wife: Mia Farrow. It's like Tony Bennett and Bill Evans both being married to, say, Ali MacGraw.) Later in the film, "Time After Time" is reprised by Kathryn Grayson, which doesn't help. But Sinatra's subsequent studio recording with Axel Stordahl made "Time After Time" a song for all time. It's a melody made for him. Whatever its Kern-esque origins, Styne surely somewhere had Frank in mind, to capitalize on that long legato phrasing the singer had learned from Tommy Dorsey. Its lyricism is lovely and unaffected, and, unlike so many ballads, the big high notes are both effective and utterly natural – though it ends quietly, as Sinatra liked. Listen to the way he holds the final "you" – long, strong, but soft, so that finally it melts away into the orchestra. Long-but-soft is a Sinatra specialty.
"Feelings is the whole ball game," said Jule Styne. "If you don't have feelings, you can't compose, you can't sing... When Sinatra in the Forties sang, I think he was getting feelings that he hasn't got. He was falling in love when he sang, he was talking to somebody. He just didn't sing the words. He was inside the song."
Still, you have to have a song to get inside of, and that's what Styne gave him. Every composer would like to have something like "Time After Time" in his catalogue, and they're the hardest to write. The lyric isn't quite so distinctive, but once, over lunch, I asked Sammy Cahn about that arresting opening rhyme:
Time After Time
I tell myself that I'm
He laughed, and said he hadn't been the first. Ira Gershwin got to that in 1930:
I'm Bidin' My Time
'Cause that's the kinda guy I'm.
But in the Gershwin song the contraction of "I'm" is the point: you sing it, you pause, and everyone savors the joke. Cahn is asking something far more sensitive of a singer. You have to hold "I'm" and let it flow into "so lucky to be loving you". It was made for Sinatra, but I've lost count of the vocalists I've heard in the years since who take a big gulp of air after "I'm" and kill the thought.
Jule Styne understood singers better than any other big-league composer and he made an astute observation about "Time After Time": "It's a man's song," he told me. "When a woman sings it, it's drained of all its power, so to speak. The girls can't do it." And not just Kathryn Grayson. Many years ago, I put together a Jule Styne revue for a good friend, a fine singer, and she insisted on doing "Time After Time". And every time after time I heard her do it I understood what Styne meant. It's an intimate song, a ballad of pure contentment:
So lucky to be
The one you run to see
In the evening when the day is through...
That's a nice "Hi, honey, I'm home" moment. And when young Frankie sings it, its softness has a kind of romantic confidence about it. When a woman does it, it seems more conventionally sentimental. The Columbia recording with Axel Stordahl captures a lovely moment in the evolution of Sinatra's singing style. He would remake the song a decade later with a more dramatic Nelson Riddle chart at Capitol, and, as I've said of a couple of other numbers, I'd be curious to hear the Columbia voice with the Capitol arrangement. But until then the legato reading and breath control of Sinatra's 1946 recording are hard to beat. With the exception of Chet Baker's take, I've never really seen the need for any other versions, although for a rip-roaring frolic through the tune listen to Harry Connick's mostly instrumental version, with a fun vocal tag on the end.
The Cyndi Lauper hit? Oh, don't get Sammy Cahn started. He strongly disliked writers who didn't "respect title", as he put it - the way he respected Fred Fisher's "Chicago (That Toddlin' Town)" to name his own Windy City anthem "My Kind Of Town (Chicago Is)". His kind of "Time After Time", Cyndi Lauper's isn't.
As often with Sammy Cahn lyrics, it runs out of things to say before the tune ends so goes back to what it said before:
I only know what I know
The passing years will show
You've kept my love so young, so new
That Time After Time
I tell myself that I'm
So lucky to be loving you.
On one of the first occasions I met Jule Styne, he was very excited because he'd just licensed one of his old songs for a TV commercial to "Ma Bell" - as we still called the phone company back then. It was a number he wrote with Betty Comden and Adolph Green: "Make Someone Happy" - by picking up the phone and dialing. Around the same time, Sammy Cahn, who was cannibalizing his catalogue for special material at roasts and benefits, turned "Time After Time" into a complaint about the unreliability of payphones:
Time After Time
I've used more than one dime
And never made a call at all.
I think I prefer Jule Styne's own variation for and-then-I-wrote performances - notwithstanding its impure rhyme:
Time After Time
I tell myself that I'm
So lucky to be Jule Styne!
He was.
~The first episode of Steyn's new audio series The Song Is You, with the stories behind Sinatra recordings such as "Stardust", "Sweet Lorraine", "Lonely Town" and "How Little We Know", can be heard here. And don't forget Part Two of Mark's conversation with longtime Sinatra conductor Vincent Falcone, discussing "The Gal That Got Away", "Guess I'll Hang My Tears Out To Dry" and many other songs. There's also Steyn's audio special with Celeste Holm on the Sinatra screen hit High Society. Mark's original 1998 obituary of Frank, "The Voice", can be found in the anthology Mark Steyn From Head To Toe, while you can read more on Sinatra, Jule Styne and Sammy Cahn in Mark Steyn's American Songbook. Personally autographed copies of both books are exclusively available from the SteynOnline bookstore.
~Elsewhere, as we head toward December 12th, the Evil Blogger Lady has Frank and a multitude of bobbysoxers. The Pundette is counting down her own Sinatra Hot 100 and has more Styne & Cahn at Number 31, "Guess I'll Hang My Tears Out To Dry". And Jule and Sammy are also present on Bob Belvedere's Sinatra hit parade at Number 28, "Saturday Night Is The Loneliest Night Of The Week".
SINATRA CENTURY
at SteynOnline
6) THE ONE I LOVE (BELONGS TO SOMEBODY ELSE)
8) STARDUST
10) WHAT IS THIS THING CALLED LOVE?
11) CHICAGO
12) THE CONTINENTAL
13) ALL OF ME
15) NIGHT AND DAY
16) I WON'T DANCE
17) I'VE GOT YOU UNDER MY SKIN
19) EAST OF THE SUN (AND WEST OF THE MOON)
21) A FOGGY DAY (IN LONDON TOWN)
24) OUR LOVE
27) FOOLS RUSH IN
32) I'LL BE AROUND
36) GUESS I'LL HANG MY TEARS OUT TO DRY
37) NANCY (WITH THE LAUGHING FACE)
38) SOMETHIN' STUPID
40) I GET ALONG WITHOUT YOU VERY WELL (EXCEPT SOMETIMES)
41) SOLILOQUY
42) THE COFFEE SONG
44) HOW ABOUT YOU?
46) LUCK BE A LADY
48) (AH, THE APPLE TREES) WHEN THE WORLD WAS YOUNG
49) I HAVE DREAMED
51) I'VE GOT THE WORLD ON A STRING
52) YOUNG AT HEART
54) BAUBLES, BANGLES AND BEADS
55) IN THE WEE SMALL HOURS OF THE MORNING
57) THE TENDER TRAP
59) WITCHCRAFT
60) EBB TIDE
61) COME FLY WITH ME
62) ANGEL EYES
63) JUST IN TIME
65) NICE 'N' EASY
66) OL' MACDONALD
68) AUTUMN LEAVES
78) MOON LOVE
79) ME AND MY SHADOW
81) QUIET NIGHTS OF QUIET STARS
84) MY WAY
86) SOMETHING
87) THEME FROM NEW YORK, NEW YORK
88) BANG BANG (MY BABY SHOT ME DOWN)
89) GOODY GOODY
92) PICK YOURSELF UP