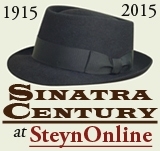 The Pundette says in a footnote to her own Sinatra Hot 100:
Frank's birthday is on December 12th, when I'll wind it all up with my #1 favorite. Prepare to be disappointed. It's very unlikely that it's your favorite. I see that it didn't make Bob Belvedere's list at all, and Mark hasn't covered it yet and very well may not. But I love it.
No disgrace in that. Introducing her old friend at the Royal Festival Hall in 1970, Princess Grace of Monaco marveled: "How many of us have a favorite Sinatra song! And how many of them are different songs!" There are Sinatra fans who love just the hits, and Sinatra fans who loathe the hits - "My Way", "Strangers In The Night", "New York, New York". There are Sinatra fans who love the swingers but are bored by the ballads - and vice-versa. I once heard the BBC's venerable Hubert Gregg, hosting a show on the unparalleled genius of Sinatra, linger lovingly over every aspect of the Harry James and Tommy Dorsey and Columbia days and then, just as I was looking forward to hearing what he had to say about Nelson Riddle, the show ended: as Gregg saw it, Sinatra's voice began to deteriorate in 1953, and nothing thereafter was worth bothering with. Each to his own. Frank's respective bodies of work with each of his principal arrangers - Stordahl, Riddle, May, Jenkins, Costa - would be more than enough to fill a greatest hits album.
But what did Frank like? On stage, screen, radio and record, he sang thousands of songs, but on June 13th 1971, for what was supposed to be his farewell concert, he had to distill that mountain of music into just eleven numbers. At the Ahmanson Theatre in Los Angeles that night, what were intended to be the last songs he would ever sing in public included the ones you'd expect: "All Or Nothing At All", "I've Got You Under My Skin", "Fly Me To The Moon", "My Way", "The Lady Is A Tramp"... There was his first Number One, with the Dorsey band - "I'll Never Smile Again" - and his biggest recent hit - "That's Life". There were songs for people he cared about - "Nancy" - and causes he cared about - "Ol' Man River". There was room for just one saloon song: "Angel Eyes". But the unexpected moment came exactly halfway through, when his longtime guitarist Al Viola (whose sudden departure from Frank's band Vincent Falcone recounts on part two of our audio special) stepped forward to accompany the singer in:
She may be weary
Women do get weary
Wearing the same shabby dress
But when she's weary
Try A Little Tenderness...
It was the only song that night not performed in a big Nelson Riddle/Quincy Jones/Don Costa orchestral arrangement, but just with guitar. If you knew Sinatra's two studio records of the ballad, you liked one or other of them, but in no sense was it a "Sinatra song" - not the way "Skin", "Tramp", "My Way", "Angel Eyes", "Nancy" and the rest were. Indeed, by 1971, the singer most associated with "Try A Little Tenderness" was the late Otis Redding, whose reinvention of the number moved it permanently into the soul-gospel category. Indeed, his interpretation became the song: Two decades later, in the film The Commitments, about a white Irish soul band that wants to sound black, they sing "Try A Little Tenderness" precisely because it's a "black" song. Yet even in 1969, a mere three years after the Redding record, the all-American rockers Three Dog Night* took it back into the Billboard charts with what's essentially a karaoke version of Otis.
Nevertheless, it was personal enough to Sinatra to include among the final eleven songs he intended ever to perform in public. By then he'd been singing it on and off for a long time - over 35 years. But the song itself goes back even further. Its co-author Harry Woods wrote some of the peppiest songs of the Twenties, including "Side By Side", "Paddlin' Madeleine Home", "I'm Looking Over A Four-Leaf Clover" and "When The Red Red Robin Comes Bob-Bob-Bobbin' Along". There was less call for that kind of buoyant cheeriness by the early Thirties, and Woods moved on to "River, Stay 'Way From My Door", which Sinatra recorded in 1960, about a month after his second studio version of "Try A Little Tenderness". Mr Woods had an impressive catalogue considering he had to write with only half the tools of his fellow composers: He was born with no fingers on his left hand.
He wrote "Tenderness" with a couple of Londoners, Jimmy Campbell and Reg Connelly, who were quite a force in Denmark Street, Britain's Tin Pan Alley. Sinatra was a big fan of another Campbell & Connelly song, "If I Had You", which he recorded on three separate occasions, in contrasting treatments. Preferring to focus mostly on lyrics, Campbell & Connelly teamed up with Harry Woods to write "Try A Little Tenderness" in 1932. Ray Noble's orchestra was the first to record it, with vocal by Val Rosing, on December 8th that year, in London. It drifted across the Atlantic, and the following year Ruth Etting, Bing Crosby and Eddy Duchin all released versions.
After which, nothing much happened until Sinatra, three years into his solo career, recorded it with Axel Stordhal almost 13 years to the day after Ray Noble introduced it - December 7th 1945. It wasn't a single, but a track for his first album, The Voice of Frank Sinatra. There were no "long-playing records" back then, so an album was exactly that - an album of four double-sided 78s. The Voice can plausibly stake a claim to being the first real pop album, as the term would become understood in the Fifties and beyond: a collection of songs on a particular theme or mood. Sinatra and Stordahl had a nine piece band: a string quartet and a rhythm section plus (for half the tracks) flautist John Mayhew and (for the other half) oboist and future Frank bête noire Mitch Miller. They also had a unifying mood: Try a little tenderness. These eight tracks are male vocalizing of a tenderness rarely tried before or since, and on songs for which Sinatra had a tender affection that would endure across the decades: "You Go To My Head", "These Foolish Things", "Someone To Watch Over Me"... For the unofficial theme song, he began with the verse:
In the hustle of the day
We're all inclined to miss
Little things that mean so much
A word, a smile, a kiss
When a woman loves a man
He's a hero in her eyes
And a hero he can always be
If he'll just realize...

She may be weary
Women do get weary
Wearing the same shabby dress...
It's a trickier song than you might think. Frankologist Will Friedwald calls it "patronizingly patriarchal", which it can certainly come out as: "Try A Little Tenderness"? She's weary, women do get weary, give her a pat and say "Good girl" every now and then. Or as Frank and Dean used to do in Rat Pack kibbitzing on stage in the Sixties:
She may be weary
Women do get weary
Wearing the same shabby dress
But when she's weary
Try another shabby dress.
It's that easy. Even Crosby's 1933 record, which would seem to be where Frank first heard the song, is at its brisker tempo not wholly immune to a faintly offhand take-a-tip-from-me condescension:
You won't regret it
Women don't forget it
Love is their whole happiness
And it's all so easy
Try A Little Tenderness.
But "tenderness", after all, is supposed to be felt, not something you "try" - like an effective sports move late in the game. I always get a chuckle out of Brook Benton's version:
You won't regret it
Man, women don't forget it...
Which more or less cements the whole locker-room insider-tip vibe: Man, take it from me, the dames'll be eating out of your hand...
Yet Sinatra sings with such tenderness he makes the potentially awkward lyric genuinely tender:
She may be waiting
Just anticipating
Things she may never possess
While she's without them
Try A Little Tenderness

It's not just sentimental
She has her grief and her care
But a word that's soft and gentle
Makes it easier to bear...
Tote dat grief, lift dat care. And yet you have the strange sense, which you certainly don't get from Bing's record, that Frank is singing it from the woman's perspective. As Crosby's biographer Garry Giddins wrote:
What women surely identified in this oddly gentle baritone was a degree of tenderness, sympathy, and hurt rare in the daily opera of radio. When he sang "Try a Little Tenderness," was Sinatra merely a wise young man advising the world's husbands to do better? Was he not also perhaps one with the women, someone who knew about brutishness?
"Nobody disliked Frank as a vocalist," said Mitch Miller. "How could you? He was the epitome of phrasing and diction. For instance, the things we did with Axel Stordahl and the string quartets with flute and oboe, like the session where he did 'Try A Little Tenderness'. Frank knew exactly what he wanted to do."
Until this album (with the partial exception of Lee Wiley's songbook collections), the music business offered only singles and potential singles. With this set, Sinatra seems to be staking out a whole new territory for popular music: songs in a pop vernacular but digging a little too deep ever to make the Hit Parade - "album tracks", to coin a phrase.
In 1946 Frank Military, who would later serve as an important hit-picker for Sinatra and others (he brought "What A Wonderful World" to Louis Armstrong, for example), was working in a record store whose regular customers included a young fellow called Dean Martin. "One day the Voice album came in," said Frank Military, "and it sold like hotcakes. I didn't know Frank, and Dean didn't know Frank, but the two of us would just sit there listening to all four 78s over and over."
That was Sinatra's contribution to "Try A Little Tenderness": The tenderness. He sang it so well he made the song special. Because of his record, others picked up on the song: Frankie Laine, Chris Connor, Eddie Heywood, Etta James, Nina Simone... But Frank himself kept returning to the ballad during the late Forties and Fifties. He sang it on the radio in 1946 accompanied only by Skitch Henderson on the piano, and a few years later with a rather more sensitive keyboard accompaniment by Bill Miller. At the low point of the long souring of his Columbia relationship, Sinatra embarked on a British tour. Bill Martin (who would later write for Sandie Shaw - "Puppet On A String" - and the Bay City Rollers - "Saturday Night") caught him at that toughest of tough venues, the Glasgow Empire:
I saw Frank Sinatra when he, comparatively speaking, was down and out. He had lost his way as Frankie Laine, Johnnie Ray and Guy Mitchell had taken over, and it was just before he made his big comeback with the war film, From Here to Eternity. He'd committed himself to a tour of Great Britain and the theatre, which seated 2,000, was half-empty. He was as skinny as the microphone. His voice was at its best, but there was a big black crack painted on the floor on the stage. He walked on and jumped over the crack and said, 'You nearly lost me there' but he didn't have the timing for jokes. I especially remember him singing 'Try a Little Tenderness'. Bing Crosby had recorded an excellent version but Frank took the song to another level, and the Empire crowd loved it.
Finally, for Nice 'n' Easy, his last ballad set at Capitol with Nelson Riddle, he re-recorded the song, this time shorn of its somewhat over-explanatory verse. Sinatra's middle-aged pipes were not as tender as that young Columbia voice - few voices before or since have been - but Felix Slatkin's violin is certainly a compensation. With this chart, Sinatra is doubling down on his 1945 interpretation, telling the world: This is a ballad of delicacy and sympathy. Other guys may have a different take on it, but this is mine and I'm sticking with it.
Six years later, someone did have a different take. Otis Redding made his version, died a year later in a plane crash, and claimed the song in posterity. Today, as far as I can tell, half the available sheet music of Woods, Campbell & Connelly's song is, in fact, a sheet of Otis Redding's version of it, painstakingly transcribing all the little grace notes and melismas with which he decorates Woods' tune:
Oh-oh, she may be we-ea-ry
And young girls, they do get weary
Wearing that sa-ame o-old shaggy dress...
But I doubt Redding would ever have recorded the song had not Sinatra revived it in 1945 and pioneered a new approach to that potentially stodgy lyric. I heard Carly Simon on the radio a few years ago playing both versions back to back: She understood the possibilities of a great song - that sometimes it can exist independently in two different spheres. Before that "farewell" concert in 1971, Al Viola swung by Frank's dressing room to rehearse their duet. Cary Grant was present, and sat quietly as Sinatra, legs crossed, with vodka and cigarette in hand, ran down the number, made sure he had it right - his way, no melismas, just guitar and tenderness:
She may be weary
Women do get weary
Wearing the same shabby dress
But when she's weary
Try A Little Tenderness...
Don Rickles burst through the door, trailing Sammy Davis in a mock bear hug. "We warmed 'em up for you, Frank," he said. "You're gonna be great." I don't suppose anyone would have missed it if it hadn't been on the set list for that farewell concert in 1971 - if it had been dropped in favor of "The Best Is Yet To Come" or "One For My Baby" - but it was there because the song was important to Frank. And, as it turned out, Frank was important to the song. As far as I know, the last time he sang it was in concert in 1991- 46 years after his first recording, 20 years after his "retirement" concert.
The composer, Harry Woods, never heard Sinatra's "farewell" performance. He died the previous year, 1970, just as "Paddlin' Madeleine Home" had all but faded away while "Try A Little Tenderness" was beginning its new incarnation as a much covered soulful power ballad. As for Harry Woods, the only thing tender about him was his thin skin. He liked to drink and he was a violent drunk, quick to anger. During one barroom brawl, a female patron entered the establishment to find Woods kneeling on the floor straddling his opponent with his right hand round the guy's throat and the stump of his left pounding his head to a pulp. "Good heavens!" said the lady. "Who is that horrible man?"
"Oh, that's Harry Woods," said some barfly. "He wrote 'Try A Little Tenderness'."
[*CORRECTED: I originally described Three Dog Night as "Canuck rockers". Don't ask me why. When you're in love, everyone's Canadian.]
~Part Two of Mark's conversation with longtime Sinatra conductor Vincent Falcone, discussing "The Gal That Got Away", "Guess I'll Hang My Tears Out To Dry" and many other songs, can be heard here. And don't forget Steyn's audio special with Celeste Holm on the Sinatra screen hit High Society. Mark's original 1998 obituary of Frank, "The Voice", can be found in the anthology Mark Steyn From Head To Toe, while you can read the stories behind many other Sinatra songs in Mark Steyn's American Songbook. Personally autographed copies of both books are exclusively available from the SteynOnline bookstore.
~Elsewhere, as we head toward December 12th, the Pundette is counting down her own Sinatra Hot 100 and is up to hit sound Number Seven "Day In, Day Out". No "Tenderness" on Bob Belvedere's Frank hit parade, but he puts "The Tender Trap" at Number 17. Meanwhile, the Evil Blogger Lady has Frank, Bing, Louis and Peggy embracing geezerdom.
SINATRA CENTURY
at SteynOnline
6) THE ONE I LOVE (BELONGS TO SOMEBODY ELSE)
8) STARDUST
10) WHAT IS THIS THING CALLED LOVE?
11) CHICAGO
12) THE CONTINENTAL
13) ALL OF ME
15) NIGHT AND DAY
16) I WON'T DANCE
17) I'VE GOT YOU UNDER MY SKIN
19) EAST OF THE SUN (AND WEST OF THE MOON)
21) A FOGGY DAY (IN LONDON TOWN)
24) OUR LOVE
27) FOOLS RUSH IN
32) I'LL BE AROUND
36) GUESS I'LL HANG MY TEARS OUT TO DRY
37) NANCY (WITH THE LAUGHING FACE)
38) SOMETHIN' STUPID
40) I GET ALONG WITHOUT YOU VERY WELL (EXCEPT SOMETIMES)
41) SOLILOQUY
42) THE COFFEE SONG
44) HOW ABOUT YOU?
46) LUCK BE A LADY
48) (AH, THE APPLE TREES) WHEN THE WORLD WAS YOUNG
49) I HAVE DREAMED
51) I'VE GOT THE WORLD ON A STRING
52) YOUNG AT HEART
54) BAUBLES, BANGLES AND BEADS
55) IN THE WEE SMALL HOURS OF THE MORNING
57) THE TENDER TRAP
59) WITCHCRAFT
60) EBB TIDE
61) COME FLY WITH ME
62) ANGEL EYES
63) JUST IN TIME
65) NICE 'N' EASY
66) OL' MACDONALD
68) AUTUMN LEAVES
78) MOON LOVE
79) ME AND MY SHADOW
81) QUIET NIGHTS OF QUIET STARS
84) MY WAY
86) SOMETHING
87) THEME FROM NEW YORK, NEW YORK
88) BANG BANG (MY BABY SHOT ME DOWN)
89) GOODY GOODY