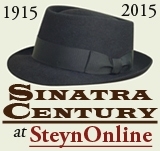 The intersection of Sinatra with geopolitics reached its apogee in the fall of 1989, when Gennadi Gerasimov, that unctuous flack for President Gorbachev, unveiled to the world the new ring-a-ding-ding Soviet Union's approach to its Warsaw Pact satellite states: "The Brezhnev Doctrine is dead," he declared. "We now have the Sinatra Doctrine: You do it your way."
In Washington, Vice-President Dan Quayle noted the continuing presence of Soviet troops in Eastern Europe and urged Moscow to adopt the Nancy Sinatra Doctrine: These boots are made for walking.
Today's Sinatra selection, "Pick Yourself Up", played a less momentous part in world affairs. Nevertheless, it is the only Jerome Kern/Dorothy Fields song to be quoted in a presidential inaugural. Barack Obama in January 2009:
Starting today, we must pick ourselves up, dust ourselves off, and begin again the work of remaking America...
I think he deviated from the lyric a bit toward the end there. What follows below includes some material from the Dorothy Fields section of Mark Steyn's American Songbook, personally autographed copies of which are exclusively available from the Steyn store:
By the mid-1930s, Jerome Kern, composer of Show Boat and much else, was already the dean of American songwriters. Richard Rodgers used to say that Kern had one foot in the old world and one in the new. That's to say, he wrote gorgeous ballads, and in his days with P G Wodehouse fun comedy numbers, but he had no great interest in swing, and his occasional forays into more vernacular forms can sound faintly condescending: "Can't Help Lovin' That Man Of Mine" bears the marking "Tempo di blues". And, as we've noted previously, after Wodehouse, most of his collaborators were younger men who were a little in awe of the founding father of the American musical. The exception was slangy, jazzy Dorothy Fields, and the Kern standards most popular today are the ones he wrote with her - and unlike anything else in the Kern catalogue.
"Dorothy dealt well with him," Oscar Hammerstein's son James once said to me. "You had to stand up to him. I don't think you could be a patsy, or Jerry would walk all over you. But if you could make him laugh, you were his friend for life. Dorothy was an extremely outspoken woman. You had to love Dorothy. She said what was on her mind, straight from the shoulder and there was no doubt about it. And she had a pretty wicked wit."
In 1936, Kern and Fields wrote their best film score – for the Fred Astaire/Ginger Rogers picture Swing Time. The plot is very genial hokum, detailed elsewhere, but the songs are first-rate, including three that Sinatra would record in the years ahead: "The Way You Look Tonight", "A Fine Romance" and "Pick Yourself Up" - all from one ridiculous movie yarn. [CORRECTION: I originally included "I Won't Dance", although that is, of course, from Roberta.]
Lehman Engel, the master analyst of Broadway, used to say that Dorothy Fields' lyrics "dance". They do that because she was extremely sensitive to the tunes her composers put before her. But Kern struggled with his score for Swing Time, and Astaire complained that the guy couldn't write anything "hot". And for the only time in her career Miss Fields found herself having to write lyrics without any music - which she didn't like to do, for the obvious reason that, as a rule, lyricists are more sensitive to the contours of music than composers are to the requirements of words. Nevertheless, she wrote "A Fine Romance" cold on the page, and then presented the finished text to Kern. And then she did the same for "Pick Yourself Up", which never ceases to amaze me. By which I mean not only that she wrote something so rhythmic and propulsive straight out on a piece of paper, but also that Kern looked at the words and somehow heard a swinging polka. Hey, why not?
And suddenly you appreciate the truth of Lehman Engel's observation. Dorothy Fields' lyrics dance - even when there's nothing to dance to:
Nothing's impossible I have found
For when my chin is on the ground
I pick myself up
Dust myself off
Start all over again...
In fairness, Kern made this one dance beyond her wildest dreams. At the time, it was an expectation of both show and film scores that at some point in the story a song would have to dance literally – that's to say, songs about and for dancing were a familiar genre of music. In that sense, "Pick Yourself Up" could have got by as a far more formulaic piece. It's a number that didn't have to be half as good as it wound up, given the plot contrivance it was obliged to serve: Fred has chanced to meet Ginger, a dancing teacher, and and he tells her he's unable to dance. So she gives him a lesson and he performs so badly that Ginger advises him to save his money because, in her words, no one could teach him to dance in a hundred years. That's it, that's the joke: the world's greatest dancer pretending he can't dance.
Most songwriters would have written a plot-bound joke-laden piece of special material that would have been perfectly serviceable in the movie and unusable for anything else – think of, say, the elocution lesson in Singin' In The Rain ("Moses Supposes His Toeses Are Roses"). But Jerome Kern and Dorothy Fields wrote a number that somehow blasted free of its dramatic situation and lives to this day. Fred sets up the scene in the verse:
Please teacher, teach me something
Nice teacher, teach me something.
I'm as awkward as a camel
That's not the worst,
My two feet haven't met yet
But I'll be teacher's pet yet
'Cause I'm gonna learn to dance or burst
...and then Ginger takes over the chorus, set to Kern's jaunty polka:
Nothing's impossible I have found...
On screen, it's one of their best numbers together. Astaire's delightful in his game efforts to dance badly, landing on the floor just in time to be admonished by Rogers to pick himself up, dust himself off, start all over again. Then, after she says disgustedly, "I can't teach you anything", Astaire goes into a machine-gun rat-a-tat-tat and sweeps her up and across the floor. This is one of Ginger's best numbers: watch the way she's initially bewildered and tentative over Fred's sudden display of virtuoso terpsichore and then surrenders to the pure joy of the moment.
And that's where it might have stayed. Except that "Pick Yourself Up" was so good that, year by year, bands and soloists and singers kept picking it up and dusting it off, again and again. Kern's melody slyly evokes a Bohemian motif you may recognize from Smetana and others, but the Fields lyric is clever, too. When you watch the movie, it's a song about dancing; when you hear it on the radio, it's a song about staying the course, hanging in there, sticking to it – a universal sentiment, as even presidents have now recognized.
Most folks take it at a peppy tempo, but by the early Sixties the best interpreters were giving some thought as to what else might be done with the song. Within a few months, Ella Fitzgerald had recorded a version with Nelson Riddle, and Nat "King" Cole with George Shearing, the latter combination slowing Kern and Fields way down and turning the number into romantic advice for someone temporarily buffeted by the vicissitudes of love. It was in this context that Sinatra embarked on his own version of the song, at his brand new record company and with a brand new arranger. Neal Hefti was never exactly a household name, but he insinuated his way into the brain of just about everybody on the planet who switched on a TV in the Sixties and Seventies. That's to say, he wrote the supergroovy theme for the film and sitcom spin-off The Odd Couple, and he wrote the ingenious theme for the Batman TV show - the one that spawned a thousand jokes: "How does Alfred call Batman in for dinner?" "Dinner dinner dinner dinner dinner dinner dinner dinner Batman!"
That would be more than enough glory for one lifetime, but Hefti was a multi-talent who did a bunch of other stuff brilliantly, too. He was a marvelous film composer and a terrific arranger who played a critical role in the sound of the Count Basie band in the Fifties and Sixties. He scored just two vocal albums, but they're two of the best in the history of recorded sound: Sinatra/Basie and Sinatra And Swingin' Brass, both from 1962.
The latter is maybe the jazziest album Frank ever made, right from Hefti's jumpin' chart for the all-time great revenge gloatfest number "Goody Goody" through the dissonant brass blast that opens a freewheeling two-chorus "Tangerine" to the ebullient countermelody on "Love Is Just Around The Corner". Sinatra And Swingin' Brass is, however, a wee bit misleading as a title: The album isn't any more swingin' than the harder stuff Frank did with Billy May and Nelson Riddle, and the brass is only one element; the reeds are just as prominent, and as striking. But Hefti was a Basie arranger, and the colors and chord substitutions he put underneath Frank's voice are quite different from May and Riddle and give even some of the most familiar material on the set a new and exhilarating sound.
As I mentioned a few days ago, Sinatra arrived as Hefti was rehearsing the band and was so jazzed by what he heard he jumped in and started singing along. But it was trickier than it sounds, and this arrangement especially. Hefti constructed a chart that comes in swinging on the vocal sections and then makes like the baroque guys in the fugue-esque orchestral breaks. Frank begins with a big wailing "now":
NOWWWWWW nothing's impossible I have found...
Lyricists go to great lengths to avoid the word "now", only to have singers throw it in as their standard grace note anyway: Now I get a kick out of you... Now that's why the lady is a tramp... "I hate now singers," said Lorenz Hart, very forcefully. But it seems to work here, signaling a man entirely at ease with Hefti's hip reinvention of the song.
It wasn't that way in the studio. Kern's modulation in the release can be tricky, and Hefti's backgrounds are so sophisticated that it's easy for even the greatest singer to be thrown off by something deep in the orchestration. Throughout his recording career, even when he blew a take, Sinatra would be breezy and confident, shrugging it off with a quip for the musicians and the pallies in the control room. On this session, it was different. On the sixth take, on the reprise of "Will you remember the famous men?', he lost his grip on the pitch as totally as he's ever done in his entire career. He stopped, and Hefti silenced the band, and there was a strange very unFrankish still in the room. And then Sinatra said:
Sorry.
No quips, no cracks, no nothing - except "sorry". And then again:
Sorry.
But, like the song says, nothing's impossible: when your chin is on the ground, just pick yourself up. So he did and the seventh take was a killer.
What do you do for an encore? In the case of Frank and Neal Hefti, nothing. After arranging Sinatra/Basie and Sinatra And Swingin' Brass, Hefti figured it could only go downhill from there. So he quit vocal arranging and, despite innumerable offers from all the best singers right up to his death six years ago, never returned to it.
At any rate, that's the way he told it. According to others, he quit because Sinatra wouldn't give him equal billing on the Swingin' Brass album. Apparently, the arranger wanted to call it Hefti Meets The Thin One - a rather lame pun on his name, and the fact that young Frankie, way back when in the bobbysoxer days, had been famously emaciated. At one time, there was a whole school of singer/arranger albums like that - Rosemary Clooney records with Nelson Riddle? Hey, why not Rosie Solves The Swingin' Riddle? Still, I can't believe as level-headed a guy as Neal Hefti got so over-invested in a labored contrivance like Hefti Meets The Thin One that he walked out over it. I prefer his official explanation: How could you top those two albums? Sometimes it makes sense not to pick yourself up and dust yourself off, but to quit while you're ahead.
Sinatra had a lot of memorable record endings through the years - "do-be-do-be-do", to cite only the most famous - but I've always liked the way he closes "Pick Yourself Up". Frank kicks in the penultimate baroque instrumental by singing "Start all over again" and then picks up the vocal by instructing the band, "Once again now":
Will you remember the famous men
Who had to fall to rise again?
So take a breath
Pick Yourself Up
Dust yourself off
And start all over again...
The orchestra returns with a last instrumental passage and, just at the point where you're expecting Sinatra to resume singing, he semi-snarls: "That's enough now."
And the record ends.
~The first episode of Steyn's new audio series The Song Is You, with the stories behind Sinatra recordings such as "Stardust", "Sweet Lorraine", "Lonely Town" and "How Little We Know", can be heard here. And don't forget Part Two of Mark's conversation with longtime Sinatra conductor Vincent Falcone, discussing "The Gal That Got Away", "Guess I'll Hang My Tears Out To Dry" and many other songs. There's also Steyn's audio special with Celeste Holm on the Sinatra screen hit High Society. Mark's original 1998 obituary of Frank, "The Voice", can be found in the anthology Mark Steyn From Head To Toe, while you can read more on Sinatra, Jerome Kern and Dorothy Fields in Mark Steyn's American Songbook. Personally autographed copies of both books are exclusively available from the SteynOnline bookstore.
~Elsewhere, as we head toward December 12th, the Evil Blogger Lady has Frank and Debbie Reynolds exploring the tender trap. The Pundette is counting down her own Sinatra Hot 100 and is up to hit sound Number Six, also by Jerome Kern (and the theme to Mark's new audio series), "The Song Is You". And we are all eagerly awaiting the announcement of Number One on Bob Belvedere's very distinctive and thoughtful chart of Sinatra's Top Ten Albums.
SINATRA CENTURY
at SteynOnline
6) THE ONE I LOVE (BELONGS TO SOMEBODY ELSE)
8) STARDUST
10) WHAT IS THIS THING CALLED LOVE?
11) CHICAGO
12) THE CONTINENTAL
13) ALL OF ME
15) NIGHT AND DAY
16) I WON'T DANCE
17) I'VE GOT YOU UNDER MY SKIN
19) EAST OF THE SUN (AND WEST OF THE MOON)
21) A FOGGY DAY (IN LONDON TOWN)
24) OUR LOVE
27) FOOLS RUSH IN
32) I'LL BE AROUND
36) GUESS I'LL HANG MY TEARS OUT TO DRY
37) NANCY (WITH THE LAUGHING FACE)
38) SOMETHIN' STUPID
40) I GET ALONG WITHOUT YOU VERY WELL (EXCEPT SOMETIMES)
41) SOLILOQUY
42) THE COFFEE SONG
44) HOW ABOUT YOU?
46) LUCK BE A LADY
48) (AH, THE APPLE TREES) WHEN THE WORLD WAS YOUNG
49) I HAVE DREAMED
51) I'VE GOT THE WORLD ON A STRING
52) YOUNG AT HEART
54) BAUBLES, BANGLES AND BEADS
55) IN THE WEE SMALL HOURS OF THE MORNING
57) THE TENDER TRAP
59) WITCHCRAFT
60) EBB TIDE
61) COME FLY WITH ME
62) ANGEL EYES
63) JUST IN TIME
65) NICE 'N' EASY
66) OL' MACDONALD
68) AUTUMN LEAVES
78) MOON LOVE
79) ME AND MY SHADOW
81) QUIET NIGHTS OF QUIET STARS
84) MY WAY
86) SOMETHING
87) THEME FROM NEW YORK, NEW YORK
88) BANG BANG (MY BABY SHOT ME DOWN)
89) GOODY GOODY