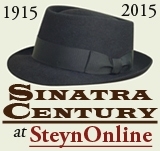 We're a week away from the hundredth anniversary of Frank Sinatra's birth, so we're kicking up a notch our Sinatra centenary observances with a few special features - including the first of a new ancillary series to our Sinatra Songs of the Week. Writing about music is all very well, but at some point you want to hear the stuff, so in The Song Is You we've delved into the Steyn archives to dig up some interviews I hope you'll find interesting, in which various composers and lyricists tell the stories behind some of the great standards Sinatra sang. Many of these writers are, alas, no longer with us, but happily their songs are. So this is a fun way to explore some numbers we couldn't get to in our Sinatra 100.
In this series we'll hear interpretations from across his six-decade career, starting in this episode with an early Frank performance with the Harry James band in 1939 of "Stardust" by Mitchell Parish and Hoagy Carmichael. Mitch Parish talks about that song as well as "Sweet Lorraine" and "Stars Fell On Alabama". Then the great Broadway writing team of Betty Comden and Adolph Green recall the film version of their greatest show, On The Town, and the song Sinatra never got to sing on screen, much to his fury. And finally Phil Springer, composer of "Santa Baby", explores in depth the birth of a song that was among Frank's very favorites, "How Little We Know", and the debt it owes to Bizet's Carmen.
Along the way we'll hear Comden & Green singing their famous song "New York, New York" on an old TV show of mine, Mitchell Parish discussing the strangest recording of "Stardust" ever made, and Phil Springer explaining why he never mentioned a certain Lauren Bacall number to his lyricist. There's plenty of music from the Harry James and Tommy Dorsey days to Nelson Riddle, Gordon Jenkins and Don Costa at Capitol and Reprise - with bonus appearances from the Pied Pipers, Gene Kelly, Nat "King" Cole on piano and the Metronome jazz all-stars, plus a Kirk Douglas anecdote.
Click above to listen, and do join us for more Sinatra in the days ahead.
~For a century's worth of Sinatra songs see here. For Mark's podcast with longtime Sinatra conductor Vincent Falcone, you can find Part One here and Part Two here. For Steyn's take on Sinatra at the movies see here. Mark and Celeste Holm recall Sinatra & Co in the film High Society here. And for Mark's original 1998 obituary of Frank, "The Voice", can be found in the anthology Mark Steyn From Head To Toe, while you can read the stories behind many other Sinatra songs in Mark Steyn's American Songbook. Personally autographed copies of both books are exclusively available from the SteynOnline bookstore.