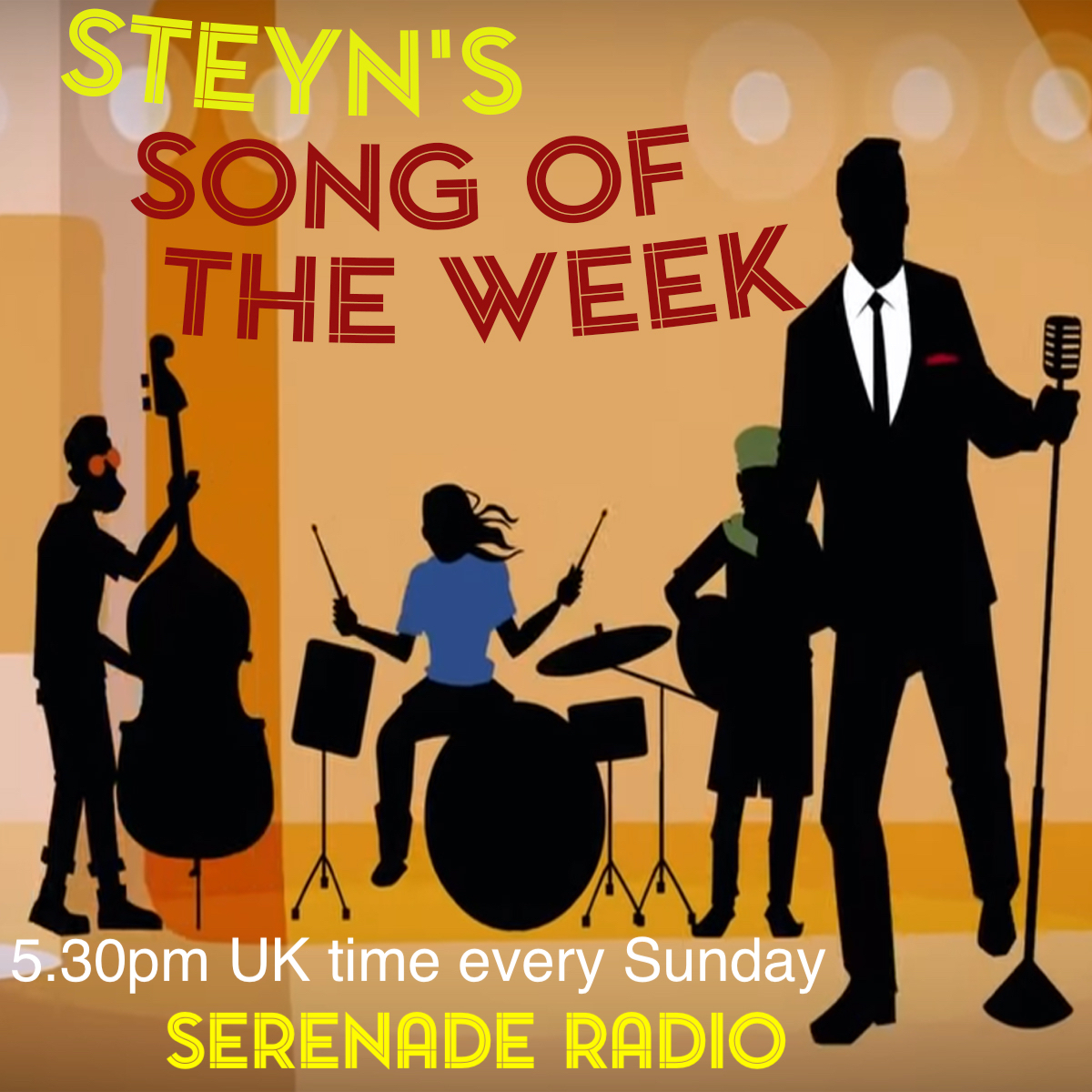 If you enjoy Steyn's Song of the Week at SteynOnline, please note that there will be a live stage edition during the 2023 Mark Steyn Cruise - along with many other favourite features from SteynOnline and The Mark Steyn Show. More details here.
Mark continues his recuperation, which comes and goes in fits and starts. But he'll be out of his iron lung and back with a brand new Mark Steyn Show tomorrow, Monday. If you heard him on Friday's Clubland Q&A, you'll know he's still lost in francophile reverie - over his wondrous hospital treatment, his delightful nurses and the French end of his bottom drawer (or, as he put it, le tiroir de ma derrière). With that in mind, here is a number that is a virtual time capsule of French cultural references of the 1960s - as Mark recounts, with help from Sacha Distel, Marlene Dietrich, the Rolling Stones and Björn from Abba, in a special Serenade Radio edition of Steyn's Song of the Week.
Click above to listen.
~Since Mark launched this feature seventeen years ago, Steyn's Song of the Week has traveled far around the globe. We were tickled to see this item in Broadway World about Laura Ainsworth's new version of "Goldfinger":
She said, "Believe it or not, it really was a request, from the bartender at the Balcony Club in Dallas. I told her I wasn't a belter like Shirley Bassey, but she said, 'Just do it your own way...'

"I was later surprised to learn from Mark Steyn's Song of the Week podcast that this was similar to how the composers, John Barry, Leslie Bricusse and Anthony Newley, originally conceived it."
Miss Ainsworth is thinking of Anthony Newley's stripped-down demo, which you can hear on the show. You can see Laura's take here. Mark himself shot for full Bassey, and fell a little short.
~This airing of our Serenade Radio Song of the Week is a special presentation of The Mark Steyn Club. Thank you for your kind responses to this series. Of our last Serenade presentation, "Ain't Misbehavin'", Linda Bennett, who's just joined us from the British West Indies, writes:
Loved this —- New to SteynOnline, I am sooooooo happy to be onboard.
We're happy to have you, Linda. Claudia Vivarelli, a new Club member from Italy, agrees:
One of my favourite songs. Hope you're feel better each day.
Not each day, but enough of them, Claudia. And Terry Sautter, a First Quarter Founding Member from South Carolina, adds:
Awfully late commenting on this wonderful Steyn Song of the Week presentation. It's one of my favorites, so well researched and including Pops Armstrong's terrific version of Black and Blue. Ending with Nat Cole's particular read on the song was perfect. Thank you.
Thank you, Terry. We do enjoy your comments on the show. Steyn Club members are welcome to respond to this week's show below. Alternatively, anybody can leave them over at Serenade Radio, where they love hearing from listeners.
Steyn's Song of the Week airs thrice weekly on Serenade Radio in the UK, one or other of which broadcasts is certain to be convenient for whichever part of the world you're in:
5.30pm Sunday London (12.30pm New York)

5.30am Monday London (4.30pm Sydney)

9pm Thursday London (1pm Vancouver)
Whichever you prefer, you can listen from anywhere on the planet right here.