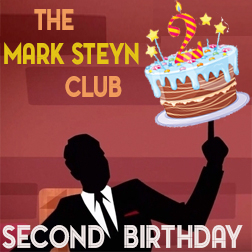 Tomorrow marks the second anniversary of The Mark Steyn Club, founded just under twenty-four months ago on May 6th 2017. So we wish a happy birthday to us, and more importantly to all our First Day Founding Members, whom we hope will want to re-subscribe for another fun year to come. We welcome new members too, of course. On our first anniversary there was really only one song we could pick for our Song of the Week, and I suppose we could just rerun it and wish ourselves a "Happy (Second) Birthday to You". But, as an analogue to our cavalcade of non-terrible Top Two hits, I thought we'd offer a song for two, and with a complimentary cuppa - whether Darjeeling or Lapsang Souchong I leave to you:
On April 21st 1924 a new musical comedy opened in Chicago on its pre-Broadway tour. The plot was the usual fluff - three couples in Atlantic City, complications ensue, etc. It should have been a breeze, but it wasn't going well. The producer, having fired the director, had decided to direct it himself. His name was Harry Frazee. And, if you're not a camp old musical-comedy buff but that name nevertheless rings a bell, that's because, when he wasn't firing directors, he was selling baseball players: Harry Frazee was the Boston Red Sox owner who sold Babe Ruth to the Yankees and started that whole "Curse of the Bambino" thing, about which more later.
At any rate, No, No, Nanette was looking like a no-no, period. The previous stop on its pre-Broadway tour had been Detroit, where the show had bombed about as comprehensively as a bomb can bomb. Harry Frazee called in the writers, Vincent Youmans and Irving Caesar, and ordered them to give him some new numbers or he'd replace them with Harry Tierney and Joe McCarthy, who'd written Broadway's then longest running hit, Irene, with its famous song "Alice Blue Gown". So Youmans and Caesar took the threat seriously. Specifically, Frazee wanted a number for a jolly middle-aged skirt-chaser to sing - a "sunshine song", as he called it. And he wanted it by tomorrow.
"So I found Vincent and we met in the dining room of the Statler Hotel, where they had a piano," Caesar told me almost two-thirds of a century later. "And the waiters are setting up for a big Rotarian luncheon, so Youmans and I are working against time. And in eleven minutes we have the song: 'I Want To Be Happy.' And we run it through again, and the waiters are all singing along with us - 'I want to be happy/But I can't be happy/Till I make you happy, too' - and some of the Rotarians start arriving early and they start singing the song, too - 'Life's really worth living/When you are mirth-giving...' 'Worth living/mirth giving'! I wrote that!" And he thumped his chest with pride.
I loved Irving Caesar's and-then-I-wrote anecdotes - and you can hear the man himself retailing them to me at SteynOnline with respect to "Swanee" and "Tea for Two". As we'll see, eleven minutes is at the very outer limit of the time it took him to write a song. And wherever he writes it there are always - as in a Hollywood biotuner - some obliging locals to catch on and join in: when he wrote "Swanee" in six minutes with George Gershwin, it was George's dad's poker partners lustily bellowing along. That's not to say those waiters were wrong about "I Want To Be Happy". It remains a much performed standard to this today, and its "sunshine" (as Frazee put it) certainly helped No, No, Nanette at the time. But it wasn't enough. And Harry Frazee demanded more. So Youmans and Caesar played him a song they'd written a couple of weeks earlier, back in New York, and he insisted it went in to the show.
And so it was that those Chicago audiences of April 1924 became the first members of the public to hear:
Picture you
Upon my knee
Just Tea For Two
And two for tea...
"I Want To Be Happy" was a hit, but "Tea For Two" was a blockbuster. No, No, Nanette ran a year and a half in the Windy City, which was unheard of. Frazee didn't need Broadway: On the strength of the Chicago production, he sent out four road companies and opened the show in London, and only afterwards did he bother bringing it to New York, so Babe Ruth could see how much money his formerly cash-strapped owner was now making. No, No, Nanette is of its time - the quintessential frothy 1920s musical comedy - but "Tea For Two" is forever. Six years after that Chicago premiere, it was back in the Hit Parade for the Ipana Troubadours. By the early Thirties, it was an Art Tatum showpiece. By the late Thirties, Django Reinhardt in Paris had recorded it five separate times. In the Forties, Frank Sinatra and Dinah Shore duetted on it, and so did Doris Day and Gordon MacRae in the movie of the same name. In the Fifties, the Tommy Dorsey Orchestra had a monster hit with it as a cha-cha-cha. The great concert pianist Vladimir Horowitz made a covert never-to-be-released recording of it one day at Columbia's New York studio, and who should be in the building that very day but Thelonious Monk, who also recorded the song. By the Sixties, it would have been quicker to list musicians who'd never played "Tea For Two". Here's one of the first - from 1925, Marion Harris:
In his book The Jazz Standards, Ted Gioia says he can't stand the tune, and would "rather play 'Mary Had A Little Lamb' or 'On The Good Ship Lollipop': at least those melodies won't stick in your head like a chronic migraine." Vincent Youmans wasn't much for long, leaping melodic lines: he liked to write tunes that move around on three or four adjacent notes - "I Want To Be Happy" is one, "Sometimes I'm Happy" is another, so is "Time On My Hands". But "Tea For Two" is the acme of the form: you can see why Gioia compares it to nursery rhymes; it's like a children's seesaw, teeter-tottering back and forth from A to B with occasional leaps up and down all the way to C and G:
Picture you
Upon my knee
Just Tea For Two
And two for tea
Me for you
And you for me...
Or:
C-A-B
A-C-A-B
G-B-G-A
G-B-G-A
G-C-A-B
G-C-A-B...
It ought to be as boring as Ted Gioia says it is. And yet for millions and millions of people it isn't.
One of those millions was Shostakovich. The Shostakovich, the Russian classical guy, Dmitri of that ilk, not some bop namesake like Thelonious Shostakovich. Dmitri Shostakovich gave it 40 minutes' worth of attention one afternoon in 1928. I stumbled across it many years later when I was a classical disc-jockey. I was learning on the job in many respects, and Shostakovich was certainly not an area I was an expert in. We'd taken some live concert from somewhere and it's always a bit hit or miss when they'll finish, and this one wrapped up early, so in need of something to fill a couple of minutes before the news I grabbed an album and slammed on a track called "Tahiti Trot". And, after about four bars or so, I realized I was singing along. Which is not something I often do to Shostakovich. In fact, "Tahiti Trot" is about the only Shostakovich an anglophone can sing along to:
Nobody near us
To see us or hear us
No friends or relations
On weekend vacations
We won't have it known, dear
That we own a telephone...
There was no mention of either Vincent Youmans or Irving Caesar on the LP's composing credits. So how did Shostakovich wind up writing – or "writing" – "Tea For Two" under the name "Tahiti Trot"? Well, back we go to that afternoon in 1928 when young Dmitri and his friend and conductor, Nikolai Malko, were sitting around shooting the breeze. Shostakovich was known for his phenomenal musical memory. So, as an impromptu wager, Malko bet him he couldn't do an orchestration of "Tea For Two" in an hour. The song was just four years old and all the rage around the world. Shostakovich took him up on the bet and finished with 20 minutes to spare. The result was premiered, under Malko's baton, that November and became a huge favorite with Russian audiences. A year later, Shostakovich used it as an entr'acte in his ballet The Golden Age, at which it earned encores almost every night. Then came the Stalinization of Soviet art and poor old "Tahiti Trot" fell from favor to be denounced for its "decadent western influences", and went pretty much unperformed in Russia for decades.
What does Shostakovich bring to "Tea For Two"? He makes the tune a little more formal, more of a Palm Court foxtrot. If you've ever heard Chabrier's "Espana" and the novelty hit Perry Como got out of it – "Hot Diggety, Dog Ziggety, Boom! What you do to me!" - this sounds a little like the process in reverse: a formalization of the vernacular.
The first time I met Irving Caesar, the lyricist of "Tea For Two", I mentioned, among the song's other achievements, the Shostakovich arrangement, thinking he'd be flattered by it. He wasn't. He didn't care for it, mainly on grounds of lack of royalties. The Soviet Union wasn't exactly a hotbed of international property rights, especially for western imperialists. If you're going to be damned by the commissars for your "decadent western influences", you might at least be a fully-fledged running dog of capitalism and pay the copyright owners. And Caesar's view was that the Commies had called it "Tahiti Trot" in order to avoid paying him and Vincent Youmans. "Who needs it?" he said to me. "Everybody else does 'Tea For Two', and they pay for it."
He was right about that. Littering the floor of his office on Seventh Avenue, stacked up against desk legs and waste bins, were dozens of awards, mostly from ASCAP (the American Society of Composers, Authors, and Publishers) and mostly for "Tea For Two" as Most Performed Song of the Decade - not in the 1920s, but in 1984, '85, '86, '87, '88 – "They give it to me every year," he'd sigh. "I don't know what to do with 'em any more." Being the song's lyricist, Caesar would tell you the phenomenal success is due to his lyric – and it certainly is memorable. But jazzmen dig Vincent Youmans' abrupt key shift from A flat major to C; soft-shoe dancers love that nonchalant rhythmic pattern; and its harmonic structure is so muscular you can do it in almost any style. "Tea For Two" is one of the highest-earning songs ever written. So who needs some Russkie longhair who won't even pony up for it?
And what's the big deal about orchestrating it in a mere 40 minutes? That's a lot longer than Caesar and Youmans took to write it. As noted earlier, it's longer than Caesar took to write anything. "I Want To Be Happy" took 11 minutes. "'Swanee'? Wrote it in ten minutes," he said proudly of his first big hit, with George Gershwin. "'Tea For Two'? Wrote it in eight minutes. I write fast. Sometimes lousy, but always fast." He wrote fast for the Ziegfeld Follies and the Scandals. He gave Al Jolson his signature song and Shirley Temple her runner-up ("Animal Crackers In My Soup", our Song of the Week #212). I wrote a while back about the nonagenarian Caesar holding court from his Barcalounger, puffing his cigar and singing obscure lyrics in a sort of lightweight Jolson, but with such animation that the Barcalounger would rock back and forth until, two-thirds of the way through the first chorus, he'd be fully reclined. A small, white-haired, bow-tied figure in a candy-striped jacket, he sang me "Tea For Two" from that Barcalounger in between telling the story of how he and Youmans wrote it.
It began one day in 1924, shortly before No, No, Nanette's disastrous run in Detroit. They were in New York and Youmans was working on the score, but not so hard that during his lunch break he didn't have time to knock off a quickie tune. Caesar, meanwhile, was taking a nap on the couch, resting up for a party with Gertrude Lawrence and Beatrice Lillie, two West End girls who were about to become the toast of Broadway. The dozing wordsmith woke up to find Youmans shaking his trouser leg and demanding he listen to the new tune. Caesar said no, he was tired, he wanted to be fresh for the party with Gertie and Bea. The song could wait till tomorrow morning.
Before cassette machines, lyricists used to write a "dummy lyric" - a bunch of meaningless words that would help them remember the musical stresses. (Paul McCartney's dummy lyric for "Yesterday" ran: "Scrambled eggs/Oh my darling, how I love your legs.") So Youmans insisted Caesar at least write a dummy – and, still half-asleep, he croaked to that child-like seesawing melody:
Picture you
Upon my knee
Just Tea For Two
And two for tea...
At the end he told Youmans, "That stinks, but I'll do the real lyric in the morning."
It's one of those suspiciously neat showbiz anecdotes, but unusually plausible. For one thing, although the song's called "Tea For Two", there's no reference to the titular beverage after the first quatrain. Also, the middle section makes little sense except as a crude guide to where the rhymes should fall:
Day will break
And you'll awake
And start to bake
A sugar cake
For me to take
For all the boys to see...
"He blew it," Sammy Cahn, the great lyricist of "Come Fly With Me" and "My Kind Of Town", said to me a few years ago. "He should have capped it with:
For me to take
For Mike and Jake to see...
Well, maybe. But, at the party that night, with Gertie Lawrence and Bea Lillie, the meaningless doggerel was a smash. And the following morning Youmans refused to let Caesar change a word.
In fact, Caesar changed the tune. Youmans is an obscure name now, but in the Twenties he was one of the biggest names on Broadway. Zelda Fitzgerald put him in her novel Save Me The Waltz and Cole Porter tipped his hat in "You're The Top": "gifted humans/like Vincent Youmans". He was a very gifted human, but there followed an ill-advised move to Hollywood, the onset of tuberculosis and a rapid decline to an early death. Forgotten by the public, he's adored by his fellow songwriters: "He's the composers' composer," Jule Styne once told me. Youmans specialized in deceptively simple melodies of almost boundless harmonic interest, which is why the jazz boys love to play him. The definitive Youmans composition, "Tea For Two" is a tune of narrow range that seesaws on the same rhythmic pattern – dotted quarter and eighth notes – for almost the entire song, and a lyric that somehow underlines the monotony of the tune while making it irresistible. The exception is that second section, in C, where the sleepy Caesar had a set of feminine rhymes that didn't quite fit the notes:
Nobody near us
To see us or hear us
No friends or relations
On weekend vacations...
So Youmans adjusted the tune. That's one reason why the tap and soft-shoe dancers like the tune - because it builds like a set of dance variations. It was the biggest song in a big show – No, No, Nanette – and not bad for ten minutes' work before a party. Remember what Caesar told Youmans about his dummy lyric? "That stinks." When I first met him, I wondered whether he still thought it stunk. Nah, he said. "Now I think it's a great lyric." All the way to the big finish:
We will raise
A family
A boy for you
A girl for me
Can't you see
How happy we would be?
Which is kind of amazing. They're nonsense filler words for a dummy lyric to help Caesar remember the musical stresses.Yet they manage to tell a almost coherent story, all the way to a happy ending with a double delivery from the stork.
Caesar died a week before Christmas 1996 at the age of 101, taking a large chunk of Tin Pan Alley and Broadway history with him. But, to be honest, I'd been nervously anticipating his death, and not particularly because he was 101. When I first met him, he was a mere whippersnapper of ninetysomething, and his biggest hits took longer to write than a car wash. "'Swanee'? Wrote it in 11 minutes. 'Tea For Two'? Wrote it in ten minutes." Etc. In the years after, he was wont to reprise his favorite stories, as old folk are entitled to do: "'Swanee'? Wrote it in eight minutes. 'Tea For Two'? Wrote it in six minutes." At this rate of attrition, he'd soon be claiming less time to write the songs than it takes to sing them. When he insisted he'd written "Swanee" in one minute, I somehow knew it would be the last time I saw him.
As for Harry Frazee and the "Curse of the Bambino", every so often you'll read on the sports pages something to the effect that Frazee sold Babe Ruth to the Yankees so that he could afford to produce No, No, Nanette. That's not strictly true. No, No, Nanette opened in 1924, which is half-a-decade after he sold Babe Ruth and at a time when musicals were written, financed and staged within a few months. But No, No, Nanette was adapted from a straight play by Frank Mandel called My Lady Friends, which opened in 1919, with Frazee's money, a couple of months after the big sale. So in a somewhat indirect and convoluted way Harry Frazee did, indeed, trade Babe Ruth for "Tea For Tea":
Picture you
Away from me
A ticket to
Ol' NYC
No you for me
I'm free for 'Tea'
Alone...
Happy second birthday to The Mark Steyn Club, and raise your teacup to an indestructible tune and the world's most lucrative dummy lyric.
~There's more about Irving Caesar, lyricist of "Tea For Two", in the book Mark Steyn's Passing Parade, personally autographed copies of which are exclusively available from the SteynOnline bookstore - and, if you're a Mark Steyn Club member, don't forget to enter the promo code at checkout to enjoy special Steyn Club member pricing.
On the other hand, if you're prepared to forego the autograph, there's an expanded edition of Mark Steyn's Passing Parade, including essays on Evel Knievel, 007's Miss Moneypenny, Otto von Habsburg and many more, in eBook, in Kindle via Amazon.com and Amazon outlets worldwide and in Nook via Barnes & Noble.
Happy birthday to The Mark Steyn Club, which, as Mark mentioned, is two years old tomorrow - and happy birthday also to our First Day Founding Members, who were the first to sign up just after noon on May 6th 2017. We hope that fans of our musical endeavors at SteynOnline will want to sign up for a third year. As we always say, club membership isn't for everybody, but it helps keep all our content out there for everybody, in print, audio, video, on everything from civilizational collapse to our Sunday song selections. And we're proud to say that thanks to the Steyn Club this site now offers more free content than ever before in our sixteen-year history.
What is The Mark Steyn Club? Well, it's an audio Book of the Month Club, and a video poetry circle, and a live music club. We don't (yet) have a clubhouse, but we do have other benefits. And, if you've got some kith or kin who might like the sound of all that and more, we also have a special Gift Membership. More details here. And please join Mark and his guests on the Second Annual Mark Steyn Club Cruise, where we'll enjoy among other things a live-performance edition of Steyn's Song of the Week.