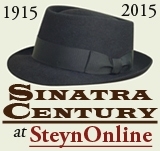 Saturday December 12th 2015 marks the one hundredth anniversary of the birth of Frank Sinatra. So we're adding a few extras to our Sinatra celebrations this weekend - including the second of a new ancillary series to our Sinatra Songs of the Week. You can't get all the great recordings into a mere Hot 100, so in The Song Is You we feature some records that didn't make our main list, and dig deep into the Steyn archives to unearth some interviews I hope you'll find interesting, in which various composers and lyricists tell me the stories behind some of the great standards Sinatra sang.
In Episode One, Mitchell Parish, Phil Springer, and Betty Comden and Adolph Green talked about songs such as "Stardust", "Sweet Lorraine", "How Little We Know", "New York, New York" and "Lonely Town".
In Episode Two, we hear from Irving Caesar, lyricist of "Tea For Two"; Ann Ronell, composer of "Willow, Weep For Me"; and Alan Jay Lerner, the great Broadway librettist of My Fair Lady and Camelot who gave us such songs as "Almost Like Being In Love", "I Could Have Danced All Night", "I'm Getting Married In The Morning" and "On A Clear Day You Can See Forever". And there's plenty of great Sinatra performances across the decades, in arrangements by Axel Stordahl, Nelson Riddle, Billy May and Billy Byers, featuring Frank pallies such as the Count Basie band, Red Norvo's quintet, and the great Dinah Shore. "Willow, Weep For Me", in particular, is a Sinatra masterpiece, and it is a great pleasure to be able to spend some time with it on this centennial occasion.
Click above to listen, and do join us for more Sinatra throughout this birthday weekend.
~For a century's worth of Sinatra songs see here. For Mark's podcast with longtime Sinatra conductor Vincent Falcone, you can find Part One here and Part Two here. For Steyn's take on Sinatra at the movies see here. Mark and Celeste Holm recall Sinatra & Co in the film High Society here. And for Mark's original 1998 obituary of Frank, "The Voice", can be found in the anthology Mark Steyn From Head To Toe, while you can read the stories behind many other Sinatra songs in Mark Steyn's American Songbook. Personally autographed copies of both books are exclusively available from the SteynOnline bookstore.