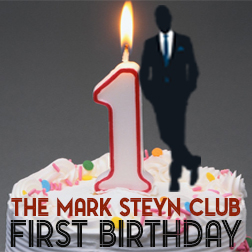 Today marks the first anniversary of The Mark Steyn Club, founded exactly twelve months ago on May 6th 2017. So we wish a happy birthday to us, and more importantly to all our first-day Founding Members, whom we hope will want to re-subscribe for another fun year to come. We welcome new members too, of course. But on this anniversary there's really only one song we could pick for our Song of the Week. Sometimes in this department, rock fans aren't familiar with the jazz standards, and jazz fans aren't familiar with the hymn tunes, and hymn fans aren't familiar with the pop hits, and pop fans aren't familiar with the operatic arias. But it's a safe bet that everyone knows this week's selection. What's the most sung song in the English-speaking world? "White Christmas"? "Over The Rainbow"? No. When the music licensing agency Ascap compiled its list of the most performed songs of the twentieth century, this was Number One. All together now:
Happy birthday to you
Happy birthday to you
Happy birthday, dear Insert Name Here...
That's right. It has the rare distinction of hardly ever being sung with a consistent lyric. Even when it's good old Fred's birthday, half the crowd will sing "dear Fred" but the rest will sing "Freddie" or "Frederick" and the fellows from the lodge will sing "dear Buster", which is his nickname over there, and his daughters will sing "dear Daddy", and the oldest one's boyfriend will sing "dear Mister Robinson", because this is only his fourth date and he's still a bit nervous of the old boy...
And, even as they all chip in their own contribution to the song, not a soul will give a thought to who wrote the rest of it. But it was, in fact, written. It didn't simply emerge fully formed from the primeval swamp. If you'd gone to a birthday party a century and a quarter ago, nobody would have sung "Happy Birthday".
The story begins in a parking lot in Louisville, Kentucky. Well, not really. But, if you go to this particular agglomeration of municipal parking spaces just southwest of Main and Ninth, you'll notice it's called "The Birthday Lot". Odd sort of name for a parking lot. But that's because it's a tribute to two daughters of Louisville, Mildred J Hill and her sister Patty Hill. They were schoolmarms in the city, and quite distinguished ones at that. Miss Patty Hill was an influential figure in kindergarten education, who developed the Patty Hill teaching blocks in use across the country. Her older sister Mildred had started out as a grade-school and Sunday-school teacher, but had moved into musicological areas and was an acknowledged expert in Negro spirituals. In 1893, Mildred was teaching at the Louisville Experimental Kindergarten School where Patty was principal, and one day Mildred wrote a simple tune - one line sung thrice, but with the merest of variations to provide a kind of middle section. Patty put words to it - also simple, just seven words, no rhymes. They thought it would make a nice song with which the teacher could greet their young charges at the start of each day:
Good morning to you
Good morning to you
Good morning, dear children
Good morning to all.
Just in case you're still not up to speed, the song was called "Good Morning To All" and it was published in a collection called Song Stories For The Kindergarten. The Misses Hill had made one critical error. Mildred and Patty may have enjoyed standing at the front of the class and serenading the kids, but in one-room schoolhouses up and down the land a lot of stern spinsters teachers were far less gregarious. So, as the song spread, it reversed itself, evolving from a greeting to students from teachers into a greeting to teachers from students, accompanied by what would be the first of an eventually exhaustive lyrical overhaul:
Good morning, dear teacher
Good morning to you...
The ditty was modestly popular but that's about it. At some point in the early 20th century, however, a new set of words encrusted themselves to the tune, and by 1924, when Robert Coleman published another children's songbook, "Good Morning To All" had managed to acquire a second verse:
Happy birthday to you
Happy birthday to you
Happy birthday, dear [INSERT AS APPLICABLE]
Happy birthday to you!
It's certainly written with the same economy of vocabulary as Patty Hill's original - six words, no rhymes. (The only rhymes in "Happy Birthday To You" are in children's parodies: "you look like a monkey who belongs in the zoo", etc.) But there's no evidence Patty Hill had anything to do with this new lyric, and certainly her sister didn't: Mildred had died in 1916. Yet the second verse had a far wider appeal than the first: when Western Union introduced the singing telegram in 1933, this was, inevitably, the first number to be so wired. By then, it had appeared in two Broadway musicals, The Band Wagon and As Thousands Cheer, whose scores included respectively "Dancing In The Dark" and "Easter Parade". But, unlike Schwartz & Dietz and Irving Berlin, the Hill sisters weren't making any dough off their musical efforts. So a third Hill sibling, Jessica, took legal action on their behalf. Meanwhile, in 1935 the Clayton F Summy Company of Chicago published "Happy Birthday" in an arrangement by Preston Ware Orem and managed to copyright it as an entirely new musical work.
That's right: "Happy Birthday To You" was a legally enforceable intellectual property. It's not true, as was widely rumored for many years, that Paul McCartney owns the copyright: his publishing rights with respect to children's songs begin and end with the stage musical Annie. But "Happy Birthday" was nevertheless a copyrighted work until the second decade of the twenty-first century. The Clayton F Summy Company became Birch Tree Music, and Birch Tree Music was bought by Warner Chappell, the world's biggest music publisher and thus in a position to take their copyrights very seriously. If you wanted to use "Happy Birthday" in a movie or TV show, they'd charge you many thousands of dollars for the privilege, which is why it hardly ever happened: the world's most performed song is a routine feature of the cultural landscape yet all but entirely absent from our film and television catalogues. See for yourself - the next time there's a birthday scene in the movie, watch for the cake, the candles, the wishes, but wait in vain for the "Happy Birthday" singalong. And, if they do sing it, it'll be just an excerpt. There's a party scene in The Rocky Horror Show in which someone calls out "Start to sing 'Happy Birthday' but don't finish it", and (doubtless on legal advice) Dr Frank N Furter cuts off the caterwauling after one line. That's also why the more nervous restaurateurs insist the wait staff serenade their customers with limp pseudo-funky birthday greetings, just in case the Ascap enforcement squad is on the prowl. Under Warner Chappell, "Happy Birthday to You" became the most lucrative song in the world, earning the company two million a year, decade in, decade. And, obviously, they had no desire to see that wither away: When it comes to happy birthdays, it's better to receive than to give.
Warner Chappell's grip on "Happy Birthday To You" had never been tested in court, in part because they've got the deepest pockets in the world and you haven't. But it rested on the curious proposition that there are two entirely different songs: "Good Morning To All", a copyrighted song whose copyright had expired and was in the public domain, and "Happy Birthday To You", a copyrighted song with an identical melody to the out-of-copyright one that nevertheless remained in copyright and was eminently enforceable. And they were both written by the same people: Mildred and Patty Hill. This is a very bizarre interpretation of law. For a start, the only musical difference between the two songs is one note: The "good" of "Good morning to you" is one syllable whereas the "happy" of "Happy birthday to you" is two syllables, so an extra note was found to accommodate it. In no other circumstances has that ever been regarded as sufficient to make something an entirely separate composition: lyricists often ask a composer if they'll mind splitting a crotchet into quavers so they can shoehorn in their preferred adjective; many otherwise identical eight-bar phrases will have such barely detectable variations from one section to the next. And, if that one note is sufficient to make "Happy Birthday" legally an entirely different song from "Good Morning", then so is every variation sung at every birthday party in the world: after all, every time you sing "Happy birthday, dear Billy-Bob" or "Happy birthday, dear Victoria", you're adding at least as much new lyrical content and (in the case of polysyllabic names) musical content as the "composer" of "Happy Birthday To You" added to "Good Morning To All". As for the lyric, the first recorded publication of "Happy Birthday To You" was as the second verse of "Good Morning To All". In other words, the entirely separate in-copyright song was first published as part of the out-of-copyright song.
And that's before you go back to the 19th century and address the similarities between "Good Morning To All" and "Happy Greetings To All" and "Good Night To You All", both of the last published in 1858 and almost certainly known to a musicologist such as Mildred Hill.
But who wants to spend a gazillion dollars telling that to Warner Chappell? As they say in the music biz, where there's a hit there's a writ. And there's no reason why the boffo-est song of all should be an exception to that. So the Hill sisters' interest in the song passed to their nephew, Archibald A Hill, the world-renowned linguist whose works include The Handbook of Twentieth Century English, Principles Governing Semantic Parallels, Post-Nominal Modifiers: Transformations and Phonology, and of course Analogies, Icons and Images in Relation to Semantic Content of Discourses. Yet for all his impressive oeuvre his most lucrative asset was a handful of simple words for a children's jingle. And so the whims of American show business combined to give the heirs of two 19th century Louisville kindergarten teachers a lifelong insurance policy in the 21st century. One mo' time:
Happy birthday to you
Happy birthday to you
Happy birthday, dear 123-year-old-but-still-in-copyright song
Happy birthday to you!
A hundred and twenty-three years? But wait a minute: 1893 plus 123 equals 2016. What happened?
What happened was a lady called Jennifer Nelson. Ms Nelson is a documentary maker who had gotten interested in contemporary birthday rituals and had decided to make a film called Good Morning to All, which, as its title suggests, was about the history of "Happy Birthday". She paid $1,500 to Warner Chappell for a license to use it in her documentary (part of the average five grand per day Warner's were raking in from the number) and then promptly sued the company for falsely claiming ownership of the song. On September 22nd 2015 Judge George H King granted summary judgment to the plaintiffs on the grounds that Warner Chappell had failed to prove they had ever held copyright to the song. Nine months later - June 28th 2016 - the publishing behemoth finally abandoned their claims to "Happy Birthday", agreed to repay $14 million to the various licensees they'd improperly charged, and stipulated to an official declaration that the song was now in the public domain.
And so just under a year ago a new out-of-copyright song celebrated its first birthday:
Happy birthday to you
Happy birthday to you
Happy birthday, dear one-year-old public-domain singalong
Happy birthday to you!
It would be insensitive to send a birthday card to Warner Chappell, but I believe Hallmark do do cards for Deepest Sympathy on Loss of Enforceable Copyright.
PS As I said, the old music biz saw is that where there's a hit there's a writ. So this was the perfect song to celebrate both the first birthday of The Mark Steyn Club, and our spectacular victory in the CRTV vs Steyn case. But, if you like musically minded litigation, you may be interested to know that last week CRTV filed a brand new suit against me, this time for a mere $5 million. The complaint is 200 pages long and includes as exhibits two of my recent Song of the Week selections, "We Are the Champions" and "Oh, Happy Day". Apparently, Cary Katz, the weirdly insecure and paranoid owner of CRTV, believes those two essays are disparaging and defamatory of him, even though neither mentions him or his company. So we're running a special birthday competition for readers to identify anything actionable in that "Happy Day" column. Email your entry here. We've had a lot of jolly entries, and I'll select the best at the end of this coming week. The winner will receive a year's subscription to CRTV. The second-placed entry will win (all together now) two subscriptions to CRTV.
~Mark tells the story of many beloved songs - from "Auld Lang Syne" to "White Christmas" - in his book A Song For The Season. Personally autographed copies are exclusively available from the Steyn store - and, if you're a Mark Steyn Club member, don't forget to enter the promo code at checkout to enjoy special Steyn Club member pricing.
Happy birthday to The Mark Steyn Club, which, as Mark mentioned, is one year old this very day - and happy birthday also to our first-day Founding Members, starting with a gentleman from small-town Idaho who was the very first to sign up just after noon on May 6th 2017. We hope that fans of our musical endeavors at SteynOnline will want to sign up for a second year. As we always say, club membership isn't for everybody, but it helps keep all our content out there for everybody, in print, audio, video, on everything from civilizational collapse to our Sunday song selections. And we're proud to say that thanks to the Steyn Club this site now offers more free content than ever before in our fifteen-year history.
What is The Mark Steyn Club? Well, it's an audio Book of the Month Club, and a video poetry circle, and a live music club. We don't (yet) have a clubhouse, but we do have other benefits including an upcoming cruise. And, if you've got some kith or kin who might like the sound of all that and more, we also have a special Gift Membership. More details here.