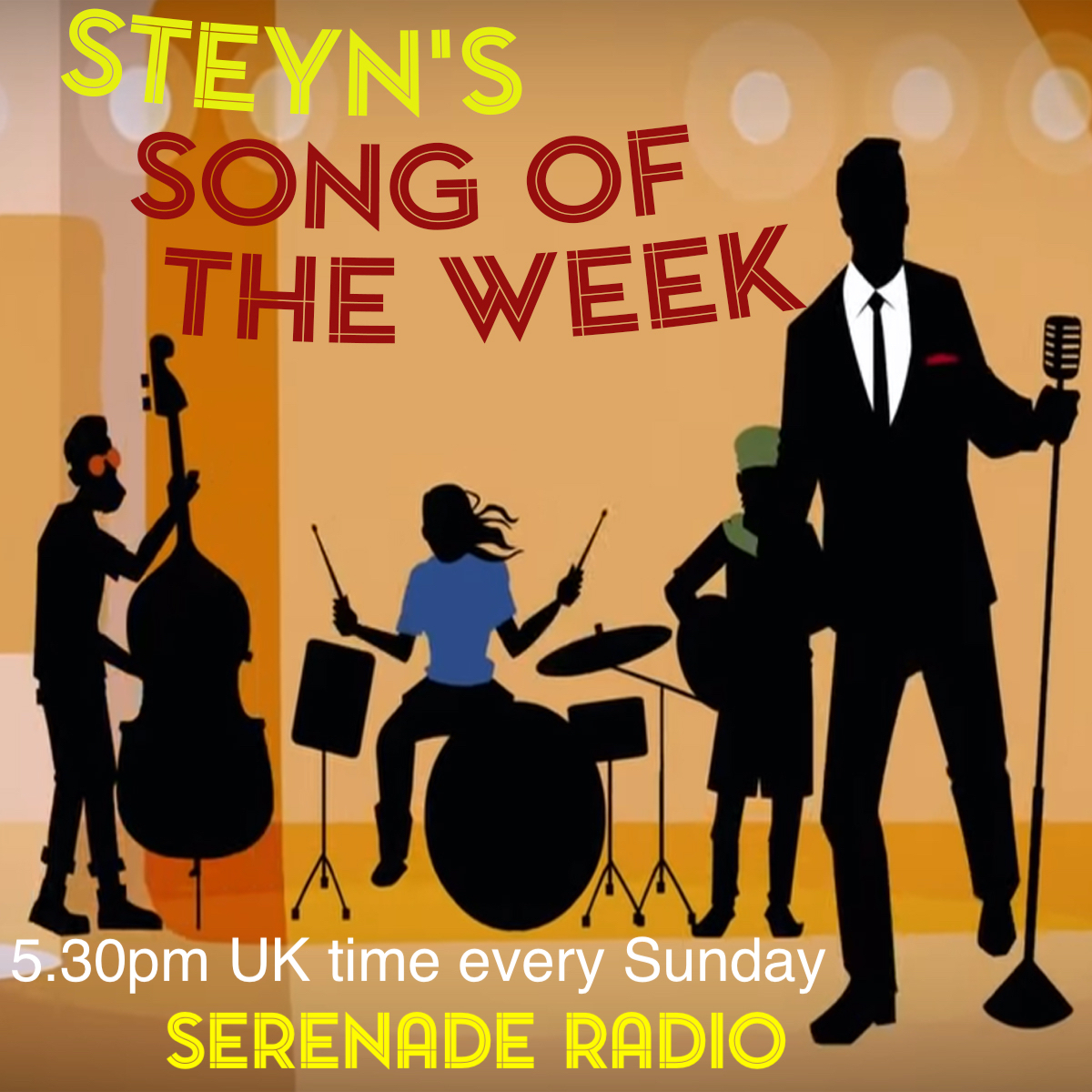 If you enjoy Steyn's Song of the Week at SteynOnline, please note that there will be a live stage edition during the 2023 Mark Steyn Cruise - along with many other favourite features from SteynOnline and The Mark Steyn Show. More details here.
Today is Oscar night in Hollywood. Usually on this day, Mark features an Academy Award-winning song (or an Academy Award-losing song), but, as you may have gathered from his remarks re Disney on Friday's Clubland Q&A, he's about as disgusted by the motion picture industry as it's possible to be. So no movie song this year, but a great theatre song with a fascinating story of Cole Porter on a world tour, and Mark in conversation with Artie Shaw and Julio Iglesias - as told in a special Serenade Radio edition of Steyn's Song of the Week.
Click above to listen.
~This airing of our Serenade Radio Song of the Week is a special presentation of The Mark Steyn Club. Thank you for your kind responses to this series. Our last presentation, "Where Do You Go to, My Lovely?", had a life-changing impact on Michael Jacobs of Florida:
Hi Mark

Well you finally forced my hand. I've finally joined after freeloading for years, and all it took was your most recent song of the week, Peter Starstedt's "Where Do You Go to, My Lovely?" one of my all time faves. On my puny college radio station back in '73 I would play it in a set (remember FM radio?) with "Bonnie and Clyde" by Serge Gainsbourg & Brigitte Bardot, followed by a little greek twist with "Bend It" by Dave Dee, Dozy, Beaky, Mick and Tich and finish up with The Thoughts of Emerlist Davjack by the Nice not "greek" or "french" (unless you pronounced the Nice, the Neese) but it made sense in my 19 year old mind.
Welcome to the Club, Michael - and that's some set. "Bend It" is by Mark's old friend Ken Howard, of whom he wrote a few years back:
He's a very soft-spoken, modest, besweatered chap, and it's easy to underestimate him. He does a lot of things rather well. Aside from writing a Number One for the Honeycombs and being the first Brit to write a million-seller for Elvis ('I've Lost You'), he also composes wonderful dramatic scores, including the incidental music for the BBC's Miss Marple series with Joan Hickson. I remember him mentioning to me once that he liked thinking up board games, and, being distracted at the time, I assumed this was some loser hobby he was indulging in and metaphorically rolled my eyes. Next thing I hear, his Lord of the Rings game has sold over a million units. And his TV directing is marvelous. On one project we worked on, we filmed Liza Minnelli and Gwen Verdon and various other Broadway biggies, and Ken fretted about his shots, and I couldn't quite understand what the big deal was - until I saw the finished product, which looked beautiful.
Back to "Where Do You Go to?" London Steyn Clubber Daniel Abineri enthuses:
Absolutely superb as usual. Crack cocaine for pop music obsessives...
We think the last time anyone compared Mark to crack was over his recording of "Christmas Glow Worm".
Ken, a First Weekend Founding Member from Washington State, writes:
I don't remember the song, but it sure caused me to remember 1973, me being "between twenty and thirty" years old, and the week I spent in a Paris flat with the three girls of a similar age who lived there. I fell in love with Catherine, the tour guide. It's been a long time since she's danced in my head. Thanks to this song, she's there again.
Dale Owens, a Welshman in Italy, didn't care for a certain Radio One disc-jockey's criticism:
Who cares about what John Peel said about this song? This is one of my all-time favourites. 1969 was a very good year for "ubi sunt" songs with a continental flavour. "Days like these" from "The Italian Job", with lyrics by the great Don Black, was another.
Leo, a First Month Founding Member (and Mark's fellow Ontarian), is likewise lost in soixante-neuf nostalgia:
When this came out in 69 in Canada, nobody I knew cared for the song. I was always intrigued by it. It seemed to me at the time to be a descriptor of a faraway exotic life and at the same time a story of unrequited love that many could relate to. (Not telling tales out of school here.) Anyway, thanks for a great reminder of a different time and place.
Marilyn Connell, who joined the Club last month from Texas, says of Mr Sarstedt's brother:
My first 45 rpm my mother took me to buy was Eden Kane's 'Well, I Ask You'. I played it in my bedroom on my portable gramophone over and over again and must have driven my parents nuts.
Finally, Irene, a First Weekend Founding Member, was most tickled by what was little more than an aside to an aside:
What a delightful Serenade Radio episode! I thoroughly enjoyed your commentary... How interesting to learn something of Alan Jones from the Marx Bros movies — and he's the father of Jack Jones, the pop singer. Thank you for this wonderful episode.
Thank you all. We do enjoy your comments on the show. Steyn Club members are welcome to respond to this week's show below. Alternatively, anybody can leave comments over at Serenade Radio, where they love hearing from listeners.
Steyn's Song of the Week airs thrice weekly on Serenade Radio in the UK, one or other of which broadcasts is certain to be convenient for whichever part of the world you're in - but remember that, because North America has sprung into summer while Europe remains fallen back to winter, the time difference is a little off this week:
5.30pm Sunday London (1.30pm New York)

5.30am Monday London (4.30pm Sydney)

9pm Thursday London (2pm Vancouver)
Whichever you prefer, you can listen from anywhere on the planet right here.