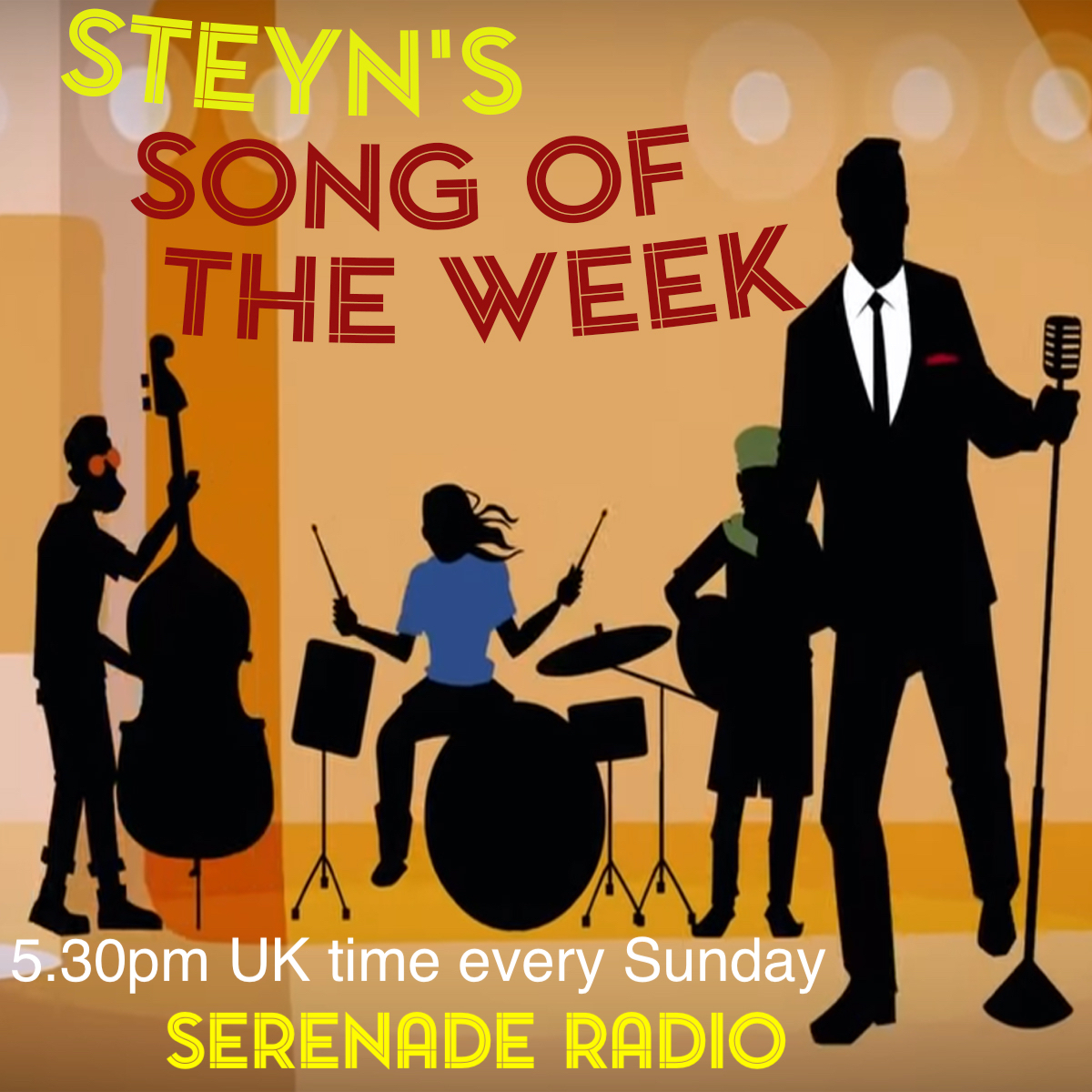 If you enjoy Steyn's Song of the Week at SteynOnline, please note that there'll be a live stage edition during the 2023 Mark Steyn Cruise - along with many other favorite features from SteynOnline and The Mark Steyn Show. More details here.
For those who missed today's Serenade Radio edition of our Song of the Week, here's a chance to catch up. Today's episode tells the story of a certain reindeer and the brothers-in-law who made him part of the American holiday season. Along the way we'll hear music from Gene Autry, Harry Connick Jr, Brenda Lee, Michael Bublé, Bing Crosby, Peggy Lee, the Ink Spots, Glenn Miller and Harry Belafonte - and a few other songs by a Jewish songwriter who wrote more Christmas songs than anyone else, including "Rockin' Around The Christmas Tree" and "A Holly Jolly Christmas". And we'll end with a special live performance: Dorothée Berryman, star of the Oscar-winning movie Barbarian Invasions, and Monique Fauteux, who's sung with everyone from Charles Trenet to the Quebec progressive rock band Harmonium, join Mark for a bilingual sleigh ride with Rudolph and his nez rouge..
Click above to listen.
This airing of Steyn's Serenade Song of the Week is a special presentation of The Mark Steyn Club. Thank you for your kind responses to this series. After "The Way You Look Tonight", Marc, a First Day Founding Member from Florida, wrote:
The gentle side of Steyn. Just the salve one needs after the irritation of the American election debacle.
Very true. The difference between a classic American song and a not so classic American election is that, with the latter, it's not the way you look tonight but the way you look when counting resumes after the late ballot drop-offs at three in the morning.
Anne Kearney, a First Month Founding Member from California, agrees:
Thank you so much, Mark. I needed this today. I can't listen to Fred singing this song without choking up. It's the sweetest, most tender song ever. I always marvel at the simple, yet deep feelings and images Dorothy and Jerome evoked and wonder ... do humans still feel these things? Notice a wrinkly laugh? A soft cheek? A warm smile? Or was it that generation that uniquely felt such tender, romantic notions? Do today's songwriters notice and feel such things? I'm not saying they don't, but thank heavens this song will live on forever to remind people of how simple and gentle romance can sound and feel. It's a very human song.
Likewise Jimmy at Niagara-on-the-Lake:
This is why I am a member. I so love the Song of the Week audio version. Learning so much about the Great American Songbook, I've listened to your back catalogue numerous times - the Johnny Mercer, Bobby Troup pieces come to mind.
Our Steyn Club music maven Gary Alexander also enjoyed it:
You captured yet another great song so completely, so well. When I introduce this song on my radio show, I invariably revert to the original movie's context of Fred waiting for Ginger in the powder room when they were "late for a date." The typical klunky male would say, "Hurry up, we're late" (those being the kind of jazzy, syncopated words Fred seemed to prefer), but that would annoy an already tense lass. Instead, Fred dreams of the future day when she may not be there, or she may not look so gorgeous, and he begins to think in whole notes, which say Take Your Time, darling. The world can wait, for "Someday" my sweetest recall will be the Way You Look Tonight. It's a lady's song after all, I tell guys on my radio show -- Dorothy Fields cried at the melody and created the words, so "let the woman in your life know she's worth the wait."
That's a very sharp point, Gary. Simon Arnold, a Sassenach Steyn Clubber in Scotland, adds:
One song, a complete history of takes and styles. Just brilliant...

When the world is going sour, Sundays are a good place to cheer up with these great tunes.
And David, a California Steyn Clubber, closes it out perfectly:
Lovely, Mark. Never never change.
We do enjoy your comments on the show. Steyn Club members are welcome to leave them below - or anybody can leave them over at Serenade Radio, where they love hearing from listeners.
Steyn's Song of the Week airs thrice weekly on Serenade Radio in the UK, one or other of which broadcasts is certain to be convenient for whichever part of the world you're in:
5.30pm Sunday London (12.30pm New York)

5.30am Monday London (4.30pm Sydney)

9pm Thursday London (1pm Vancouver)
Whichever you prefer, you can listen from anywhere on the planet right here.