With this weekend's abortive coup in mind, here's a question:
What's the connection between Gene Autry, Louis Armstrong, Elton John ...and Vladimir Putin?
Answer: This song.
Fats Domino's is the version most people know. Fats sold over sixty-five million records, which is more than any other Fifties rocker save a certain E. Presley. But he was such a modest and self-effacing man (and not just by comparison with relentless self-promoters such as Chuck Berry and Little Richard) that the part he played in a particularly turbulent period of American popular music is often relegated to an afterthought - and, as the decades go by, to one enduring record.
The most consequential meeting of his professional life occurred in 1949, when he was introduced to the A&R manager of Imperial Records. Dave Bartholomew was almost a decade older than Fats, a trumpeter and tuba player who had worked with the Jimmie Lunceford band (of which, as longtime readers will know, I'm a great admirer). Like many of the founding figures in rock'n'roll, he knew how to jump, jive, wail and swing - which it is not altogether clear the second-, third- and fourth-generation rockers do. Domino on piano with the Bartholomew band - guitar, bass, drums, saxes - was a defining sound of the early rock years. For a "Fat Man" (their first hit), Domino did a lot of walking - "Walking to New Orleans", "I Want to Walk You Home", "When I'm Walking (Let Me Walk)" and, of course, "I'm Walkin'" - an irresistible slab of energy that always reminds me of the late Roger Scott, a terrific disc-jockey on Montreal's CFOX and then London's Capital Radio, who loved that record and was the guy who introduced me to it. "I'm Walkin'," "Ain't That a Shame", "Blue Monday" and most of the other Fats hits were written by Domino and Bartholomew.
But the biggest hit of all was not - and, indeed, Dave Bartholomew objected strongly to Fats even recording it. If you ever saw the Seventies sitcom "Happy Days", you'll recognize the first four words as the song Ron Howard, as Richie Cunningham, used to sing with pride and self-congratulatory swagger whenever he scored a date:
Where does one go to find one's thrill? Well, a good place to start is Palermo, Italy, where a fellow called Vincent Rose was born in 1880. He studied violin and piano at the Palermo School of Music, and upon graduation settled in the United States, eventually becoming a bandleader. In 1920 he composed a song whose dreamy stepwise melody remains an instant evocation of the sound of 1920:
Paul Whiteman's record of "Whispering" was a huge seller, and a big boost to the fledgling gramophone industry. Given the number of record players in American homes in 1920, it was said to be the equivalent of selling over 20 million copies in 1970 - which by then no single did. To the best of my knowledge, Rose's lyricists on "Whispering" - John Schonberger and "Richard Coburn" (Frank DeLong) - never wrote another song of note. But Vincent Rose did: Three years later he composed the beguiling "Linger Awhile", which has fewer notes than almost any other popular hit (just forty-four).
In between "Whispering" and "Linger Awhile" came Rose's most enduring and versatile standard, "Avalon", which you can see Carol Welsman and Russell Malone performing live with The Mark Steyn Show Band here. "Avalon" was written with Buddy De Sylva and (supposedly) Al Jolson, and is a remarkable composition, possibly because it was composed by Mr Rose's fellow Italian composer, Giacomo Puccini. At any rate, that's what the Federal Court in New York ruled, when it decided "Avalon" was lifted from "E lucevan le stelle" from Puccini's Tosca. Judge Knox awarded Puccini and his publishers $25,000 and all future royalties of "Avalon", which must have been tough on Mr Rose.
Two decades after his dawn-of-the-Jazz-Age hits, Vincent Rose had a second creative burst in partnership with Larry Stock. Rose and Stock wrote "The Umbrella Man", which was a big hit in Britain for Flanagan & Allen, mainly on the strength of its association with the then Prime Minister, Neville Chamberlain, who was partial to brollies:
And then in 1940 Rose and Stock and a fellow called Al Lewis got together to write:
I found my thrill
On Blueberry Hill
On Blueberry Hill
When I found you...
Vincent Rose was a composer, Al Lewis was mostly a lyricist, and Larry Stock did both. But all three were able to write music. So who did what on "Blueberry Hill"? According to Stock, he wrote the words and Rose wrote the tune ...and Lewis presumably made some unspecified contribution, though hopefully more genuine than Al Jolson's to "Avalon". The central sentiment is one that would never occur to anyone unless you had a song to write: The only reason you found your thrill on Blueberry Hill is because the song's called "Blueberry Hill" and you need a word to rhyme with the eponymous topography. The contrivance is well caught in a Gary Larson "Far Side" cartoon: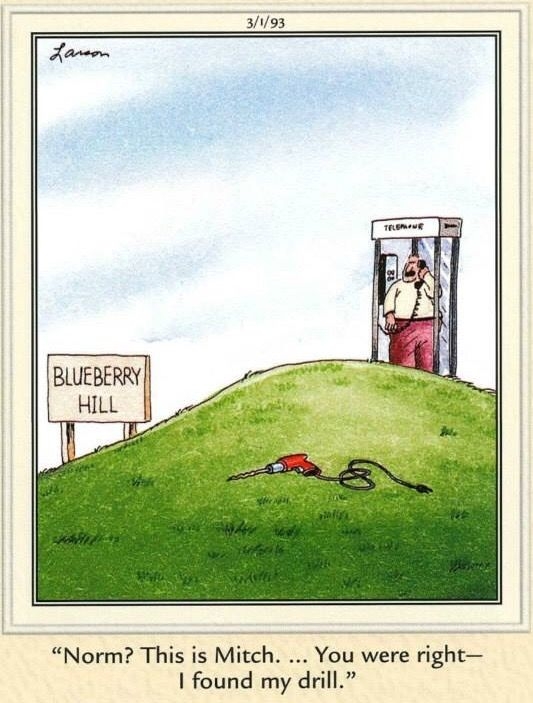 Still, the constraints of the rhyming dictionary gave a certain erotic frisson to that first line - hence its value to Richie Cunningham on all those "Happy Days" episodes. Mr Stock fleshed out the scene in the second eight bars:
The moon stood still
On Blueberry Hill
And lingered until
My dreams came true...
And then things start to go awry:
The wind in the willow played
Love's sweet melody
But all of those vows we made
Were never to be...
The song was written for singing cowboy Gene Autry, who warbled it in a very minor picture called The Singing Hill. In the clip below, it turns up about five minutes in - after some considerably inferior numbers:
That's perfectly pleasant, and rather better than the other songs in the picture. But the authors thought it might have wider appeal. Not everyone was convinced. According to Larry Stock, "One important publisher turned down 'Blueberry Hill,' because, he claimed, blueberries don' t grow on hills. I assured him I had picked them on hills as a boy, but nothing doing."
One might also note that, while blueberries grow on hills, willows favor the lower elevations - and, whether high or low, blueberries seem awfully eastern for a western star like Gene Autry. It doesn't pay to over-think these things. So Rose, Stock and Lewis took the song to Chappell's, who were less hung up on such questions, and found they had a huge success on their hands. On May 13th 1940, the Glenn Miller Orchestra recorded "Blueberry Hill", and got to Number One:
But there were plenty of thrills on lowlier hills: Sammy Kaye, Gene Krupa, Kay Kyser and Russ Morgan's bands all had hits with it, too. And the contrived rhyme briefly passed into the language, with newspaper cookery columns passing on new recipes as "the latest thrill from Blueberry Hill", etc.
Yet the band vocalists who smoothly crooned "Blueberry Hill" rendered it a somewhat bland and generic love song. In the post-war era of star singers, it didn't seem particular enough. At the very end of the Forties, Louis Armstrong revived the number in an arrangement by Gordon Jenkins. It went nowhere:
Which brings us to Wednesday June 27th 1956 on North Fairfax Avenue in Hollywood, at a studio called Master Recorders. Fats Domino is there, with Dave Bartholomew as producer-arranger, and the session's going pretty well. So well, in fact, that they run out of material. What to do with the remaining time? Fats has an idea. He's heard the Louis Armstrong record, and he'd like to take a crack at "Blueberry Hill". But he doesn't know the lyric. Harrison Verrett, the brother-in-law who'd taught him to play the piano almost two decades earlier, runs down the number with Fats. He works out an intro, starting with a bit of one-fingered piano in the right hand and ending with his distinctive forceful left-hand in the bass. But he's still having trouble with the words. Dave Bartholomew, for one, is adamantly opposed to Fats doing the song.
But off they go. They try it once, twice, again. And not once does Fats manage to get through a complete take. Bartholomew leaves the studio very despondent, and goes off to keep a dinner date with his boss, Imperial Records founder Lew Chudd. "Lew, I don't have nothing," he says, before dropping off a tape of a sax-driven slab of r'n'b called "Honey Chile".
Meanwhile, back at Master Recorders, the studio's owner and engineer Bunny Robyn is splicing together various uncompleted takes into a composite version of "Blueberry Hill", though a few textual errors manage to sneak through:
But all of those vows you made
Were only to be...
Close enough. Lew Chudd likes it, and decides to put it on the B-side of "Honey Chile". Bartholomew remains dead set against it, and warns Domino that "Blueberry Hill" will "ruin" him.
Instead, disc-jockeys played "Honey Chile", shrugged, and a few flipped it over out of curiosity. And once they did so, they never played the A-side again:
In the six decades since, everyone from Elvis to Elton has covered, as the rockers say, Fats' biggest hit. But not until 2010 did anyone come close to the shining glory of the original. Ladies and gentlemen, Vladimir Putin first plays and then sings "Blueberry Hill":
Now you know why he was such a lethal KGB torturer: Who needs to clamp the electrodes when Vlad's in the room? And yes, that's Goldie Hawn, Kevin Costner, Sharon Stone, Gérard Depardieu and other celebs Russo-colludin' right along with him. I'll bet they've all gone over to Zelensky.
Even if you know your songwriters, Vincent Rose, Larry Stock and Al Lewis are not exactly household names - and, if you know the last, you're probably thinking of the actor who played Grampa Munster. Vincent Rose never heard Fats Domino's revival of his last big song: He died over a decade earlier. After "Blueberry Hill", Larry Stock went on to write "You're Nobody Till Somebody Loves You" for Dean Martin, and, after Fats Domino's hit remake, Al Lewis enjoyed a last hurrah with "Tears on My Pillow", originally sung by Little Anthony and the Imperials and much reprised over the ensuing decades, including in a Stock, Aitken & Waterman treatment for Australia's Kylie Minogue that hit Number One in Sweden.
Fats Domino's "Blueberry Hill" is in the Grammy Hall of Fame, the Rock and Roll Hall of Fame, the Library of Congress' National Recording Registry; it's Number 82 on Rolling Stone's Top 500 Songs of All Time, and it was the first record David Bowie ever bought. And it's not even a complete record - just an assemblage of partial takes. But what I wrote way back when about our Song of the Week #2, "Dream a Little Dream of Me", applies here too, I think:
There are any number of rock-era covers of standards, but hers is a rarity: it gets to the heart of the song in a way that very few of the earlier versions did... It became a standard for the post-standard era.
So here was Mama Cass with "a standard all her own – not just the umpteenth version of a Cole Porter or Rodgers and Hart tune, but a song whose place in the repertoire had never been secure until she put it there."
That's what Fats did for this song:
Though we're apart
You're part of me still...
...although maybe that's how Vlad thinks of Yevgeny Prigozhin as he begins his Belarus exile.
~If you're a Mark Steyn Club member and disagree with any or all of the above, feel free to drop the big chill on Blueberry Hill in our comments section. As we always say, membership in The Mark Steyn Club isn't for everybody, and it doesn't affect access to Song of the Week and our other regular content, but one thing it does give you is commenter's privileges, so get to it! You can also enjoy personally autographed copies of A Song for the Season and many other Steyn books at a special member's price.
If you enjoy Steyn's Song of the Week at SteynOnline, please note that there will be a live stage edition during next month's Mark Steyn Cruise - along with many other favourite features from SteynOnline and The Mark Steyn Show. More details here.
Steyn's Song of the Week airs thrice weekly on Serenade Radio in the UK, one or other of which broadcasts is certain to be convenient for whichever part of the world you're in:
5.30pm Sunday London (12.30pm New York)

5.30am Monday London (4.30pm Sydney)

9pm Thursday London (1pm Vancouver)
Whichever you prefer, you can listen from anywhere on the planet right here.
Our Netflix-style tile-format archives for Tales for Our Time and Steyn's Sunday Poems have proved so popular with listeners and viewers that we've done the same for our musical features merely to provide some mellifluous diversions in this age of lockdown and looting. Just click here, and you'll find easy-to-access live performances by everyone from Liza Minnelli to Loudon Wainwright III; Mark's interviews with Chuck Berry, Leonard Bernstein and Bananarama (just to riffle through the Bs); and audio documentaries on P G Wodehouse's lyrics, John Barry's Bond themes, sunshine songs from the Sunshine State, and much more. We'll be adding to the archive in the months ahead, but, even as it is, we hope you'll find the SteynOnline music home page a welcome respite from Canadian cloud invasions and other unlikely headlines.